Weather testing is conducted to determine how efficient a door or window product is in terms of its air permeability or air tightness, water tightness and resistance to wind loads.
It is advisable to choose products that have gone through this rigorous weather testing process so you can be assured of the quality of the products you are using.
Here at Vufold we invest heavily on testing to make sure our products have exceptional quality that you can be guaranteed upon.
We submit our products to be tested by a UKAS accredited in-house laboratory to British and European testing standards which includes:
• Air permeability to BS EN 1026:2016
• Water tightness to BS EN 1027:2016
• Resistance to wind load to BS EN 12211:2016
The results of these tests allow our windows and doors to be classified to BS 6375:2015 Part 1 standards.
Who does the weather testing?
Weather testing is performed by trained technicians in a UKAS accredited laboratory under specific conditions to ensure that every test is carried out in an unbiased manner to get a measurable result. The UKAS accreditation ensures the traceability of all results gathered and ensures that the relevant product standards are followed.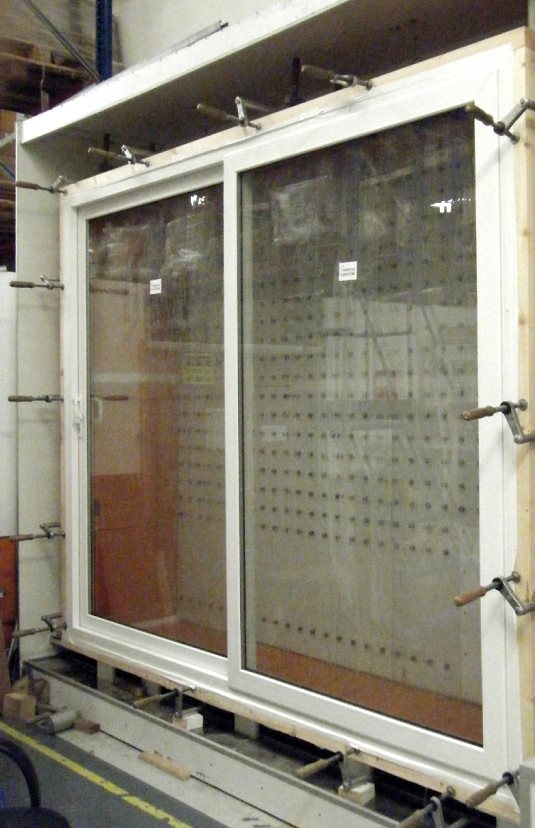 So, what is weather testing and why do we do it?
Weather testing is a set of tests which take a door or window through a set of standard conditions emulating the possible weather effects it could meet when installed into a building. The tests are conducted using a weather rig which measures pressure and applies water in a standard spray. From this setup, the amount of 'bend' the product has can be measured and any damage from extreme conditions can be evaluated and measured. This weather test shows what level of weather the door or window can withstand and what climate or part of the country the products are most suited for. For example, a window with a good overall weather rating would be suitable across the country at varying levels of altitude. However a window with a lower weather rating would be suitable for a low altitude in the south of the country but unsuitable at a high altitude in parts of Scotland.
What happens when something is weather tested?
First of all the specimen product is put into the weather rig. The test centre works out the overall air leakage of the windows and doors by putting it through varying levels of air pressure while measuring the leakage rate.
The next test is the water test. During this test, a spray is applied to the external face of the product while pressure is slowly applied in stages. This is continued until the test has finished or the specimen product has leaked. When this has finished, it's on to the deflection test where the testing house measures how far the longest unsupported part of the window or door deflects while put under a set of high pressure. This is followed by a test where a positive pressure is put on, then followed by a negative pressure and this is cycled 50 times.
Once all these weather tests are completed the air leakage test is repeated follow by a safety test. The safety test consists of a very large amount of pressure which is put in a positive and negative direction to see if anything would break. This last test is to see if a sudden gust of wind in say, a storm, would damage anything in the product.
As a consumer why should you choose a weather tested product?
Although the building regulations do not specify doors and windows need to pass a certain weather rating you will benefit in the long run choosing a weather tested product. This is because you will know that under certain conditions your windows and doors will hold up to the current weather conditions in the UK. We all know that the weather in some cases is getting worse here on our small island and we need to defend against that.
Why would you buy expensive doors and windows without the knowledge of how well they will perform against the unpredictable weather in the UK? You wouldn't - we hope! This is why Vufold make sure we invest in research and development and put all of our products through vigorous performance tests which include weather testing.
NOTE: All Vufold products show the weather performance on the last page in the downloadable installation instruction manuals.