At Vufold we love getting involved with home renovations and seeing how different styles of properties can be transformed with bespoke doors and windows. When Hamish placed an order for two thin-slot windows, plus a large picture window and bi-folds for his 1970's bungalow we couldn't wait to see the end result!
Modernising a property, while being sympathetic to the original characteristics can be a challenge, however Hamish's design hit the perfect balance when his home underwent a complete renovation. His conversion included a new, extended kitchen plus a carport and garage conversion, increasing the garage footprint in the process. When asked what he was hoping to achieve with the addition of the bi-folds and windows, Hamish shared his brief:
"To maximise light into the kitchen, and to enhance the view and access to/from the garden. The addition of the floor to ceiling windows to the front was to transform the external look of the house, and create thin slot picture windows from inside. All ambitions were beautifully achieved thanks to Vufold!"
---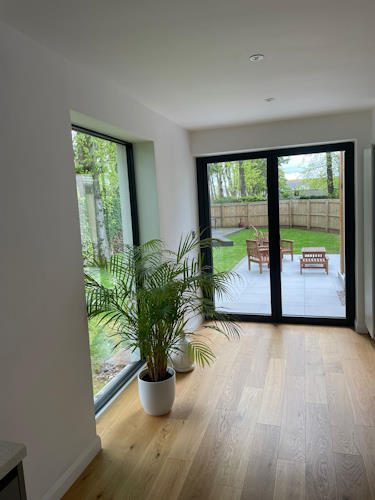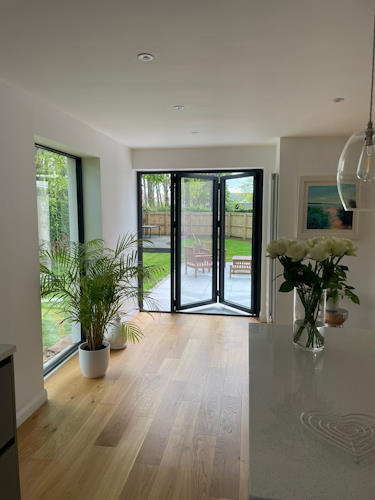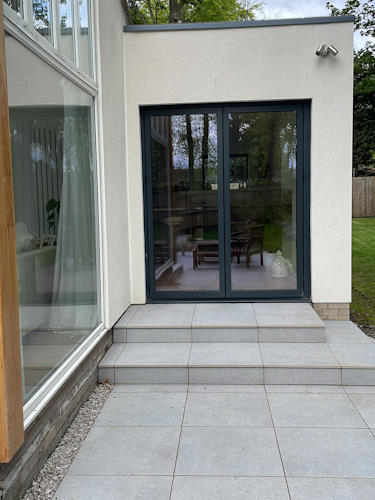 ---
Hamish's new kitchen conversion featured two-pane bi-folds and a large picture window. The combination of the two products immediately enabled light to flood into the room as well as providing practical access to the garden. 
The thin-slot picture windows served a double purpose in the garage-to-front room conversion, providing an attractive aspect from inside the space while creating a striking design feature on the exterior for that all-essential curb appeal. Hamish also wanted the frames to have a different colour on the external and internal face, a detail that can make a huge difference to the overall finish of a conversion. In fact, when asked why he decided to choose Vufold, this was one of the reasons he came to us:
"I chose Vufold because of the good prices, easy to navigate website and great customer service. Also, the ability to have a different colour frame inside and out, which we required for the front room."
---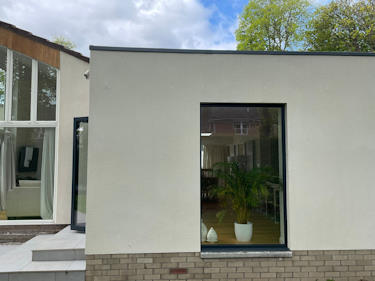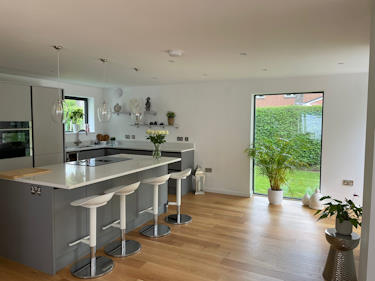 ---
On conversions such as this, we appreciate that sizes can often change as a project develops and flexibility is key. Unfortunately, we are also aware that occasionally problems may arise, but with communication and quick action, issues can be instantly rectified. Our great working relationship with Hamish meant that we were able to breeze past any tweaks and niggles, resulting in him giving us a full five star review across all categories. Even better, when asked if he would recommend us to another customer, he told us that he already has! Sharing his experience of working with us, Hamish said:
"It was excellent. Once I had chosen the products, the sizes changed a few times, but this was never an issue when notifying Vufold. Furthermore, after a couple of months the handle on the bifolds malfunctioned, so when I phoned Vufold, another was dispatched without question!"
---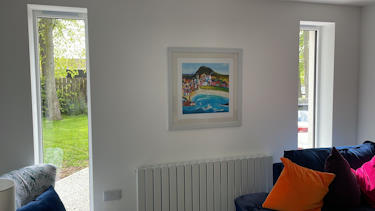 ---
Thank you Hamish, we are delighted with your feedback, it has been an absolute pleasure to work with you on your project.