---
When it comes to planning and research for a home development project, Andrew Paterson may be in a league of his own.
Andrew lives in a semi-detached 1930's house in Chester and had designs on extending his home at the back for some years. Not just his home mind, the full-width extension he planned would also include the extending of his neighbour's house so that the look of both buildings complemented each other.
---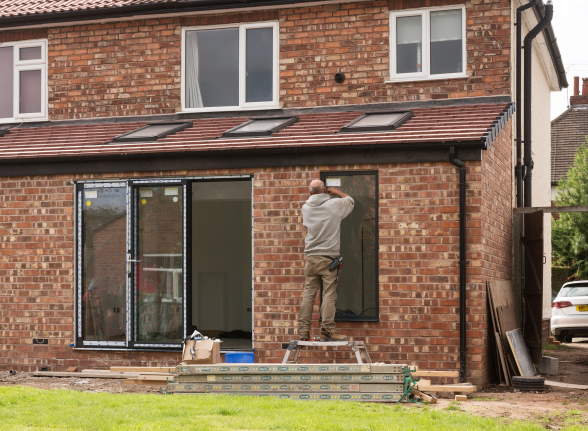 ---
"I started my preparation about two and a half years ago by visiting exhibitions and trade shows, which was when I discovered Vufold. I had a chat with the people on the stand and was impressed with their approach and products, so I took a leaflet home and kept it in my file."
---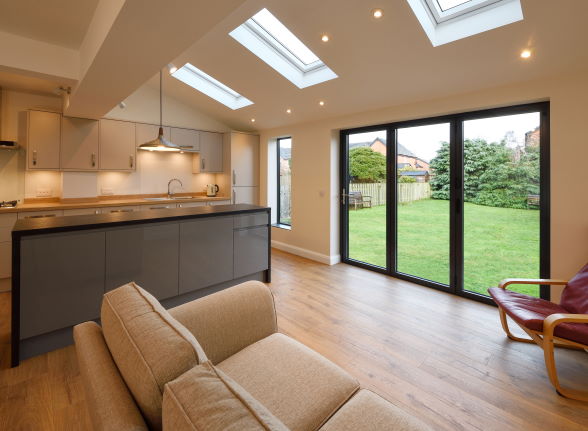 ---
Two years later and Andrew was ready to book the builders to do the groundwork and erect the new extension. Not having managed a building project before, Andrew was a bit nervous, so went out of his way to find a builder he felt safe and secure with, one who could manage the whole job confidently.
"This was a big step for me and for my neighbour, so I needed to find someone I could put my faith in, I wanted a specialist and found one I felt I could trust. It's very important to me that I can put my faith in a supplier, which is why I went to Macclesfield to see the Vufold showroom. I knew I could get bifold doors from a number of places, but I wanted to check the company out and see their products first-hand rather than relying on a brochure or website. I found the people at Vufold knew what they were talking about. They answered all of my questions and the range of doors and windows was very impressive. "
---
Vufold's range of Status bi-folding doors and windows took Andrew's eye and he placed his order. By now, Andrew had already talked to his neighbour about having the same doors and windows installed in both houses. His neighbour was working to a slightly tighter budget than Andrew's and was contemplating reusing the existing PVC doors and then saving up for better quality ones to be installed at a later date.
"My neighbour knows that I do a lot of research into anything I buy, so when I told him about Vufold and how impressed I was with them, he agreed to take my advice and place a similar order. It meant him spending a bit more than he planned, but he was swayed by my advice and enthusiasm for the very classy look of the anthracite Status doors and window."
---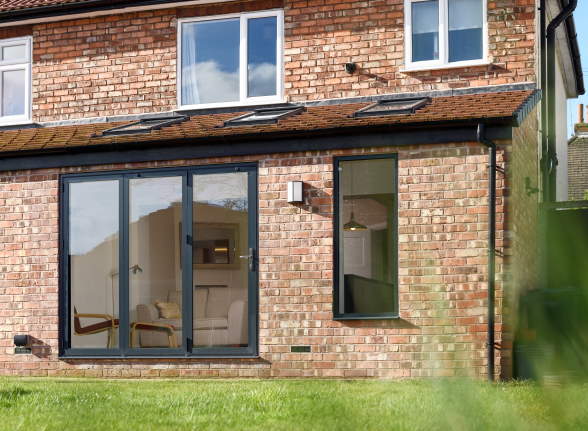 ---
Unfortunately for Andrew, his chosen builder declined to offer to fit the doors and windows, as it was not something he was used to doing, so Andrew arranged for Vufold to fit them instead.
"Oddly enough, it all worked out well in the end as when it came to the doors and window, I only had to deal with one company for the ordering, delivery and fitting. That took a lot of pressure off of me and Vufold did a great job. There was a little mix up in the manufacturing and fitting dates, but even that worked out OK as the plasterers had done the bulk of their job by then, which meant that the majority of messy work had been completed without the doors and window on site.
"We had a few challenges, such as getting the running rail at the right height, but Vufold sent me a cross-section of the bottom rail to use as a template, which made a massive difference when it came to getting the levels correct. They even agreed to provide bespoke silver door handles for me to fit in with my overall design for the new open-plan kitchen, diner and living room. Small things like that can really matter to me. It was why I chose the anthracite finish for the doors and window. My kitchen is in off-white with a grey island unit, so having the doors anchored with the connected colour of the island works perfectly."
---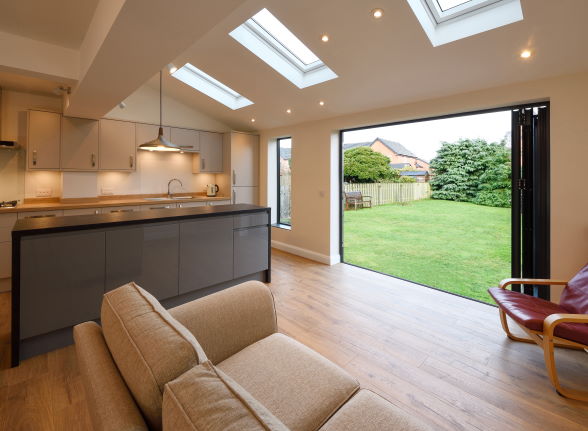 ---
The extension was completed over six months ago now and Andrew has lived with his new bi-fold doors and window right through the winter. When Andrew approached Vufold about their products he knew exactly what he wanted in terms of product and services – so does he think he got what he wanted?
"Absolutely I did, yes, there was not a sign of a draught during the worst of the winter and I love the aesthetics of the doors, they look superb. You hardly notice the slim site lines when they are closed and when they open up they fold back to the walls to virtually disappear."
And what of his neighbour?
"Oh, he's delighted that he took my advice. He knows that he made the right decision and loves how the doors are such a feature of the back of the house; we are both very happy to have found Vufold."