Inspire 2.4M Connects Dinning room with Conservatory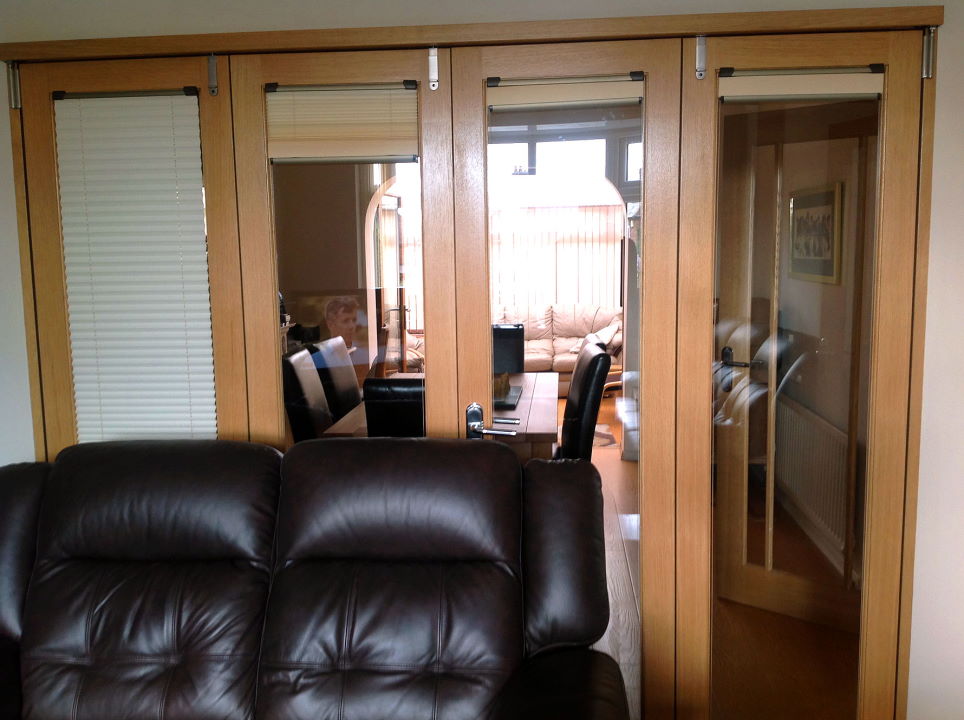 Optimising living space in a home is always a challenge, but Paul Griffiths and his family found that installing bi-fold doors was the perfect solution for their 1950's semi-detached house in the village of Wall Heath in the West Midlands.
Two years ago Paul, a very keen and capable DIY man, decided he needed to do something about problems the family experienced in having an open connection from the dining room to the conservatory.
Paul explains the situation. "In the summer it was fine but as soon as the weather turned cold or it rained we had problems. The drop in the temperature from the conservatory went through to the dining room making it cold and when it rained the sound of it drumming on the glass roof was too loud to bear. We didn't want to knock the wall out as it has a nice arch so we looked at glass bi-fold doors. We ordered a set of interior Vufold doors as I could fit them to the interior wall of the conservatory without too much trouble and they were the perfect solution; they kept the heat in but allowed all the light through while shutting off the noise.
A year on from Paul's first installation, the family decided it would like to open up the majority of downstairs by knocking through from the dining room to the lounge. A builder removed the wall for them while Paul set about looking for the right solution in terms of folding doors. He'd been very impressed with the first set of doors and went direct to the company and to take a look at the Inspire range.
"I'm not sure if they are the same as the three on the other side of the dining room but they do match very well. We love the fact that we can now have downstairs either open plan or in three separate rooms as and when we like. Having a family of four and a fairly large dog, it's important that we can have our own spaces at times. The doors have made a huge difference to the home, it's made everything more usable, fresher and lighter. The design and style of the Inspire doors have given everything a far more modern look which we really like, says Paul."
Fitting bi-fold doors can make a massive difference to the way interior spaces look and feel and with the addition of accessories the impact can be transformational. That's why Vufold also supplies a stunning range of purpose designed blinds for all of its range of doors. Paul is just one satisfied customer when it comes to adding blinds. "I highly recommend the custom made blinds as they enable you to make the rooms private instantly," says Paul.