---
It's not often that we are called on in an emergency, but it certainly proved to be the case with Kate's new front door. Due to the long spell of icy weather and sub-zero temperatures, Kate's existing door (not a Vufold door we are pleased to say!) had burst and wouldn't close, leaving her home unsecured. Urgently requiring a replacement door, we were happy to be able to help.
Although Kate had to select a new door in less than ideal circumstances, she was able to use the opportunity to create a new look to the entrance of her home. Opting for an 838mm Grey Malmo door and frame kit, the obscured glass maximised the light flow coming into the house, transforming the look and feel of the interior, whilst still offering privacy.
---
Kate was really happy with her door and her experience purchasing it from us, as she expressed in her 5-star review:
"The door and the service exceeded my expectations. The delivery driver was especially helpful since our original door could not be opened. He kept us updated of his route and traffic delays and then kindly helped us get the door though a front window and into the house. Because of the experience, we are considering in the future replacing other external doors and this would be the likely place we will now source them."
---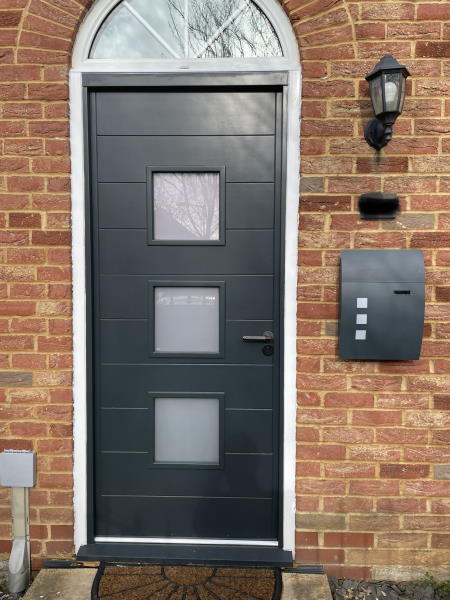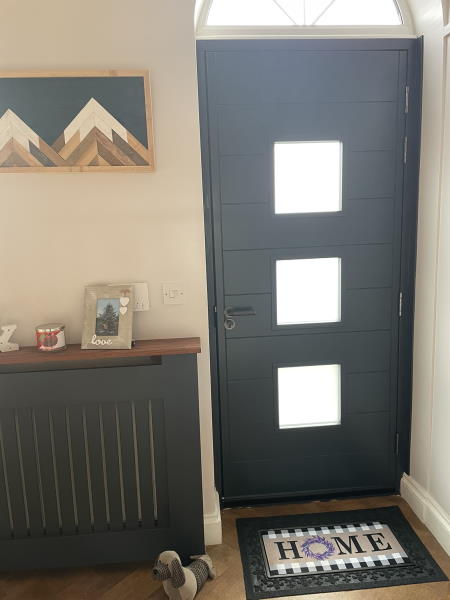 ---
In addition to the speed of delivery, Kate needed a door that could be trimmed down beyond the standard door offering, two of the deciding factors for her choosing Vufold:
"Quick delivery times alongside helpful info on the website and quick and helpful info from a representative online. We needed a door that could be trimmed down and this door provided more options than others similar and could be delivered quickly."
---
When asked if she would recommend us to other customers, Kate's response was extremely positive:
"I would highly recommend. The quality of the door for the price is above expected. The ability to trim the door down more than the average offering gave us peace of mind with future plans to change our flooring, which may impact the door height. The online help and details were thorough and accurate. The delivery driver was helpful to keep us updated despite poor weather and was accommodating to getting our new door delivered. A top quality experience and we love our new door and the way it makes our entry now look!"
---
Thank you Kate, we are so pleased to have been able to come to your rescue!
---