---
We are always delighted to hear positive reviews from our customers, however, we were positively blown away by Richards glowing report!
Richard's detached home in rural Essex previously sported a dated conservatory and French window, completely obscuring any view of the back garden and rural surroundings. As part of the plan to extend the rear of the property and make the downstairs open plan, Richard opted for Status 4.2 m triple glazed bi-folds across the entire garden-facing wall. Framing the stunning, open-plan kitchen, the bi-folds immediately maximised the light flow throughout the house, creating a feature from both the internal and external view.
---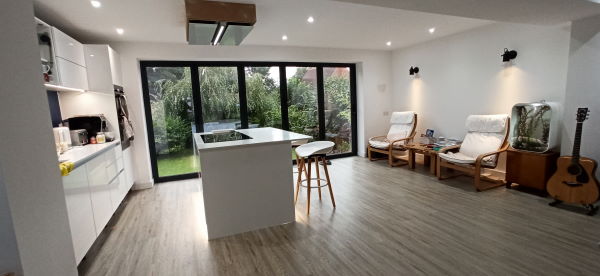 ---
When asked why he chose Vufold to supply the doors for his project, Richard said:
"Transparent (and fair) pricing, good reviews, helpful team, quality product with specs listed (many suppliers couldn't even tell me their U values!). The triple glazing was very important to me in order to ensure stable temperatures. Everything with Vufold just looked slick and professional."
---
Richard had clearly done his research into exactly what he was looking for from a technical point of view, and compared us favourably to other bi-fold manufacturers:
"Compared to other companies Vufold just seemed so professional, open, better guarantee, better U values, Argon units, low-E glass. There was no messing around with hard sales or hidden pricing structure and their prices (clearly listed) are exceptionally fair. Cannot fault them."
---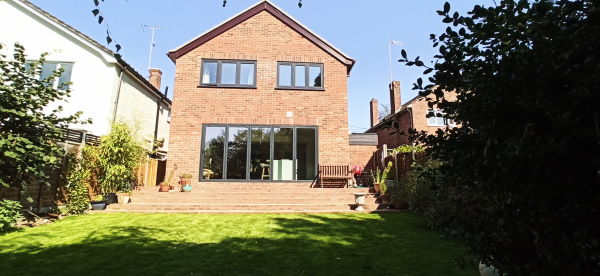 ---
As Richard suggests it is important to consider the full specs when choosing any type of glazing. Having a south facing aspect, Richard was keen to create a seamless transition between his kitchen and sunny garden, however he was mindful that large sheets of glass could potentially affect the inside temperature of the home. At the time of writing his review, Richard commented on how he was pleased to have factored triple glazing into his requirements:
"I'm sat here in the hottest day of the year and the triple glazed bi-folds keep out the intense heat so well, yet on cold days keep the warmth in."
---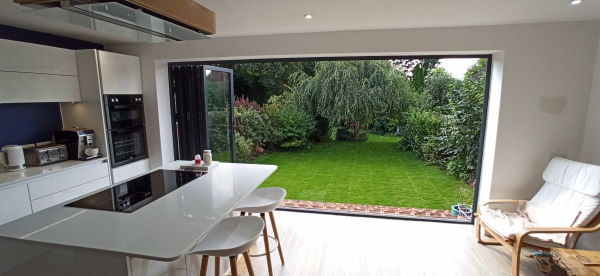 ---
In addition to giving us a full five-star review, Richard went on to rate his experience of working with us as "Excellent!" going on to say:
"They couldn't have been more helpful, I placed the wrong order first of all. Some companies would have slapped on some arbitrary 'admin' charge but with Vufold it felt like they were working on the project with me and invested in the final build. The after sales service was very good. My order took place though the first lockdown and they didn't let me down. The quality control was excellent (one pane had a tiny scratch on it upon manufacturer and they rightly did not want to give me a substandard product - other companies may have tried to ignore this)."
---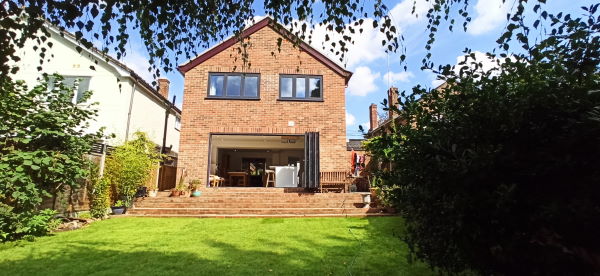 ---
Ease of installation also received the thumbs-up from Richard's builders:
"Our builders were impressed with the quality and were surprised how easy the doors were to install, it took them just 2hrs to fit a 4.2m unit."
---
Finally, as if he could possibly be any more complimentary, when asked if he would recommend us to other customers Richard concluded:
"100% and I do so regularly. Absolutely amazing company. Great communication, even during lockdown. It's no coincidence they have such good reviews. They are not just the best window/door company I've dealt with, but simply one of the best companies I've dealt with."
---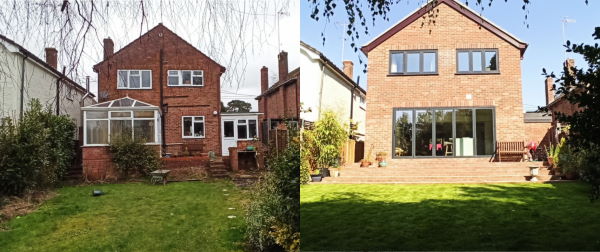 ---
Wow! We are as happy with that review as Richard is with his doors! Thank you so much Richard, it was an absolute pleasure doing business with you.
---
NEED HELP WITH A PROJECT?
GET £50 IF WE PUBLISH YOUR PROJECT