3.6M Prestige External Doors enhance cinema room
When Alvan Ikoku saw his friend's personal cinema in his converted garage in September 2011 he was inspired to create his own. What he did not realise at the time was that the whole project would take nearly two years to complete and would end up including a Japanese themed garden.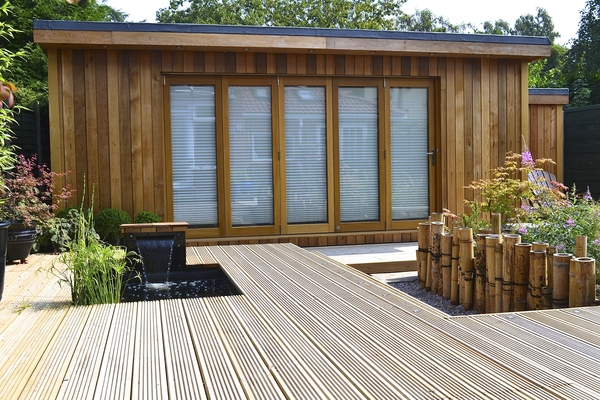 "I was round at my friend Graham's house when we got to talking about storage and where he keeps his stuff. He took me to his double garage, one of which was crammed with the usual stuff. The other had a cinema screen, seats and everything. As soon as I saw it I thought 'I've gotta have one of those'," says Alvan.
Alvan, who is retired, lives with his wife Beverley in the little town cum village of Poynton, mid-way between Stockport and Macclesfield. Their 1928 four bedroom semi-detached house has no access to the rear garden other than straight through the house, which presented something of a problem as his plan was to erect a purpose built cinema room in the back garden.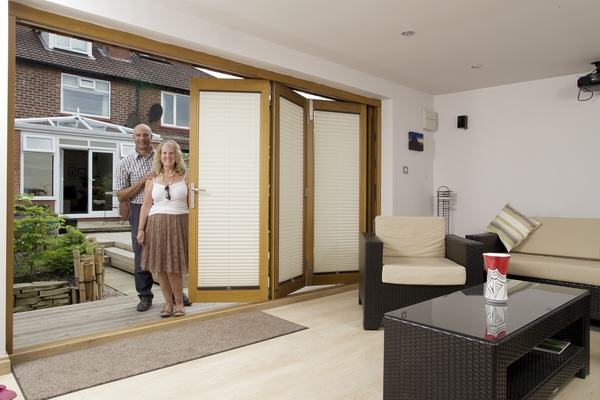 "We didn't have a garage so Graham made me a model of a garden room that would house our cinema. It meant cutting down a number of trees including a lovely Himalayan Birch and clearing all the land etc. Every bit of rubble, soil and tree had to them be taken straight through the house. We seemed to have skips outside the house forever," says Alvan.
Graham's design incorporated a long wooden building that would face westward, so the late evening sun would shine onto an open porch/decking area. The building was to take up most of the width of the garden but it was not till Alvan and Beverley visited Tatton Hall that things took a really dramatic turn.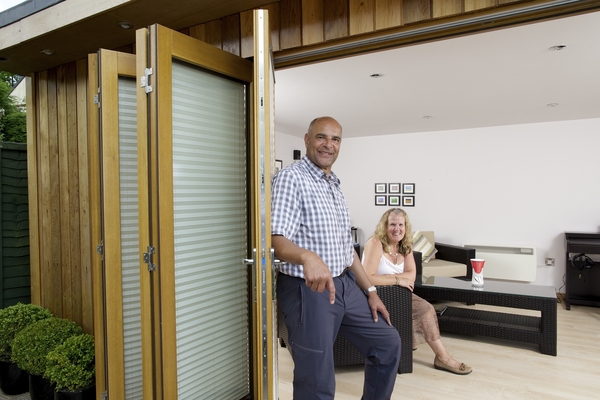 "Tatton has a beautiful Japanese garden and it struck me that the wooden structure of the cinema would really be set off by a complimentary Japanese style garden. By now I knew what the main body of the cinema room would look like with its wood panelling so we set about planning decking and a water feature. The only thing holding us back was finding the right doors, but then we discovered Vufold. I was trawling the internet for materials when I spotted their telephone code and realised the company was only 20 minutes away. We popped down to see some of their doors in situ at the offices. The first time I saw the Prestige range I said 'those are the doors we are going to have'."
Alvan was so struck by the solid oak glass panelled doors that he changed the design of the garden room to accommodate the five door set and built everything around them. "I wanted prestige doors and the movement and construction of Vufold's were perfect. The fact that they could be as standard with blinds was a big bonus. They went in so well, fitted perfectly and form the centre piece of the garden," says Alvan.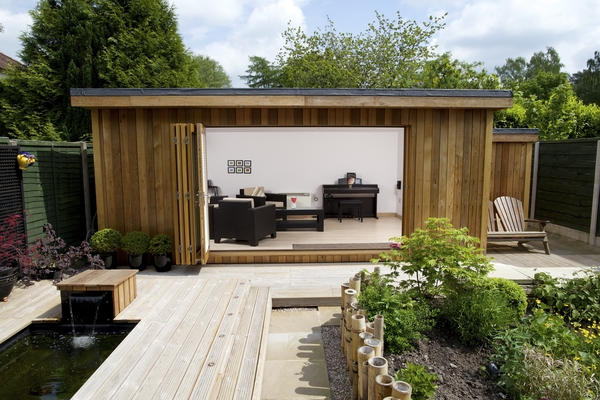 Inside the garden room the Japanese design carries on with black rattan furniture that is taken outside in the summer when the couple have friends round. The cinema gets lots of use, especially when the grandchildren come round to visit. "I enjoy really high quality films and love watching them in comfort on the 3m x 1.5m screen. That said, I'm never happier than when I'm sat watching Toy Story with my grandson," says Alvan.
The cinema had its official opening on December 30th 2012 when Bob Chamberlain, a nearly 100 year old friend cut the tape before they all sat down to watch Gladiator. "It was a lovely day and so warm inside, even in the middle of winter. When we had the heating installed the electrician told us we only needed one heater as the level of insulation in the doors would be more than adequate. He was more than right, as the automatic winter heater has never had to come on," says Beverley.
The Japanese style garden was finally finished in July 2013, just in time for Beverley's retirement party. "Like most gardens they tend to have a life of their own and ours was no different. It's not totally authentic Japanese but it's pretty close. We love the way the garden and cinema connect and reflect each other; they have a style and panache all of their own. The fact that we can use them both all year round is brilliant and dramatically extends our whole living space," says Alvan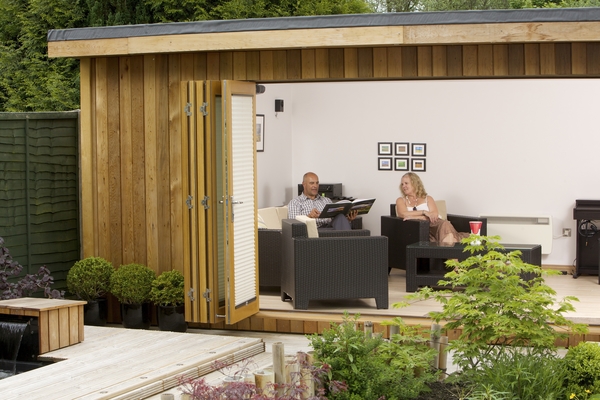 Beverley has now installed her digital piano in the garden room and with the addition of an Internet connection the couple are considering renaming it their Media Centre.