---
Downsizing in house size is something that happens to most of us as younger family members flex their wings and fly the nest. When it happens, finding the perfectly sized new home is not always that easy, as Jacqui and Armando found out; but they also found a solution with Vufold's bifolding doors.
---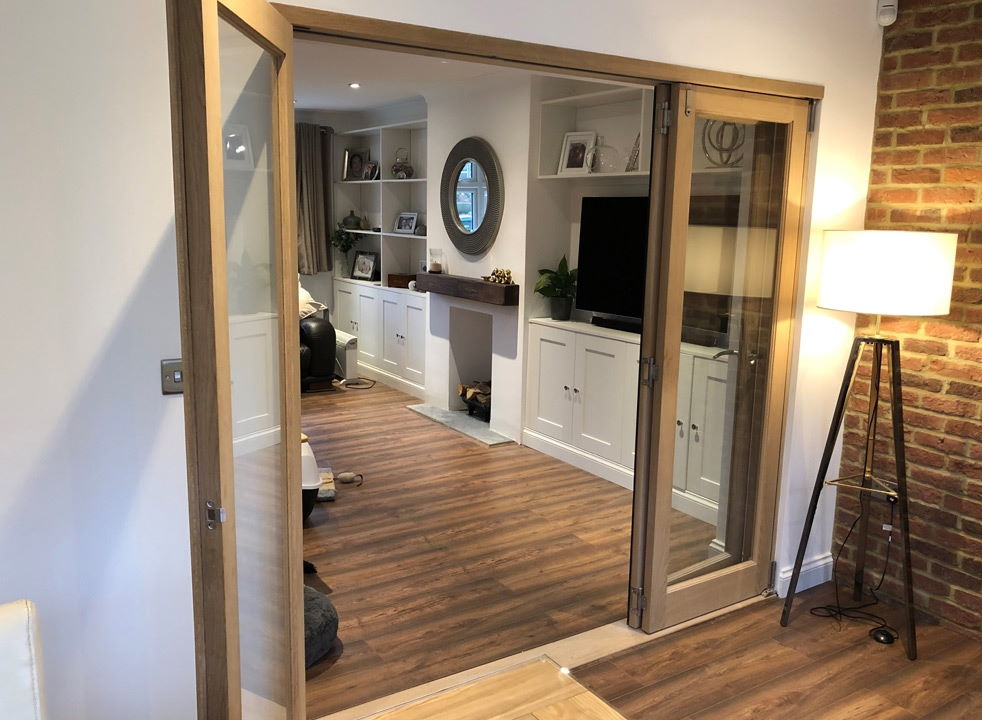 ---
Fifteen months ago, the couple moved into a bungalow in King's Langley near Watford. The property was not really to their taste, so they set about, in Jacqui's words "knocking it about "so they could create the perfect home. Bungalows don't tend to offer substantially spacious living quarters, and this one was no different, as Jacqui explains.
"A key issue for us was that the original layout lacked discrete and comfortable dining, kitchen and living areas. The existing kitchen had a set of patio doors leading out toward a conservatory which we did not really like, so we decided we would extend at the back of the bungalow to create a much bigger kitchen and room for a separate dining area. However, we did not want to end up with lots of little rooms, so we decided to install bifold doors where the old patio doors had been, our intention being to create a flowing space that could also provide options in how we utilised the areas."
---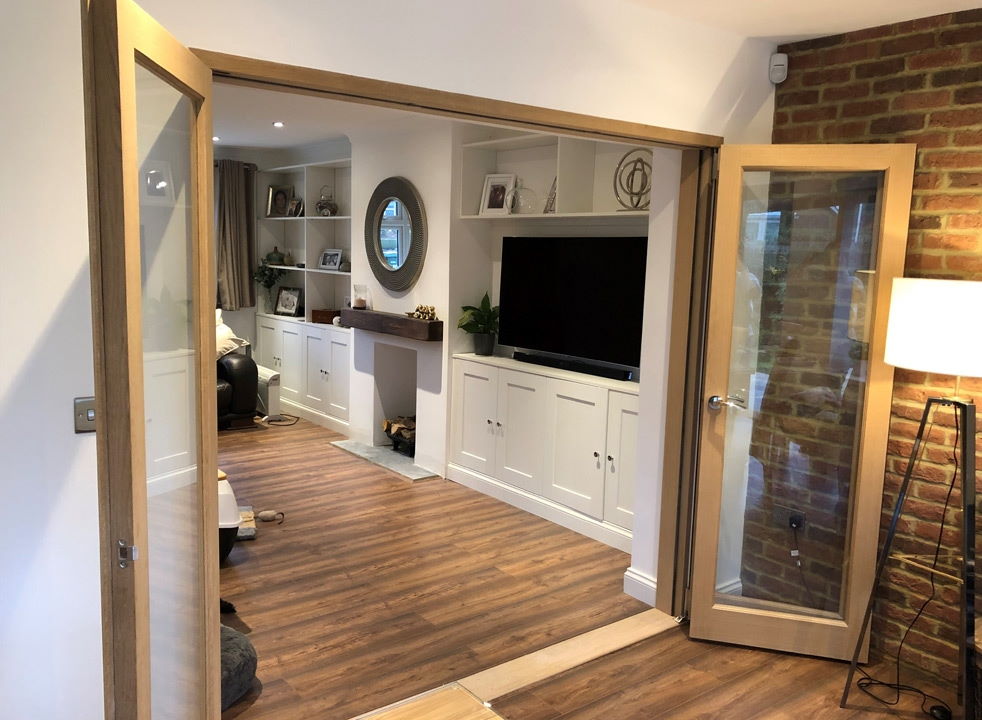 ---
Jacqui and Armando started looking on-line for bi-fold door suppliers and eventually came across the Vufold website, with its videos of the Inspire range.
"We looked at lots of different suppliers, but none gave us the same level of confidence that Vufold did, which was mainly due to their on-line videos. We could see the doors in action, how they opened smoothly and how the mechanisms worked. We knew we did not want white doors and with the Inspire range coming in the oak finish we were pretty much sold on them there and then; so we placed our order and waited for the delivery."
---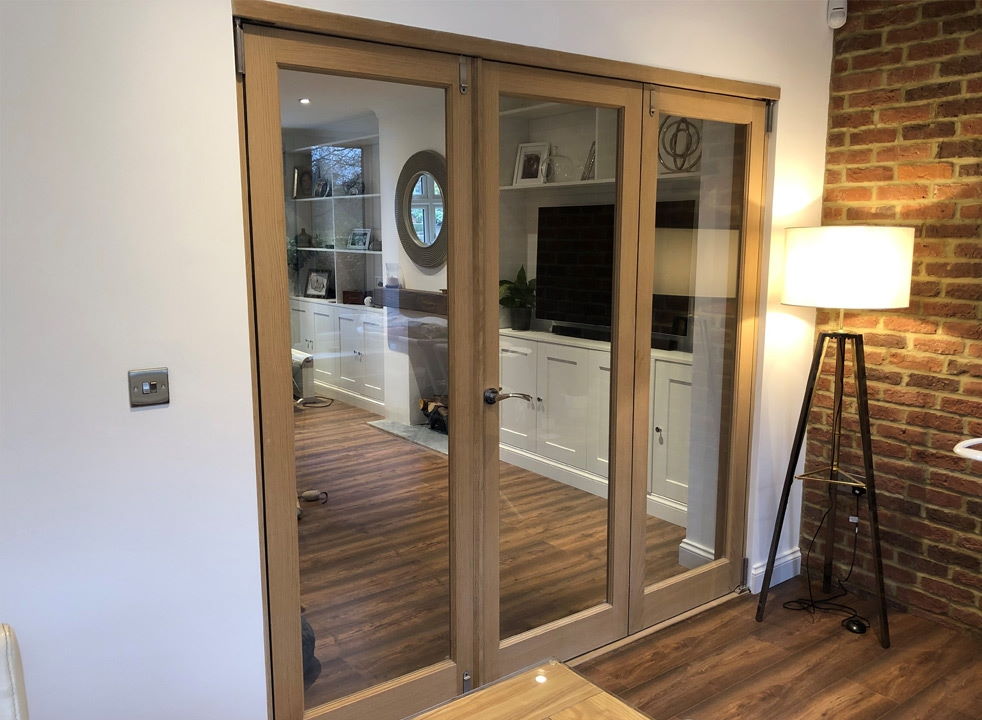 ---
The doors were to be fitted at the end of the construction and fitting out of the new extension by the same builder, who, according to Jacqui, was most impressed with the quality of the doors. Fortunately for the couple, the width of the new doors was perfect for the one left behind by the old patio doors and with the installation of a lintel above them, the new ones went into place perfectly.
---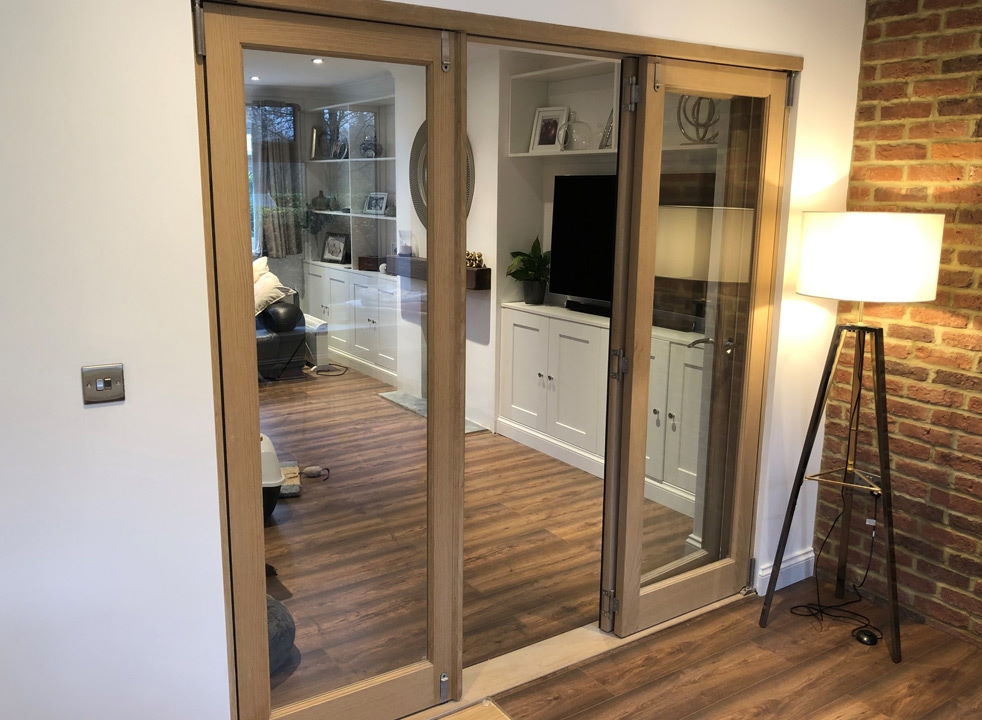 ---
The renovation of the house is now almost done but that has not stopped Jacqui, Armando and their friends admiring the new doors and the difference they have made to the new home.
"We absolutely love them, as do all of our friends. On a practical level, they keep the warmth in and noise out but more importantly it means we have so many alternatives with how the spaces work for us. We can close the rooms off so the dining area is separate from the lounge, open one door so that it works as a flow-through, open two doors and have joined but distinct areas, or, when the family come around, throw them right back to the walls and have one big open living space, which is great. We also had an unexpected bonus in that Vufold were happy for us to use the same door handles that we have on all the other doors in the house. Other suppliers insist on using the ones they supply, but that would have broken up the symmetry and look of the home we had designed for ourselves. Personally, I love the exposed mechanisms and hinges, they add a real stylish touch to their look and judging by the number of people that like my Instagram pictures and videos of them, I'm not alone. I wouldn't hesitate to recommend Vufold to anyone."