---
"Have you ever had the experience of something starting out really positive, and then it just gets better and better? Well, that's what it was like for me when I bought my bi-fold doors from Vufold," says Steve Herd from Doncaster.
---
Steve and his young son moved into a three-bedroomed detached house two years ago and inherited an old conservatory with aluminium sliding doors that separated it from the dining room.
---
"The conservatory leaked, and the doors were just, well, lovely in the way only aluminium doors can be, so both had to go," says Steve.
---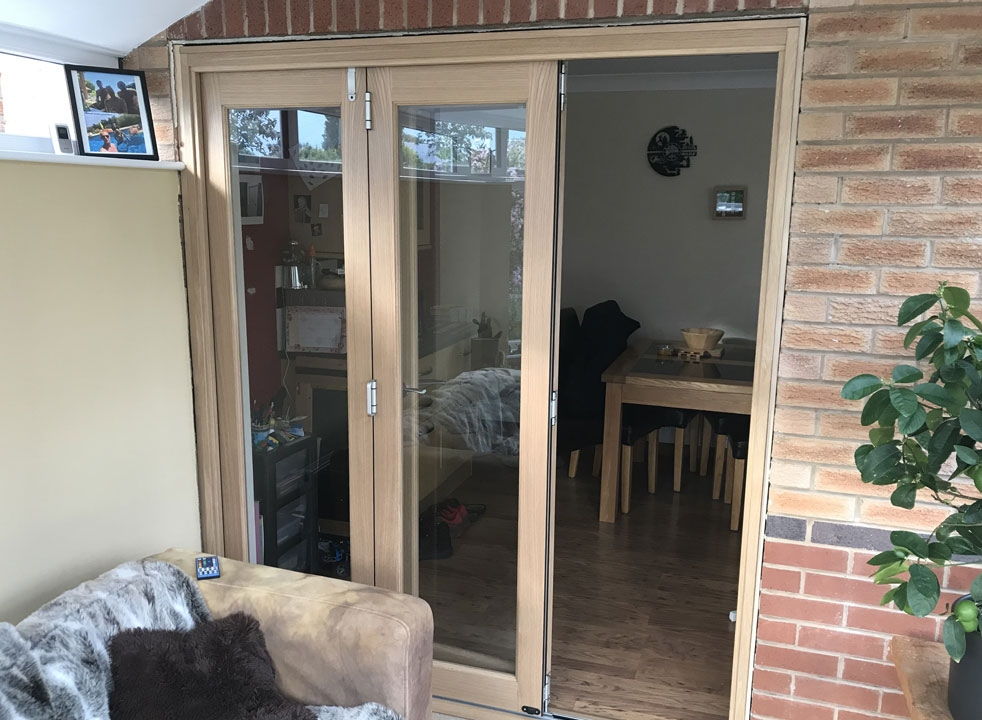 ---
The plan was to replace the conservatory first and then decide on replacing the doors. With the conservatory facing south, it essentially became an oven in the summer, with temperatures getting into the 40's but plummeting in the winter. Steve decided on a solid roofed conservatory to reduce the heat but feared he may lose light into the dining room – and he was right.
---
"I was now in a quandary, I figured I'd sorted out the heat with the solid roof, but it made the dining room dark. I wanted to be able to control the heat and light from and into both areas and while friends were suggesting putting in sliding doors, I knew that would limit my options - for instance, how can I watch TV in the dining room when sat in the conservatory? How do I not have a door separating the rooms when I want it to look like a nice, big, open space? How do I enjoy the warmth of summer but ensure I am warm in winter?"
---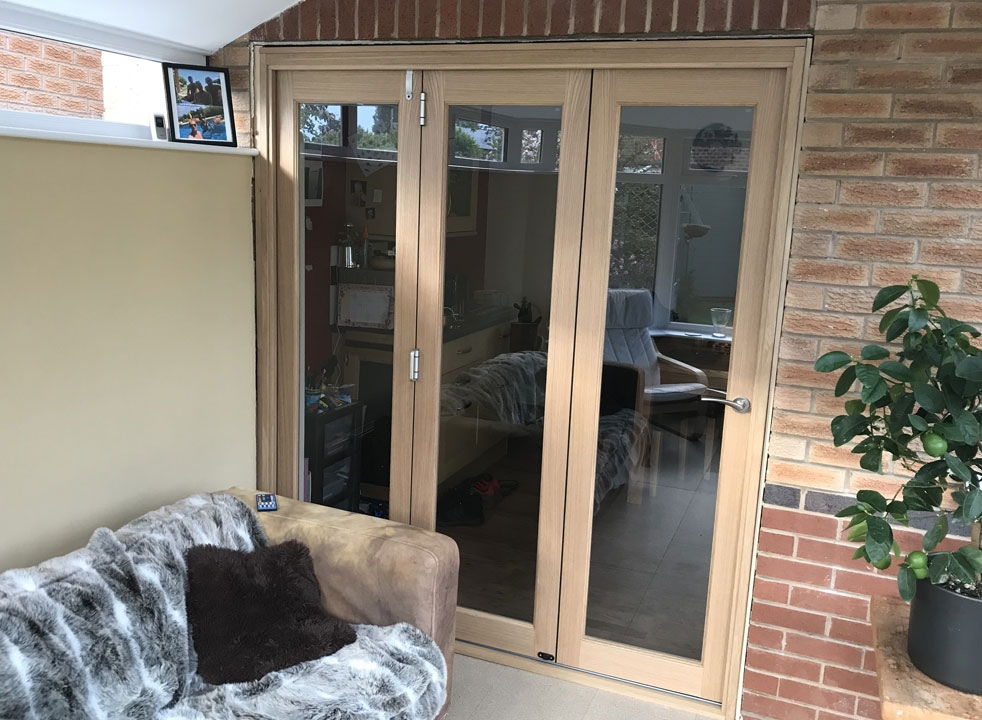 ---
The answer came to Steve from watching programmes like Grand Designs. He'd seen folding doors, liked what they could offer and started looking online. Very soon he came across Vufold and was instantly impressed with the Finesse range.
---
"I looked at lots of doors but what really impressed me with Vufold was that they come as a whole package. Unlike other providers who offer a Frankenstein option where you bolt stuff on, Vufold gives you everything you need in one purchase and the spec just seemed far superior compared to others. The frames are slimmer, they come with the runner and fitting options I wanted, and the price was pretty bang on to my budget too," says Steve.
---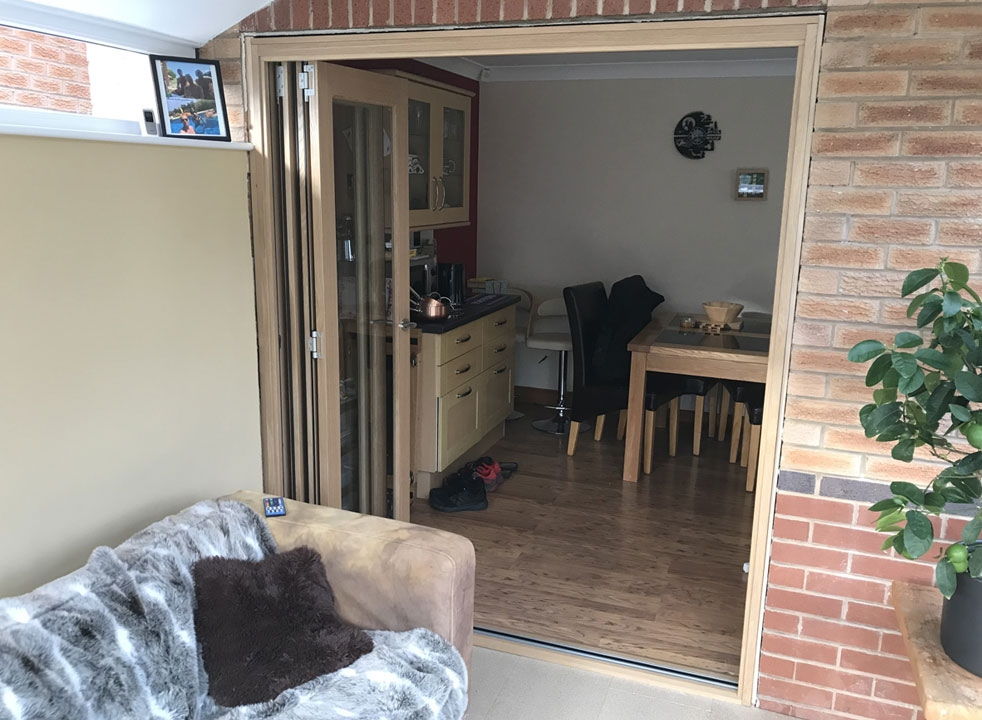 ---
The next pleasant surprise for Steve came when he rang on a Tuesday to place his order. Could he have them delivered on Friday? – he could, and they were!
---
"The delivery people were just lovely," says Steve, "they texted me when they were close to being here, they helped me carry the doors in and put them just where I wanted them, they smiled all the time; they were genuinely really nice people and a pleasure to deal with."
---
When the time came to fit the doors, Steve decided he would take on the task himself.
---
"I'm a pretty good DIYer, not tradesman standard, but OK. I was delighted by everything to do with installing the doors. The packaging is brilliant, all clearly marked, and the instructions are just so easy to follow. I simply could not believe that they included the correct, good quality drill bits and bolts - that totally blew me away; I've never seen anything like it. Hanging the doors was a doddle, I actually did everything on my own."
---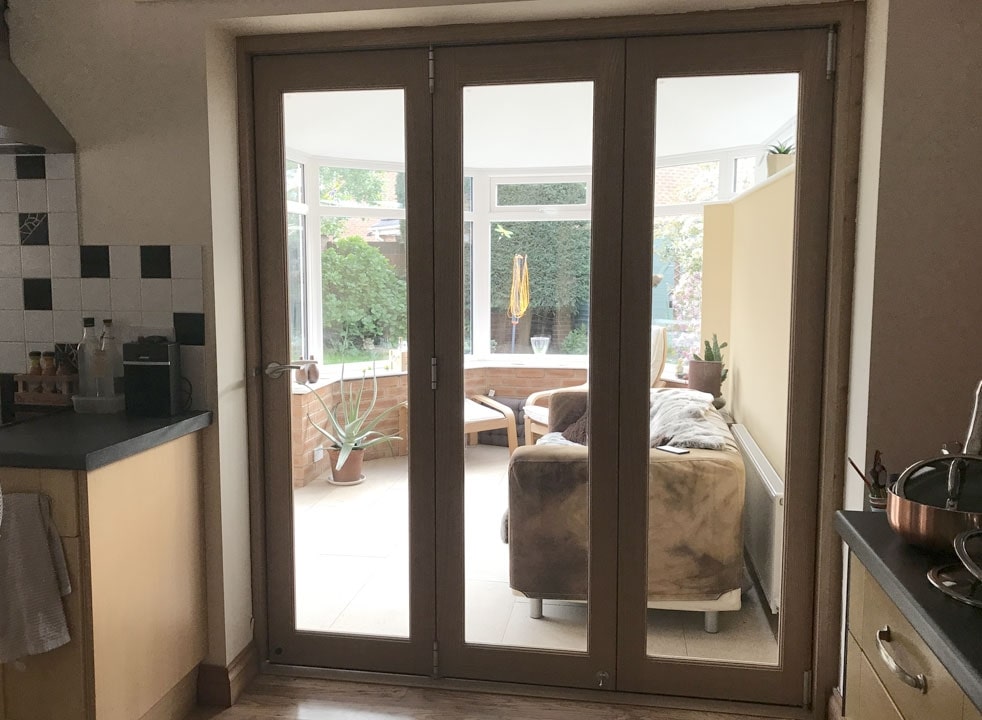 ---
With the doors now in place, Steve has had time to consider his experience of becoming a Vufold customer.
---
"I can only say good things about Vufold. Genuinely, it's been an absolute pleasure to have done business with them, which is not something you can say too often about a company these days. Everything was how it should have been and more, there was absolutely nothing to fault. I almost feel like I should be saying thank you to Vufold for letting me be a customer," says a very happy Steve.
---
"I was taken by the whole experience by now I took some of the stuff into work and showed it to my team. I said, look at this, I order, it comes on time, the order contains everything I need, the instructions are clear and easy to follow - shouldn't we be doing things to this standard, what can we learn here?"
---
NEED HELP WITH A PROJECT?
GET £50 IF WE PUBLISH YOUR PROJECT