About Vufold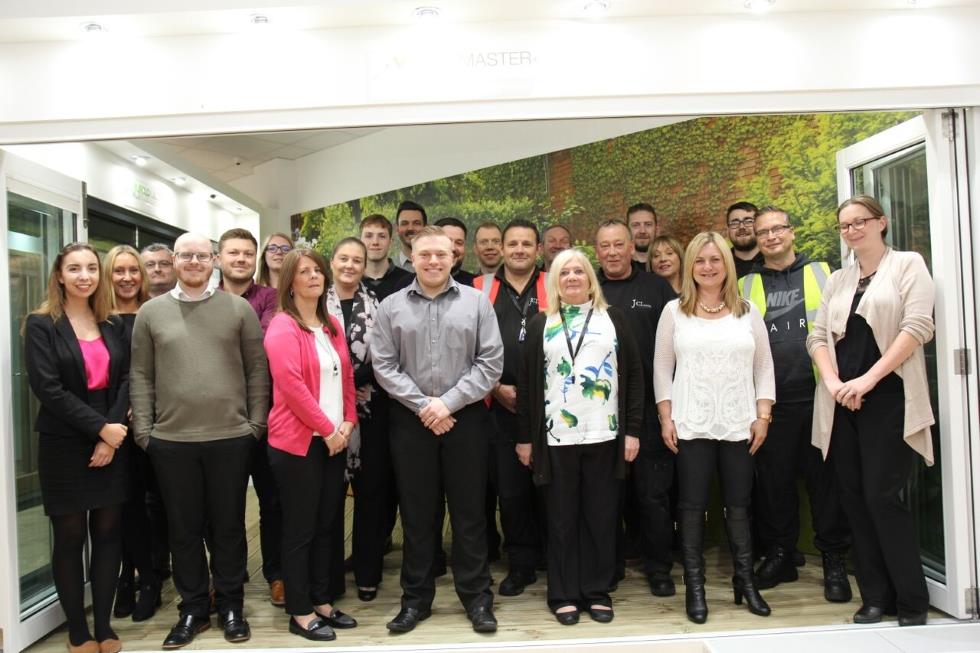 As a UK-based family business, we're here at the end of the phone before you buy - and after. We pride ourselves on good family ethics and care about our customers so we maintain a great reputation within our industry. We do this by being transparent with everything we do, including our pricing as well as making sure the service you receive is what we would expect to get ourselves. We design in-house, and craft every door and window to rigorous quality specifications.
Although the Vufold bi-folding doors brand launched in 2006, we've actually been in the design and manufacture of wooden doors and door systems since 1982. Throughout that time, we've been at the forefront of the design, high volume production and supply of bifolding doors, patio doors, French doors and conservatories to many leading companies in the UK and Ireland.
We launched Vufold bi-fold doors in 2006 because we were convinced that the patio door market was ready for something different than traditional hinged French doors or sliding doors.
We saw that expansive, versatile and secure external glass doors were increasingly sought after by homeowners through regularly featuring on TV DIY and home renovation programmes.
We recognised that people love the simplicity and versatility of the bifolding door concept, but were limited by the cost and complexity of the traditional bespoke options on the market. Our answer was to design a top quality, robust system of folding doors which combines the detail and workmanship of bespoke doors, but at off-the-shelf affordability. Through our designs and technical innovation, you get a top quality folding sliding engineered timber or aluminium door set that doesn't cost the earth but does not skimp on quality or the security you want.
In 2016 we launched our Vufold windows in two ranges, Ultra and Status/Supreme to compliment and match the Ultra, Status and Supreme bifold doors. This was due to popular demand from our customers seeking to install our fantastic bifold doors and windows together to give their home the wow factor.
Now you can buy Vufold doors and windows direct from us so you benefit from our expert advice and incredible customer service. All products are normally in stock, so you can be enjoying your new doors within a couple of weeks. The price you see is the price you pay. No hidden extras, just beautiful doors.
Vufold internal and external bi-folding doors, French patio doors and windows are designed to make your life as easy as possible. They are secure, robust and supremely flexible. All external bifold door sets open outwards and are reversible, meaning they can be installed to open either left to right or right to left, according to your preference.
The internal Vufold door ranges can be fitted to open into or out from the room of your choice, and opening from left to right or from right to left. French patio door sets also provide alternative opening options allowing you to choose from doors that open in or outwards.
The Vufold double glazed windows have various opening options allowing you to choose when instaling from left, right, bottom left or bottom right opening. The triple windows have two opening options either left and right or bottom left and bottom right. The Vufold single windows have two types, a full window with opening options left or right or bottom and the split window with a 1/3 opening at the top.
Why we're so proud of our doors
The Vufold team pioneered the manufacture of 'engineered timber' components in external and internal wood bifold doors. Engineered timber is a wood-based product that has been specially designed for improved performance. It's made from combining wood with super-strong adhesives and other performance-enhancing materials and is particularly suitable for tough structural situations, such as bi-folding doors, where added strength, stability and durability is required. This process avoids warping and malformation commonly found with softwood and solid wood alternatives. In 2016 this process was further developed to introduce double glazed windows to the Vufold portfolio of products, using the same manufacturing practices as the doors.
It's also less wasteful than solid timber because it maximises the use of timber waste from other processes.
Our external bifold doors, internal folding room dividers and our French doors are crafted in specialist, state-of-the-art woodworking and aluminium factories. The factories use the latest hi-tech machinery to produce Vufold doors and frames to a very high and consistent standard, and because we produce our doors in large numbers, we're able to keep prices down to an affordable level.
The Vufold external bifold doors and our French door sets are available in many sizes from 1.2M (approx 4ft) to 6M across our different ranges, whilst the Internal ranges are available from 1.2M (approx 4ft) to 3M (approx 10ft).
The Vufold Timeline
2006
Vufold launched using LPD Doors as the distributor. Our first product was an unfinished oak bi-fold 2.4M (8ft), 3 door set.

Gail Fletcher joined the company.
2007
We introduced additional sizes: 3M (10ft), 3.6M (12ft), 4.2M (14ft) and 4.8M (16ft) in 4, 5 and 6 door set options. Late in 2007, we were given 24-hour notice to vacate our warehouse because the company we rented from went into liquidation.
2008
We bought and moved into our 14,000 sq ft warehouse and offices and introduced factory pre-finished 54mm bi-fold doors in Oak, white and mahogany. We also introduced 46mm bi-fold doors in oak and white, as well as French doors sets in pre-finished white and oak.

Also Martin Burgess joined the company in Customer Services, as well as a new position in the warehouse.
2009
During 2009 we trialled selling direct to the public on Ebay, which was a huge success.

We also expanded our employees: Jacqui Rawles joined the customer services team and Kath Birtles joined the admin team.
2010
Our first Vufold transactional website was launched in March direct to the public. We launched the Internal bi-fold doors sets, Finesse and Edge. We invested and installed a warehouse management system, utilising barcode technology to streamline the warehouse processes. Amanda joined the customer services team.
2011
With stricter thermal performance requirements to comply with building regulations, the 44mm/46mm thickness bi-fold doors were discontinued. As a response, we concentrated on the 54mm thickness sets and introduced Argon filled double glazed units. Due to expansion, we purchased an additional 5,500 sq ft warehouse.

Marketing was boosted with the addition of Kerry Murphy-Kaytan; we also added Mat Mason and Tom Gosling to the warehouse team.
2012
Introduced the Prestige solid oak bi-folding door sets and the Ultra aluminium clad (composite), triple glazed bi-folding doors. We also launched a brand new Vufold e-commerce website to give our visitors an improved user experience.

David Ross joined the customer services team, Jenny Garside joined the accounts team and Wayne Lomas joined the warehouse team.
2013
We re-launched the internal bi-fold Finesse and Edge doors sets in the most popular sizes, to give our customers a simpler product offering. Also, we introduced the unique Inspire internal folding door range, which folds completely back against the wall, therefore maximising space. Our most recent product introduction was our first fully aluminium bi-folding door, called the Supreme.

We expanded with an extra position in the accounts, administration and customer services departments.
2014

Exhibitions and shows are increased to 10 and include smaller regional home shows. The showroom is revamped to include more of the new doors Vufold introduced in 2013. The website gets a facelift and new features are added to give visitors a better experience and view of the products, including videos, customer gallery and case studies.

Colin Blackmore joins the marketing team. extra positions were made available in the administration and accounts departments.

We launched a finance option offering Interest-Free Credit (0% (APR Representative) for 12 months on orders over £1000.

2015

We have transformed our Ultra range by increasing the glass size in our 3M (10ft), 3.6M (12ft), 4.2M (14ft) and 4.8M (16ft) door sets. We updated our Master, Elite and Prestige range to have slimmer stiles, meaning more glass area and more light. Also we added grey to our Master range and introduced Ultra French doors to compliment the Ultra Bifold door range. We expanded our customer services team by adding a further person.

2016

Our new improved website has been launched to make the searching and buying process easier. We have introduced windows to compliment the Supreme and Ultra ranges. Also we have launched Supreme French doors. Phil Guy joined the company to manage the new sales team. Bianca Abbott has joined the customer services/order management team.

2017

We have added sizes 4M, 5M and 6M to the Supreme range of aluminium bifold doors. Also, we launched the Status aluminium range of bifold doors, windows and French doors. We have expanded the sales team by adding three new positions and a further position in the customer services team.

2018

We have added a new position for a trade sales manager to look after the trade side of the business. We have also launched our roof glazing products which consist of flat roof lights and roof lanterns in standard sizes or bespoke options.

2019

We have added a new position in trade sales and we have launched our bespoke aluminium sliding doors. We have the fastest delivery in the UK for aluminium bifold doors with our Status Express range.