Bifold doors for summer houses: benefits, considerations and the best bifolds
Summer houses are a popular addition to many types of gardens. They are weatherproof, space saving and come in a range of styles. Bifold doors can transform a standard summer house into the height of luxury — whether you are looking to entertain guests or turn the summer house into a beautiful garden office.
---
---
What is a summer house?
'Summer house' has become a catch-all term for building structures in the garden. They are also known as garden rooms and garden spaces.
Summer houses are buildings or shelters used for relaxation in warm weather. However, with modern technology, summer houses can be used all year round as offices, hosting spaces, home cinemas and more.
---
Benefits of bifold doors for summer houses
---
The main benefits are as follows:
Bringing the outside in
Added security
Space saving
Low maintenence
Multiple design choices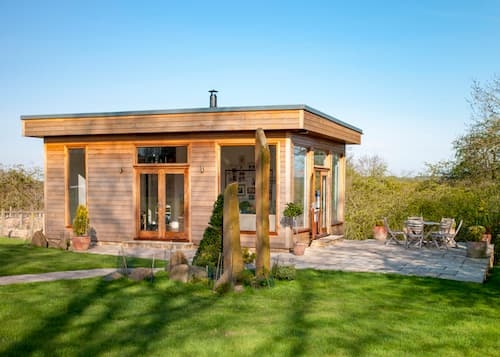 ---
Bifold doors are particularly effective for summer houses as they allow for clear views of the garden. In this section, you will find some of the key benefits of summer house bifolds.
---
Bringing the outside in
British weather is known to change frequently — one moment there may be sun and warm breeze, the next thunderstorms. This can make spending time in the garden complicated.
Bifold doors help to bring the outside in. A summerhouse with bifold doors can be enjoyed no matter the weather, offering all the sights of the garden whatever time of year it is. And when it's hot, bifold doors can be thrown open for you to enjoy the sounds and smell of nature, as well as the sights.
Vufold offers bifold doors with excellent energy efficiency, keeping your summer house cool in the summer and warm in the winter.
---
Added security
As summer houses are usually detached from the main building, security can be a concern for homeowners. Vufold's bifold doors use the latest methods to offer greater security than standard doors. They are:
Compatible with multi-point locking systems
Feature internal beading / internally glazed
Laminated glass for optional safety
You can find out more about security systems in the consideration section below.
---
Space saving
Summer houses in the UK are often 'compact', with limited space. Bifold doors are particularly suited to this type of restriction as they take very little space when open. You will only need to plan a stacking space for when the door is fully open.
Some ranges of bifold doors can be installed to open inwards or outwards. If your summer house has restricted space, you can open your bifold doors outwards. This means they won't take up any space inside.
---
Low maintenance
Depending on the type of material, bifold doors can be very low maintenance. Aluminium bifold doors only require the occasional clean with water and detergent. This can be very welcome when applied to summer houses, which are often exposed to the elements due to their position in the garden.
---
Multiple design choices
With bifold doors, you have several materials to choose from and dozens of stains, finishes and paints. You can create a fully personalised bifold door that will suit any design of summer house.
---
Considerations
There are several considerations you need to make when purchasing bifold doors for a summer house. These considerations range in importance, but it's worth keeping them all in mind when choosing your bifold door.
The main considerations are:
---
1. Summer house usage
What will you use your summer house for? You may already know the answer, but if not, it's worth giving some thought. Some frequent uses for summer houses are:
Event hosting space
Are you looking to host dinner parties and BBQs? Summer houses offer an excellent space in the garden for such events.
You will want to ensure your bifold doors shows off the best of your garden and summer house. You may want to choose bifold doors with thinner sightlines for a more unobstructed view.
---
Garden office
When working from home, productivity can suffer. Your home is full of ready-made distractions. A garden office helps give you the space to work, with all the amenities of a home.
A garden office will suit almost any kind of bifold door.
---
Home cinema
Home cinemas based in summer houses are becoming more popular. And being separate from the main house, you can enjoy your blockbuster at full volume without disturbing the rest of the household. Summer houses that are designed to be a home cinema offer a fun, relaxing space to enjoy all year round.
If you are considering bifold doors for your home cinema summer house, you should also consider purchasing blinds. Vufold offers blinds specifically designed to fit their timber bifold doors and oak bifold doors ranges. The aluminium bifold doors range can be installed with integral blinds installed between the panes of glass.
---
Gym
If you don't have easy access to a public gym or find them too expensive, a summer house gym might be your best choice. You can enjoy all the benefits of the gym along with some privacy, plus, no membership fees!
Bifold doors are an excellent choice for a summer house gym as they can be partly opened with a traffic door to let in a breeze during your workout. In better weather they can be opened fully so you can work out with the feeling of the outdoors.
---
Multiple purposes
Most people use their summer houses for a mixture of reasons. During the day they may serve as a garden office, and at night, a dining area. The versatility of bifold doors means they provide flexibility in these situations and can adapt to almost any situation.
---
2. Planning permission
Including bifold doors when constructing a summer house will not make any difference to your planning permission.
Generally, most summer houses that are well positioned within a back garden do not need planning permission. If the summer house does not take up more than 50% of the garden space and is not considered a separate dwelling, you are likely to be able to erect a summer house.
Some key restrictions include:
If you build an outbuilding within 2 metres of the garden boundary, it should be no taller than 2.5 metres at its highest point (this varies across the UK so check with your local planning authority)
If your outbuilding is not within 2 metres of the garden boundary, it's overall maximum height can be up to 4 metres
---
3. Energy efficiency
Ensuring your summer house is set up for optimum energy efficiency will result in the use of less heating/cooling energy when maintaining a comfortable temperature.
Good insulation for a summer house is the best way to ensure energy efficiency. Natural wood products that make up a timber summer house offer natural insulation. Wood acts as thermal insulation and helps regulate cold and heat inside a building.
You should ensure your bifold doors match this level of energy efficiency. Avoid losing heat/cold through a bifold door with poor insulation properties. To guarantee maximum energy efficiency, you need to check the overall U-value of a bifold door.
The U-value: measures how effectively a material insulates a room. The lower the U-value, the better the insulation properties of a material.
You should aim to install a bifold with an overall U-value of 1.4 W/m2k or less. This will ensure your summer house is as insulated as possible. Vufold bifolds have U-values as low as 1.0 W/m2k.
---
Materials
Summer houses and other garden buildings can be made with a variety of materials. The most common being timber or other wood products. In this section, you will find information on common types of materials for a garden building, their pros and cons, and considerations when installing a bifold door.
Type of materials

Pros

Cons

Bifold considerations

Timber

Natural insulation
Aesthetically pleasing
Environmentally friendly
Can be combined with a timber bifold door for a unified look

Regular-maintenance
Can degrade over time
Prone to infestations if not treated correctly

Unless specifically reinforced, you will need to install a bottom-rolling bifold door (see below for more information)

Plastic

Easy to maintain
Easy to install

Cheap-looking
May not be reinforced

You will need to install a bottom-rolling bifold door

Concrete

May require planning permission
Less aesthetically pleasing than timber

If your concrete summer house is properly reinforced, you will be able to install top-hung and bottom-rolling bifold systems
---
5. Security
Summer houses can be a target for burglars. It's important to secure your summer house from any potential burglaries. For general security, you can install:
Security cameras
Motion sensor lighting
Good fencing
Your bifold door can also ensure an added layer of security. Don't simply settle for standard bifolds. Make sure you assess how secure the bifold is. You can do this by checking the locking system and glass type.
---
Lock system
A decent locking system is important to ensure your bifold door is as secure as possible. Vufold bifold doors are supplied with door handles that fit a multipoint locking system. As the name suggests, a multipoint lock features an added locking mechanism to increase security.
---
Why choose a multipoint locking system?
There are many added security benefits for multipoint locks, including the following:
Insurance companies favour multi-point locks due to their added security
They offer three times the level of security compared to standard locks
More locking points means it's harder to break
---
Glass
Glass for external doors should provide safety through security and reinforcement. This added security should not be a detriment to the glass quality.
Generally, external bifold doors come with two glass types:
Tempered glass (known as toughened glass) — a rapidly cooled glass that is 4–5 times stronger than befor
Laminated glass — created by using 2 pieces of glass with a vinyl layer sandwiched between them; bonded using a combination of pressure and heat. When shattered, this process makes the glass hold together
---
Benefits of laminated glass
Remains as one unit
No holes created
Harder to smash / breakthrough
---
6. Top hung or bottom rolling?
When bifold doors are called top hung or bottom rolling, it is referring to the track system. All bifold doors require a main track to operate. This main track is either located in the frame head (top hung) or the bottom threshold (bottom rolling).
Top hung vs bottom rolling
Track system

Pros

Cons

Top hung

Smooth operation — Top hung doors mean the weight hangs from the top and require less force to move along the track
Lower threshold — With the main track in the frame head, the bottom threshold can be lower
Low-maintenance —Debris is unlikely to collect in upper track

Added support required — Your lintel needs to be strong enough to support the weight of the door which can be difficult for summer house materials

Bottom rolling

Less support required — The weight of the bifold is carried on the floor
Easier installation — Fewer holes are needed in the guide track located in the frame head

Jamming/blockages — Standard bottom rolling bifolds can have their main tracks clogged. However, Vufold bifold doors use the latest technology to stop this issue
The aluminium bifold doors range uses a sealed outer frame to stop debris
Supreme range uses a self-cleaning bottom rolling system to remove any blockages
---
Best bifold doors for summer houses
In this section, you will find Vufold's top bifold doors for summer houses.
---
Status range
---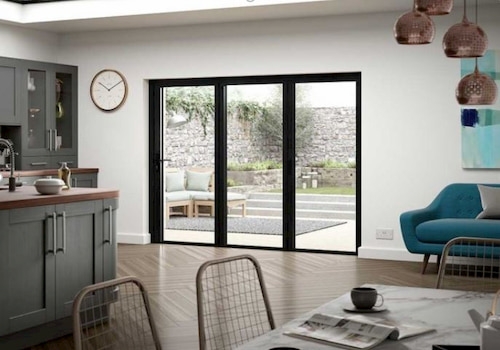 ---
The status range offers excellent performance at affordable prices. The aluminium material and narrow sightlines offer a stylish look for any summer house.
The Status range utilises a sealed outer frame that helps stop debris from falling into the main track. This stops any blockages and ensures smooth operation.
Main benefits
Secure multi-point locking system
Energy efficiency and weather tested
Bottom rolling
15-year guarantee
---
Supreme range
---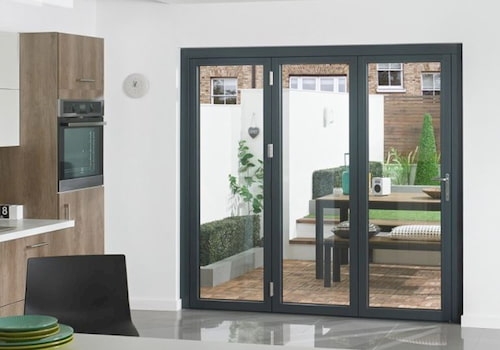 ---
Excellent aesthetics and operation combined. The Supreme range boasts a self-cleaning bottom rolling system, providing effortless operation.
Main benefits
Secure multi-point locking system
Energy efficiency
Easy intallation
Adjustable hinges
15-year guarantee
---
Master range
---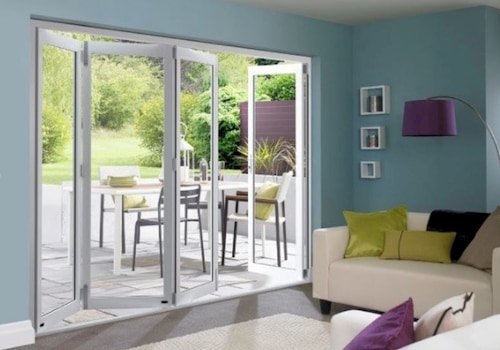 ---
The Master range offers one of the slimmest timber door styles, without sacrificing glass area. The Master range combines quality and affordability that can match any summer home.
Main benefits
Secure multi-point locking system
Thermal efficiency
Slim sightlines
10-year guarantee
---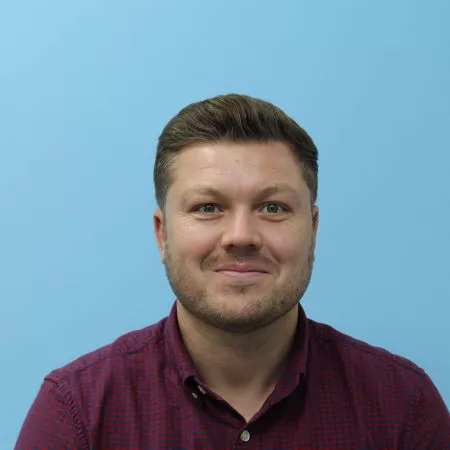 Author:
Martin Burgess - Customer Service Manager
About Martin Burgess
For customers, Martin is one of the key people at Vufold and looks to offer technical advice, resolve any issues or problems that they may have. Martin is passionate about protecting the reputation of Vufold and likes to see a positive impact on the business due to his day-to-day efforts. Martin's proud of the team he's built around him and is dedicated to constantly improving the way the company meets its service commitments and delivers on its promises.
Read more about Martin Burgess