Bifold doors for extensions: Considerations, Types and FAQ's
---
Bifold doors are an excellent addition to any kitchen. They can brighten rooms, offer expansive views and create a seamless link from a room to an outdoor area. In this guide, you will find information on the benefits of kitchen bifolds, the best types of bifold doors for certain kitchens and some of the considerations you face when purchasing.
---
In this guide:
Learn more about the factors you should consider when looking for and choosing bifold doors for an extension.
Find out more about the types of extension that bifold doors are perfect for including kitchens, dining rooms and living rooms as well as design ideas for bifold doors.
Find the answers to frequently asked questions when buying bifold doors for your extension.
Key considerations when choosing bifold doors for your extension
---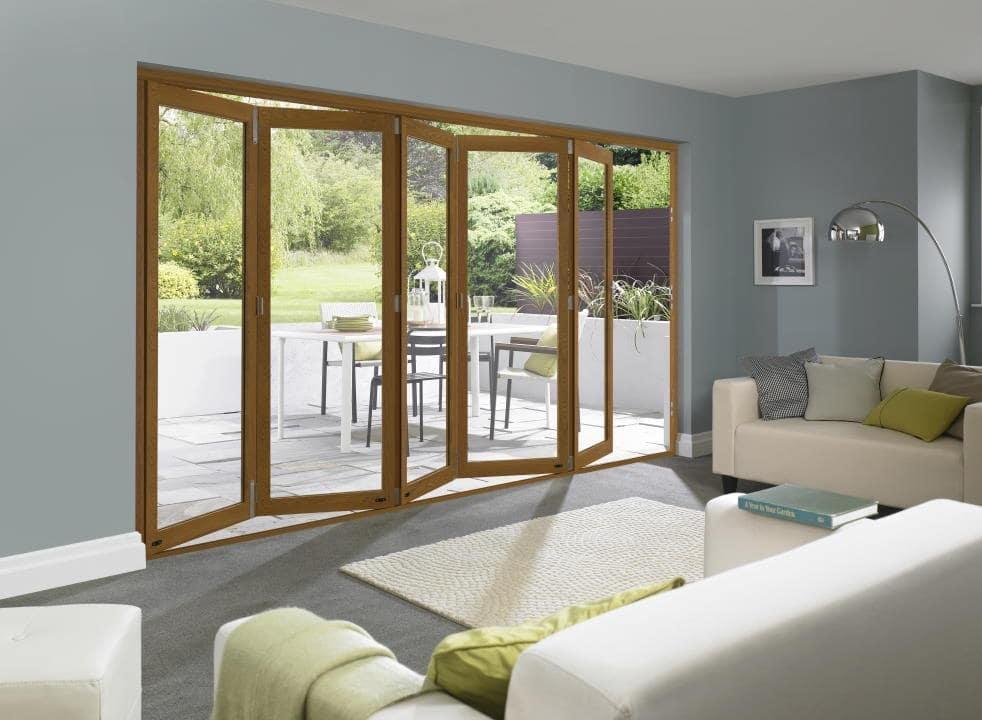 ---
There are a number of types of patio or glass doors available for an extension, but many homeowners choose bifold doors because they want to connect indoor and outdoor space and introduce as much natural light into their homes as possible.
While bifold doors can often carry a higher cost than other types of door, their benefits are numerous which makes them attractive for those who are looking to build an extension.
---
How much do bifold doors cost?
Cost should always be a factor when purchasing bifold doors. However, some people forget to consider the cost of a door when planning their extension. This can lead to last-minute cheap purchases and a poorer quality door. When planning, you should incorporate the cost of the bifold door into your overall extension costs to ensure better value, quality and longevity.
Vufold price comparisons for different types of bifold door:
If you'd like to know more are the alternatives to bifold doors such as a sliding door or French door and their costs, please read our guide.
---
What materials are available for bifold doors: Pros and cons
The material of your extension bifold doors is an important consideration as it will play a part in the aesthetic, durability and cost of your folding doors.
---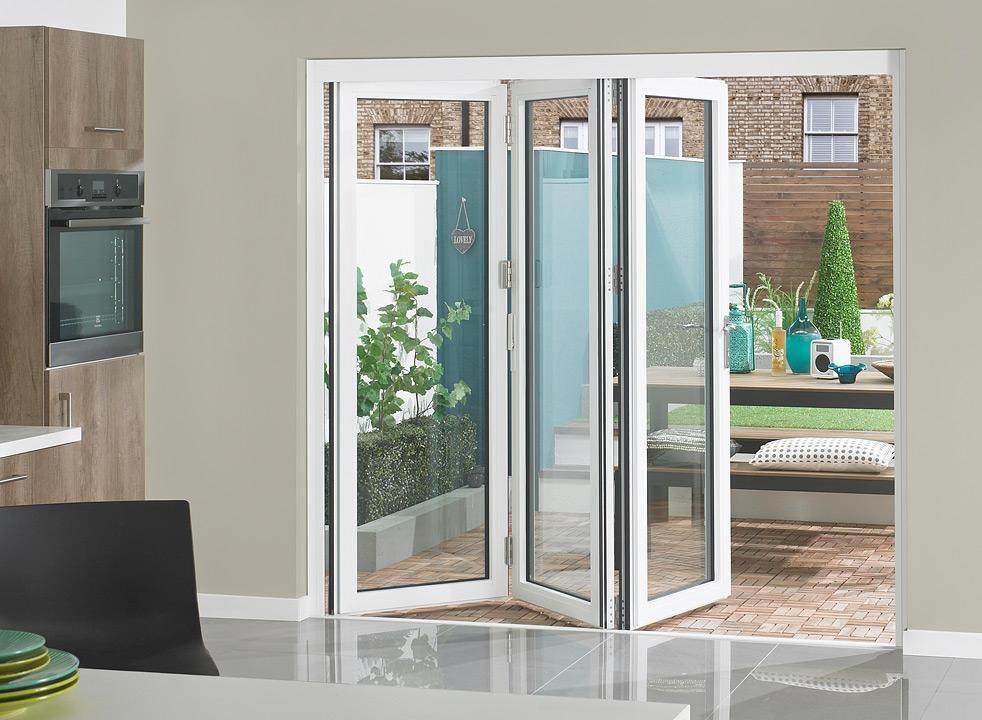 ---
The table below compares the three main materials and different types of bifold doors: aluminium, timber, uPVC.
---
Extension bifold doors: aluminium vs timber vs uPVC
Consideration
Aluminium bifold doors
Timber bifold doors
uPVC bifold doors
Maintenance

Very low maintenance
Only needs an occasional wipe with soapy water

Needs occasional clean with soapy water two times a year
Will require recoating between 2-5 years

Prone to contracting and expanding
Looks worn faster than alternatives
Regular maintenance required to ensure smooth operation

Style

Has a distinctly contemporary look
Comes in a range of powder-coated finishes

Offers the widest range of styles
Can be varnished or painted in a range of colours

Looks cheaper than the alternatives
Available in different colours

Thermal efficiency

Very thermally efficient
Triple-glazing is available for added efficiency

Wood is a naturally good insulator
Offers the widest range of styles
Double and triple glazing available for external doors

Thermal efficiency can vary between manufacturers
Expansion and contraction can reduce thermal efficiency

Durability
Cost

Highest initial cost
Paying for durability and quality

Low to mid-level
Wide range of styles to fit most budgets
You can find out more about the differences between aluminium and uPVC folding doors by visiting our guide: External bifold doors: aluminium v uPVC
---
Glazing options for bifold doors
Single glazing – just a single pane of glass with very little thermal insulation. You will mostly find them on listed buildings where other types of glazing cannot be installed
Double glazing – the most common type of glazing in the modern home. It is created by separating two panes of glass with a spacer bar. The gap between the panes is filled with air or an inert gas (Argon) which reduces heat transfer between the outside and your home.
Triple glazing – uses the same technology as double glazing, but includes an extra pane of glass for added thermal insulation.
For external doors, you should try to purchase folding doors with double or triple glazing.
---
How does the size of your extension affect the size of your bifold doors?
The benefit of bifold doors over alternatives is that they can fit almost any size. Vufold offers doors from 1.8 metres to over 6 metres in width. If your extension requires a unique size or style, you can contact Vufold for prices on bespoke folding doors.
Expert quote: "Bifold doors can have a big impact on smaller extensions. They can bring in more natural light and draw your eye to the garden, creating a feeling of space" - Rick Collins, Director, Vufold
---
When should you install a traffic or lead door?
---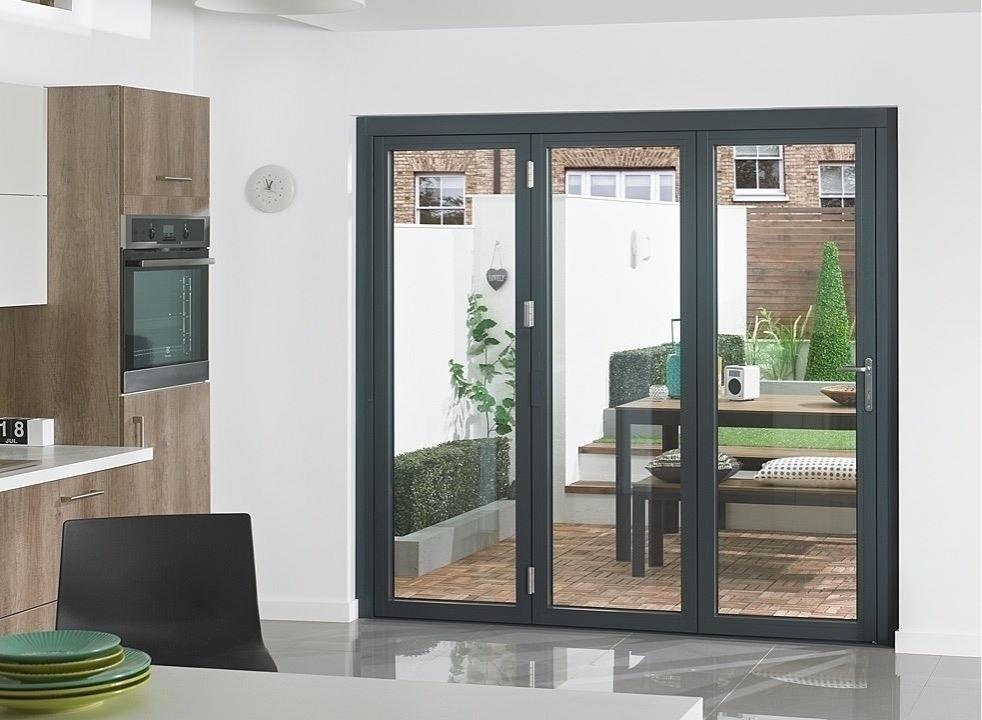 ---
A daily access door, also known as a traffic or lead door, is the part of a bifold that acts as a traditional opening door. It opens and closes as a normal door would with a handle. This means you don't need to operate the entire bifold if you are passing through.
---
Why should I have a traffic door?
The two main reasons you should have a traffic door is:
The bifold door is the only access to the garden - you can just open the Lead door if you're for example letting the dog out for a run.
The bifold door will all stack to one side when open – Bifolds with an odd number of doors all fold to one side.
---
---
Types of extension
Extensions are a great way to maximise the space within your current home and, even an single storey extension, can add up to 23% to the value of your property, if they're done well. Bifold doors are a great addition to any extension and will help to make the space look and feel even bigger.
In this section, you will find information on the main types of extension with bifold doors, some considerations to make when installing a bifold, the reasons for installing a bifold door for your extension and the best bifold for the job.
The main types of extension are:
Kitchen extension
Bedroom extension
Conservatory extension
Small extension
Living/dining extension
---
Choosing the right type of bifold for your kitchen extension
Kitchen extensions can come in many different shapes and styles. The right bifold door can suit both traditional and contemporary-style kitchen extensions. This means that the main decision you have is personal taste. However, ventilation is also a key consideration.
---
Ventilation for your kitchen
Good ventilation keeps condensation to a minimum. Boiling liquids produce a lot of steam which, when it makes contact with something cool, turns into condensation. You can ensure your kitchen has decent ventilation by:
Purchasing an extractor fan
Ensuring there is at least one window as well as your bifold door
Choosing a bifold with a trickle vent (a small opening that allows a small amount of ventilation), if your kitchen has no window
Best bifold for contemporary style kitchen extensions
---
The Vufold Master range
---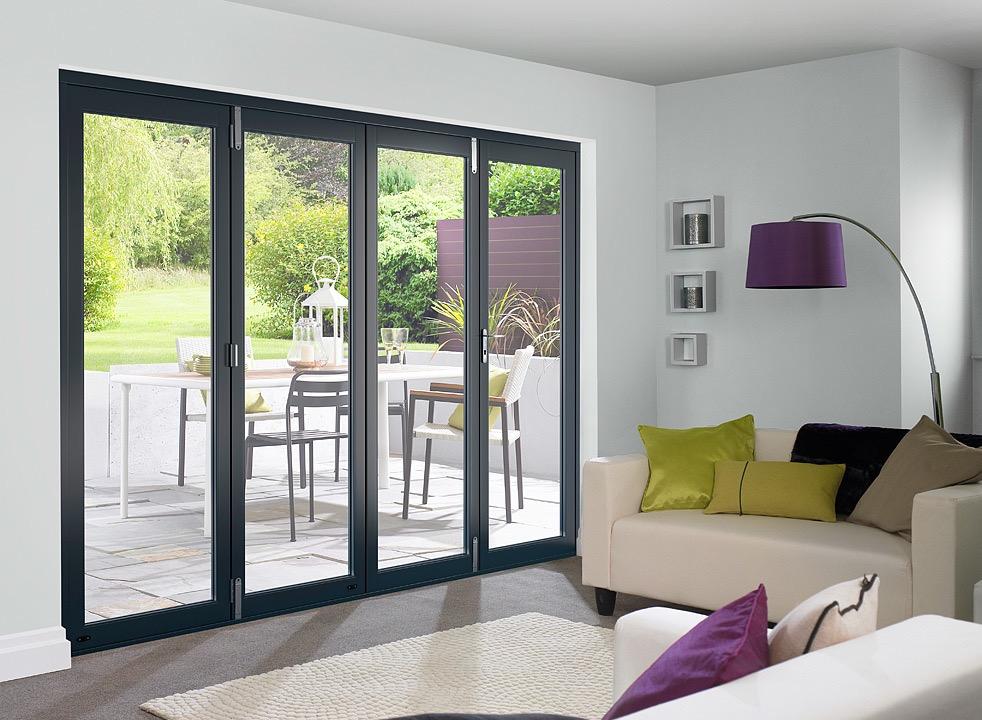 ---
The Vufold timber bifold doors range is a stylish modern bifold with a hardwood veneer. It comes in a choice of white or grey—perfect colours for a contemporary kitchen.
Key features:
Slim sightlines, offering more light and better views
Energy efficient
Easy installation and operation
Multi-point locking system for added security
---
Best bifold for traditional style kitchen extension
---
The Vufold Elite range
---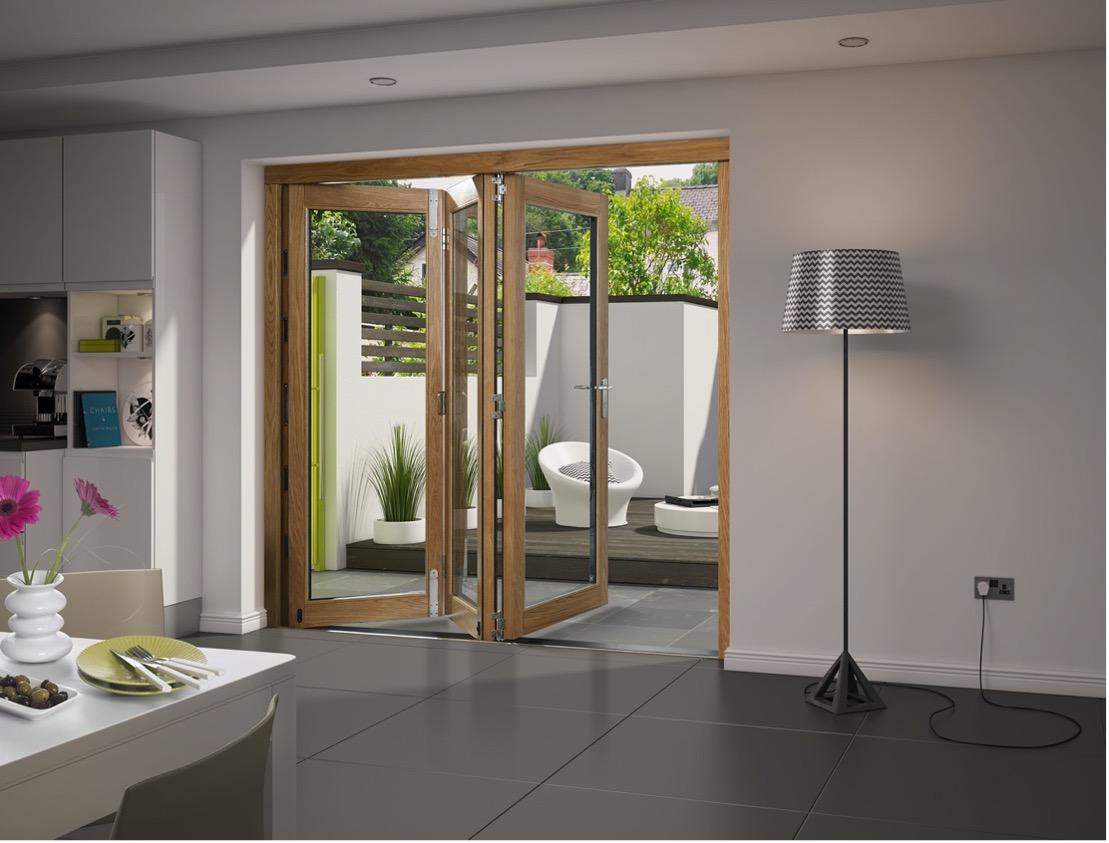 ---
---
Bifold door extension ideas for your kitchen
Many of our customers choose bifold doors for their kitchen to open up the space and connect their kitchen with their outside space. Here are a few of our customer's case studies to provide you with some bifold door extension ideas for your own space.
---
Extending the kitchen & installing bifold doors improved the garden view
Our customers, the Coopers, wanted to replace the windows in their kitchen for something that would offer them a more panoramic view and access to their garden from the kitchen.
David Cooper said: "During the long hot summer, we were able to throw the doors back and enjoy the feeling of the garden and the inside of the house being connected, but again, the quality of the glass and the way it's treated mean that even with all the doors closed it did not feel like a greenhouse in the kitchen."
---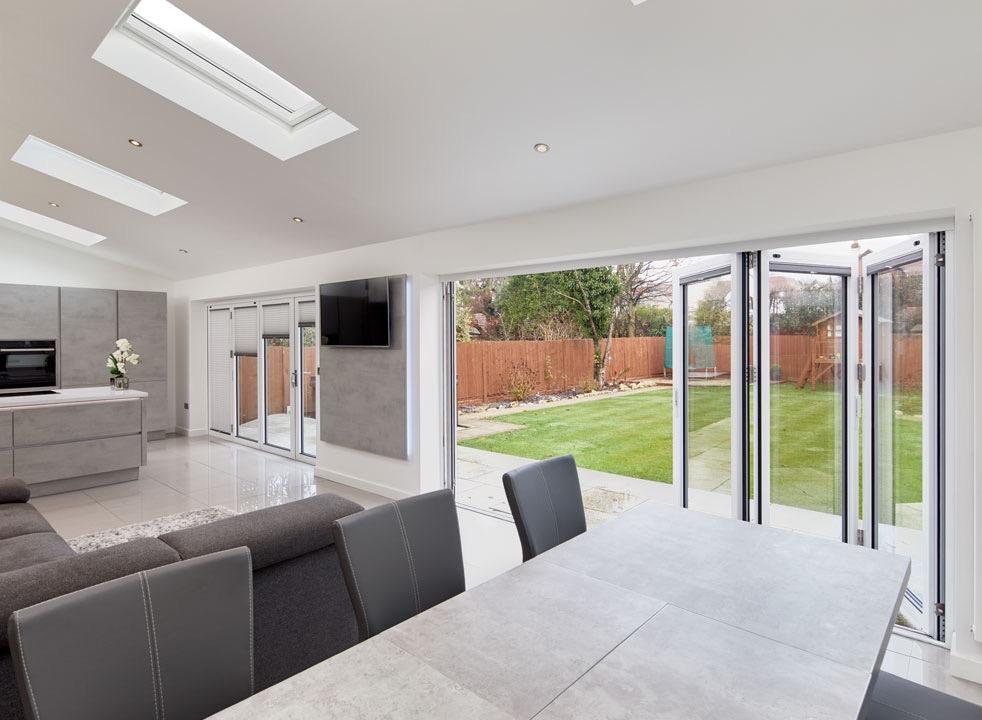 ---
3.6M Master timber bifold doors keeps the character of our home
Ted and Siobhan Smith wanted to build a kitchen extension with bifold doors that would not detract from the character of their house and wanted a quality, premium look. They opted for Vufold's Master wooden bifold doors for their rear extension to keep a traditional look and feel to their property.
Siobhan said: "We spent a lot of time searching online, looking at different suppliers and their doors, and then we came across the Vufold website and the Master range, which very much looked the part. The prices were very reasonable for a product that looks like it should cost more."
---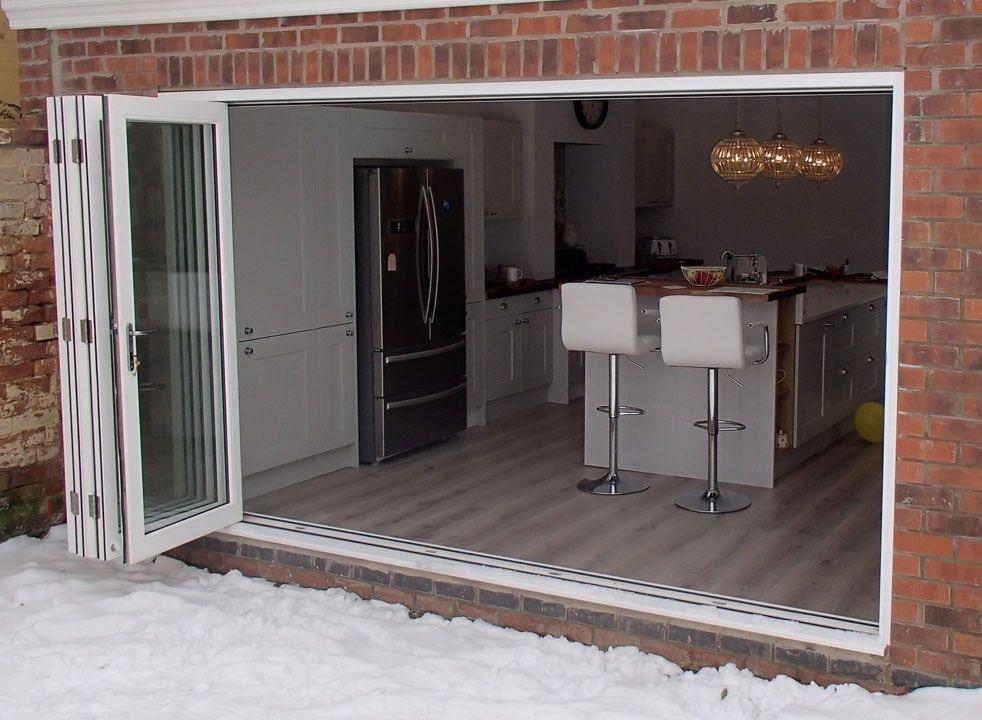 ---
What should you consider when choosing bifold doors for a bedroom extension?
Fitting extra bedrooms in your home can increase your property's value. Alternatively, if you are looking to improve your current bedrooms, bifold doors can still add light and create a feeling of space.
---
Options depending on whether your extension is on the ground floor or top floor
If your bedroom is on the ground floor, you will likely want the bifold to lead into the garden. It is worth considering whether you would like a traffic door. A traffic door can open separately from the bifold, meaning you can access the garden through a single door without having to open the whole set. We recommend choosing a three-door bifold if you require a traffic door.
If your bedroom is on the top floor, your bifold doors will be leading out to a balcony. Depending on the size of balcony, your bifold door can either open outwards or inwards. If you decide your doors should open inwards, you will need to take the space required into consideration. The Vufold aluminium bifold doors or Supreme external bifold doors ranges are available as open-out or open-in.
---
Why consider ventilation for your bedroom extension?
While bifold doors do let air in and out of a room, you may also want to consider a more passive option. Try to ensure you have at least one window in a room along with your bifold doors. This simply adds an easier way to ventilate the space.
---
Best bifold door for bedroom extensions
---
Vufold Ultra bifold door range
Beautiful in style and design, Vufold's Ultra composite bifold doors offer a contemporary look with low maintenance practicality. It offers the benefits of aluminium bi-fold doors and timber.
Key features:
Top-hung for fingertip operation
Triple glazing for the highest level of thermal efficiency
Resilient aluminium cladding outside and fashionable oak on the inside, to match interior flooring and furnishings
Matching window suite
10 – 15-year guarantee
---
What should you consider when choosing a bifold door for your conservatory extension?
Standard and lean-to conservatories are unlike normal extensions as the roofs and most (if not all) of the walls are made from glass. This means the structure isn't as strong as typical bricks and mortar extensions. For external bifold doors from your conservatory to the garden, you will likely need to use bottom-rolling bifold doors.
A downside of standard bottom-rolling bifold doors is the main track can get filled with debris that block or damage the roller, causing the door to jam. However, Vufold offer two ranges of doors that can solve this issue:
---
Vufold Status bifold doors
---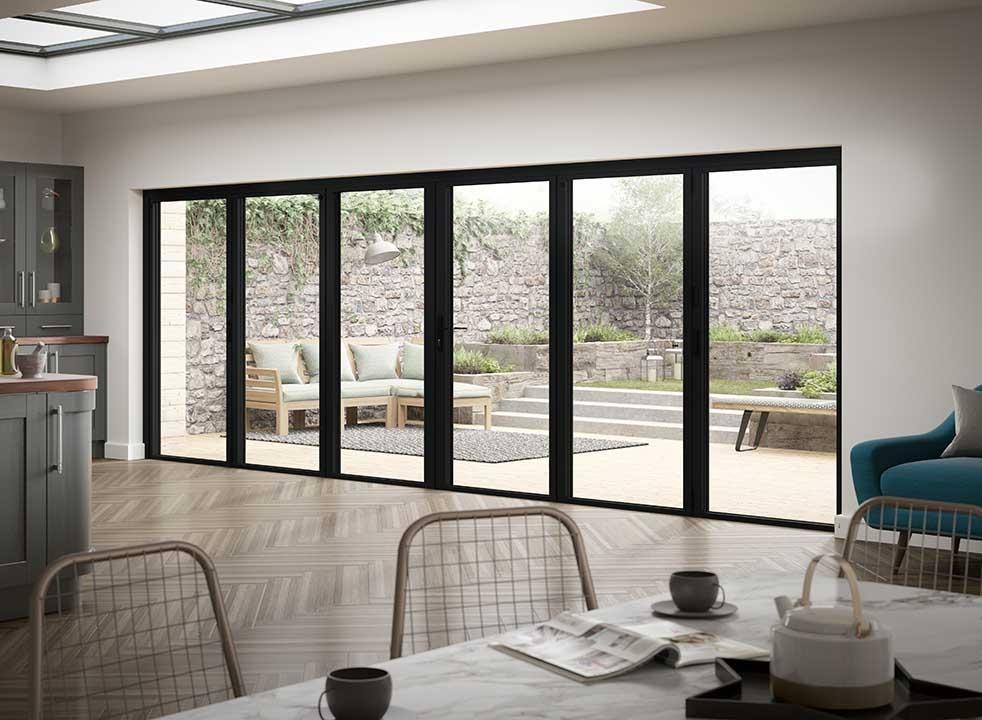 ---
The aluminium bifold doors range utilises a sealed outer frame that helps stop debris from falling into the main track. This stops any blockages and ensures smooth operation.
Key features:
Energy efficient
Slim sightlines
15 year guarantee
Matching window suite available
---
Vufold Supreme bifolding doors
---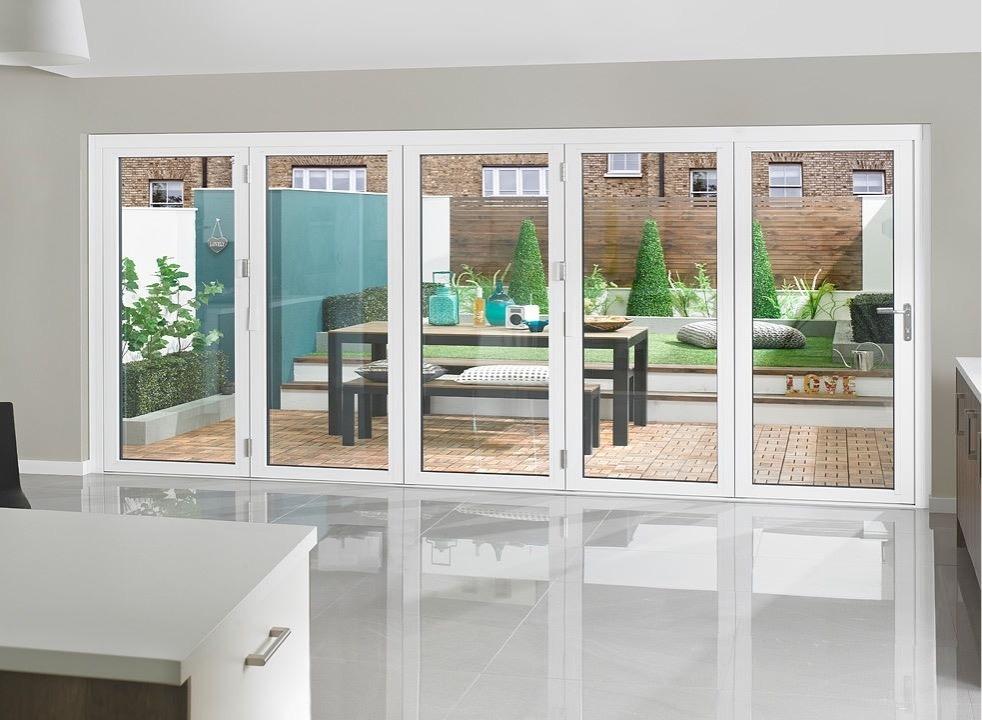 ---
The Supreme range offers bottom rolling technology that is self-cleaning and fully adjustable, for smooth operation.
Key features:
Self-cleaning track
Easy installation
Fully adjustable hinges
Energy efficient
15-year guarantee
If your conservatory is small, it may be worth viewing French doors as an alternative to bifold doors. Vufold French doors offer easy installation, affordability and robust quality.
You can find out more about French doors by visiting our guide: Patio doors: bifold, sliding and French doors
In addition, if you want to connect your conservatory with the rest of your home, you could install internal bifold doors into the conservatory. This will not only provide a seamless connection, it will also help you to benefit from more natural light within your home and, the doors can be closed to keep the heat in.
---
Can you install bifold doors in a small extension?
Small extensions can still look fantastic with bifold doors. The doors create a feeling that the extension is bigger than it actually is by bringing in natural light and drawing your eye to the garden. Your main consideration for small extension bifolds is whether to include a traffic door or not.
---
Do I need a traffic door for a small extension?
If your bifolds doors are the only way to access the garden from your small extension, we highly recommend that your bifolds have a traffic door included. Smaller two-door bifolds do not include a traffic door.
Traffic doors provide easy access between areas without having to operate the entire bifolding door. They are a necessity for any high-traffic area such as conservatories, as they save time and effort when operating the door.
We recommend a minimum of a three door bifold of 1.8 – 2.1 metres.
---
Best bifold doors for small extensions
---
The Vufold Master bi-folding door
The Vufold timber bifold doors range offers affordability and style with a hardwood veneer. The Master range is available in a three-coat factory finish of white or grey.
Biggest glass area on the market—offering more light and better views
Simple installation
Fully adjustable hinges
10-year guarantee
Multi-point locking system for added security
---
Should you install bifold doors in a living room/dining room extension?
Living room and dining room extensions are a very popular style of extension. Many people like the idea of combining a dining experience with the stunning views of their garden. Almost any room in the home can be improved with more natural light, and living and dining rooms are no different.
You may want to consider blinds for living rooms as light can cause glare on television screens. Vufold offer specifically designed blinds for both their Master and Elite bifold range.
---
Bifold door extension ideas for a living room/dining room
Take a look at some of our customer's extensions to help you decide whether bifold doors are the right choice for your extension.
---
Extra Elite 2.1M bifold doors adds more light into a new extension
Julie France and her partner Doug, wanted to build an extension for their bungalow and install bifold doors to provide more light and space in their dining room.
"We decided we would extend the side and back of the bungalow to give us more space in the dining room and to let in even more light. So, when it came to choosing doors for the extension, we obviously went straight back to Vufold for another pair of the same. We'd had no problems with the others, they work so well and look just great when you open them up in the summer," says Julie.
---
---
Vufold delivers on their promise with excellent Ali bifold doors
Robert and Judi James wanted to build an extension on the back of their house and started to look for a supplier of bifold doors so that they could open their doors out onto the garden from their lounge.
"We were working with a fairly modest budget and started looking at French doors but none of them impressed us in the same way that bifold doors did for their functionality and look," says Robert.
---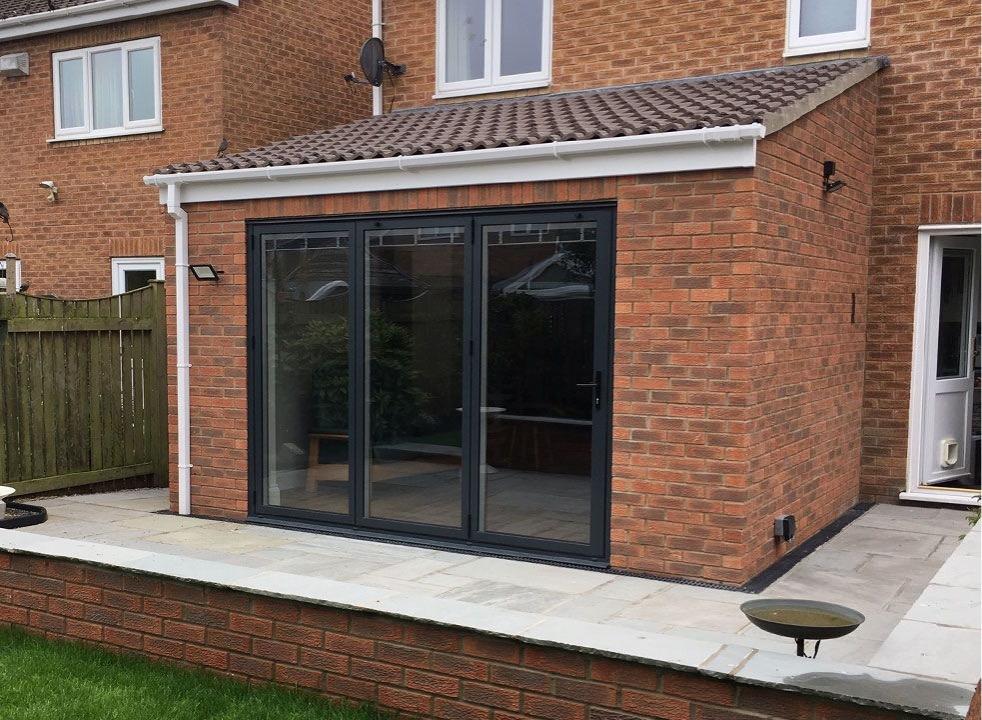 ---
FAQS
---
Will bifolding doors provide enough light in a north-facing extension?
Bifold doors are mostly made from glass, meaning they can allow a lot more light into the room than a standard window (or wall). For ventilation purposes, we recommend you also have a window in your new extension, which will also illuminate the extension.
---
Do your doors all have to open the same way?
When choosing bifold doors for your extension, there are a number of options you should consider in terms of configuration. If you're opting for a bifold door with five or more leaves or door panels, you can choose to have the doors open in different configurations. You can have some leaves opening one way and some the other way, you can choose how many go in each direction.
You can also choose whether the doors will open inwards or outwards but they will all open this way if this is what you choose.
---
Do you need planning permission to install bifold doors?
It is unlikely that you will need to obtain planning permission for bifold doors. However, this isn't always the case. See below, to find some of the reasons you might be purchasing bifold doors and whether you will need planning permission.
Changing existing doors in the home: If you are replacing an existing door and keeping them similar to the existing doors, you will not need to obtain planning permission. However, if your new bifold doors require structural changes to the building, you may need to apply for planning permission.
New extension in the home: If you are building a new extension, you will obviously need to apply for planning permission. The planners will check the boundaries of your home and decide if the new structure will have any impact on your neighbours. The inclusion of bifold doors is very unlikely to affect planning permission.
Conservation areas or listed buildings: If your property is part of a conservation area or is a listed building, you should contact your local council. Their planners will check to see how your bifold doors will affect the character of the structure and whether it is in keeping with the original property.
---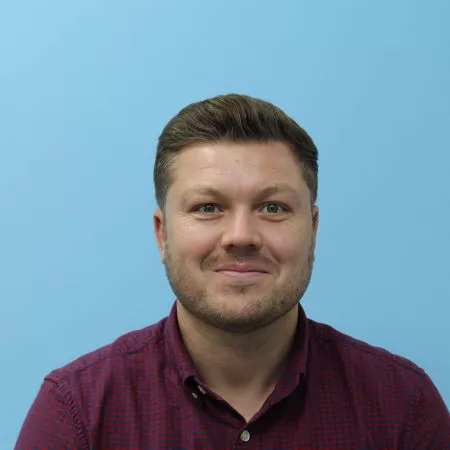 Author:
Martin Burgess - Customer Service Manager
About Martin Burgess
For customers, Martin is one of the key people at Vufold and looks to offer technical advice, resolve any issues or problems that they may have. Martin is passionate about protecting the reputation of Vufold and likes to see a positive impact on the business due to his day-to-day efforts. Martin's proud of the team he's built around him and is dedicated to constantly improving the way the company meets its service commitments and delivers on its promises.
Read more about Martin Burgess