External bifold door locations: Patio, kitchen, extensions, and summer houses
External bifold doors can make a huge difference in many areas of your home. They have become a popular choice among homeowners when making home improvements primarily for the additional natural light they provide but for a wide range of other benefits too.
Whether you're looking to replace an old door with something new and more contemporary or you're looking to install something completely new, there is a glass door for every project and home.
In this guide, we will look at the most common areas you will find bifold doors.
---
In this guide:
Learn more about the types of patio doors available to install in your home.
Find out more about the options available and considerations to make when choosing to fit bifold doors in your kitchen.
Find out more about when you should choose bifold doors for your extension, including how to install them in different rooms.
Learn more about installing bifold doors in your summer house and the uses they're perfect for.
---
Choosing the right type of patio doors for your home
---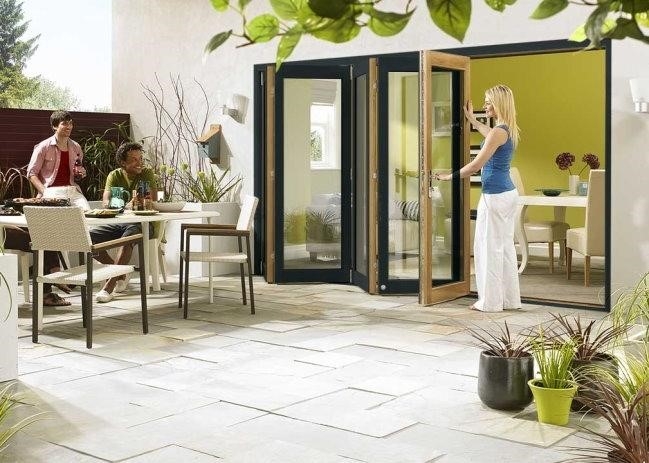 ---
Glass patio doors are an excellent way to show off your garden, whilst also providing easy access between the inside and outside of your home. Having the right exterior door will not only help to improve the look of your home both inside and out, it will also have an impact on the access you have to your patio. However, 'patio door' is a catch-all term that refers to three types of doors:
Bifold doors – these are a system of multiple doors, made up mostly of glass, that fold back on themselves when opened, to create a concertina effect. Bifold doors are built on a track system that allows the door to roll and fold in one seamless operation
Sliding doors – a sliding door opens horizontally along a track. They are made of the largest leaves (panes of glass) to offer uninterrupted views
French doors – A French door is made up of two doors that pivot on hinges mounted on opposite sides of the door framing
---
French doors vs Sliding doors vs Bifold doors
 
French doors
Sliding patio doors
Bifold doors
Style
Generally used in traditional
Suits contemporary and traditional homes
Contemporary homes
Available sizes
1.2m – 1.8m (can be made to measure)
1.8m – 6m (can be made to measure)
2.4m – 6m (can be made to measure)
Price range
£800 - £2,600
£1,400 - £6,500
£2,700 - £5,000
Recommended for

Smaller homes
Traditional homes
Balconies

Those looking to bring the outside in
Traditional homes
Contemporary homes

Homes with a view
Homes with large gardens
Large openings
Choosing the right material for your patio doors will also have an impact on the amount of natural light that floods into your home. For example, aluminium bifold doors offer maximum levels of light due to their extremely slim sightlines. On the other hand, if you're going for a more traditional look and feel, wooden patio doors in an oak colour may be more suitable.
For more information on the differences, benefits and considerations of patio doors, visit our guide: Patio doors: bifold, sliding and French doors
---
Improve your kitchen with bifold doors
An external bifold door can transform any kitchen into a bright, airy and beautiful room. In this section, you will find a brief list of kitchen bifold door benefits and considerations to take into account if you're looking to fit bifold doors in your kitchen.
---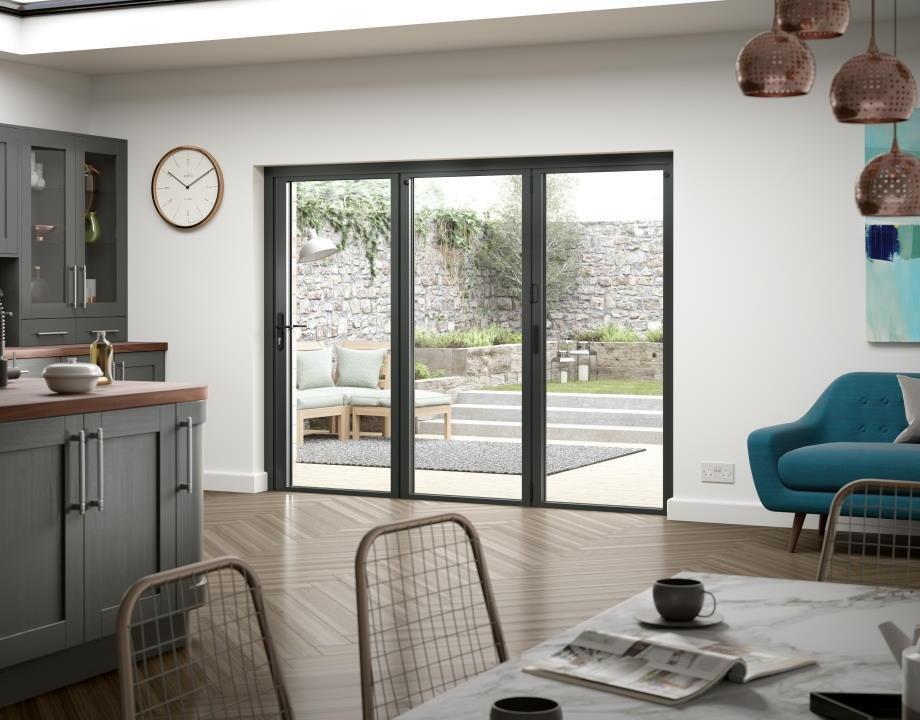 ---
Benefits of kitchen bifold doors
More natural light – when used as an exterior door, the abundance of glass included with bifold doors can fill your kitchen with natural light, giving it a bright and airy appearance
Great views – fit bifold doors to show off your garden or view with a large bifold door
The feeling of space - bifolds can make your kitchen feel larger by bringing in more natural light and offering a view of the garden through the large panes of glass
Blends outdoor and indoor spaces - when open, folding doors offer uninterrupted space between the interior and the garden, perfect for BBQs and garden parties
---
Considerations for kitchen bifold doors
There are some key considerations to make when looking to install kitchen bifold doors, especially if they are going to be an external door to your home. In this section, you will find some brief information on these considerations which will allow you to fit your new bifold doors perfectly to your home.
---
The importance of ventilation
Boiling liquids create water vapour which turns to condensation when it makes contact with something cool, such as a glass door or windowpane. In a kitchen, it's unavoidable to create water vapour when you're cooking. Instead, you should ensure that your kitchen is as well ventilated as possible
---
Top tips to keeping your kitchen ventilated:
Purchase an extractor fan above the cooker
Try to have a window installed in the kitchen, as well as your external bifold door.
If you are unable to have an additional window installed, ensure that your bifold doors have trickle vents (a small opening that allows some ventilation)
---
Ensuring energy-efficiency
An energy-efficient external bifold door ensures your kitchen stays properly insulated. A well-insulated kitchen stays cool in the summer and warm in the winter. To check your bifold door's energy efficiency before you install it, you should look for the U-value of both the glass and the frame. The U-value measures how effectively a material insulates a room.
---
THE LOWER THE U-VALUE, THE BETTER THE INSULATION.
---
The importance of U-Values and building regulations
The current building regulations for new dwellings (approved document L1A) state the overall U-value of a glazed door (bifold) should be 1.6 W/m2K or less. For existing dwellings (approved document 1LB), the value should be 1.4 W/m2K or less. Vufold's external bifolds have an overall U-value as low as 1.0 W/m2k (Vufold Ultra composite bifold doors range).
---
Types of glazing available for bifold doors
Glazing can affect the insulation properties of an external bifold door. There are three types of glazing to consider before you install bifold doors
Single glazed – this is just a single pane of glass. You are likely only to find them on listed buildings where double or triple glazing is not allowed to be installed
Double glazed – created by taking two glass panes and separating them with a spacer bar. The gap between the panes traps heat which slows energy loss. Double glazing is the most common type of glazing
Triple glazed – the most thermally efficient type of glazing. Uses the same technology as double glazing but includes an extra pane of glass for added thermal insulation
---
Choosing the right material for your bifold doors
The material you choose for your kitchen bifold doors can affect the energy efficiency, as well as the look and cost of the bifold doors you choose.
---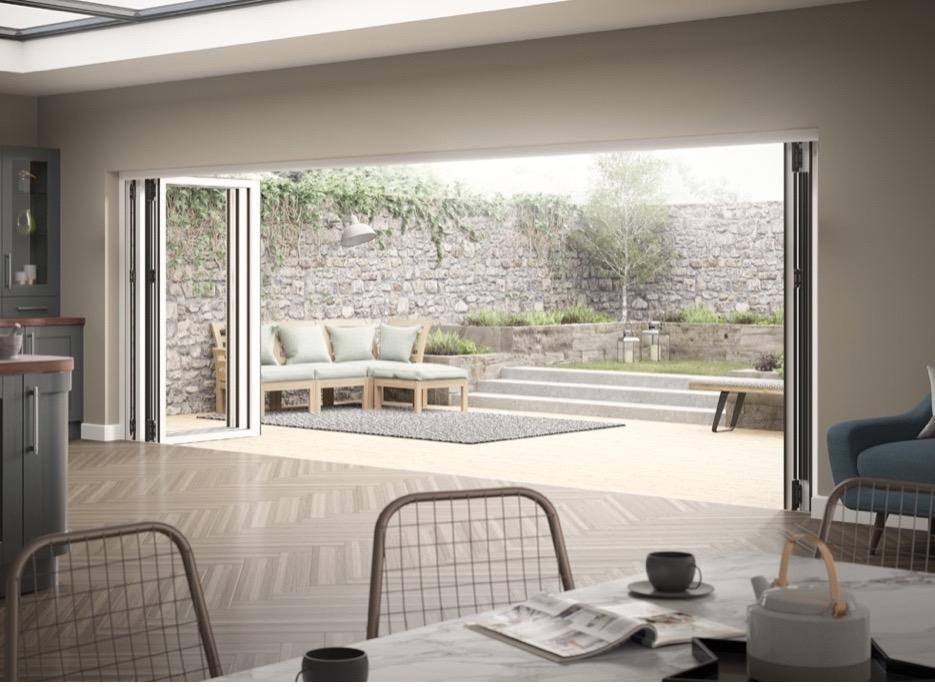 ---
Bifold doors are available in the following materials:
Wooden – these bifold doors are perfect for both modern and traditional homes and are available in oak, white and grey colours to allow you to match them to your existing décor. Take a look at our oak bifold doors and timber bifold doors ranges
Aluminium – choosing aluminium bifold doors will provide you with slim sightlines for an unobstructed view and maximum light levels, excellent energy efficiency and weather testing, take a look at our aluminium bifold doors range if you'd like to install an aluminium door
Composite – composite bifold doors offer the low maintenance associated with aluminium but with the look of a natural oak door. Take a look at our Ultra composite range of bifold doors if you'd like to install a composite door
uVPC – uVPC bifold doors are also available and offer a versatile option for exterior doors. uPVC will complement any style of home, however, uPVC can break down over time so they are not as long lasting as wooden, composite or aluminium bifold doors
For more information about the benefits and considerations of bifold doors, visit our guide: Kitchen bifold doors: styles and considerations
---
Choosing bifold doors for your extension
---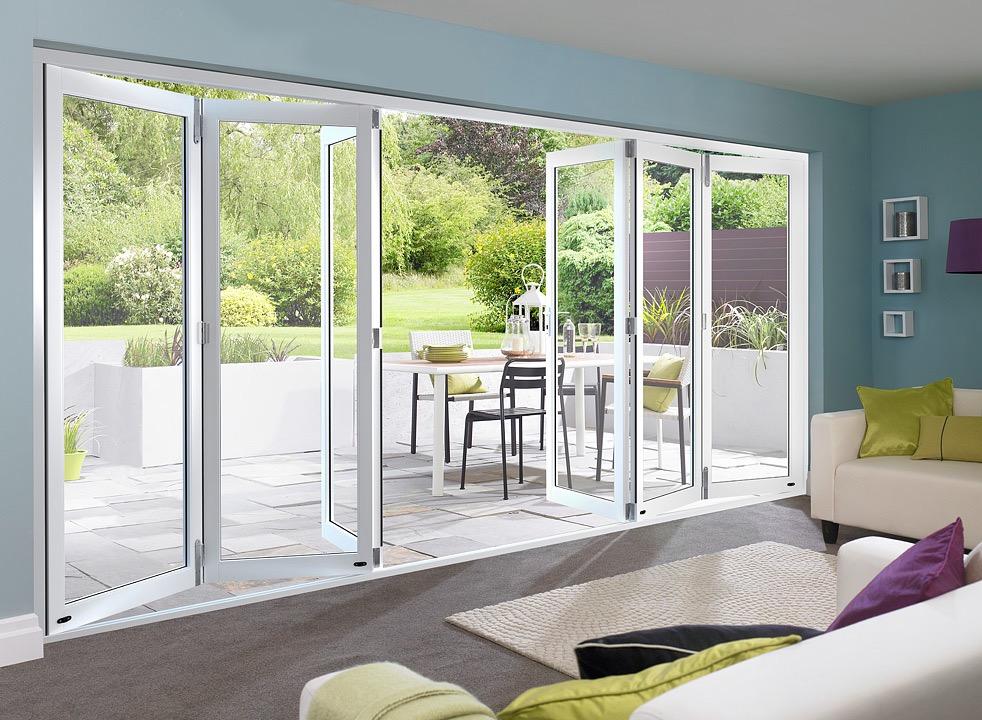 ---
Bifold doors can suit almost any extension. Different extensions require different considerations. In this section, you will find the main types of extensions and the specific considerations you need to make when looking to install bifold doors as part of your new extension.
The main types of extensions are:
Bedroom
Living/dining area
Conservatory
Small
---
Bedroom bifold doors: Ground floor or top floor?
The location of your bedroom will define the type of consideration you need to make and the bifold that will suit your bedroom.
If your bedroom is on the ground floor – you will likely want the bifold doors to lead into the garden. You may want access without having to open the entire bifold. A traffic door means that you can open a single door without having to operate the entire bifold
If your bedroom is on the top floor – your bifold doors will lead out onto a balcony. If you have a large enough balcony, we recommend your door opens outwards. However, if you have a small balcony, we can supply top quality bifolds that open inwards but make sure you consider the space requirements
---
Living room / Dining area bifold doors: Light and blinds
---
---
One of the main benefits of bifold doors is that they bring a lot of natural light into a living space due to their large panes of glass. However, you may want to consider blinds for the living room. On a sunny day, you may find the natural light will cause a glare on a television screen.
Vufold's specially designed blinds fit the Master and Elite bifold ranges perfectly. Alternatively, the aluminium bifold doors range can be installed with integral blinds fitted between the panes of glass. This ensures that you can enjoy natural light when you want it, and block it out when you need to.
---
Conservatory bifold doors: Top hung or bottom rolling
When bifold doors are called top hung or bottom rolling, it is referring to the track system. Every bifold has a main track that they operate on – either in the door frame head (top hung) or bottom threshold (bottom rolling).
Top hung has many benefits including smooth operation and low maintenance. However, it does require added support with a lintel. Most conservatories will not be able to support a top-hung bifold.
Many standard bifold doors which are bottom rolling can end up getting blockages in their man track causing poor operation. However, the Vufold aluminium bifold doors range utilises a sealed outer frame that helps stop debris from falling into the main track. This stops any blockages and ensures smooth operation. The Vufold Supreme range has removable track cover, self-cleaning bottom roller and is fully adjustable, for smooth operation.
---
Bifold doors for small extensions: Traffic doors
---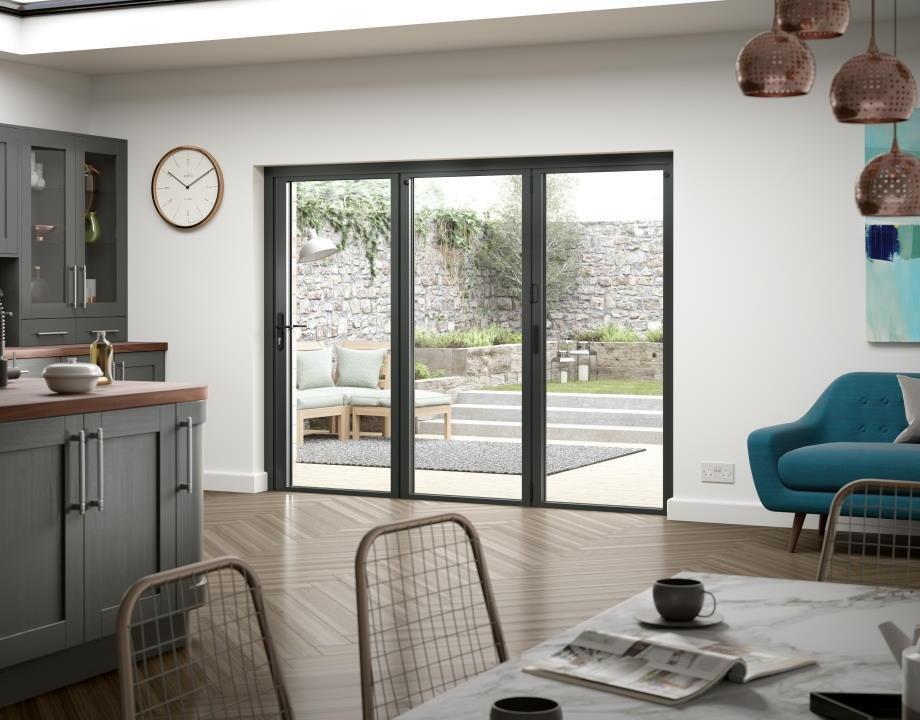 ---
Traffic doors provide easy access between areas without having to operate the entire bi-folding doors. This can save you time and effort in operating the door.
We recommend traffic doors if:
The bifold doors offer the only access to the garden
Your bifold doors are based in a high traffic area and require frequent use
If you live with small children and/or elderly people who may not be able to operate the full bi-folding door properly
If you are considering purchasing a bifold with a traffic door, we recommend a minimum of a three-door bifold of 1.8 – 3.0 metres.
When building an extension, it's important that the style and build fits in with the rest of your home for the best results. Bifold doors are available in a range of materials and colours to help you achieve this.
Options for Vufold's external bifold doors include:
Material
Available colours
Wooden

Oak (finished or unfinished)
White
Grey

Aluminium

Grey
White
Black
Grey/White

Composite

Grey Aluminium and Oak
White Aluminium and Oak
For more information about other types of extensions, their requirements and the bifold doors for the job, visit our guide: Bifold doors for extensions: considerations, types and FAQs.
---
Why install bifold doors for your summer house?
---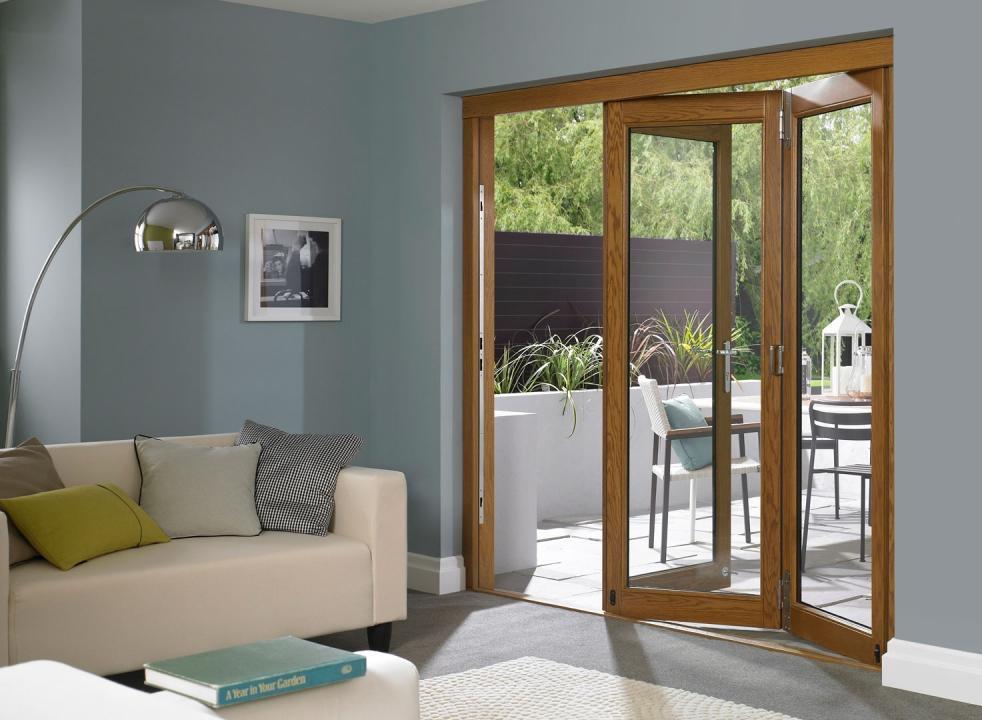 ---
A 'summer house' (also known as a garden room and garden space) are typically buildings used for relaxation in warm weather. However, with modern insulation methods, summer houses can be used for a variety of reasons.
In this section, you will find information on popular uses for summer houses and external bifold considerations to make.
Popular uses of summer houses include:
Event hosting space
Garden office
Home cinema
Multi-purpose
---
Event hosting space
If you enjoy putting on a meal for your friends or hosting BBQs in good weather, a summer house offers an excellent space. You can turn your summer house into a dining area with stunning views of the garden and some fresh air.
If you want to showcase your garden with uninterrupted views, you should choose to fit bifold doors with thinner sightlines.
---
Garden office
As more people turn to freelancing garden offices are becoming more popular. They offer a space that is separate from the house to reduce distractions.
Garden offices can suit any bifold doors. You should consider a traffic door if you are planning to use the garden office daily.
---
Home cinema
There are several benefits of having home cinemas that are separate from the main house. The main benefit being that you can enjoy a loud movie without disturbing the rest of the house. The home cinema can also double-up as a lounging area during the summer months.
Blinds are very important for home cinemas, to reduce any glare. Vufold offers blinds specifically designed to fit our timber bifold doors and oak bifold doors ranges. Vufold also offers integral blinds for the aluminium bifold doors range which are designed to fit between the panes of glass for a stylish design.
---
Multi-purpose summer houses
Summer houses are often used for multiple purposes. In the day, a summer house might be a garden office, in the evening, a dining space.
Bifold doors offer flexibility for all these spaces by adapting for almost any situation. Bifold doors are available in a range of materials including aluminium, wooden and composite to help you find the best style and look for your summer house. Wooden bifold doors are often chosen for summer houses to remain in keeping with the rest of the construction.
If standard sizes do not fit the opening you have available, many manufacturers, including Vufold, offer a bespoke service so you can install the perfect bifold doors to fit your home. We recommend that you work closely with your chosen supplier to find the perfect made to measure doors for your summer house, or any other location in which you choose to install your bifold doors.
For more information about summer house bifolds including benefits and considerations, visit our guide: Bifold doors for summer houses: considerations and the best bifolds.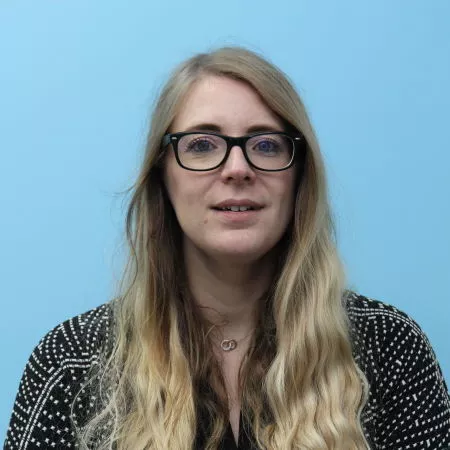 Author:
Amanda Hewer - Operations Manager
About Amanda Hewer
Having been at Vufold for around 12 years now, Amanda became operations manager after spending time in Customer Service, Sales, Order Processing and our Warehouse. Amanda likes that no two days are ever the same and believes her successful career stems from her keen interest in people, helping them achieve their goals and striving for constant improvement across all departments.
Read more about Amanda Hewer