External bifold door handles: Types and what to look for
You've chosen the finish for your bifold door, researched the U-values and decided on the ideal configuration for your new doors so you're almost ready to go. There is one last detail to consider and that's your door hardware, especially the type of handle you want to fit on your new door.
Choosing a door handle for external bifolding doors is just like choosing handles and hardware for any other external door but there are a few factors to consider first. A handle is an important accessory on a door, both aesthetically and operationally, so you need to be sure you are choosing the right one.
We have compiled a round-up of everything to consider when looking for an external bifold door handle.
---
In this guide:
This section discusses the factors you should consider when choosing an external bifold door handle.
Find out more about the types of locks available and the ones you should choose for your bifold doors.
Learn more about where bifold door handles should be positioned.
Find out more about the best types of handles for bifold doors.
This section discusses some advice on adjusting your bifold doors if they aren't closing properly.
---
WHAT TO LOOK FOR IN AN EXTERNAL BIFOLD DOOR HANDLE
---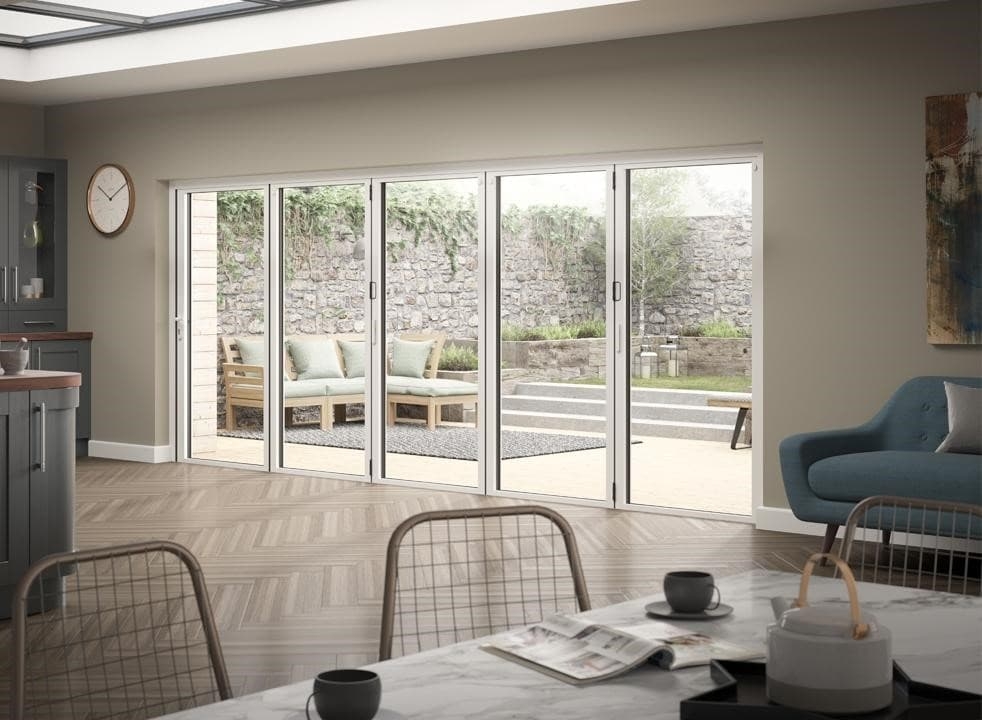 ---
External doors have different considerations to internal doors in terms of hardware. Both external and internal bifold door handles need to offer suitable design and finish options, external bifold doors require additional security and durability. Here are the key factors you should consider when choosing a handle for your external bifold door:
---
Security
Security is a key concern, not just for the door handle but for your doors overall. You need to be sure the handle you choose includes space for a lock. It's also important to consider the type of lock the handle is designed for. We recommend a multipoint Vectis type locking system for maximum security.
---
Quality
As with any other aspect of your bifold doors, door handles are available in a range of price points and, if you are choosing a replacement handle, it might be tempting to save a few pounds by opting for a lower-priced option. We recommend choosing the very best you can afford.
Your door handle will be used as often as you leave or enter your home, so it needs to offer excellent durability. It is also something that will stand out, especially if it is noticeably lower quality than your elegant Vufold doors.
---
Appearance
This may seem like a small factor but choosing the right finish for your bifold door handle will make a huge difference. If you have chosen a sleek, white finish for your doors, you may want to match this with your handle. Alternatively, if you're looking for a more traditional style, a brushed graphite handle may compliment your overall style. These small details can have an impact on the overall look and finish of your bifold doors.
---
WHAT TYPE OF LOCK SHOULD BE USED WITH AN EXTERNAL BIFOLD DOOR HANDLE?
The other consideration when choosing bifold door handles is the type of lock you choose.
There are three types of lock typically used on a bifold patio door:
---
Multipoint locking
All Vufold doors use a multipoint locking system, simply because we are confident that it is the best option available to you. A multipoint lock system is key-operated, locks into the door frame and is embedded into the body of the door. Multiple bolts engage the door frame at between three and five points. They can be fitted to composite, wooden or aluminium doors.
| | |
| --- | --- |
| PROS | CONS |
| More locking points mean forcing the door is difficult | Operating the lock can take a little time to get used to, it is important to be sure of the double locking mechanism |
| It's a single-cylinder system, so it is easy to change the cylinder if required |   |
| Can be keyed alike, eliminating the need for multiple master keys |   |
---
Euro cylinder locking
This type of lock is very common and is found on many uPVC and composite doors.
| | |
| --- | --- |
| PROS | CONS |
| Easy to upgrade if you would like a higher level of security | Vulnerable to bumping and snapping—it is imperative that these locks are fitted to the SS312 diamond approved standard to reduce the risk of break-ins |
| Can be keyed alike, so few master keys are needed |   |
| Easy to operate |   |
---
Mortice lock
You will find three or five lever mortice locks on timber doors. They are locked from the inside and the outside and are embedded into the door, rather than being on the surface. They frequently require a second night latch to meet security standards.
| | |
| --- | --- |
| PROS | CONS |
| Can be keyed alike, reducing the number of master keys required | Unless the mortice lock conforms to BS3621, you run the risk of the lock only being tested by the manufacturer |
|   | It may not be tested under intruder methods |
---
POSITIONING BIFOLD DOOR HANDLES
One of the most common questions we're asked is where to position bifold door handles. However, correct handle placement is only something that needs to be considered when installing bifolds for cupboards and pantries.
While most bifold door suppliers will include space for a handle, Vufold goes a little further. All of our doors are pre-machined and drilled for the tubular mortice latch we supply, as well as any optional handles. Doing this reduces the risk of any errors in fitting and saves you significant time and effort.
---
VUFOLD BIFOLD DOOR HANDLE COLOURS
Vufold does not supply different styles of handles, but rather one type of bifold door handle in three classic colour options:
---
WHITE
---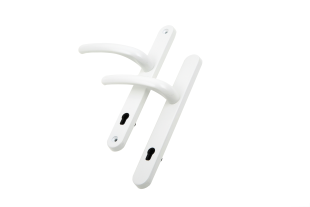 ---
This handle set fits our timber bifold doors range of doors. The plate size is 243mm x 32mm, has our classic white finish, and is reversible. It uses a Vectis type multipoint locking system for superior security and costs £20.99.
---
POLISHED CHROME
---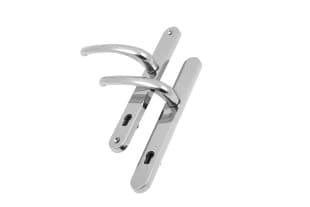 ---
These handsome polished chrome external door handles can be used on all of our bifold or French doors, except the aluminium bifold doors or Supreme external bifold doors ranges. They are reversible and have a plate size of 243mm x 32mm. They cost £20.99 and use the Vectis multipoint locking system.
---
BRUSHED GRAPHITE
---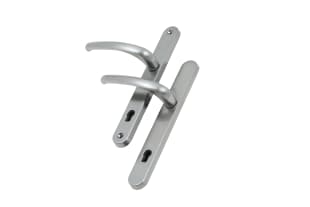 ---
A subtle alternative to our chrome and white options, these brushed graphite handles can be used on all of our French or bifold doors, with the exception of the Status and Supreme ranges. They are fully reversible and use a Vectis multipoint locking system. The plate size is 243mm x 32mm and the cost is £35.99.
---
WHAT TO DO IF YOUR DOOR DOES NOT REMAIN CLOSED
Seasonal changes, along with general wear and tear, may mean that your bifold door needs occasional adjustment. While it may be alarming if your door does not remain closed, it does not always mean that the handle is broken.
As a result of frequent usage, your door may shift and move and could require adjustment in order to function properly again. This is completely normal.
Vufold's range of bifold doors has been manufactured to be easily adjustable to make sure your doors operate properly and effectively to minimise damage. You can find out more about adjusting your bifold doors in the maintenance section of our website.
At Vufold, our team of experts is always available to provide you with advice and guidance on everything to do with our range of bifold doors, hardware and accessories. Please contact us to find out more information or to discuss your needs.
---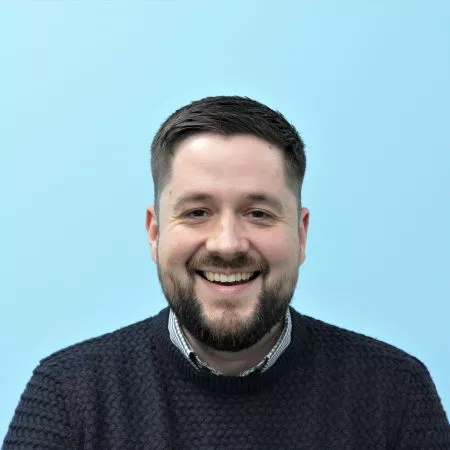 Author:
David Ross - Sales Manager
About David Ross
David has over 20 years' experience in the glazing industry across a variety of roles. He joined Vufold in 2012 and his mission is – 'to make buying windows and doors as easy and stress free as possible'. He is committed to constant improvement and was instrumental in creating our innovative direct-to-consumer e-commerce platform to help grow and expand the business.
Read more about David Ross
---