Cost comparison: Bifolds vs Sliding doors
When you are making home improvements or looking for the perfect patio door, choosing the right door type for your home and needs is extremely important. Any glass door, whether bifold or sliding, forms a focal point for your home, as well as protecting you from the elements and maximising security. Making the right choice is essential but, with so many variables and a wide number of choices available, it can be difficult to know where to start.
Two of the most popular options for external and patio glass doors are bifold and sliding doors. Our guide will help you to compare the costs and benefits of each type of door to help you decide which door system is right for you.
---
In this guide:
Learn more about how bifold doors work and operate in this section.
This section discusses how sliding doors work and how they compare to bifold doors.
Choosing the right door for your home is an investment so it's important to understand the costs and differences.
Read what other factors to bear in mind when it comes to choosing between sliding doors and bifold doors.
---
What is a bifold door?
Bifold doors consist of a set of large glass panels that fold back on themselves in a concertina effect. This characteristic means they can open up an entire wall, so they are perfect for homeowners who are looking to create a seamless transition between rooms or between your home and patio or garden area.
Bifold doors are fitted to runners, which they slide along when opened. Each door leaf then concertinas, or stacks, together. Most door sets have top and bottom runner for optimum rigidity. External bifold doors always operate using a top and bottom track however, internal bifold doors can be built to function without the bottom runner, to remove the need for a bottom track.
Some sets of bifold doors have a traffic door, so you do not have to open the entire set of doors every time you require access. This function is great for anyone with pets or children.
A oak bifold door will provide a traditional look while maximising space. On the other hand, you may want to create a more modern feel and bifolds make this easy with an aluminium bifold door or composite bifold door options that offer exceptionally slim sightlines and an up-to-date look.
Looking for an energy efficient, aluminium door?
Our pick:
ULTRA COMPOSITE BIFOLD DOORS
FROM £2,422.00
---
---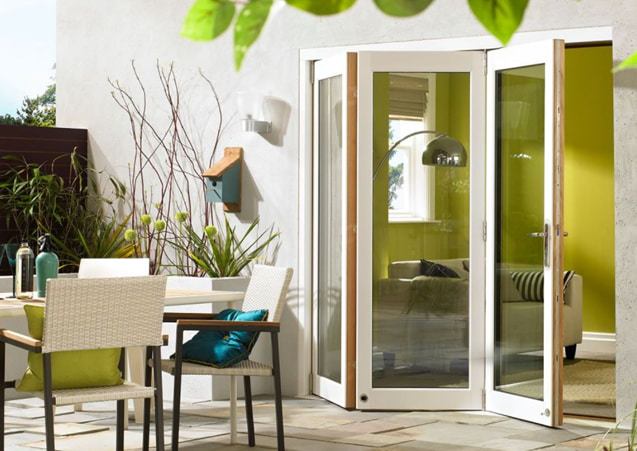 ---
Now here's a stunning combination: the low maintenance and long life of aluminium on the outside, with the natural elegance and good looks of responsibly-sourced oak on the inside. It's all wrapped up in our fabulous Ultra Composite bifold doors, which also come triple-glazed as standard to give them exceptional thermal performance.
The benefits of bifold doors
The key benefits of a bifold door include:
Flexibility in style
Super low weather rated thresholds
Seamless transition between indoors and outdoors
Great visibility
Range of materials and finishes available
Available ready-to-assemble – be sure you're buying from a manufacturer that offers a fully finished product
Available with both double and triple glazing options.
Alongside the benefits, bifold doors also have a few drawbacks which must be considered:
Frames can obstruct your view, although sightlines are getting slimmer all the time
May need to be stacked inside, which could compromise.
Read our complete guide to the different external bifold door locations here.
WHAT IS A SLIDING DOOR?
---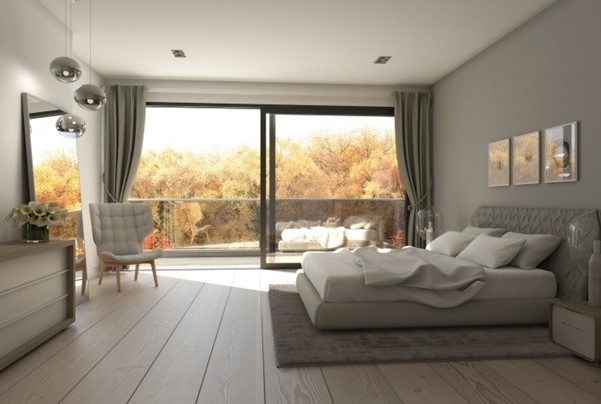 As the name implies, sliding doors work by sliding along a track. There are two types available:
Traditional inline door – this door slides within its frame
Lift and slide doors – this door allows for larger glass panels and offers top-level thermal performance
Unlike the traditional sliding door that simply slides along a track, Lift and Slide doors work by using a handle that you simply turn to lift the door onto its rollers. This means you can be sure the door is always in the optimum position and has allowed for the development of sliding doors with larger panels.
Sliding patio doors are popular with homeowners seeking a contemporary edge to their home design and look great in any modern home extension, making the transition between the home, garden, patio area or any outdoor space seamless.
Benefits of sliding doors
Sliding doors offer a number of benefits including:
Large panels for optimum views
Slim aluminium frame provides thin sightlines
Sleek, modern style
Super low weather rated thresholds
Top-quality thermal efficiency
Superior security
Available with both double and triple glazing options
View our complete range of sliding doors here.
Compared to bifold doors, sliding doors have a few drawbacks that should be considered before making the choice between the two types of doors. These include:
Do not open fully, unless you have a design that slides into the wall – there is usually one static door panel
No traffic door
Aesthetic compromise for traditional style homes
---
Sliding doors vs bifold doors cost comparison
To help you make an informed decision, we have provided an overview of the dimensions and prices of our Supreme ranges of bifold and sliding doors to give you a guideline on how price can vary depending on the size of your door.
---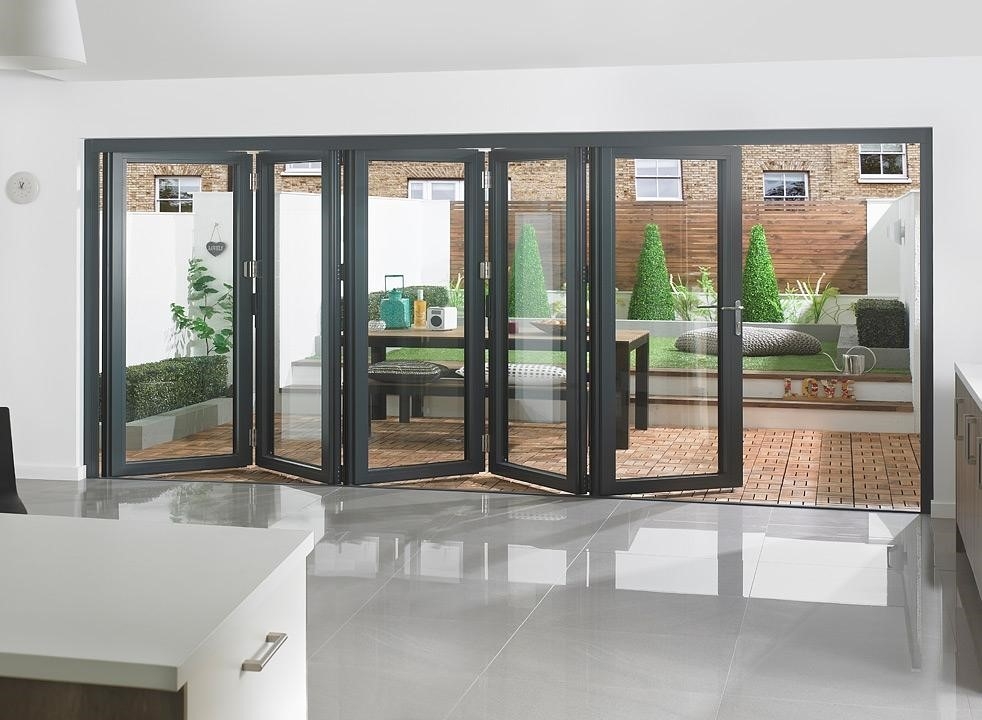 ---
| | | |
| --- | --- | --- |
| Size in metres (feet) | Sliding door cost | Bifold door cost |
| 2.4m (8ft) | £3579 | £2699 |
| 2.7m (9ft) | £3779 | £2819 |
| 3.0m (10ft) | £4399 | £2969 |
| 3.6m (12ft) | £3619 | £3609 |
| 4.0m (13ft) | £3839 | £3779 |
| 5.0m (16ft) | £4379 | £5049 |
| 6.0m (20ft) | £4899 | £5859 |
---
WHICH IS THE CHEAPEST OPTION?
Bifold doors often have a reputation for being the most expensive option when buying patio doors. But, due to an increase in costs in material, sliding doors are now more in line with prices of bifold doors; however, Vufold are able to mass produce and carry lots of stock when it comes to bifold doors. This has allowed us to keep the pricing down. Due to the larger and heavier glass and door panels used on sliding doors, it is more difficult to mass produce and store sliding doors.
Looking for a modern aluminium bifold door?
Our pick:
STATUS ALUMINIUM BIFOLD DOORS
FROM £2,479.00
---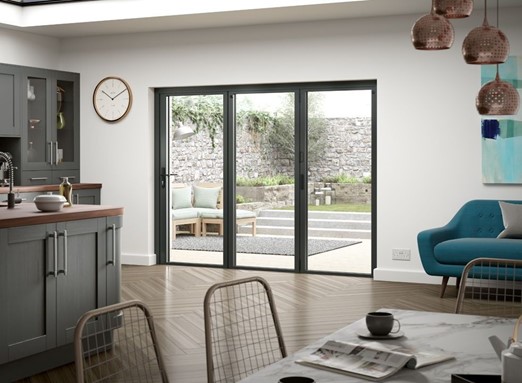 The Status is our most popular aluminium bifold door set, and it's no mystery as to why. Not only are they fantastic value for such beautifully engineered bifolds, they're available in a host of configurable options and feature a low threshhold and slim sight lines to give you more light, and a better view. As if that's not enough, our Express range is also available for delivery in just three days.
What other factors should you consider when choosing between a sliding door and a bifold door?
In addition to considering price, key considerations such as the style of your home, how you will be using your doors throughout the year, as well as practical aspects including ease of use, security and thermal efficiency, should all work alongside price to inform your decision. Sliding doors often utilise larger leaves (panes of glass) which offer wide views. The stacked system saves space. However, the doors cannot be 'fully opened' as one leaf has to be sitting on top of the other. With bifold doors, however, you have the option of opening the entire door for maximum impact, or simply using the traffic door for normal usage.
Before making your purchase, it is also worth bearing in mind that Vufold bifold doors are also ready-to-assemble. This means that the doors are pre-machined and come with almost everything you need for installation, including:
Tracks
Hinges
Hardware
Glazing
Fixings
Only a few standard tools will need to be sourced for installation. Find out more about Vufold's ready-to-assemble bifold doors here
You should also bear in mind the space you have available for each option, and which opening mechanism you prefer. For example, if the outside space doesn't have much room (like a small balcony etc.) for bifold doors, you may need to ensure there is space inside the home so the doors can open inwards. Consider that in sliding doors, because of the weight of the panes, sliding doors roll along the bottom sill. Generally, top-hung doors are considered superior due to easier operation and less maintenance.
Do you still need help with choosing the right type of door for your home? Contact Vufold today.
FIND YOUR PERFECT PATIO DOOR WITH VUFOLD
Designed in the UK and manufactured in our state-of-the-art factories, our doors offer outstanding quality and design. All of our patio doors are designed for UK weather conditions to keep you warm and snug when the weather does its worst. We offer a warranty of 15 years for our sliding patio doors and a 10-15 years guarantee for our French and external bifold doors.
Our team is more than happy to talk about your options so you can move one step closer to making your dream doors a reality. Contact us today.
ⓘ

Related Ranges & Products
---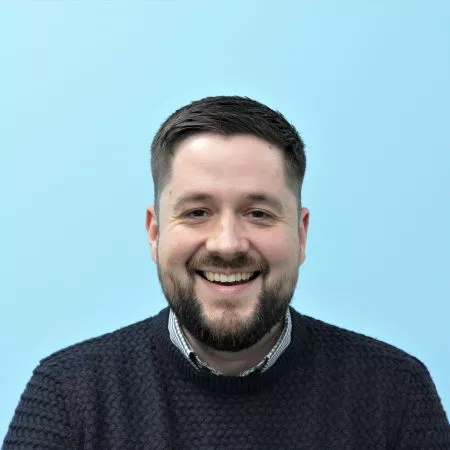 Author:
David Ross - Sales Manager
About David Ross
David has over 20 years' experience in the glazing industry across a variety of roles. He joined Vufold in 2012 and his mission is – 'to make buying windows and doors as easy and stress free as possible'. He is committed to constant improvement and was instrumental in creating our innovative direct-to-consumer e-commerce platform to help grow and expand the business.
Read more about David Ross
---