Cost comparison: Bifolds vs Sliding doors
When you are making home improvements or looking for the perfect patio door, choosing the right door type for your home and needs is extremely important. Any glass door, whether bifold or sliding, forms a focal point for your home, as well as protecting you from the elements and maximising security. Making the right choice is essential but, with so many variables and a wide number of choices available, it can be difficult to know where to start.
Two of the most popular options for external and patio glass doors are bifold and sliding doors. Our guide will help you to compare the costs and benefits of each type of door to help you decide which door system is right for you.
---
In this guide:
Learn more about how bifold doors work and operate in this section.
This section discusses how sliding doors work and how they compare to bifold doors.
Choosing the right door for your home is an investment so it's important to understand the costs and differences.
---
What is a bifold door?
Bifold doors consist of a set of large glass panels, or leaves, that fold back on themselves in a concertina effect. This characteristic means they can open up an entire wall, so they are perfect for homeowners who are looking to create a seamless transition between rooms or between your home and patio or garden area.
Bifold doors are fitted to runners, which they slide along when opened. Each door leaf then concertinas, or stacks, together. Most door sets have top and bottom runner for optimum rigidity. External bifold doors always operate using a top and bottom track however, internal bifold doors can be built to function without the bottom runner, to remove the need for a bottom track.
Some sets of bifold doors have a traffic door, so you do not have to open the entire set of doors every time you require access. This function is great for anyone with pets or children.
A wooden bifold door will provide a traditional look while maximising space. On the other hand, you may want to create a more modern feel and bifolds make this easy with an aluminium bifold door or composite bifold door options that offer exceptionally slim sightlines and an up-to-date look.
The key benefits of a bifold door include:
Flexibility in style
Super low weather rated thresholds
Seamless transition between indoors and outdoors
Great visibility
Range of materials and finishes available
Available ready-to-assemble – be sure you're buying from a manufacturer that offers a fully finished product
Available with both double and triple glazing options
Alongside the benefits, bifold doors also have a few drawbacks which must be considered:
Frames can obstruct your view, although sightlines are getting slimmer all the time
May need to be stacked inside, which could compromise
---
What is a sliding door?
---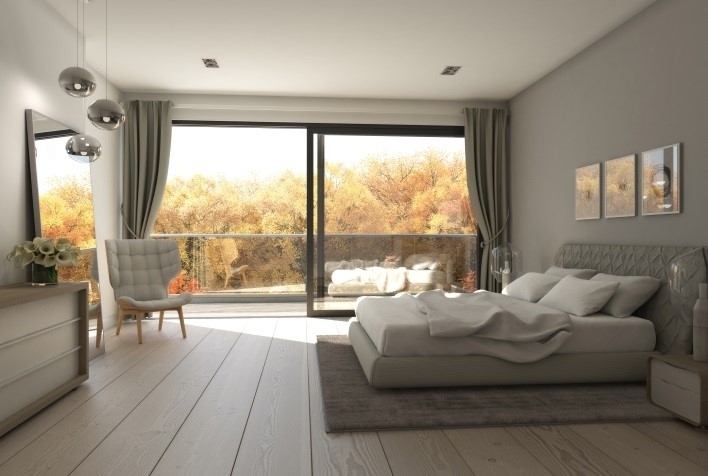 ---
As the name implies, sliding doors work by sliding along a track. There are two types available:
Traditional inline door – this door slides within its frame
Lift and slide doors – this door allows for larger glass panels and offers top-level thermal performance
Unlike the traditional sliding door that simply slides along a track, Lift and Slide doors work by using a handle that you simply turn to lift the door onto its rollers. This means you can be sure the door is always in the optimum position and has allowed for the development of sliding doors with larger panels.
Sliding patio doors are popular with homeowners seeking a contemporary edge to their home design and look great in any modern home extension, making the transition between the home, garden, patio area or any outdoor space seamless.
Sliding doors offer a number of benefits including:
Large panels for optimum views
Slim aluminium frame provides thin sightlines
Sleek, modern style
Super low weather rated thresholds
Top-quality thermal efficiency
Superior security
Available with both double and triple glazing options
Compared to bifold doors, sliding doors have a few drawbacks that should be considered before making the choice between the two types of doors. These include:
Do not open fully, unless you have a design that slides into the wall – there is usually one static door panel
No traffic door
Aesthetic compromise for traditional style homes
---
Sliding doors vs bifold doors cost comparison
To help you make an informed decision, we have provided an overview of the dimensions and prices of our Supreme ranges of bifold and sliding doors to give you a guideline on how price can vary depending on the size of your door.
---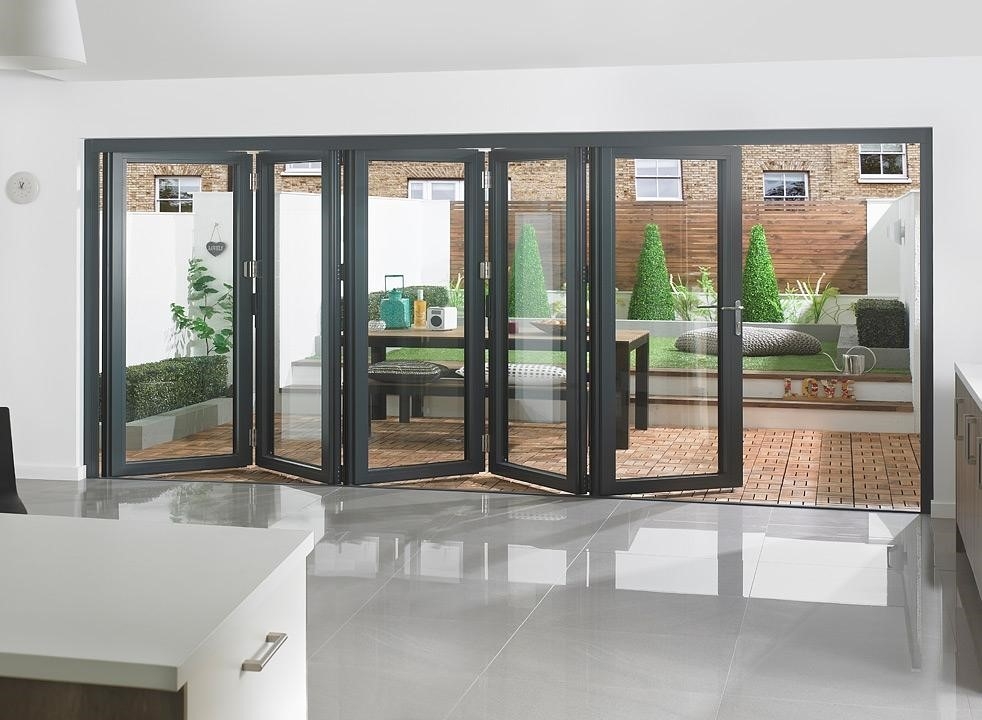 ---
| | | |
| --- | --- | --- |
| Size in metres (feet) | Sliding door cost | Bifold door cost |
| 2.4m (8ft) | £2739 | £3329 |
| 2.7m (9ft) | £2689 | £3389 |
| 3.0m (10ft) | £3289 | £3439 |
| 3.6m (12ft) | £3619 | £3699 |
| 4.0m (13ft) | £3839 | £4449 |
| 5.0m (16ft) | £4379 | £5699 |
| 6.0m (20ft) | £4899 | £6480 |
---
Which is the cheapest option?
The above table shows that sliding doors are the cheaper option, especially when you're looking at a longer run of bifold doors. However, it's important to note that sliding doors contain large and heavy pieces of glass which can require specialist lifting and fitting equipment. This means that delivery and installation costs are much higher when you buy larger sliding doors which significantly narrows the cost between large bifold and sliding doors. Taking into account the size, delivery and installation costs of your doors as well as the initial cost will help you to decide which door type is best for your budget and needs.
In addition, key considerations such as, the style of your home, how you will be using your doors throughout the year, as well as practical aspects including ease of use, security and thermal efficiency, should all work alongside price to inform your decision.
The material you choose for your door frame may also have an impact on cost with aluminium bifold doors costing slightly more than wooden bifold doors.
Our team is more than happy to talk about your options so you can move one step closer to making your dream doors a reality. Contact us today.
---