A complete guide to understanding bifold door thermal efficiency | Frequently asked questions answered
---
In a time when energy costs continue to rise rapidly, it is increasingly important to choose an energy efficient door. But, are bifold doors an energy efficient option, and what makes a bifolding door energy efficient?
Here, we answer frequently asked questions on bifold door thermal efficiency, and provide a guide to finding a thermally efficient bifold door.
In this guide:
Find out why it is vital to understand how energy efficient a bifold door is before purchasing it.
Find out what factors are considered when measuring the thermal efficiency of bifold doors.
Read what is meant by U-Values and how they are used to measure energy efficiency.
Common queries on bifold door efficiency are answered.
Why should you check whether a bifold door is thermally efficient before purchasing it?
A thermally efficient door will help to retain heat when it is cold outside, and will also assist in keeping the heat out when it is extremely hot outside – making for a more comfortable home. With 2022 recently bringing record-breaking heatwaves, it is extremely important to consider thermal efficiency. Checking whether a bifold door is thermally efficient before purchase is also vital for reducing your energy bills.
Read our complete guide on why thermal efficiency is important in bifold doors here.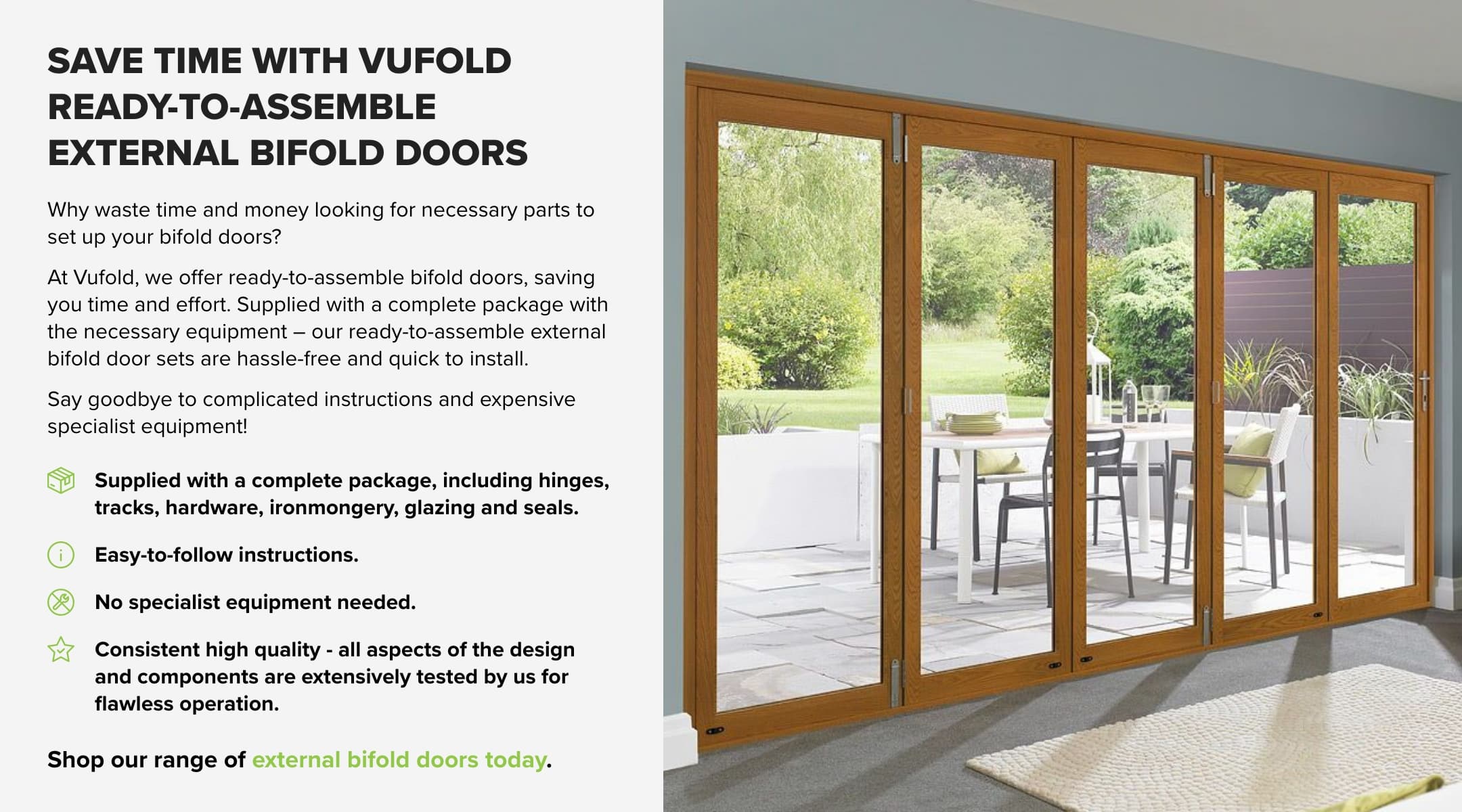 How is energy efficiency calculated?
The material of the door frame
A thermally efficient door will ensure a room stays at the right temperature without requiring excessive energy consumption. The thermal efficiency of a door can be calculated by factors including the material of the door frame. Timber frame composite bifold doors offer some of the best U-values in the market, and are a great option if you are looking for a combination of timber and aluminium. Our Vufold composite doors utilise the natural insulating qualities of wood, triple glazing and a thermally insulated engineered core that incorporates two panes of Low E, argon-filled glass.
Glazing
Consider whether your bifold door is single, double or triple-glazed. Triple-glazed doors provide the best thermal efficiency, and are often a more expensive option.
Does the door feature Low-Emissivity glass?
Low E, or Low-Emissivity, glass is a type of glazing glass containing a transparent, microscopic coating that improves the thermal efficiency of your windows. The "E" in low-E glass stands for emissivity or the amount of energy radiated from a surface.
Shop our complete selection of external and internal bifold doors here.
Find out more about bifold door energy efficiency in our guide Are bifold door u-values energy efficient?
Looking for an energy efficient, aluminium door?
Our pick:
ULTRA COMPOSITE BIFOLD DOORS
FROM £2,422.00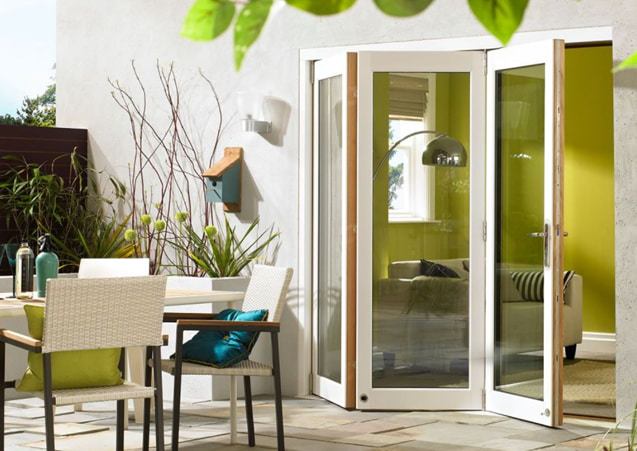 Now here's a stunning combination: the low maintenance and long life of aluminium on the outside, with the natural elegance and good looks of responsibly-sourced oak on the inside. It's all wrapped up in our fabulous Ultra Composite bifold doors, which also come triple-glazed as standard to give them exceptional thermal performance.
What is meant by a "U-Value", and why is this important?
You may have seen the term "U-Value" when looking at bifold doors, however, what does this mean? Ultimately, a U-Value measures how effectively a material insulates a building. As a general rule, higher the U-Value, the poorer the insulation properties of that material.
Why should you pay attention to a door's U-Value?
Although you have many factors to consider when buying a bifold door – remembering to check the U-Value is important, as this can have an impact on how much heat is lost from your home. You want to ensure your home will be comfortable, no matter the weather outside. When advertising the U-Values, companies often publish the centre pane U-Value because it can be lower than the overall U-Value, but the key figure is the overall value.
Read our full guide to bifold door u-values here.
Are aluminium bifold doors thermally efficient?
Though aluminium bifold doors often have a reputation of not being thermally efficient. However, this isn't true, as most modern aluminium bifold door designs are manufactured to ensure they provide excellent thermal efficiency. Modern aluminium bifold doors are designed with a thermal break, which reduces the transfer of temperatures between the external surface and the internal surface. Our Status aluminium bifold doors are available in triple glazing and provide excellent thermal efficiency.
Looking for an energy efficient, aluminium door?
Our pick:
STATUS ALUMINIUM BIFOLD DOORS
FROM £2,479.00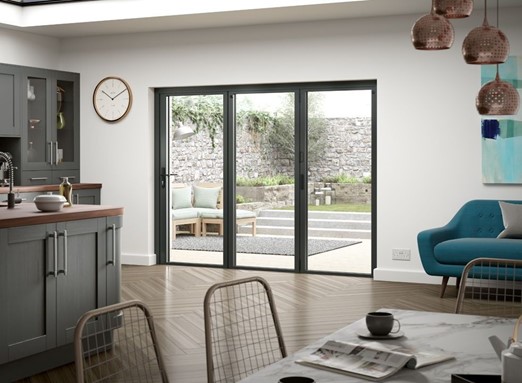 The Status is our most popular aluminium bifold door set, and it's no mystery as to why. Not only are they fantastic value for such beautifully engineered bifolds, they're available in a host of configurable options and feature a low threshhold and slim sight lines to give you more light, and a better view. As if that's not enough, our Express range is also available for delivery in just three days.
How else can you improve thermal efficiency in the home?
Here are some additional ways in which you can improve your home's energy efficiency on a budget:
A great way to increasing thermal efficiency in the home is through adding loft insulation.
Consider improving the glazing of your windows.
Check for draughts. If you feel your home has cold draughts, you can cut these out by filling gaps around doors and windows.
Reduce loss of heat from your heating system by insulating pipes, tanks, and radiators.
Are you looking for a thermally efficient aluminium bifold door? Shop our aluminium bifold door range here.
Frequently asked questions – bifold door energy efficiency
Are composite bifold doors energy efficient?
Composite external bifold doors are the most thermally efficient bifold doors available, featuring oak on the inside and aluminium on the outside. Vufold's Ultra composite bifold doors also come triple-glazed as standard to give them exceptional thermal performance.
Are bi-folding doors draughty?
If installed correctly, bifold doors should not be draughty. Poor installation could cause draughts, so you may benefit from having an expert install your door if you're not comfortable doing this.
Are bi-fold doors cold?
You need to look at the U-Value of the doors you are purchasing to establish how insulating they are. We recommend choosing double glazing or triple glazing over bifold doors with single glazing.
How long do bifold doors last?
Bifold doors are very durable and last a long time. The material they are made from can impact their longevity. On average, aluminium bifold doors can have a life expectancy of around 40 years, whereas wood-based bifold doors can last between 20 and 30 years. Either way, bifold doors are a worthy, long-lasting investment.
Are bifold doors a security risk?
No. Bifold doors are very sturdy compared to basic wooden doors. High-quality double or triple glazing and strong, durable materials, as well as good quality multi point locks tested to the latest standards, ensure that external bifolding doors are not a security risk.
RELATED CONTENT
Types of glazing for bifold doors
Benefits of wooden bifold doors
Guide to choosing aluminium bifolds
How does a sliding patio door compare to a bifold door?
Are bifold doors energy efficient?
---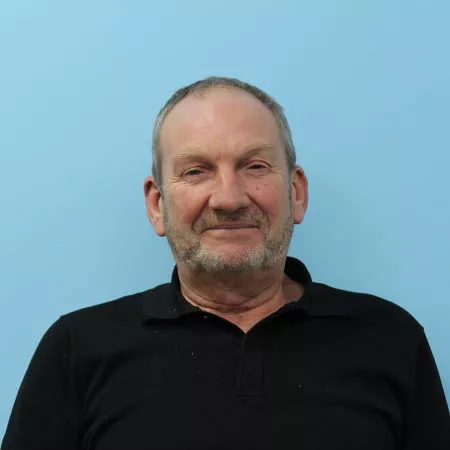 About John Collins
John has built Vufold into a unique online door and window company and has spent 20 years bringing innovative products and designs to fruition, recognising niches in the market and placing them in the likes of Wickes and Travis Perkins, he started Vufold in order to sell them directly. John founded Vufold and has amassed a wealth of experience in product design and development, and in particular timber-based products
Read more about John Collins