Types of patio doors: Comparing bifold, sliding and French doors
If you have a garden or a view you wish to show off, patio doors are an excellent choice. However, 'patio door' can be a confusing term that covers several different types of doors. This guide will showcase the types of patio doors and their benefits, alongside the different security features, sizes, costs, and other features of patio doors.
---
In this guide:
Find out what is meant by a patio door and the different types of patio doors.
Find out more about the different types of patio doors available and the benefits of each one.
Read our guide to fitting patio doors.
Find out what parts of patio doors can increase security.
Read the different patio door sizes, recommendations and sizes.
Find out whether you should consider purchasing blinds or curtains.
A patio door is an all-encompassing term that generally refers to three external door types:
You may find the term used interchangeably for all three doors, or specifically for one kind of door. They differ in terms of usages, styles, sightline options and price range, so it is worth researching to find the right door.
---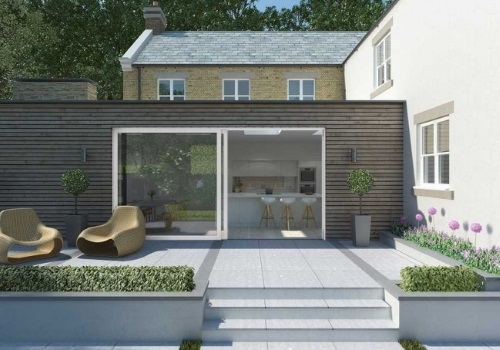 ---
Sliding Doors
Sliding patio doors open horizontally along a track. They are often used in wider openings or when you want to showcase a view. Larger leaves (panes of glass) offer uninterrupted views, while the door's horizontal system means the leaves stack neatly behind each other, saving space.
Vufold's sliding patio doors are made from robust aluminium. The doors also come with double glazing, which offers excellent thermal performance. Aluminium doors offer better thermal efficiency than wooden or uPVC front doors which means your home will not suffer from as much heat loss during the winter months, helping to save on energy costs.
---
KEY BENEFITS OF SLIDING DOORS
Sliding doors offer much wider doors than either bifolds or French doors, allowing more light into your home.
Provide uninterrupted garden views.
They have extra-large glass areas with minimum frames.
They save space because there are no hinged doors protruding on the outside or inside.
---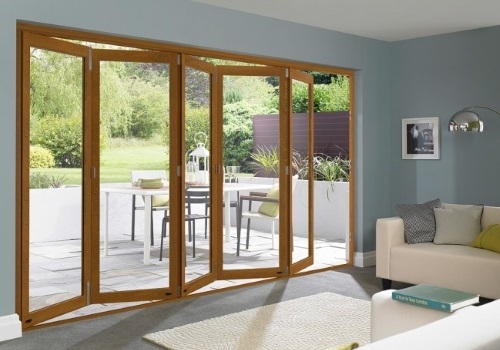 ---
Bifold doors
Bifold folding patio doors are made up of multiple doors. When opened, these doors fold back on themselves, creating a concertina effect. Bifold doors use a track system to open and close. This allows the doors to roll and fold seamlessly, ensuring smooth operation. Entire walls can be opened up by using bifold doors, making them a popular choice.
Vufold's bifold patio doors are available in aluminium, composite, oak and hardwood and can be chosen in a range of colour options and shades. Our bifold doors offer slim sightlines, providing expansive views. The aluminium bifold doors range offers the thinnest sightlines of all our bifolding door ranges.
---
KEY BENEFITS OF BIFOLD DOORS
Modern bifold doors easily outperform old style patio doors when it comes to thermal efficiency saving you money on heating bills.
High-quality bifold door hardware is very easy to use, sliding and folding open and closed in seconds.
They are available in a range of materials, including aluminium, composite, oak and hardwood.
They offer a smooth, seamless operation.
You can choose between both double and triple glazing for your bifold door. Read our full guide to the glazing options for bifold doors here.
---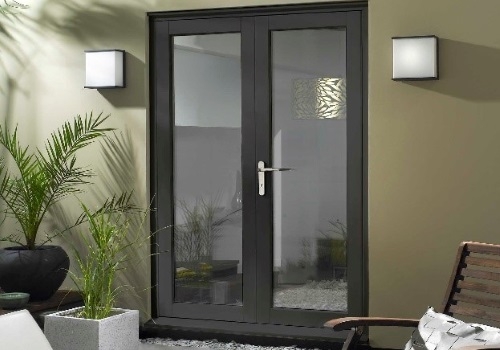 ---
French Doors
A French door is simply two doors that pivot on hinges mounted on opposite sides of the door framing. French patio doors are used for smaller openings and are popular with traditional homes. French doors offer larger sightlines in comparison to the sleek sightlines of bifold and sliding doors, providing a more traditional appearance.
Vufold's French patio doors offer energy-efficient double or triple glazing, multi-point locking systems and a 10- or 15-year guarantee. Our French doors are the most cost-effective type of patio door system, with our double-glazed options ranging from £1049 - £2659.
---
KEY BENEFITS OF FRENCH DOORS
They provide a unique, traditional appearance.
They are a cost-effective option.
They are an ideal option for smaller openings.
They are ideal if you want a simple patio door option.
French Doors vs Bifold vs Sliding
 

French doors

Bifold doors

Sliding doors

Style

Generally used in traditional homes
Cottages and period homes

Can be used in contemporary and traditional homes

A sliding door is generally used in contemporary homes

Available sizes

1.2m – 1.8m

1.8m – 6m

2.4m – 6m

(larger sizes available bespoke)

Sightlines

(Door stiles / frame sections)

Widest
The larger sightlines are part of the style/appeal

Glazing

Double/triple glazed
Low E*
Toughened safety glass

Double/triple glazed
Low E*
Toughened safety glass

Double glazed
Low E*
Toughened safety glass

Materials/finishes

Aluminium
Oak/Hardwood
Composite (aluminium on the outside, oak on the inside)

Aluminium
Oak/Hardwood
Composite (aluminium on the outside, oak on the inside)

Price range

(Double Glazed patio doors)

£800 – £2,600

£1,400 – £6500

£2,700 – £5000

Recommended for

Smaller or more traditional homes
If you are looking to transition your bedroom to outside
Balconies

Those looking to bring the outside in
Traditional or contemporary homes

Homes with a view
Houses with large gardens
Wider openings
*Low E - means the glass reduces the amount of heat transfer. Keeping rooms cool in the summer and warm in the winter.
---
The basic steps for fitting patio doors are similar between the different types: measure, install frames, install leaves (doors). However, the specifics of installation can vary greatly even within the same patio door type. If you are planning to fit your own patio doors, ensure you closely follow the instructions that come with your new patio door.
---
How To Measure Patio Doors
All patio doors are measured the same way - whether bifold, glass sliding or French doors:
---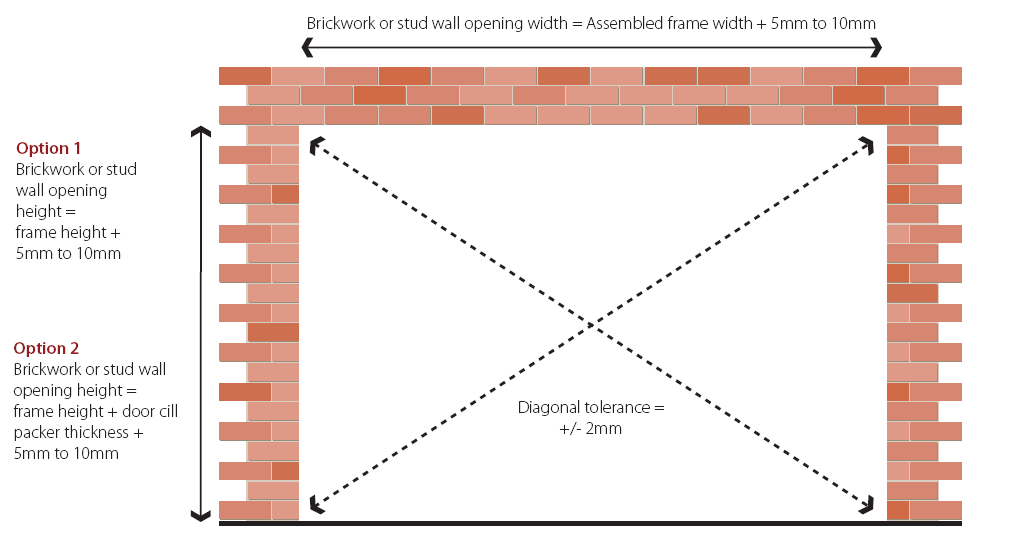 ---
Floor Levels
Floor levels will need careful consideration when installing patio doors. You will need to check with building control to ensure your patio floor level meets the required standards. Careful consideration needs to be made regarding accessibility, drainage and insulation. Many variables can affect these standards so we cannot make any recommendations.
You can find some answers by visiting the planning portal. This offers advice on planning permission, applications and building regulations.
Are you a homeowner looking to fit a bifold door? Read our full guide on how to fit an external bifold door here.
---
Anyone purchasing patio doors need to consider security. With proper preparation, any type of patio glass door can be incredibly secure. In this section, we will look at the two key parts of the door that can help improve security:
---
Locks
Locks are one of the most important aspects of patio door security. It is always worth investing in a good quality lock to ensure the top level of security. The following section looks at the most common types of lock found on patio doors:
---
Multipoint lock
A multi-point lock is screwed/fixed into the door edge and uses multiple types of locking mechanisms; often including a deadbolt, a latch and a combination of rollers, mushrooms, hooks and bolts for extra stability and security. Multipoint locks are a popular choice because it can offer at least three times the level of security offered by a single deadbolt or mortice lock.
Vectis multi point lock
Vufold supplies door handles that fit a Vectis type locking system. The Vectis multi-point lock is supplied with Vufolds composite and timber bifolding and French doors. Vectis type locking systems are highly secure, giving you peace of mind in your home. Vectis locks combine a traditional five-lever mortice lock with the added reinforcement of a steel hook system which eliminates the need for a euro cylinder.
---
Euro Cylinder Lock
Euro cylinder is one of the most common types of lock and is used in many patio doors. However, you must ensure your euro cylinder is appropriate as an external lock.
Euro cylinders can be rated one star or three stars by the British Kitemark, which is a service quality trademark operated by The British Standards Institution. These star ratings show whether a euro cylinder lock has passed certain tests – most importantly, snapping tests. Low quality euro cylinder locks have a major weakness around the screw fixing position which means when pressure is applied, the lock can snap.
The star system is:
One star - lock has met the criteria of British Kitemark but has not passed snapping tests. The lock will require an additional 2 star rated security hardware (such as reinforced handles) to reach the three-star rating
Three star - lock has passed all criteria of the TS007 British Standard Kitemark, including snapping tests.
When choosing a patio door, the optimum euro cylinder lock is rated three stars.
---
Glass
Most patio doors use large panes of glass to showcase a garden or view. This glass should be safe, secure and reinforced, without any detriment to glass quality. Glass patio doors generally come in two types of glass:
tempered glass (also known as toughened glass)
laminated
Tempered glass is produced by heating and cooling standard glass in a tempering furnace. Once the glass has been rapidly cooled it is 4 – 5 times stronger than before.
Laminated glass is produced using 2 pieces of glass with a vinyl layer sandwiched between them; bonded using a combination of pressure and heat. When shattered, this process makes the glass hold together.
Tempered Glass vs Laminated Glass
 

Tempered glass

Laminated glass

Strength

Up to 5x strength compared to normal glass

Same as normal glass

Shatter behaviour

Breaks into smaller pieces
Makes loud sound which can alert neighbours

Remains as one unit
No holes created
No sound created

Uses

Bus stops
Phone boxes
Doors and windows

Storefronts
Windscreens
Doors and windows

Price

Unlikely to increase door costs

More expensive
---
Different patio door manufacturers will have their own preferences. You may be able to replace one type of patio door glass with an alternative, but will require a professional and is not recommended.
At Vufold, we offer toughened glass (also known as tempered glass), which significantly increases the strength of a door and makes it harder to gain entry.
---
At Vufold, we offer toughened glass (also known as tempered glass), which significantly increases the strength of a door and makes it harder to gain entry.
Patio doors sizes, recommendations and prices
| | | |
| --- | --- | --- |
| Size (approx. ft.) | Recommended door | Price range |
| 1.2 metres (4ft) | French doors | £800 - £1,900 |
| 1.5m (5ft) | French doors | £900 - £2,400 |
| 1.8m (6ft) | French doors/bifold doors | £900 - £2,600 |
| 2.1m (7ft) | Bifold doors | £1,400 - £3,500 |
| 2.4m (8ft) | Bifold doors | £1,400 - £3,600 |
| 2.7m (9ft) | Bifold doors | £1,800 - £3,700 |
| 3.0m (10ft) | Bifold doors | £2,000 - £3,800 |
| 3.6m (12ft) | Bifold doors | £2,400 - £4,100 |
| 4.0m (13.1ft) | Bifold doors/Sliding doors | £3,300 - £4.900 |
| 5.0m (16.4ft) | Sliding doors | £3, 900 + |
| 6.0 m (19.6ft) | Sliding doors | £4,400 + |
---
Having large open patio doors is excellent for bringing in light into the room, but you may wish to have some privacy and control over the amount of natural light coming in. Blinds and curtains are a cost-effective way to gain a bit of privacy and light control.
---
Blinds
Blinds are a quick and easy solution for privacy and light control. They are stylish and versatile with many styles and designs available. Some businesses will sell blinds that are specifically designed to fit their doors, or alternatively, you can purchase made-to-measure.
The more popular designs of blinds are:
Pleated blinds – made from a textured fabric that is concertina or honeycomb in design.
Roller blinds – Roller blinds roll vertically up and down the patio door. It is often made of a single fabric that is operated by a string or chain to lift and lower.
Integral blinds – Integral blinds are installed between two panes of glass that make up a double-glazed patio door unit. This means the blinds are part of the door, rather than an accessory. This means they cannot get damaged or dirty and can last as long as your patio door does.
Curtains
The larger your patio door, the harder it may be to find suitable blinds. If this is the case, you should look at purchasing curtains. This should be considered before purchasing a patio door as they may take up extra space.
View our selection of blinds for French patio doors and external bifold doors here.
Are you choosing some blinds for you bifold door? Read our guide to blinds for bifold doors here.
---
Find your perfect patio door with Vufold
Designed in the UK and manufactured in our state-of-the-art factories, our doors offer outstanding quality and design. All of our patio doors are designed for UK weather conditions to keep you warm and snug when the weather does its worst. We offer a warranty of 15 years for our sliding patio doors and a 10-15 years guarantee for our French and external bifold doors. For further advice on choosing the right type of patio door for you, contact us today.
---
---
---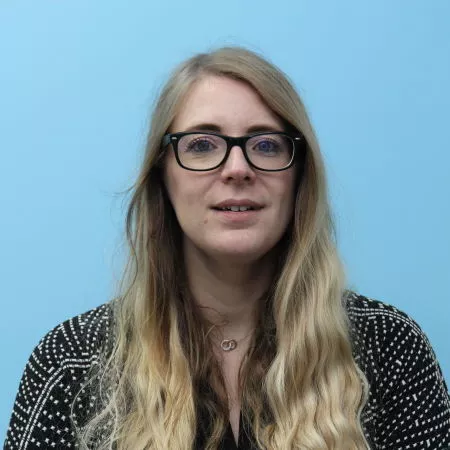 Author:
Amanda Hewer - Operations Manager
About Amanda Hewer
Having been at Vufold for around 12 years now, Amanda became operations manager after spending time in Customer Service, Sales, Order Processing and our Warehouse. Amanda likes that no two days are ever the same and believes her successful career stems from her keen interest in people, helping them achieve their goals and striving for constant improvement across all departments.
Read more about Amanda Hewer