External Bifold Doors: Aluminium V UPVC - What are the key differences?
External bifold doors and windows not only look appealing but they also enhance the value of your property. However, with dozens of materials and optional extras available, selecting the right bifold can be a daunting affair.
---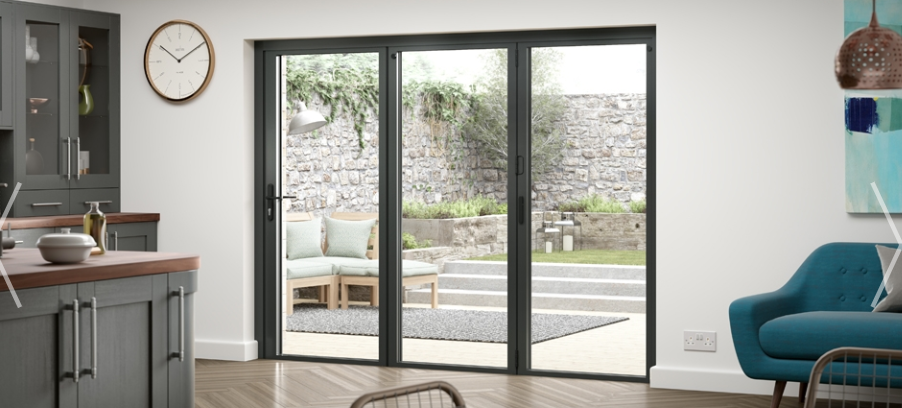 ---
Here, we focus on one key aspect: the material. More specifically, we'll compare and contrast the two most common materials for bifold patio doors: aluminium and unplasticised Polyvinyl Chloride (UPVC).
In this guide:
Read how aluminium bifold doors and UPVC bifold doors differ in terms of initial cost, long-term value and cost of maintenance.
Find out how both types of bifold doors compare in terms of tolerance to heat, colour damage and general maintenance.
Read how uPVC and aluminium compare when it comes to their impact on the environment.
Read which option may be ideal for you in terms of style and finishing.
Find out which type of bifold door provides the slimmest sightlines and the best view.
Read our overall verdict on how to choose the best option for you.
WHAT ARE THE DIFFERENCES BETWEEN ALUMINIUM BIFOLD DOORS AND UPVC BIFOLD DOORS?
If you have ever delved into this subject before, you will have realised that in many ways, UPVC and aluminium share similar properties. When compared against oak / hardwood, they are both lightweight, require less maintenance and have pretty comparable thermal efficiency (U-values). They are also available in a range of similar colours and often have similar sightlines and security features.
---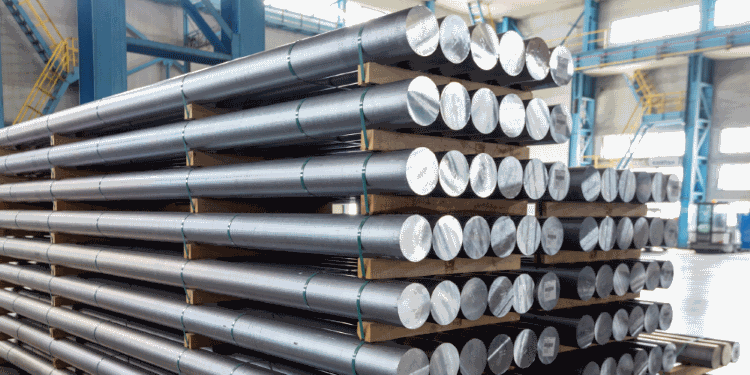 ---
Let's explore some of the key differences between both materials of bifold doors:
---
External bifold door cost comparison
---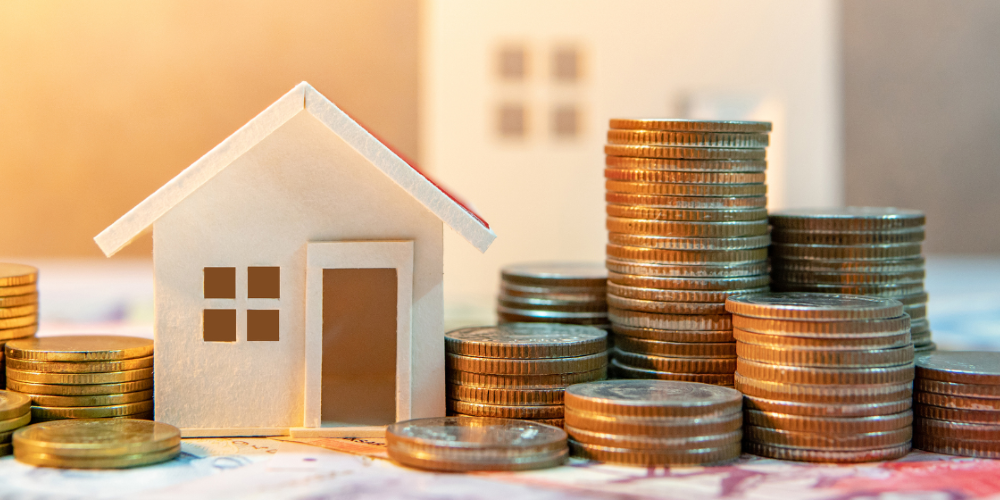 ---
Price is the Number 1 factor that most homeowners consider when deciding the external bifold material to go for. But pricing encompasses several mini-factors: initial cost, long-term value and cost of maintenance.
---
Initial Cost
With regards to initial cost, UPVC bifolds are significantly cheaper than their aluminium counterparts. This can be demonstrated in the table below:
Table: Comparison of materials cost for a standard Status / Master range Bifold Door in Anthracite Grey available to buy from Vufold:
 
Aluminium Anthracite Grey
Hardwood Anthracite Grey
*UPVC Plain White
*UPVC Anthracite Grey
1.8 Metres
£1929
£1699
*£1249
*£1749
(2 Door)
(3 Door)
(3 Door)
(3 Door)
2.4 Metres
£2749
£1999
*£1499
*£1999
(3 Door)
(3 Door)
(3 Door)
(3 Door)
3.0 Metres
£2959
£2579
*£1749
*£2249
(3 Door)
(4 Door)
(4 Door)
(4 Door)
3.6 Metres
£3669
£3069
*£1999
*£2499
(4 Door)
(5 Door)
(4 Door)
(4 Door)
* Source: Flying Doors. Vufold do not sell UPVC bifold doors.
---
Life Time Cost
Although external aluminium bifold doors cost more upfront, they're long-lasting. Firstly, the guarantee on aluminium is longer – roughly 50% longer. This means that should anything go wrong with your doors in years 10 through to 15, you have a manufacturer's guarantee to fall back on.
Aluminium bifold doors and windows can also last for up to 45 years. By comparison, those made of UPVC have an average lifespan of 20-30 years, after which you'll have to replace with new ones.
---
Expert Quote:
"Aluminium as a material will comfortably outlast uPVC, which has a lifespan of only 20 to 30 years."
Rick Collins, Director, Vufold
---
House Valuations
There is no doubt that higher quality fixtures will only work in your favour at point of sale. From a buyer's perspective, should a house be fitted with UPVC doors, they may want to remove them, creating unwanted costs. This is highly unlikely with aluminium frames, due to their durability and high-quality.
---
Colour UPVC Cost Extra
According to retailers of uPVC bifolds, adding a colour or textured finish to your frames will cost an extra 15-20%. This should be factored in to the purchase cost given that the aluminium equivalent already has a colour finish. If you are happy with white of course, this is not something to be concerned with.
---
Expert Quote:
"A lot of non-white uPVC frames are foiled not sprayed. Foiled is much better than spraying since it melds the two materials together creating a very durable, long lasting finish. But expect to pay more for the finish – add around 20% to the quoted prices for standard white."."
Rick Collins, Director, Vufold
---
Maintenance Costs
There is very little between the two materials. Probably the most important point to consider is that the standard white uPVC doors will need regular cleaning, otherwise dirt and grime can become engrained in the plastic. This may mean specialist cleaning products are required.
---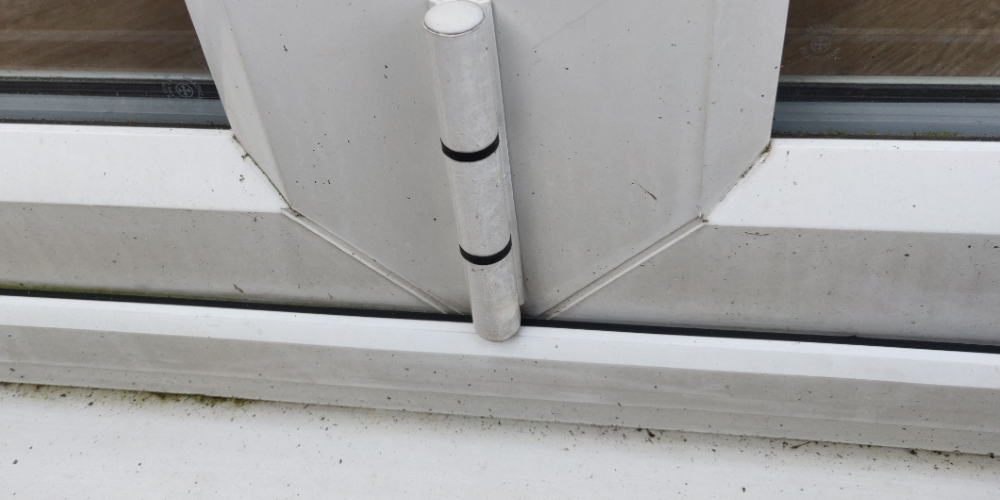 Image: Over time, dirt can become engrained in uPVC frames and can be difficult to remove.
---
Verdict: Aluminium frames are initially more expensive but when factoring in life time cost, extended guarantees and property desirability, they are likely to be a more cost efficient solution than UPVC overall.
---
Resistance to weathering and damage
---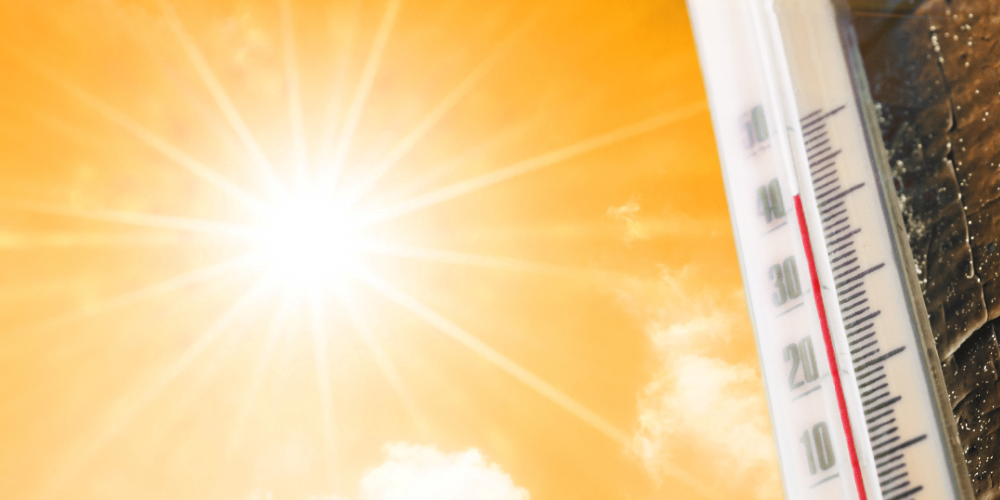 ---
Tolerance to heat & light
This is one area where external aluminium bifolds really outshine their UPVC counterparts. When exposed to direct UV rays for an extended period, aluminium shows better resistance to expansion and contraction. As a material, Aluminium is incredibly resistant to heat and light meaning it is less prone to thermal expansion.
UPVC, on its part, is also resistant to contraction and expansion to a point. The generally accepted view is that you can expect roughly 2.5 times more expansion with UPVC.
In real terms, this will make uPVC doors harder to close and open during hot weather. You can either wait for the doors to cool or spray them with water. If you are in a rush, then expect to apply a little extra force to get them to shut immediately.
---
External Bifolds Product Guarantee
The standard aluminium bifolds come with a 15 year guarantee, most UPVC doors come with a 10 year guarantee. This therefore is a further long term benefit of Aluminium – essentially you will enjoy a 50% longer product warranty.
---
Colour Fades & Damage
An area that causes confusion is the amount of fading (photodegradation) homeowners can expect with their doors. The reality here is that all the materials - Aluminium, Hardwood & uPVC will experience a level of colour breakdown when exposed to sunlight over a prolonged period of time.
If your doors are for example south or south west facing, they will get more exposure to UV light – so keep this in mind, especially if you are thinking of darker frames. In essence colours begin to reflect less natural light as they breakdown, leaving them looking 'dull'. If your property is expecting plenty of glorious sunshine, then lighter colours may be the way to go to limit the impact of this natural occurrence.
---
Live near the coast?
Aluminium frames are initially more expensive but when factoring in life time cost, extended guarantees and property desirability, they are likely to be a more cost efficient solution than UPVC overall.
---
General Maintenance
There isn't much between the materials in terms of general maintenance. What you can expect however is standard white uPVC doors will inevitably show more dirt than an Aluminium equivalent as the picture earlier in this post demonstrates.
In general, warm water and a soft brush will eliminate most dirt and grime on aluminium frames.
Read our full guide to bifold door installation and maintenance here.
---
Expert Quote:
"Aluminium bifolds will be smooth to operate regardless of the weather. When it comes to fading, it should be stated that powder coating fade is also expected to a point. Generally speaking, darker colours will experience more noticeable fading - whether they are uPVC foil or Aluminium powder coated."
Rick Collins, Director, Vufold
---
Verdict: Ultimately a 50% longer warranty is available on aluminium doors and although not a major issue in the UK, sticking doors is not the perfect end to a hot summer's day. Aluminium frames will stand up to expansion much better than UPVC with both materials suffering from a level of fading over a long period.
---
---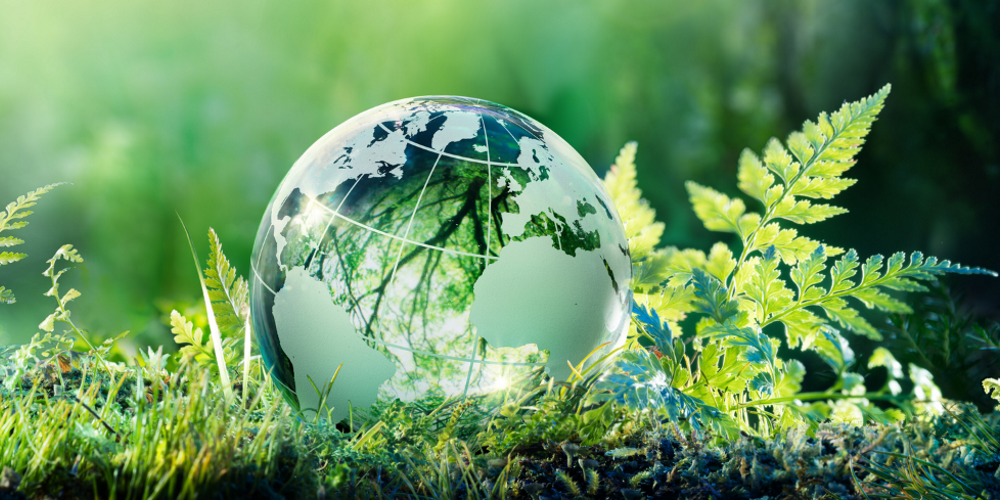 ---
In our article 'Making the Case for Aluminium Bifold Doors – The 'Miracle' Metal Complete Guide' we showcased the amazing environmental benefits of aluminium. It is an abundant natural resource, retains almost 100% of its natural qualities when recycled and around 75% of all aluminium ever produced is still in circulation today.
Experts believe that aluminium is pretty much carbon neutral and continues to be used in industry to help reduce our reliance of fossil fuels, a great example being in the production of batteries for electric cars. Furthermore, only 5% of the energy needed to create virgin aluminium is needed in the recycling process.
---
Did you know: The typical recycling rate of an aluminium window frame is 94% Source: International Aluminium Association
---
Comparing this to UPVC, you can see a very different story and one that causes controversy. Ultimately uPVC is a plastic, and general attitudes to plastic use in society are changing rapidly.
Some of the detractors of UPVC claim:
As uPVC is exposed to UV light, it emits toxic gases such as vinyl chloride. These gases can enter the home.
PVC contains Chlorine and Chlorine production is one of the world's most energy demanding industrial processes – it is estimated that PVC production is equivalent to the yearly output from 8 medium sized nuclear power plants.
The incineration of PVC releases 

Dioxins

- highly toxic chemicals known as persistent environmental pollutants (POPs). Dioxins can remain in the environment for many years. Source: (Medical News Today)
According to the WWF as of 2005, 82 per cent of total PVC waste went to landfill, 15 per cent was incinerated. Only 3 per cent was recycled.
43 per cent of PVC is made up of a nonrenewable resource (oil). Source WWF
As a form of plastic, uPVC can take 500 years to degrade if it is not recycled or incinerated.
Supporters of uPVC on the other hand claim that:
uPVC frames can now be recycled as often as 10 times and the amount of frames being recycled has jumped markedly in the last ten years.
In 2018, window profiles and related building products accounted for 44% of the total PVC recycled. Source: Vinyplus.eu
Businesses now exist that can take uPVC products and recycle them.
Eurocell now boasts to be the largest uPVC recycling centre in Europe. This facility can recycle 12,000 end of life frames per week. Source: Eurocell
Homeowners can get paid a scrap value in a similar way they can with aluminium with more options now available than simply landfill.
So, thanks to wider public knowledge on the dangers of plastics, more is clearly being achieved to help reduce the environmental impact of uPVC. This of course is a huge subject and Vufold recommends shoppers conduct more research should they require more information.
---
Verdict: A huge win for Aluminium. Although the plastics industry has improved in terms of environmental considerations, it has much work to do to enjoy the same levels of recycling enjoyed by Aluminium. As a process, uPVC production is energy intensive and ultimately the world is trying to reduce plastic production which continues to grow at around 4% across Europe.
---
Thermal Efficiency
Bifold doors are some of the most eco-friendly external door solutions on the market, when utilising double or triple glazing. Both UPVC and aluminium offer excellent levels of insulation. Aluminium frames provide incredibly strong support for triple glazing when compared to other materials. Vufold's best bifold door U-Value is from the Ultra range with a u-value of only 1.0 w/m2k. The combination of excellent thermal efficiency and durability suggests aluminium is the most practical choice for a bifold door.
Find out more about choosing a bifold door with excellent thermal efficiency here.
---
---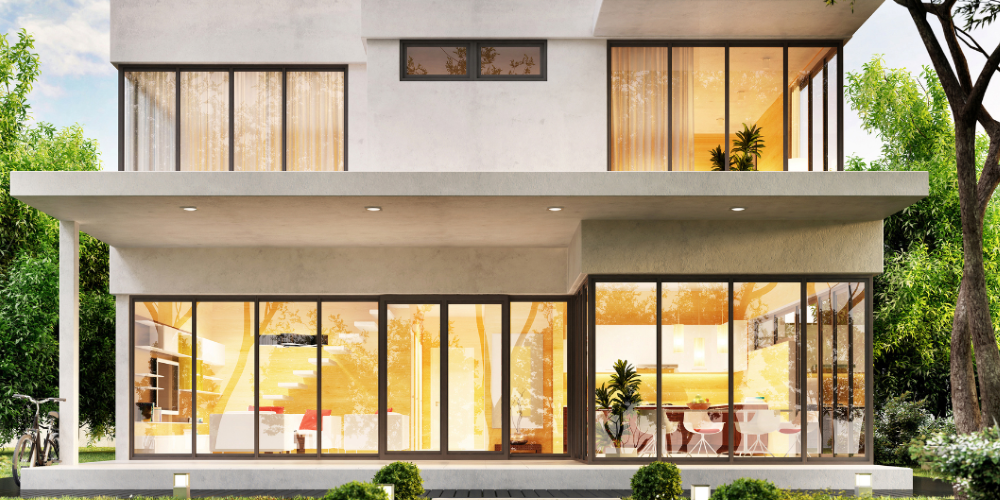 ---
If your primary concern when choosing an external bifold is style, you're better off choosing aluminium. Simply put, uPVC does not provide the same 'wow factor' you get from Aluminium doors.
---
Any RAL Colour - Powder Coated
---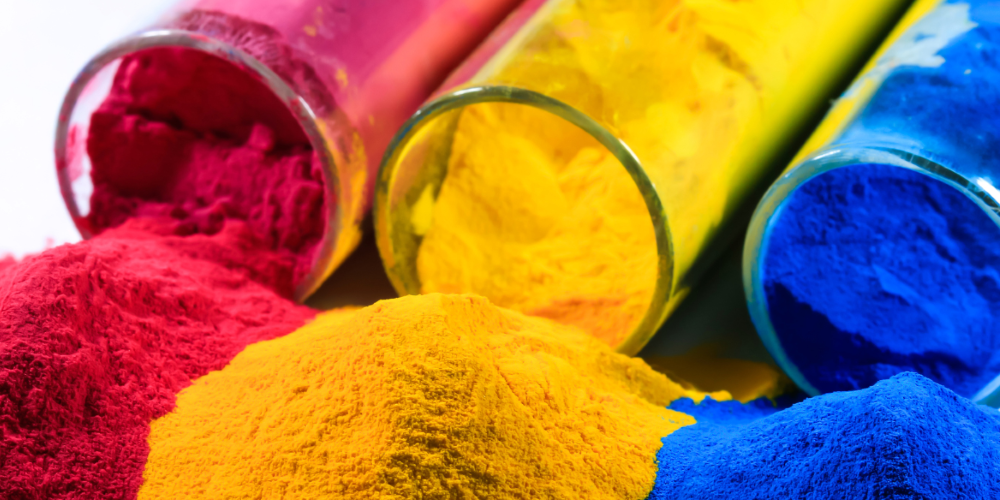 ---
Vufold aluminium bifolding doors are available in a range of standard colours, all powder coated to provide an incredible, hard-wearing finish that should last (subject to location) around 20-25 years:
Hippca White (RAL 9910)
Anthracite Grey (RAL 7016)
Jet Black (RAL 9005)
Dual Colour Anthracite Grey/White (RAL 7016/9910).
Bespoke colours available on request
The powder coated finish can be made in just about any RAL colour. So, whether you want a colour that reflects the sleek contemporary vibe in your home or prefer an outlandish lime green or yellow chosen by the kids, you can have your bifold door finished in pretty much any colour.
uPVC doors can also boast a large range of RAL colours, with the advantage of a wood effect finish being an option. This is something that cannot be done with Aluminium, so if you want that natural feel, then uPVC has an advantage here (or you can of course go for real hardwood).
---
---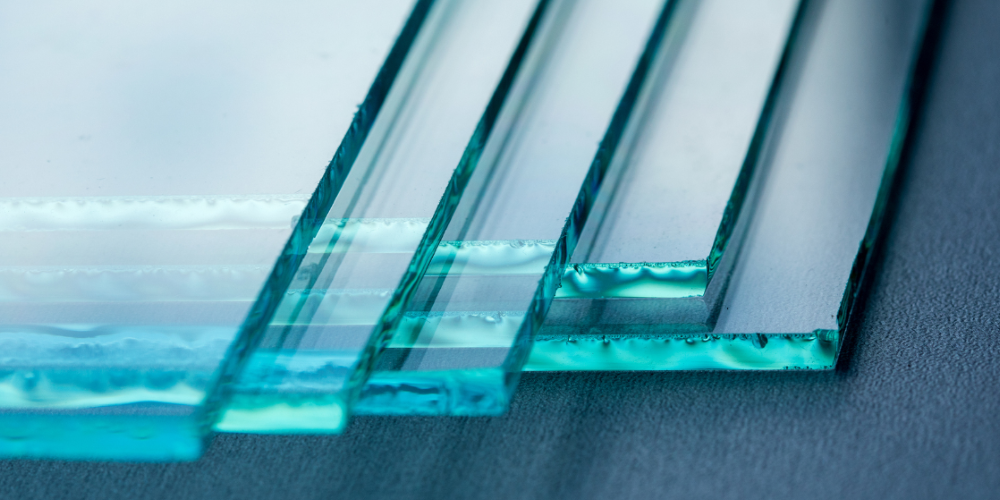 ---
This is a major part of the 'wow factor' in bifold doors.
In case you're not familiar with the term, a 'sightline' is the non-glass section of bifold doors - where the two panels of the bifold doors meet; also known as the door 'stiles'. When choosing bifolds, the sightline is therefore an important consideration because it determines how much view you'll get.
Generally speaking, Aluminium bi-folds are known for having smaller sightlines than uPVC equivalents. Aluminium is stronger than uPVC meaning manufacturers can offer more glass without compromising product quality, stability and safety.
Ultra slim sightlines are now also becoming popular for aluminium frames but generally these are more expensive. Typically, you can expect the following variances in sightlines from suppliers of Aluminium bi folds:
Table: Comparison of sight lines (stiles) for Aluminium bifolding doors. Source: Aluminium Trade Supply
| | |
| --- | --- |
| *Combined Stiles (Sight Lines) | Thickness (mm) |
| Ultra-Thin | 50mm to 100mm |
| Thin | 100mm to 125mm |
| Standard | 125mm to 150mm |
| Thick | 150mm to 180mm |
* Sight line descriptions for guidance purposes only. The industry does not have a specific categorisation of the combined Stile thickness / width. The above is purely designed to provide a framework for homeowners to work with.
The above therefore gives you a good guide when looking at uPVC frames. Usually, you will be looking at sightlines with more Stile and less glass when opting for a uPVC frame.
---
Did You Know The Vufold Status range of Aluminium bifolds come with sightlines of just 123mm.
---
The following table gives an independent view on the main considerations homeowners should consider when opting for either aluminium of uPVC external bifold doors.
| | | |
| --- | --- | --- |
| Consideration | Aluminium | uPVC |
| Initial Cost |   |   |
| Life Time Cost |   |   |
| Thermal Expansion |   |   |
| Guarantees / Life Span |   |   |
| Finish & Style |   |   |
| Threshold |   |   |
| Security & Safety |   |   |
| U-Values (Thermal Efficiency) |   |   |
| Maintenance |   |   |
| Enviroment & Health |   |   |
| Sight Lines / Frames |   |   |
| RAL Colours |   |   |
Green = Above average for industry
Orange = Average for industry
Red = Below average for industry
In summary, UPVC external bifolds are an excellent option if you're looking for a budget-friendly, low-maintenance and energy-efficient option. On the other hand, aluminium bifolds are great if you're looking to make a long-term investment, want to support plastic reduction in society and boost the curb appeal and value of your property.
---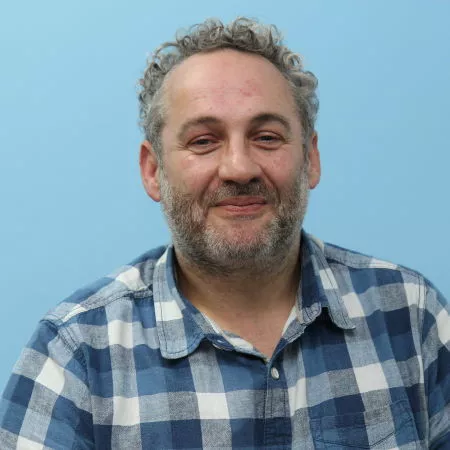 Author:
Richard Collins - Operations Director
About Richard Collins
Rick is an expert in lean practices and principles, and how they're applied to manufacturing, warehouse, administration and management of the business. As an operations director he oversees all areas of the business ensuring they run as efficiently as possible and has worked his way up through virtually every department since he joined us 13 years ago.
Read more about Richard Collins