Why bifold doors are a bright idea for lighting up your workspace | Are UK homeworkers utilising natural light?
With hybrid working on the rise – many of us are enjoying the benefits of this. Workers can save significant money on travel, for example – and it can also pose benefits for improving work-life balance. However, some setbacks come with working in our living space more often. Increased energy costs are a huge worry for many homeworkers. Research shows that low-paid workers, in particular, benefit from homeworking; however, they are more likely to face higher financial costs.
A day of working from home could increase household energy consumption by between 7% and 23% compared with a day working at the office, depending on regional differences in the average size of homes, heating or cooling needs and the efficiency of appliances (source). To find out whether homeowners in the UK are concerned about the impact of homeworking on energy costs – we put out a survey asking the UK public about their attitudes to the rising energy costs and homeworking.
Here's what we found out:
82 per cent of respondents admitted to being worried about the impact of working from home on rising energy costs
"Are you concerned about the rising energy costs and how working from home may impact your energy bill?"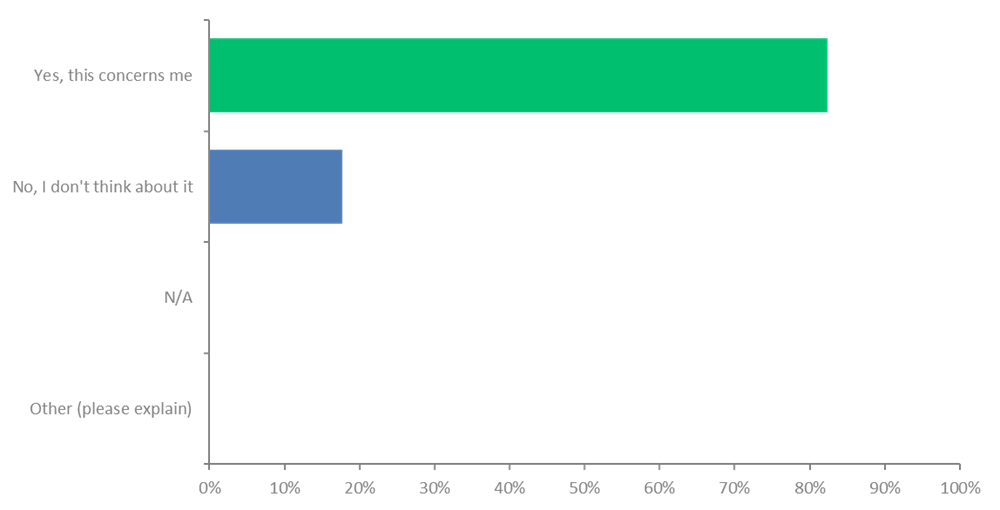 Over 80% of respondents claimed to have concerns about the impact of working from home on rising energy costs. With concerns of energy costs and homeworking recently making headline news – it's hardly surprising that many of us are worrying about energy costs in the home.
But where do we start when it comes to keeping our energy costs down as much as possible? As over 40% of a building's energy use can be down to just lighting, making the most of natural light in the home can certainly go a long way.
Are we getting enough sunlight during a working day at home?
The rise in hybrid working has resulted in more people putting time and effort into their ideal home working environment. When we asked UK homeworkers about the interior design of their home working space, 58 per cent of respondents claimed that they spend time ensuring their homeworking area is comfortable and visually appealing.
However, we could be missing out on a key trick to improve productivity and motivation during the working day. Exposure to sunlight is known to increase mood and create a more productive mindset. But, how many of us actually make an effort – or find the time to go outside during a typical working day at home?
77 per cent of respondents don't go outside during their lunch breaks or coffee breaks
"Do you typically make time to go outside during the day when you work from home?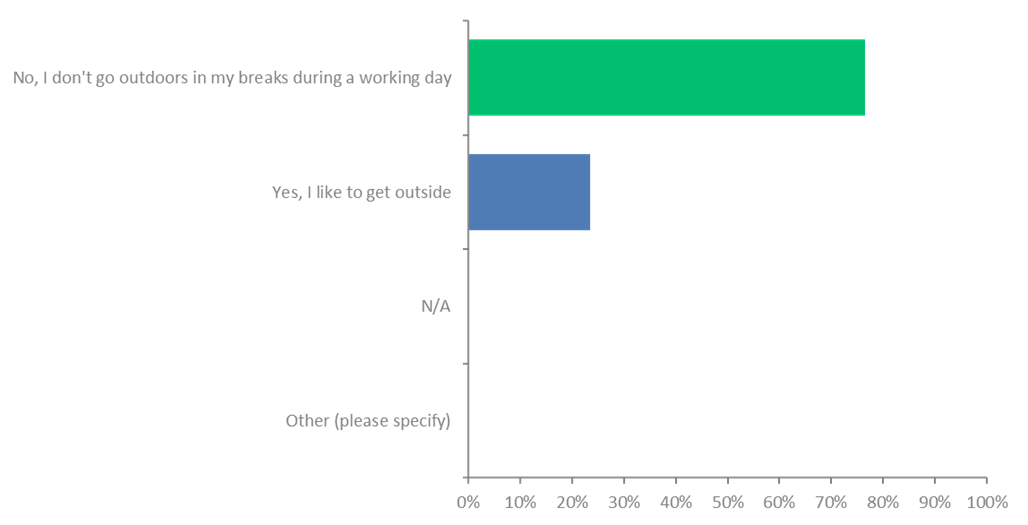 Health benefits of exposure to sunlight during the working day include promoting a sensation of well-being and improving mood. Even moving to work next to a window may make a difference to your mood and motivation. According to a study conducted by Alan Hedge, a professor in the Department of Design and Environmental Analysis at Cornell, workers in daylit office environments reported an 84 per cent drop in symptoms of eyestrain, headaches and blurred vision symptoms. These problems can easily detract from productivity.
Moving our home working environments to a conservatory or dining room with patio doors may be a solution for not only improving our view but increasing productivity. Bifold doors are a durable and sensible long-term investment for increasing natural light in the home. Sometimes life can take over, and we don't have time to commit to exercise and walks to enjoy fresh air during the working day. Utilising natural light may be a handy solution for getting more exposure to sunlight.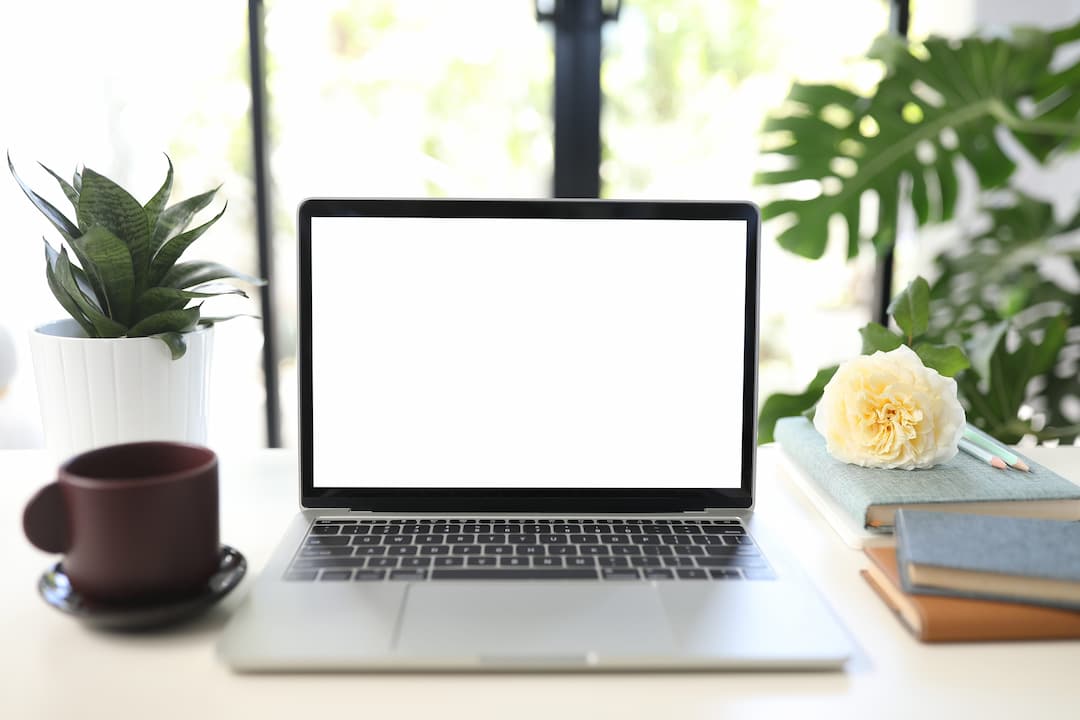 Why can bifold doors create the perfect view for homeworking?
In addition to being a durable and aesthetic addition for home improvement, bifold doors also have their benefits when it comes to being energy-conscious and making the most of natural lighting.
Some key benefits of moving your home office to an area with bifold doors include:
Thermal efficiency
Bifold doors attain high levels of thermal retention and energy efficiency. Thermal efficiency reduces the loss of heat, meaning rooms stay at the right temperature without excessive energy consumption. Thermal efficiency is affected by frame materials, as well as whether the unit is double or triple-glazed. For example - the most thermally efficient Vufold bifold door is the composite-built Ultra range. The Ultra range utilises the natural insulating qualities of wood, triple glazing and a thermally insulated engineered core that incorporates two panes of Low E, argon-filled glass.
Aluminium is another safe bet when it comes to the elements and is less likely to warp or stick in hot weather than UPVC or non-engineered hardwood. By installing an aluminium patio door such as a bifold door in your working area, you are installing a sustainable material that is responsibly contributing to its own carbon footprint globally and reducing our growing environmental concerns over the use of plastics in society.
The variety of different ways that a bifold door can be opened also means that they provide enhanced ventilation compared to many other types of doors.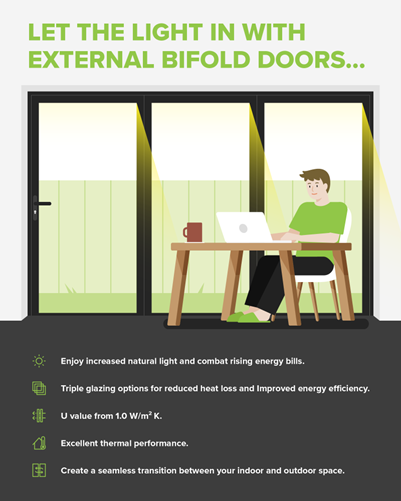 Are you unsure which bifold door material to choose? Shop our wide range of external bifold doors here!
Natural lighting improves your mood when you're working
According to researchers at Northwestern University's neuroscience program, an abundance of natural light boosts morale and improves motivation and workplace performance. Researchers found that it also promotes feelings of peace and calm, while harsh, artificial light triggers headaches and tends to make people feel nervous, uneasy or fatigued. Bifold door systems are an aesthetic and durable choice for utilising natural light in your home.
Slim sightlines create a picture-perfect view
The ultra-slim sightlines often offered with bifolding doors mean you can enjoy a clear view of your garden or outdoor space while working – helping to bring the outside in. For example, our engineered oak bifold doors are sturdily crafted yet have the slimmest sight lines of any oak bifold on the market.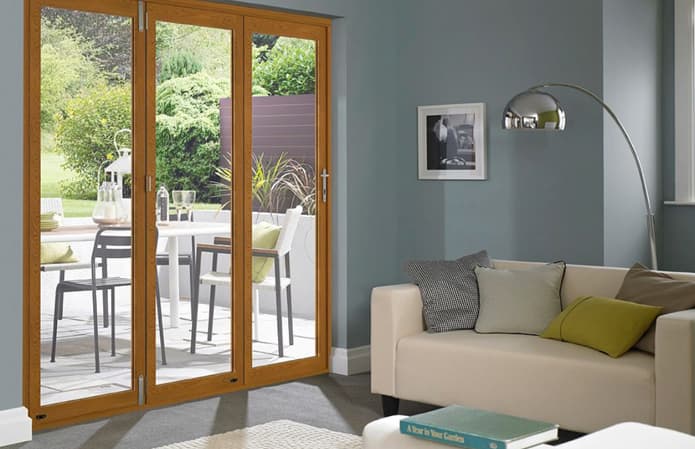 Bifold doors make a clever, long-term investment
Although the upfront cost of patio doors such as bifold doors may seem like a pricey commitment – finding a durable bifold door can provide a smart long-term investment. Materials commonly used for bifold doors, such as aluminium, oak, and slow-grown hardwood, mean you can rely on the doors lasting a long time without requiring lots of maintenance. At Vufold, we offer a ten-to-fifteen-year guarantee on all of our bifold doors against manufacturing defaults. Vufold's aluminium bifold door and Supreme ranges are guaranteed for fifteen years against the occurrence of manufacturing faults.
Bifold doors will also be a consistent source of natural light in your living area – providing a long-term solution to enjoying light while you work from home without having to constantly turn on lights during the day.
Expert Quote:
"Aluminium as a material will comfortably outlast uPVC, which has a lifespan of only 20 to 30 years."
Rick Collins, Director, Vufold
How clued up are we when it comes to the benefits of bifold doors?
65 per cent of homeworkers admitted to not knowing much about bifold doors
Despite the huge range of benefits that bifold doors can bring to your home working environment – many of the UK public are not aware of the key selling points of bifold doors. As we discovered in our survey, a huge 65 per cent of homeworkers admitted to not having a lot of knowledge about the benefits of bifold doors.
"Are you aware of the benefits of bifold doors in terms of energy efficiency?"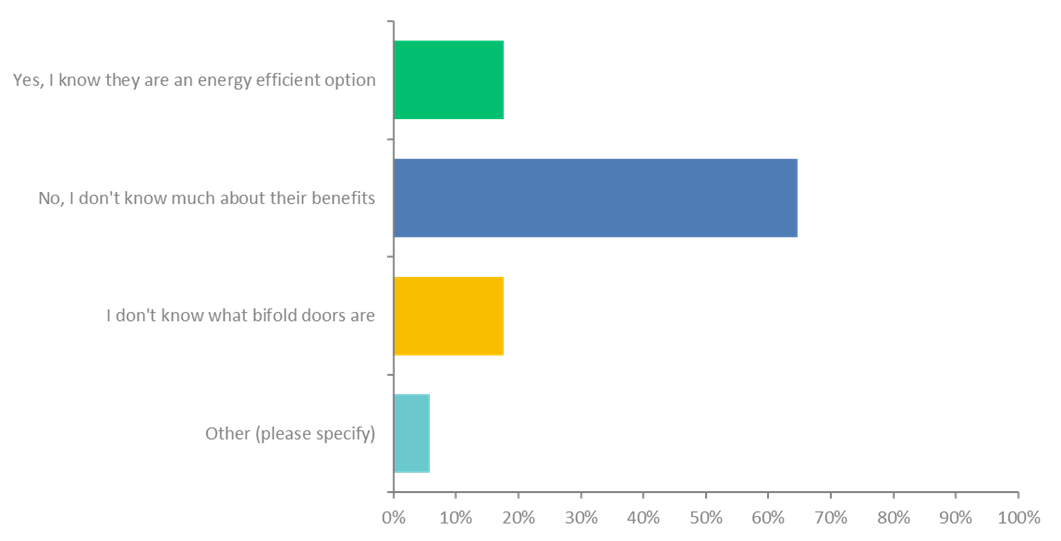 In addition to utilising natural light, you can also enjoy other benefits from investing in bifold doors. With ready-to-assemble bifold doors such as Vufold bifold doors – you can enjoy a hassle-free installation process, a huge range of design and material options, and a durable long-term investment. While it may be tempting to invest in cheaper, less durable door options, Vufold bifold doors can provide a perfect long-term solution when it comes to enjoying exceptional durability and an energy-efficient lighting alternative. Find out more about the benefits of Vufold bifold doors today.
Shop our full range of external bifold doors today.
Related Content
How to choose the best external bifold door
External Bifolds: Aluminium v UPVC (vufold.co.uk)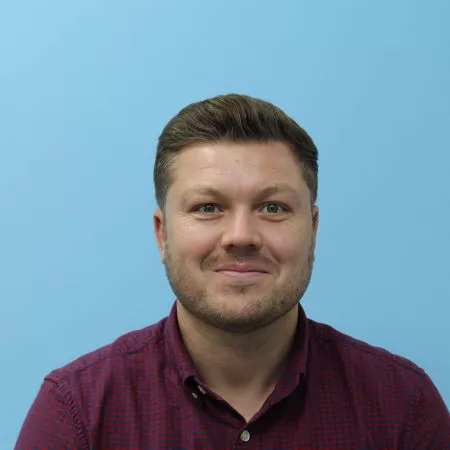 About Martin Burgess
For customers, Martin is one of the key people at Vufold and looks to offer technical advice, resolve any issues or problems that they may have. Martin is passionate about protecting the reputation of Vufold and likes to see a positive impact on the business due to his day-to-day efforts. Martin's proud of the team he's built around him and is dedicated to constantly improving the way the company meets its service commitments and delivers on its promises.
Read more about Martin Burgess