Choosing black aluminium external bifold doors
---
Black aluminium bifold doors have a timeless appeal that can improve the appearance of any property. Before buying an aluminium bifold door, it's important to first do your research and ensure you choose the best door design and options for you.
Read the benefits of choosing black aluminium external bifold doors and how to choose the best bifold door for your home.
In this guide:
Read the key benefits of black aluminium bifold doors.
Find out what your other colour options are when choosing aluminium bifold doors.
Read what factors to bear in mind when choosing a new black aluminium bifold door.
We answer common queries on bifold doors.
What are the benefits of choosing black aluminium bifold doors?
Black is a classic, versatile colour option for bifold doors, making it one of the most popular colour options available. Another key benefit of choosing black aluminium bifold doors is that they go well alongside any interior. Interior design experts predict that classic colours, such as black and white, will remain a popular trend throughout 2023. Many interior designers assert that classic is the main trend of the interior in 2023, and you can ensure you are keeping up with the latest style trends by choosing a classic, black aluminium bifold door.
Aluminium is also an extremely durable material and is known for its incredible strength and reliability. By choosing aluminium, you have peace of mind that you are investing in a product that will stand the test of time. Unlike non-engineered wooden bifold doors, aluminium does not expand or contract in certain weather conditions, making it the most durable option. Vufold can offer impressive product guarantees for aluminium bifolds, providing you with 15 years peace of mind. At Vufold, you can shop our full range of aluminium bifold doors here. Vufold also offer non engineered wooden bifold doors to counter expansion and contraction.
Aluminium lifespan vs hardwood and uPVC
Aluminium has the longest lifespan of any bifold material. This is due to the excellent durability of the material, especially when it has been powder coated. Below is a comparison of the lifespan and guarantee options of different door materials:
| | | | |
| --- | --- | --- | --- |
|   | Aluminium | Hardwood | uPVC |
| Average guarantee | 15 years | 10 years | 10 years |
| Average lifespan | 45 years | 20 - 30 years | 20 - 30 years |
To find out more about available configurations or bespoke bifold doors, please contact our team today.
Are you looking for a modern black bifold door with excellent thermal efficiency?
Our pick:
Shop our Urban Status black aluminium bifold door range
From £3,089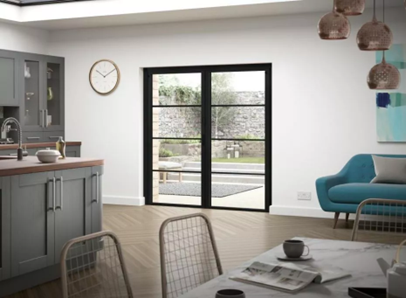 Thermally broken aluminium - Superior energy efficiency.
Easy Install - Doors come ready glazed, with drill bits and fixings.
Glazing - Double.
Cill options - standard or projecting.
Shop our black Urban Status aluminium bifold door range.
What other popular aluminium door colours can you choose from?
Neutral colours are extremely popular when it comes to aluminium bifold doors, though you may also come across brighter colours, such as pastels. At Vufold, we offer aluminium bifold doors in grey, white, black and a combination of white and grey. You may also want to match your bifold doors to the interior of your home. For example, if you have white furniture in your conservatory, such as white sofas, you may want to choose a white aluminium bifold door that complements this perfectly. Similarly, you may want to match your bifold door colour to your garden furniture and aesthetic.

Find out how aluminium bifold doors compare to uPVC bifold doors here.
Are you looking for a white, aluminium bifold door?
Our pick:
Shop white Supreme aluminium bifold doors
From £2,899.00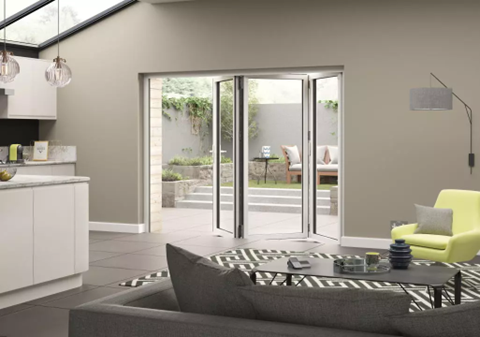 15 Year guarantee
Integrated, weather rated low threshold & cill
Energy rating C
Double and triple glazing.
Shop our Supreme white aluminium bifold door range.
What should you consider when choosing a black aluminium bifold door? Cost
The cost of the bifold doors you choose will be impacted by the number of panels you choose, as well as other aspects, such as glazing. The cost of a door can also vary depending on the supplier you choose. You can choose from larger or smaller bifold door options, with the larger options carrying a higher price tag. Whether you choose double or triple glazing will also have an impact on the cost. Read about the different types of glazing options for bifold doors here.
When choosing your black aluminium bifold door, it's not only important to consider the needs of your home and the space you have available, but you need to keep your budget in mind as well.
Find out how aluminium bifold doors compare to timber bifold doors.
Choose between an inward or outward opening
Once you have an idea of the number of panels and the direction that you'd like your black aluminium bifold doors to fold in, you'll need to decide whether you want the doors to open inwardly or outwardly. This decision is important and will depend highly on the space and access restrictions within your home. For example, if you are using bifold doors as an external access point for your home, an externally opening bifold system is the best option.
Size and number of panels
One of the critical decisions to make is how many panels your bifold doors will have. This decision will depend on the available panel options as well as the purpose of your doors. For example, if you are looking to introduce more light into your living space, you will want to consider a choice that provides you with slim sightlines and enough panels to achieve the desired effect.
Two-panel bifold doors are a great solution if you're simply looking to replace your existing patio doors or French doors. Both panels will slide back to provide a full opening, which is the perfect way to make the most of a small space.
On the other hand, if you have a slightly larger space available, three to five-panel doors offer more flexibility in the way you configure your doors to suit your space. Larger doors, such as six and seven-panel bifold doors, allow a huge amount of natural light into a room. It's important to carefully consider how you will configure these doors, however, as not every home will suit seven-panel bifold doors. View our range of bifold door options here.
Vufold's ranges of external bifold doors are available in a huge range of sizes and panel options, ensuring we have something for every home. However, we also supply a bespoke service if these options are not suitable for your home. The right option for you ultimately depends on your space, the style of your property, and your aesthetic preferences.
Shop our full range of aluminium bifold doors here to find out more about your configuration options.
Accessory options
Aside from factors such as the frames, material and glazing you choose, there are a number of other factors that can have an impact on the overall look and practicality of your black aluminium bifold door. You need to consider options such as handles, locks, blinds, and more. You may want to use a contrasting handle to your black door to create a dramatic impact, or you can find a black or grey handle to create a more consistent style. Read our full guide to choosing bifold door accessories here.
Frequently asked questions
Do aluminium bifold doors add value to your home?
Choosing a high-quality bifold door is a long-term investment, as they offer durable materials, excellent thermal efficiency, and serve as a timeless addition to the home.
Are aluminium doors better than wooden doors?
Aluminium bifold doors are generally more durable than timber doors and can require less maintenance. However, wooden bifold doors also have unique benefits. For example, timber bifold doors are more environmentally friendly than bifold doors and are often also less expensive.
What material should you choose for your external bifold door?
This depends on your priorities when choosing a bifold door. If your priority is finding a strong and durable option, we recommend looking at our composite and aluminium bifold door ranges. If you are looking for a rustic, traditional material, our timber bifold doors may be perfect for you.
What are the key benefits of aluminium bifold doors?
Bifold doors with an aluminium frame are extremely durable and secure, making them an ideal option if strength is your key priority. Aluminium bifold doors are also a modern, sleek option for any property. Read our complete guide to aluminium bifold doors here.
High-quality aluminium bifold doors, such as Vufold's selection of bifold doors, come with excellent security options and are made from strong, durable materials. This ensures they are highly secure and are not easy to break into. Aluminium is a highly secure and reliable material for bifold doors.
Are you still unsure which bifold door material to choose? Shop our full selection of high-quality internal bifold doors and external bifold doors here.

RELATED CONTENT