Wooden bifolds doors: benefits, types and differences
---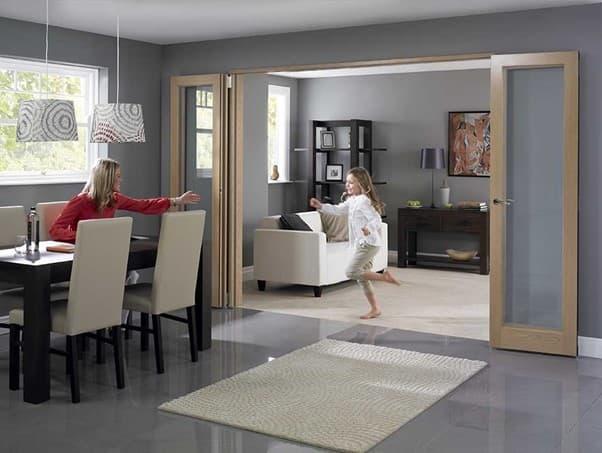 ---
Wooden bifolds (also known as timber bifolds) are a popular style of internal and external door. These products combine natural aesthetics with durability and practicality.
This guide on wooden bifold doors will explain the benefits of this material for internal and external use, the two types of wooden bifolds available, and a brief comparison with aluminium.
---
BENEFITS OF WOODEN BIFOLDS
There are several benefits to wooden bifolds, including:
Low energy production –– the process of manufacturing timber uses far less fossil fuel energy compared to aluminium
Natural insulation –– timber has many air pockets within its cellular structure, which means that it naturally creates a barrier between heat and cold
Style versatility –– timber can be provided unfinished, meaning you can stain, varnish or paint your doors in any colour you like
Sound absorption –– wood absorbs sound which can create quieter rooms
---
TYPES OF WOODEN BIFOLDS: HARDWOODS/OAK
Oak is a type of timber that derives from the oak tree. It is a hardwood that is often used for bifold doors due to its excellent insulation properties, durability and lifespan.
---
ATTRIBUTES OF OAK
Appearance

· Distinctive appearance

· Yellowish brown

· Grain usually straight but can vary with growth conditions

Texture

· Medium to coarse

· Will have a smooth feel if veneered

Lifespan

· Long lasting

Insulation properties

· Most hardwoods are excellent insulators

· Timber is generally a good insulator

Durability

· Resistant to mould and fungi if treated/maintained
---
Pros and cons of hardwood / oak
Hardwood is a dependable and highly regarded type of timber. However, it still has a few of drawbacks.
| | |
| --- | --- |
| Pros | Cons |
| Incredibly durable | Stain can overly darken and exaggerate the grain |
| Resistant to warping when made from engineered construction | Slightly more expensive than other types of timber |
| Highlights the grain for a distinctive look | Will require treatment / maintenance |
| Excellent thermal properties |   |
| Long lifespan |   |
| Resistant to mould and fungi if treated |   |
---
INTERNAL AND EXTERNAL CONSIDERATIONS OF HARDWOOD/OAK
You will need to make certain considerations before purchasing a hardwood bifold door. These will depend on whether you are looking to purchase an internal or external bifold door.
INTERNAL BIFOLD DOORS
The main considerations for oak internal bifold doors:
ACCESS
If your bifold door will be used quite frequently, you should consider buying a bifold with a daily access door (also known as a lead door or traffic door).
A daily access door acts like a traditional door that can be operated without having to open the entire bifold door system. This offers easy access between rooms with minimal effort.
SPACE AND STACKING
Internal bifolds require space to stack when they are fully opened. The best way to decide where your door will stack is considering which room in the house has the most space, such as the kitchen or living room.
A standard three- door bifold offers two sets of options:
Opening direction
Open outwards (into the other room)
Open inwards (towards you)
Opening side
For more information, see the diagram below:
---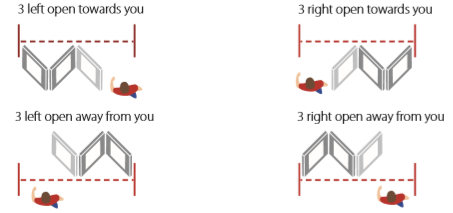 ---
You can decide which direction and side your bifold door opens into before installation. It is important you consider carefully before installation as you will be unable to change the direction or side after installation.
You can also find four-door configurations that have an access door that opens like a standard door and three leaves that operate like a three-door bifold.
The Vufold Inspire fold flat internal bifold doors range goes against standard door operation to provide a space-saving alternative. Rather than opening left or right, the Inspire opens from the middle (except on a two-door) and folds back against the wall. This unique system maximises opening space for an open-plan feel.
---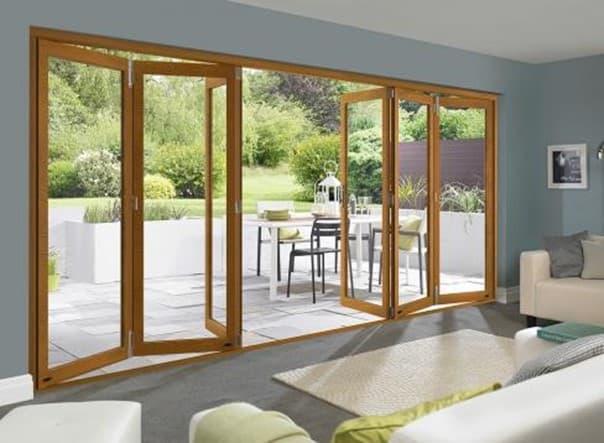 ---
EXTERNAL CONSIDERATIONS
External doors used for patio or garden access require different considerations to internal doors. The key factors you should bear in mind for external oak / hardwood bifold doors are:
THERMAL EFFICIENCY
Thermal efficiency ensures that your room stays cool in the summer and warm in the winter. Thermal efficiency is important as it means you will spend less energy keeping a room at a moderate temperature. Fortunately, hardwood is naturally thermally efficient.
To check a bifold door's thermal efficiency, check the overall U-value.
This is the measurement of material insulation effectiveness. The lower the value, the more effective the material is.
The overall U-value measures the insulation effectiveness of the glass and frame combined. When checking the thermal efficiency of a bifold door, ensure you look for the overall U-value, not just the glass value.
SECURITY
Investing in a secure bifold door is key to ensuring the safety of your property. You can increase the security properties of your bifold door by focusing on the following areas:
Locks –– a multipoint lock offers up to three times the level of security of standard locks

Glass –– ensure your glass is either tempered (toughened) glass for added strength or laminated for impact proofing
UV PROTECTION
External bifold doors face the elements: UV rays, turbulent weather, season changes. This can wreak havoc on less resilient woods and cause damage to the door.
UV rays can damage any timber bifold door. The best way to combat UV damage is by using a tinted finish. The tint will stop the UV rays from damaging the oak ensuring the longevity of the door. Please note that tinted finishes will darken the door slightly, so be sure to take that into consideration before purchasing your hardwood bifolds.
STABILITY AND DURABILITY
Hardwoods such as oak are much more resilient than softwoods. Hardwoods suit situations that require durability and longevity.
Additional durability can be attained by purchasing engineered hardwood. Vufold's wooden bifold doors are manufactured from engineered construction; no twisting, bowing or warping.
With the right treatment, oak and other hardwoods can remain fully operational for many years.
COST
Hardwood such as oak is slightly more expensive than softwoods but as previously mentioned, you are paying for additional benefits such as thermal efficiency and durability.
---
---
TYPES OF WOODEN BIFOLDS: SOFTWOOD/PINE
Pine is a softwood material often used in cheaper bifold doors. Whilst it's low price may be tempting, pine is generally not as resistant to warping as hardwood is and does not offer the same kind of durability.
---
ATTRIBUTES OF SOFTWOOD/PINE
Appearance

· Pale yellow

· Straight grain

Texture

· Rough and irregular

Lifespan

· Short lasting

Insulation properties

· All timber are good insulators

Durability

· Poor durability

· Prone to warping
---
PROS AND CONS OF SOFTWOOD/PINE
As previously mentioned, pine is cheaper than oak. However, you sacrifice quality and durability for this price, which needs to be taken into consideration.
| | |
| --- | --- |
| Pros | Cons |
| Low-cost | Will warp due to weather and temperature changes |
|   | Warping may cause operational issues |
---
CONSIDERATIONS FOR SOFTWOOD/PINE BIFOLD DOORS
Careful consideration needs to be made when looking to purchase pine bifold doors, including:
TREATMENT
Softwoods such as pine require careful treatment with strong preservatives in order to prevent rot. This may impact the price and maintenance levels. This is particularly important for external bifold doors which face frequent moisture and temperature changes.
Hardwoods such as oak do not require the same level of treatment.
SHRINKING AND SWELLING
Softwood is prone to shrinking and swelling due to moisture absorption. The tolerances on standard bifolds are not that high so this movement can cause warping and cracks. This level of damage can stop your bifold door from operating at an optimum level.
Shrinking and swelling in bifold doors may cause:
Warping/cracks

The door to stop closing properly

An increase in gaps, which will let draught in

Moisture to sit inside the door and cause mould
This means that pine bifold doors are not suited for external doors, due to the lack of long term stability and likelihood of damage.
INTERNAL OR EXTERNAL
Location is an important factor for all types of bifold doors. External doors require different qualities than internal bifold doors.
Internal doors do not require the same level of insulation, therefore double glazing is not required. If you purchase internal bifold doors with double glazing, you will be paying too much money for little benefit.
External doors require high -levels of insulation in order to combat the cold and heat from outside. This means your glass should be at least double-glazed and your frame should be made from thermally efficient materials.
As mentioned above, softwood / pine doors are prone to warping and swelling due to moisture and UV damage. This level of warping can cause a range of issues including poor door operation and draughts. This means that hardwood bifold doors are a preferred option for external doors.
COST
As previously mentioned, pine is a cheaper wood material than oak. However, there are several drawbacks to using the material. Timber bifold doors are an investment and should provide many years of operation and protection.
| | |
| --- | --- |
| Bifold size | Cost (pine) |
| 1.8 Metres | £1350 |
| 2.4 Metres | £1550 |
| 3.0 Metres | £2300 |
| 3.6 Metres | £2550 |
FINISHES
Pine, like all wood materials, can be stained, varnished or painted in almost any colour you would like. You can often buy unfinished pine bifold doors in order to finish the door yourself. However, pine requires a lot of treatment in order to protect against moisture entering the timber. Moisture can cause excessive movement which affects door operation.
Your best chance at avoiding mould is by purchasing a factory- finished door.
---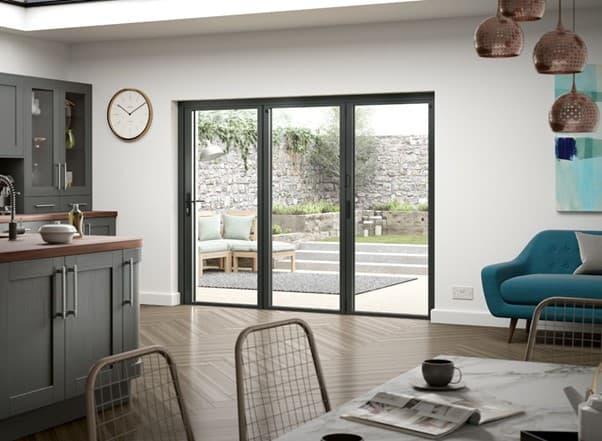 ---
COMPARING WOOD AND ALUMINIUM BIFOLD DOORS
Wood and aluminium are both popular materials for bifold doors. They both offer durability and high-quality operation. The differences mostly come down to cost and aesthetic taste.
 

Wood

Aluminium

Cost

· Mid-range

· Not as cheap as uPVC

· Not as expensive as aluminium

· The most expensive material for bifold doors

Durability

· Hardwood is incredibly durable

· Softwood is less durable and should be avoided

· Should be treated for increased longevity

· Incredibly durable

Maintenance

· Needs finishing every two to five years

· Cleaning every six months is recommended

· Less maintenance is required if it is an internal door

· Low maintenance

· Cleaning with soapy water recommended

Thermal efficiency

· Naturally thermally efficient

· Vufold's hardwood bifold doors are incredibly thermally efficient

· Very thermally efficient

Colours and finishes

· A wide range of stains, paints, varnishes and finishes

· A wide range of finishes available

Environmental impact

· The most environmentally friendly material for bifold doors

· Renewable sources

· Can be carbon neutral

· Not as environmentally friendly as wood
---
What material bifold door should you choose?
What is your priority when looking for a new bifold door?
---
---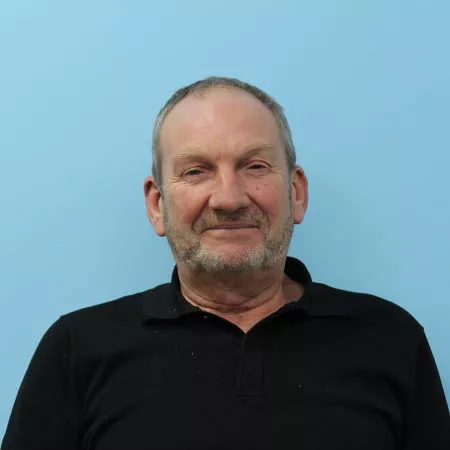 Author:
John Collins - Managing Director
About John Collins
John has built Vufold into a unique online door and window company and has spent 20 years bringing innovative products and designs to fruition, recognising niches in the market and placing them in the likes of Wickes and Travis Perkins, he started Vufold in order to sell them directly. John founded Vufold and has amassed a wealth of experience in product design and development, and in particular timber-based products
Read more about John Collins