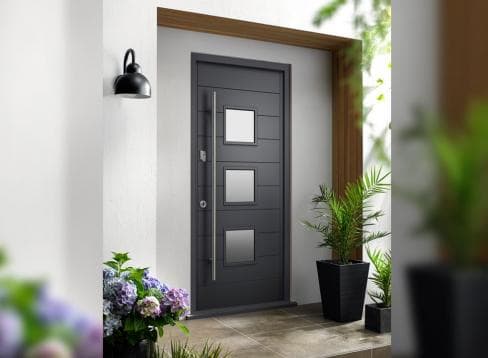 ---
When looking for a new front door, you'll want to consider several different factors including the benefits and drawbacks of different construction materials, the door's care and maintenance requirements, its thermal efficiency, and whether the door will fit into your existing aperture or frame.
In this article we'll answer some of the most frequently asked questions on these subjects so that you can make an informed decision when purchasing a new front door for your home. 
What is the best material for a front door?
Solid wood, uPVC and composite are the three most common materials used for front doors. Solid timber doors are traditional in design, naturally thermally efficient and strong, but they are susceptible to rot and degradation due to weather exposure unless vary carefully maintained.
uPVC doors are affordable and low maintenance, but they are not as durable as other materials and they don't always have the most sophisticated look, particularly for very traditional properties.
A composite door is made up of layers of different types of material that offers the ultimate in strength, durability and thermal efficiency.
Here at Vufold, our Ultimate external front doors have a cross-laminated hardwood foam (CLPF) core which offers excellent insulation and strength. This is covered with a five-layer cross-grained hardwood sheet for ultimate durability, and a hardwood veneer that is factory-finished with a microporous coating to provide excellent weather protection.
Can you use front doors inside?
Exterior front doors offer better soundproofing, insulation and security than typical interior doors which is why some homeowners consider them for interior doorways. However, it's important to note that interior doorways tend to be smaller than exterior doorways as standard, and most exterior doors are too large to be used indoors without either widening the doorway or trimming the door.
Furthermore, exterior doors almost always have an inward opening and if your existing interior door frame is designed to open outwards you might require different hinge mortises.
Trimming exterior front doors is possible, but it must be done professionally and on both sides to ensure symmetry. Our Ultimate front doors are trimmable and in their smallest sizes can be trimmed down to fit into an interior doorway. Plus, they can open inwards or outwards when fitted into existing door frames.
How do the seasons affect front doors?
Wood expands in hot and humid weather, which means that solid timber doors are susceptible to swelling and sticking in summer. If the door is properly treated on all six sides this can be avoided, but the finish must be properly maintained on a regular basis.
If wood gets very wet it can begin to rot and break down, and this is a risk with solid timber doors in autumn and winter when there is lots of rain. Again, proper finishing and routine refinishing can prevent these problems.
The microporous finishing we use on our Ultimate front doors ensures the hardwood veneer layer is adequately protected against the weather. The finish is flexible so that it can expand with the wood in humid conditions without flaking or peeling off, and it prevents the wood from holding onto damp and becoming susceptible to rot.
How do I know if my front door has good energy performance?
Part L of the Building Regulations stipulates that external doors must have a maximum U-value of 1.8W/m²K. The U-value is the rate at which heat transfers through a structure. The lower the U-value, the more efficient a structure is in inhibiting heat transfer. When considering a new front door, be sure to check the U-value is 1.8W/m²K or less to ensure it is up to Building Regulations standards.
Vufold Ultimate front doors have a U-value of 1.6W/m²K when they are fitted with our frame kit. The frame kit is an optional addition because it is possible to fit our front doors into an existing frame. Bear in mind that if you do use an existing frame, the final U-value of the front door may be more than 1.6 W/m²K depending on the materials and construction of the existing frame.
Can you replace the glass in front doors?
It is possible to replace a glass panel in a front door. However, in order to maintain the thermal efficiency, strength and security of the original door, you should aim to replace the glazing like-for-like with that of the original.
For example, our Ultimate front doors are fitted with 21mm argon-filled double-glazed toughened safety glass panels. We recommend using glass panels of an equal standard to ensure that the door remains secure, durable and thermally efficient.
Can a front door open outwards?
Most front doors open inwards. There are several reasons for this. Firstly, it means that the hinge mechanism is located on the inside of the property to make the door more secure. Secondly, it prevents the door from being caught in the wind when opened and potentially causing damage. Thirdly, it is simply easier to answer the door to visitors without the risk of bumping into them with the door.
It is possible to fit an outward opening entrance door if you prefer. If you are purchasing an Ultimate front door to fit into an existing frame, it can be fitted to open inward or outward. However, when you buy an Ultimate front door with our frame kit, the door can only be fitted to open inwards.
How wide should my front door be?
There is no standardised external door size in the UK. However, the most common door size is 762mm wide and 1981mm high. When measuring for a new front door, keep in mind that the actual size of the aperture will be a little larger than the size of the door itself to account for the door frame.
Most door manufacturers, including Vufold, offer a variety of common and popular door sizes to cater to the majority of customers. Should you require an uncommon size, we have bespoke services available to create a custom-sized door that perfectly fits into your doorway. As well as this, keep in mind that many of our Ultimate front doors are trimmable to ensure you can get the perfect fit if your aperture is just a little smaller than any of our standard sizes.
If you have further questions about front doors or just want to discuss your options, get in touch with a member of the Vufold team today.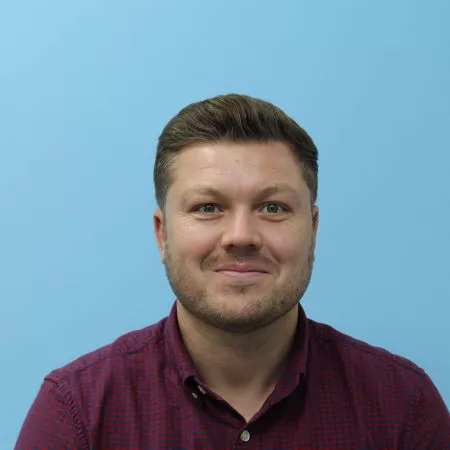 Author:
Martin Burgess - Customer Service Manager
About Martin Burgess
For customers, Martin is one of the key people at Vufold and looks to offer technical advice, resolve any issues or problems that they may have. Martin is passionate about protecting the reputation of Vufold and likes to see a positive impact on the business due to his day-to-day efforts. Martin's proud of the team he's built around him and is dedicated to constantly improving the way the company meets its service commitments and delivers on its promises.
Read more about Martin Burgess