A guide to front door glazing options
Many customers now choose front doors with glazed panels or side lights to allow more light into otherwise dark or dim hallways. Front doors with glazing are available in a huge range of designs to suit homes of all kinds. So, if you're considering a glazed front door or entrance door to your home, it's important to think about the type of glass you want to choose and the impact your chosen glass will have on both your home and front door.
---
In this guide:
Find out more about what you should consider when choosing between glass options for your front door.
Learn more about the benefits of installing a front door with glazing.
Find out more about the disadvantages you should consider when installing a front door with glazing.
Read this section to learn about the glazing options you could choose from for your front door.
Learn more about the front door glazing options available from Vufold.
---
What to consider when choosing glass for a front door
If you're adding glazing options to your front door, it's important to consider a number of practical factors in order to find the perfect door for your home:
Budget – start any plans for home improvements with a realistic budget, as this will always be a starting point when making decisions.
Safety and security – ensuring that your front door offers maximum security should be a key priority. Choosing toughened safety glass, which has been reinforced to make it much harder to break, you can invest in a front door with glazing that will allow in light while still protecting and insulating your home.
---
What are the benefits of choosing front doors with glazing?
There are a huge number of reasons why customers choose to install front doors either with glazing inside the door or with glass side panels.
---
Increase aesthetic appeal of home
Firstly, a front door with glazing provides an attractive style that increases the aesthetic appeal of the home and front entry area, while allowing a huge amount of natural light into the hallway or porch. Glazed front doors look modern and bright
---
Range of designs and sizes
They're also available in a huge range of designs and sizes, making them a flexible option suitable for most homes. For larger homes where a standard sized front door can look a little small, glass side panels can make the front entrance appear larger and more in proportion with the sizes of your home.
---
Superior thermal insulation
The benefits of glazed front doors aren't just practical. Glazed front doors can also provide thermal insulation, keeping the cold weather out and the heat in, especially when high-quality glass is chosen.
---
The disadvantages of front doors with glazing
Whilst glazed front doors have a number of benefits, there are also some downsides to consider too.
---
Security
Security can be another drawback of glazed front doors. While toughened glass is extremely secure and offers a similar level of security to timber doors and others, many types of glass are not this strong. It's important to choose front door glazing with high-security glass to ensure your home is safe from burglars and intruders.
---
Privacy
If privacy is important to you, this should be considered when choosing glazing for your front door. Most glazing is offered as textured or opaque glass which still lets light through but obscures the view from outside and provides you with more privacy inside your home.
---
What door glazing options are available?
Once you're aware of the benefits and drawbacks of choosing to have glazing within your front door, it's important to understand the options available to you if you do opt to buy a front door with glazing.
---
Double or triple glazing
Double and triple glazing are two of the main options available when choosing glazing for a front door.
Just as if you were considering glazing types for a new window, double and triple glazing refers to the number of panes of glass that are sealed within the frame; two in double glazing, three in triple. Double glazing is the standard option, but triple glazing offers improved thermal insulation and therefore more energy efficiency compared to double glazing. This can help to keep energy costs down in winter; triple glazing also offers improved noise reduction when compared with double glazing.
---
Glazing panels within door
Another option worth considering is glazing panels within the door. Unlike front doors built with single large glass panes, doors which feature a glass panel offer extra privacy and boast more opportunities for customisation, with options for textured glass. The door's timber or composite frame can add extra strength where needed to glazed panelled doors.
---
Glass side panels
Finally, glass side panels are another option. Not actually a part of the door, glass side panels can be installed to the left and right of the front door to expand the visual appearance of the entrance and let more light into the home.
Glass side panels can be designed in various sizes and shapes to improve privacy and visual appeal, and side panels can be paired with either a glazed front door or with a solid door.
---
Vufold front door glazing options
At Vufold, we offer wooden front doors to suit the door style you're looking for, including grey and oak ranges.
We offer:
Solid front doors
Solid front doors with glass side panels
Solid doors with inset glazed panels
Our doors are made with toughened safety glass and fitted with double glazed panels. They are also available in a range of sizes to fit door frames and homes of different dimensions. Doors are available with side panels to both sides or to one side, and side panels can be combined with either solid doors or glazed front doors.
---
---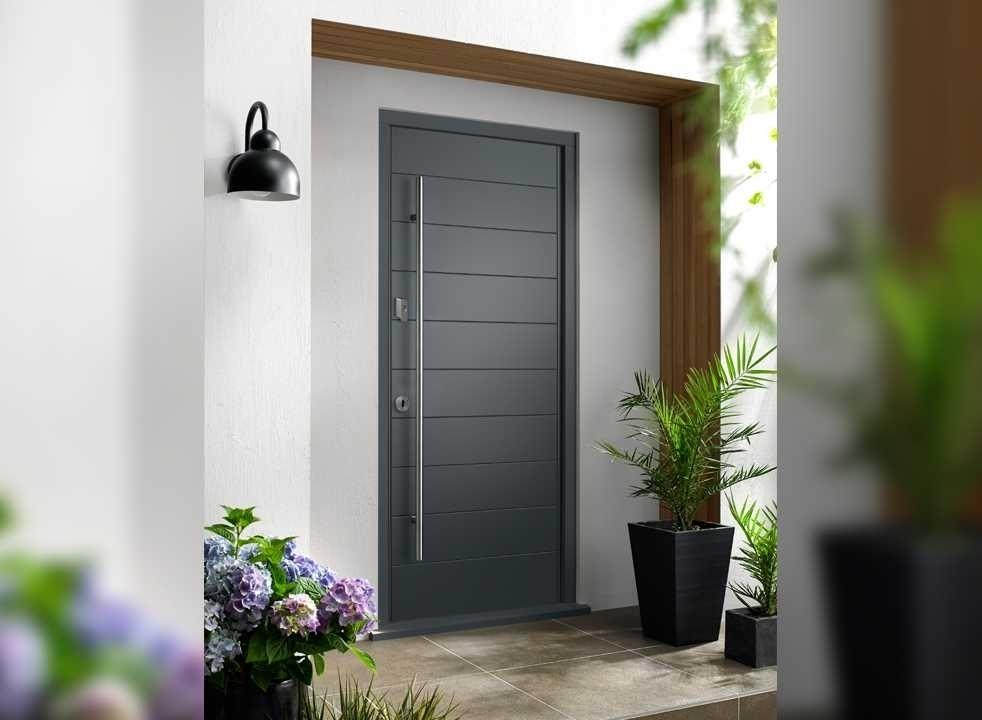 ---
Product
Glazing options
Sizes
Cost
OSLO External front door

None – solid door
One side light to the left or right with solid door
Side lights on both sides of the door

1981mm x 762mm
1981mm x 838mm
2032mm x 813mm
1.44m
1.59m
1.94m
2.24m

£489 - £1,599
---
---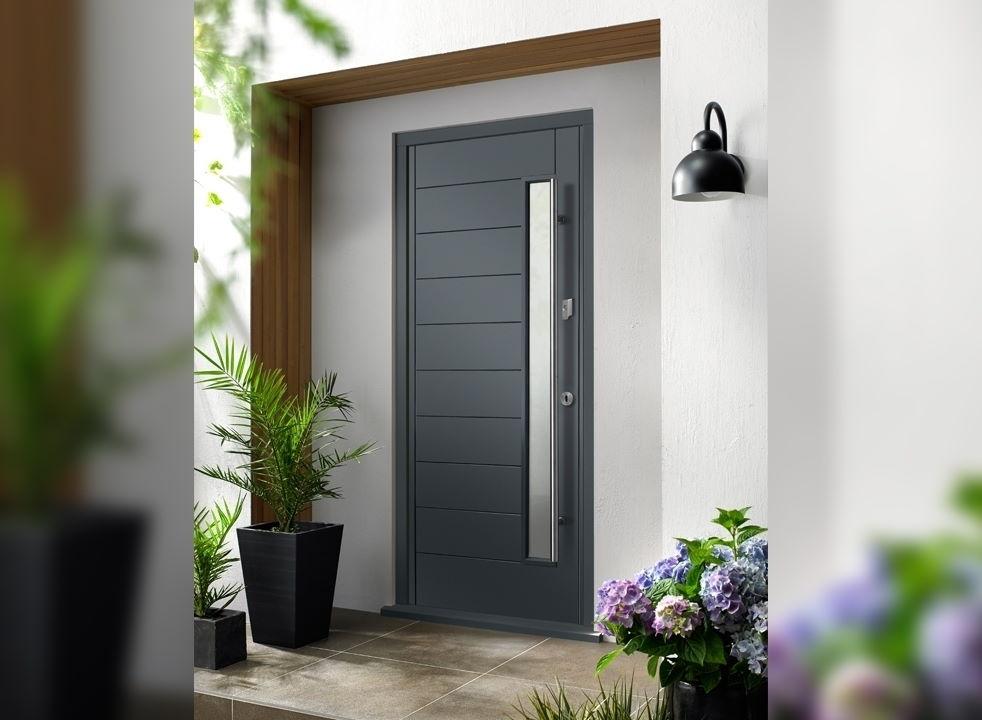 Product
Glazing options
Sizes
Cost
Stockholm External grey front door

One side light to the left or right
Side lights on both sides of the door

1981mm x 762mm
1981mm x 838mm
2032mm x 813mm
1.44m
1.59m
1.94m
2.24m

£579 - £1,689
---
---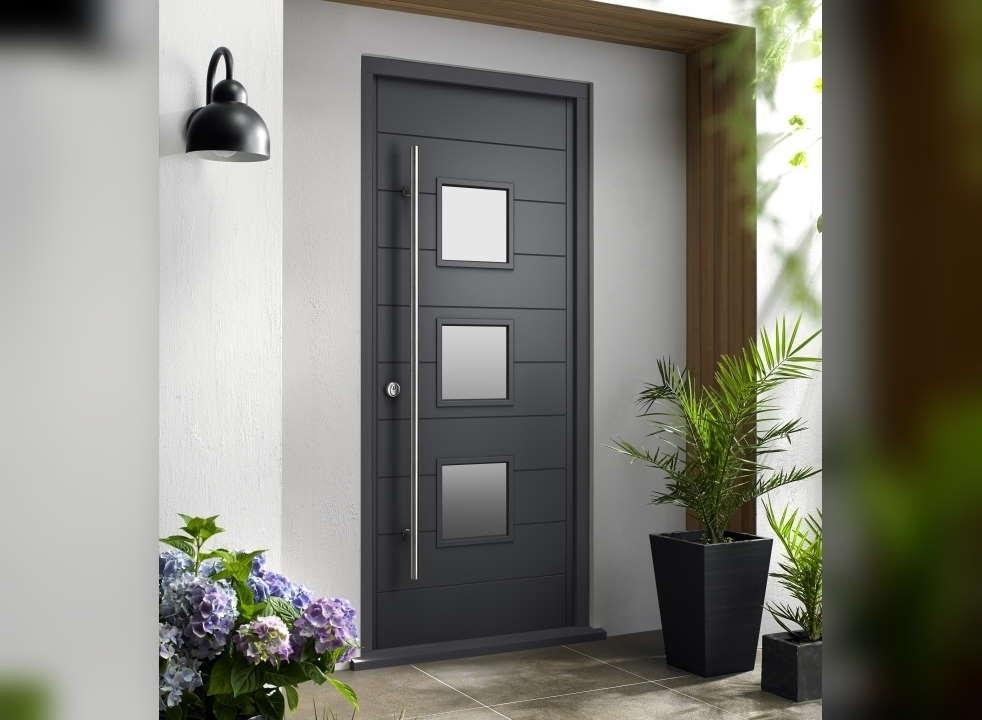 ---
Product
Glazing options
Sizes
Cost
Malmo External grey front door

One side light to the left or right
Side lights on both sides of the door

1981mm x 762mm
1981mm x 838mm
2032mm x 813mm
1.44m
1.59m
1.94m
2.24m

£599 - £1,719
---
---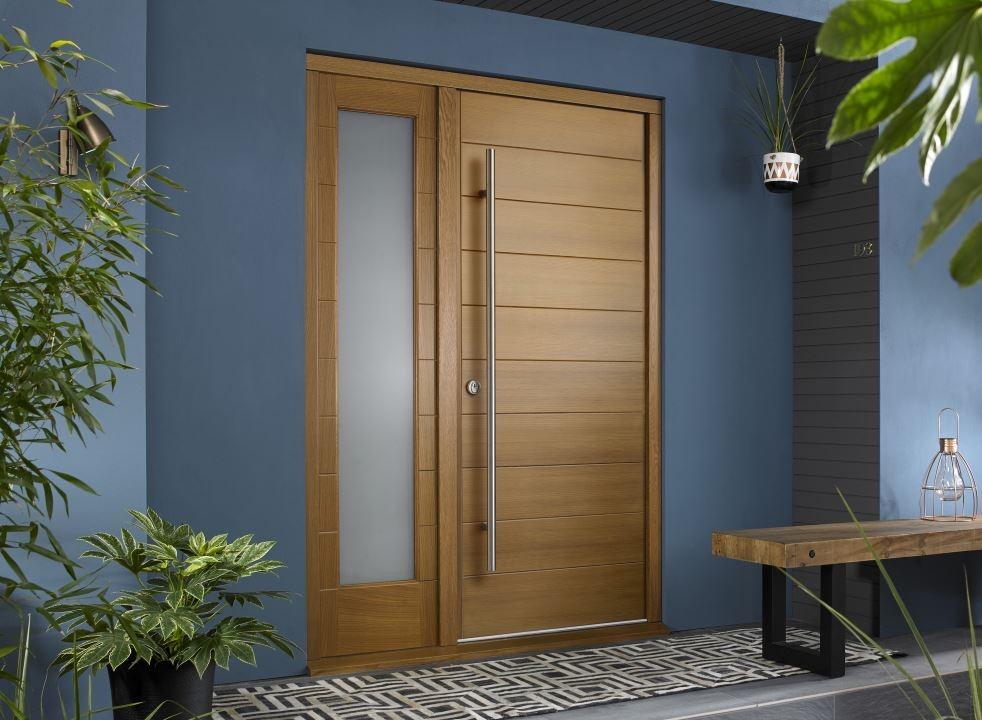 ---
Product
Glazing options
Sizes
Cost
OSLO external oak front door

None – solid door
One side light to the left or right with solid door
Side lights on both sides of the door

1981mm x 762mm
1981mm x 838mm
2032mm x 813mm
1.44m
1.59m
1.94m
2.24m

£649 - £2,169
---
---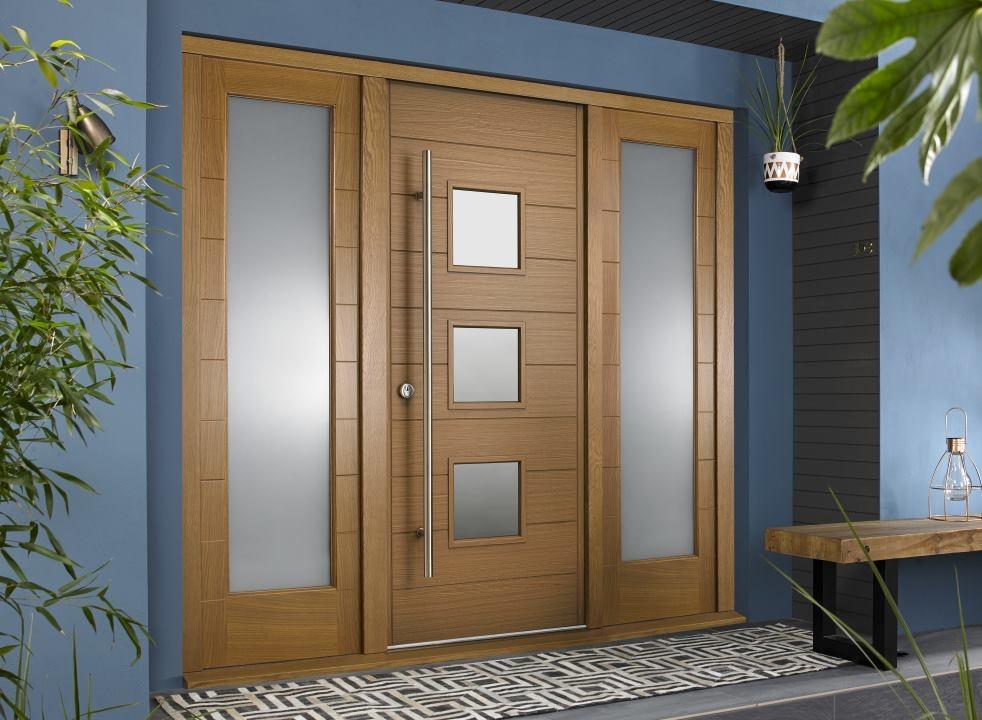 ---
Product
Glazing options
Sizes
Cost
Malmo external oak front door

None – solid door
One side light to the left or right with solid door
Side lights on both sides of the door

1981mm x 762mm
1981mm x 838mm
2032mm x 813mm
1.44m
1.59m
1.94m
2.24m

£779 - £2,299
---
---