How to maintain your front door
Your front door is more than just the entrance to your house; it's the first impression visitors have of your home. A recent survey by Dulux revealed that people make a judgement about a person just 10 seconds after seeing their front door.
So, maintaining your front door and keeping it in good condition will help to keep the outside of your home looking neat and tidy. Door maintenance is more than just cosmetic—a well-maintained door will also last much longer and be more secure than a door that has been neglected and ignored.
Here, we explore all aspects of door maintenance including how to clean your door and how to choose the best door material.
In this guide:
Read our tips on cleaning different front door materials.
Find out how to maintain your front door finish.
Read our guide to choosing the right front door material for your home.
We answer common queries on maintaining a front door.
HOW TO CLEAN YOUR FRONT DOOR
There is no "one size fits all" when it comes to door maintenance - a traditional timber door is very different from a door made of uPVC. Let's explore the cleaning methods for each of the most popular front door materials:
WOODEN FRONT DOORS
Ideally, engineered and solid wood doors should be washed twice a year in spring and autumn. Wash the door down with a damp cotton cloth, using warm water mixed with a mild non-abrasive detergent. When finished, dry the door with a separate clean cotton cloth.
Shop our full front door range here.
UPVC FRONT DOORS
uPVC doors are popular because they require very little ongoing maintenance, but they still get dirty in the same way as doors made from other materials. To keep your door looking its best, clean it at least twice a year, preferably before winter sets in.
Washing your door with warm soapy water should be enough to remove the dirt and keep your door looking like new. You can also use a specialist uPVC cleaner if you wish. Make sure you avoid using anything abrasive because this will remove the door's glossy finish. A microfiber cloth works best, but kitchen towels or an old t-shirt also work well.
Read our guide to uPVC vs composite front doors here.
ALUMINIUM FRONT DOORS
Aluminium, like uPVC, doesn't require a huge amount of ongoing maintenance, but if an aluminium front door is left exposed to the elements it can become dull and lose its shine. To keep your aluminium front door looking fresh, it should be cleaned regularly.
Use a non-abrasive cloth and warm soapy water to wipe away marks and dirt. Then wash the door down with clean fresh water. The door should then be dried with a clean dry cloth or paper towels.
Shop our full range of aluminium front doors.
SHOP SIGNATURE ALUMINIUM FRONT DOORS
Our premium quality aluminium entrance doors provide the ideal blend of security, style, and performance. The range includes designs to suit all types of homes. Available made to measure or in standard sizes – these doors will create the perfect entrance to your home.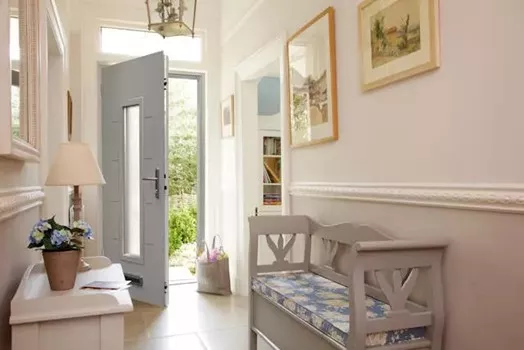 Extensive 10-year manufacturing guarantee.

Multi point locking system, 3-star security cylinder and laminated glass as standard.

Double glazed.

High-density foam core and polyamide thermal breaks.
COMPOSITE FRONT DOORS
Composite doors are extremely strong and hard-wearing and are finished in a range of effects and colours.
This type of door is easy to maintain as it only requires washing down every other month to keep it looking its best and to remove any build-up of dirt. Wash your door down with warm soapy water and dry with a soft microfibre cloth. Avoid using harsh soap or abrasive cloths which can damage the finish.
Shop our full range of composite front doors here.
ARE YOU LOOKING FOR A DURABLE, TRADITIONAL COMPOSITE FRONT DOOR?
Our pick:
Vufold traditional composite front doors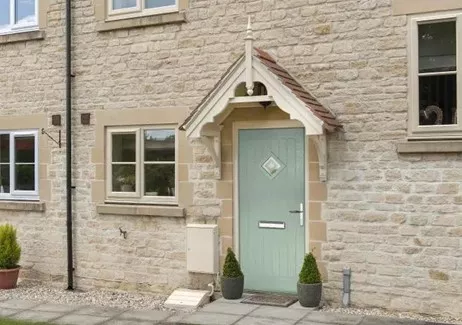 Thermally Efficient - U Value of 1.4 W/m2K (Energy Rating B)

Safe and Secure - PAS 24 in line with Document Q tested

Easy Install - full fitting kit included

Guarantee - 10 Years.
MAINTAINING THE FINISH ON YOUR FRONT DOOR
Along with regular cleaning, some door materials will also need painting to maintain their appearance. Solid wood doors will need to be painted every two to five years to keep them looking good.
You can also apply a woodcare milk to the outside of your wooden doors and frames after they are installed, and recoat every six months. Woodcare milk is a wax-enriched enhancer that protects your door set's original finish.
Composite doors are extremely hard wearing and don't need painting at all. But, contrary to popular belief, you can change the colour of the door if you wish. You will need to use the right materials and prepare the door properly to ensure a good finish. Due to the outer coating of the door being plastic, the paint can be prone to chipping or flaking if it's not done properly.
uPVC doors are hard wearing and require very little maintenance. However, using a uPVC cleaner every year will keep your uPVC door and frames looking like new.
HINGES
Door hinges need to be regularly lubricated to avoid squeaking. To keep them in good working order, just apply silicone spray or plumbers grease to the hinge every other year. Avoid using WD40 or graphite grease because this can attract dust and dirt.
LOCKS
Locks can seize up if they're not cleaned or lubricated properly. Most locks can be lubricated with WD40.
Read our guide to the different front door locks here.
HANDLES
Door handles should be lubricated with silicone spray once a year to prevent them from sticking. The best time to do this is before winter. Use a silicone spray to oil the handles and make sure you wipe away any excess spray with a damp cloth.
Find out more about the different types of front door handles here.
LETTERBOXES
Letterboxes don't require much maintenance, but you may want to apply a small amount of silicone oil to the hinges to prevent them from squeaking. Make sure you don't apply too much and wipe away any excess oil before it stains.
View letterbox options available for front doors.
TROUBLESHOOTING GUIDE: FIXING COMMON PROBLEMS
Even with proper maintenance, your front door can show problems that can be frustrating. Here are some of the most common front door problems and how to rectify them:
HINGES STICKING OR SQUEAKING
Squeaking door hinges can be easily fixed by applying a small amount of silicone spray or lithium-based grease. Spray liberally into the hinge and wipe away any excess with a damp cloth.
LOCKS STICKING
Sticking locks can be frustrating, but they can be fixed by applying a small amount of graphite powder. First, squirt a small amount of powder into the lock. Next, apply powder to the key and then slide it in and out of the lock a few times.
DOORS SWELLING OR STICKING
Wooden doors can sometimes swell or expand in damp wet climates, which can lead to them sticking in their frames. This can usually be slowed down by a good finish or treatment. Sticking can be prevented by making sure the door is sealed on all six sides with an appropriate paint or stain.
At Vufold, we provide a range of wooden front doors that are constructed using a unique CPLF core to prevent warping, splitting and twisting. These doors provide durability and excellent thermal performance as well as the beautiful appearance of natural wood.
If you'd like to know more about maintaining your front door or buying a new front door, please contact our expert team.
For further advice or information on our range of composite front doors, please contact our team today.
Choosing the right front door material
If you are looking for a traditional, rustic option that is slightly cheaper than options such as aluminium – we recommend wooden front doors. While requiring periodic painting and occasional care, wooden doors offer a natural, authentic look that many homeowners find appealing.
uPVC doors, on the other hand, are known for their minimal maintenance requirements, making them ideal for busy households. However, they aren't as durable or high-quality as materials such as aluminium and composite, so may not be the best material option if durability and strength is your priority.
Known for their robustness, aluminium front doors are resistant to rust and corrosion, ensuring longevity. They require minimal maintenance, making them a convenient yet strong option. Vufold's premium aluminium front doors come with a multi-point locking system and laminated glass for enhanced security. However, they are often the most expensive type of door, so may not be suitable if you have a lower budget.
Composite front doors are made up of Glass Reinforced Plastic (fibreglass) which is formed into panels and fused to an internal frame with uPVC inside and attached to another frame made from wood. The core is then injected with a polyurethane insulating foam core, resulting in a durable and secure option. They come in various styles and colours, providing flexibility to match your home's design.
With minimal maintenance requirements, composite doors are a practical choice for your home. They can also be a great choice if you are torn between choosing a modern, sleek look, or a more traditional feel.
Are you unsure which material to choose? Read our guide to the different front door materials here.
Frequently asked questions
Can I customise the appearance of my front door?
Yes, many front door materials, such as wood and composite, offer customisation options. Vufold provides a range of front doors with various finishes and styles to match your home's aesthetic.
How often should I lubricate door hinges?
Door hinges should be lubricated every other year to avoid squeaking. Silicone spray or plumbers grease is recommended for this purpose.
Can I change the colour of my wooden front door?
Can I change the colour of my wooden front door?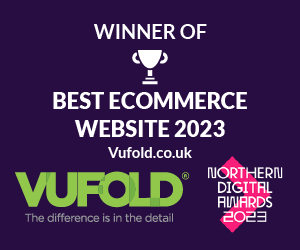 RELATED CONTENT
---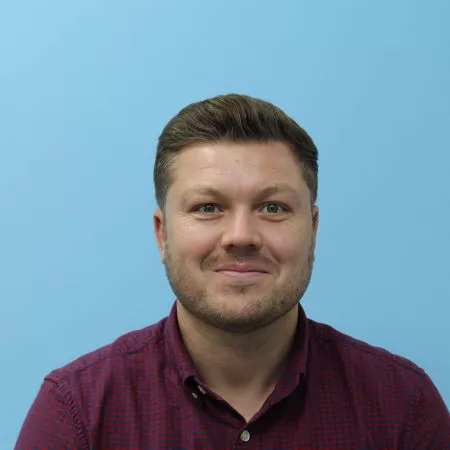 Author:
Martin Burgess - Customer Service Manager
About Martin Burgess
For customers, Martin is one of the key people at Vufold and looks to offer technical advice, resolve any issues or problems that they may have. Martin is passionate about protecting the reputation of Vufold and likes to see a positive impact on the business due to his day-to-day efforts. Martin's proud of the team he's built around him and is dedicated to constantly improving the way the company meets its service commitments and delivers on its promises.
Read more about Martin Burgess