How to measure up for your new front door
Measuring up for a new front door or external door for your home might seem simple and, although it is an easy task that you can do yourself, it's important to know exactly what you're doing so that you get it right. Getting the measurements even slightly wrong might mean that your brand new door turns up and won't fit into your existing space.
To help guide you seamlessly through the process, here are our top tips for measuring up for your new front door.
---
In this guide:
Find out more about why you should make sure you take the measurements for your new front door properly.
Learn more about what you should and shouldn't do when measuring up for your front door.
Read our step-by-step guide on how to measure for a front door replacement.
Find out more about the key terms to understand when buying a new front door.
Learn more about the standard sizes for front doors.
---
Why is it important to measure for your front door correctly?
---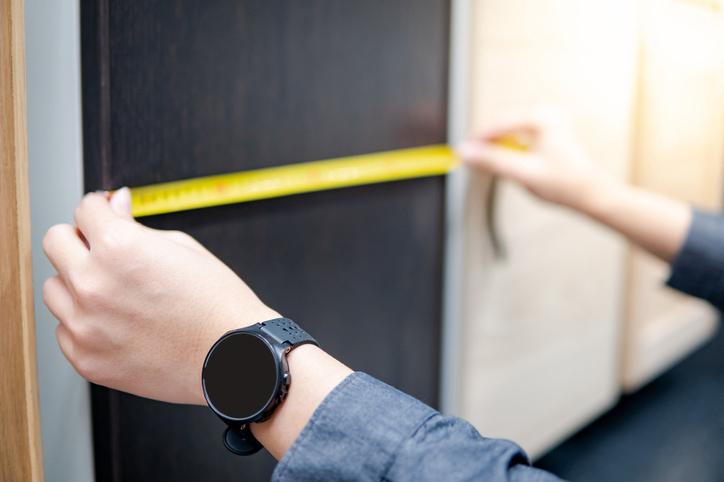 ---
When it comes to buying a new front door for your home, especially a replacement door, there isn't much room for error in your measurements. To ensure that your new door fits correctly, your measurements will need to be correct down to the millimetre.
Once you have ordered your chosen doors, especially bespoke sizes, you may not be able to return or exchange them, so it's crucial to make sure it fits properly. Even if you manage to fit an install an ill-fitting door, it could pose a security risk, making it easier for intruders to gain entry into your property. There will also be a loss of heat through any gaps around the door or frame, letting in a breeze and making your home less energy efficient.
---
Dos and don'ts for measuring your front door
Before you get started on measuring up for your door, here are the ultimate dos and don'ts of sizing up your space.
---
DO use a new tape measure
An old tape measure that's seen a lot of use is likely to have had some of the markings scratched away, especially those with smaller measurements. This is no time for guesswork, so use a new tape measure where you can clearly see all measurement markings.
---
DO note each measurement down
Don't just measure up and then try to remember all the sizes at the end. Be sure to make a note of each dimension as you go so you don't forget the exact size. Be sure to use a clear handwriting that you'll be able to read later on when it comes to ordering your door.
---
DON'T measure the existing door and frame
Although you may think it's easier to just measure the door that's already there, you must ensure you are measuring the brick opening only. While there are standard door sizes in the UK, not every door meets those dimensions and some may fit a little differently, so you could end up with a door that's the same size as your current one, but doesn't actually fit the space.
---
DO check, check and triple check
We can't stress just how important it is to ensure that your measurements are spot on, so there's no harm in measuring up a couple of times to make sure that the measurements you've got are correct. If possible, a second opinion is always helpful just make to sure you're doing everything right.
---
How do you measure a front door replacement?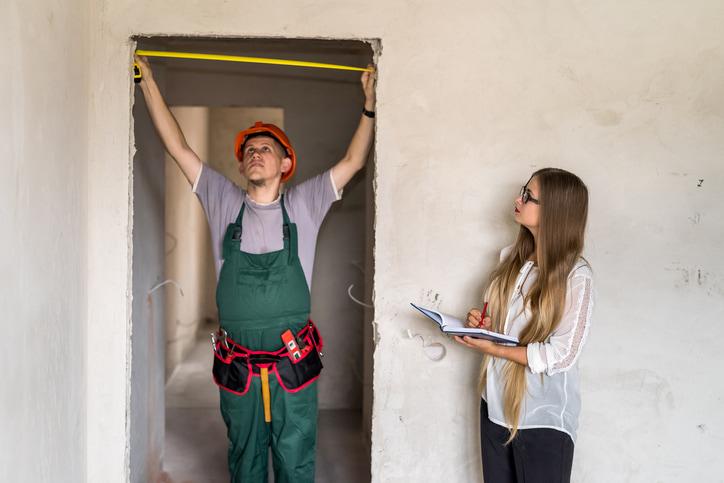 Now the time has come to measure up for your new door. Despite being simple, it can be quite a daunting task. However, if you follow the below steps carefully, you should be able to get precise and accurate measurements and avoid any mishaps.
---
Step by step guide to measuring for a new front door
Step 1: Measure the door width
The first step is to measure the width of the door or the opening for your new front door. To get the most accurate reading, use your tape measure to get a measurement across the top, middle and bottom of the door opening. In older properties, this may vary slightly, so always select the smallest measurement as your final width size.
Step 2: Measure the door height
Next is the height measurement for your door. Again, going from the size of the opening, measure down the left hand side of the door, followed by the right side. If one side is slightly bigger than the other, we recommend selecting the smaller of the two. If you need to stand on a step ladder or chair to reach the top of the door, always ask a family member or friend to lend a hand.
Step 3: Measure the door thickness
If you are keeping your existing frame and just adding a replacement door, you will also need to take a measurement of the door thickness. Open the door and use your tape measure to record the thickness of the door.
Key points to remember
Always measure from the brick opening, not the current door or frame.
Use the narrowest width and shortest height measurements to determine the dimensions of your new door.
If measurements are not standard, it's better to buy larger than smaller.
Always double check your measurements (especially if the widths and heights vary at different points of the opening), as once your door has been cut and ordered, there's no going back.
If you're measuring a new opening for a new front door, you will need a rough opening size. This incorporates the door and frame in the opening and will give you space to make sure your door is fitted perfectly. Rough opening sizes are usually 2inches more than the measurement of your door for the width and 2 ½ inches for the height so all you need to do is add this onto the measurements in order to get the rough opening.
How to measure a front door with sidelights
When it comes to measuring a door with sidelights, you'll want to follow the exact same process as above. Remember, you are measuring everything within the brick opening, not the door itself, and the sidelights sit within this. When you order your door, you will need to make sure you choose a style of door with sidelights.
---
Door terms to understand
In your search for a new front door, you may come across some terms that you're not 100% sure of. To clear this up, here are some of the key terms that might be useful to know when you're measuring or installing a new front door:
Brick opening: Also referred to as a structural opening, this is the large space that's been built into your exterior walls where the door and frame will fit.
Door frame: The frame is the fixed framework that attaches to the brick opening and supports the door itself. The frame is made up of the sill, jamb and head.
Door jamb: The jamb is the part of your door frame that sits on either side (to the left and right) of your door. The jamb is there to take the weight of the door and keep the frame square and stable.
Door sill: The sill, more commonly referred to as the threshold, is the base of the door frame.
Door head: The head is the part of the door frame that runs along the top of the door.
Sidelights: Sidelights are narrow, vertical windows that are adjacent to your door.
---
What is the standard size for a front door?
There are several standard door sizes in the UK but, the most common standard door size for exterior doors is usually 762 mm (30 inches) and 838mm (33 inches in width). These are designed to fit inside the average size of a structural opening, leaving a few extra inches for the door frame. Front doors are available in a number of different sizes to suit a range of openings. However, if you measure the opening in your home and find that the standard sizes do not fit your home, ask your supplier whether they provide a bespoke service to make sure you get the right fit for your home.
Armed with the above, you should be able to perfectly measure up your brand new door. Remember, always use the brick opening as your point of measurement and always double-check before confirming your dimensions.
Read our guide to find out more about standard front door sizes.
To find out more about how to measure for a new front door, or our range of front doors, please contact our team today.
---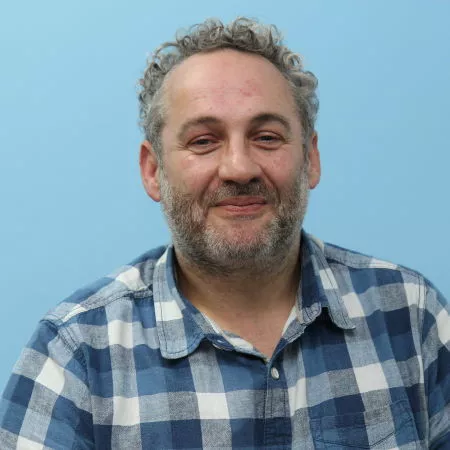 Author:
Richard Collins - Operations Director
About Richard Collins
Rick is an expert in lean practices and principles, and how they're applied to manufacturing, warehouse, administration and management of the business. As an operations director he oversees all areas of the business ensuring they run as efficiently as possible and has worked his way up through virtually every department since he joined us 13 years ago.
Read more about Richard Collins