Composite front door colours: options available and factors to consider
---
When choosing the right composite front door for your home, a key factor to consider is the look of your door and how it fits in with the style of your home. Your new door should suit the look and style of your home and existing windows as the front door is one of the first things visitors will see. Fortunately, composite doors are available in a range of colours and styles. You can find out more about the benefits of composite doors here.
In this article, we will examine how to find the right colour for your front door, discussing popular colours for composite front doors and the factors to consider when looking for the perfect door for your home.
In this guide:
Find out more about the colours you can expect to find when purchasing a composite front door.
Learn more about the most popular colours chosen for composite front doors and the property styles they are most suited to.
Learn more about the key factors to consider when choosing a colour for your new composite front door.
Find the answers to common questions around composite front door colours and the key features of composite front doors.
WHAT COLOURS DO COMPOSITE DOORS COME IN?
Composite front doors are available in a huge range of colour options but, your colour choice will depend on the supplier you choose. Most suppliers will stock the most popular colours however, for more unusual shades, you may need to look around to find a supplier with the colour you want or a supplier who can create a bespoke door.
Composite front doors are coated in glass reinforced plastic which can be made in almost any colour, providing the doors with a number of options.
Are you unsure whether to choose composite or aluminium front doors? Read our guide to composite vs aluminium front doors.
POPULAR COLOURS FOR COMPOSITE FRONT DOORS
There are many popular colours for composite front doors. The composite door colour you choose depends on your own taste and the style of home you live in. These include:
GREY
A neutral shade that offers something different from a white front door
A grey composite door design can suit modern or new build homes
Creates a minimalist, clean look
Grey shades suit traditional or country homes
Matches with popular window colours such as Anthracite Grey to tie the home exterior together
LOOKING FOR A COMPOSITE GREY TRADITIONAL FRONT DOOR?
OUR PICK:
CARNOUSTIE COMPOSITE FRONT DOORS
FROM £1251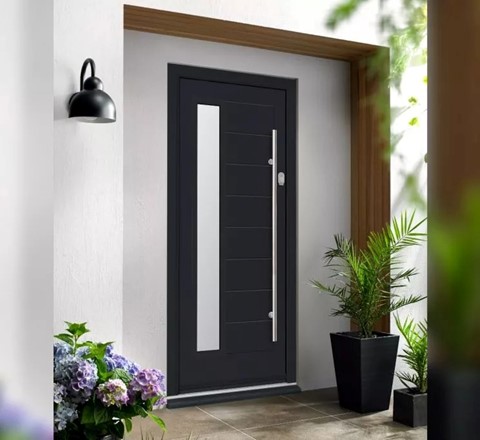 These stylish Carnoustie traditional composite front doors are available in a range of standard sizes with and without side lights there really is something for every home. They offer high-definition GRP skin, use a high performance LVLF core, and a full range of accessories available to complete the look. Carnoustie front doors also offer a U value of 1.4 W/m2K and strong laminated security glass.
View our composite Carnoustie front doors here.
WHITE
A versatile and flexible colour that can be used in any property
Can brighten up a terraced house
Can provide a minimalist look to a newly built home
Works for coastal properties
OAK/WOOD EFFECT
A classic look that suits a range of property styles
Mimics the look of a timber door with the benefits of a composite door
Ideal if you are looking for the most secure and durable option, however also enjoy the look of a traditional timber door
BLACK
Commonly used for traditional period buildings
Makes a statement for modern new build homes to add an industrial look
Can look striking against a white building
Will complement white windows
LOOKING FOR CONTEMPORARY BLACK COMPOSITE FRONT DOOR?
OUR PICK:
OUR PICK: COMPOSITE SILVERSTONE FRONT DOORS
FROM £1332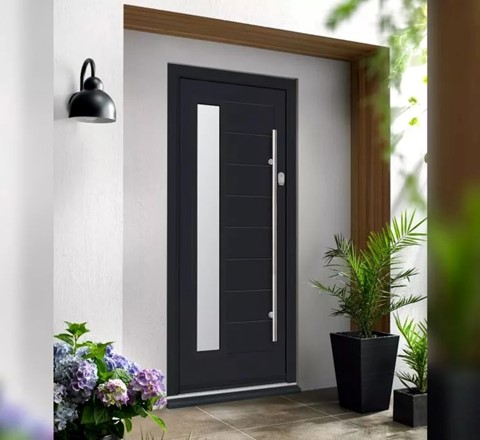 The stunning Silverstone offset glazed composite door features a unique LVLF core and GRP skin giving unrivalled security, strength and efficiency. Silverstone composite front doors are available in a range of standard sizes with and without sidelights.
View our composite Silverstone front doors here.
BLUE OR NAVY
Variety of shades available
Perfect for coastal properties
Navy is well suited to period properties
GREEN
Perfect for a terraced property
A more muted green can suit the natural surroundings of a house or cottage in the countryside
Read more about the benefits of composite front doors in our guide What is a composite front door?
WHAT TO CONSIDER WHEN CHOOSING THE RIGHT DOOR COLOUR
When thinking about which front door colour might be right for your home, there are several factors to consider. As an exterior door, it can have a huge impact on the overall look of your home so it's important to get it right.
Your front door should add to your home's kerb appeal and fit in with the overall aesthetic of your property. This means that the colour should match or complement the other windows and doors installed in your home and you may also want to think about how your home fits in with the look of your neighbourhood.
View our complete composite front door range to find out more about the colours we offer.
DOES THE COLOUR SUIT YOUR PROPERTY?
One of the most important considerations is whether the colour will fit in with the style of your property.
Period – look best with a darker colour to keep with the traditional style. Consider shades such as navy blue, deep red or even black.
Terraced – has more flexibility. Redbrick terraces look great with both traditional white or black doors but you could also branch out into brighter greens and reds for something more unique.
Country home – will suit a front door that looks traditional while fitting in with the natural surroundings. For example, oak or wood effect doors provide the perfect look and shades of green help the property to match its surroundings.
Coastal home – should reflect the natural beauty of their surroundings, with white front doors and lighter colours such as grey and blue.
New and contemporary homes – have the most flexibility when it comes to a new front door. A brand-new home can suit bright colours but muted shades of grey or black can provide a modern, minimalist door style.
What other factors should you consider when choosing a new composite front door?
Style of the door – the style you choose can have an impact on the overall look of your door and home so should be carefully considered. At Vufold, you can choose between traditional and contemporary front doors.
Glazing – it is important to be aware of the glazing options available before you buy a composite front door, as this can have an impact on both the design of your front door, and the thermal performance of your door.
Size or configuration – it is vital that you choose the right door for your home and the space you have available. Contact us today if you are unsure how to measure for your front door.
Choose a high quality supplier - considering the supplier you buy your composite doors from will allow you to ensure that your door is of a high quality. You can look at product reviews, and the supplier's quality standards and credentials to do this.
Guarantees – checking the guarantee will allow you to understand how long the door will last and help to keep your home as secure as possible in the future. Read more about our high quality door guarantees here.
To find out more about composite front doors, read our guide: What is a composite door: benefits and factors to consider.
FREQUENTLY ASKED QUESTIONS
CAN COMPOSITE FRONT DOORS BE PAINTED?
You can paint a composite front door but it is not usually recommended. Composite front doors are less prone to weathering than wooden front doors so shouldn't require repainting, meaning they are a low maintenance option when compared to other types.
If you do decide to paint your composite front door, you must be careful with the paint you use and be careful to avoid any glass panels.
Read our guide to wooden vs composite front doors here.
ARE COMPOSITE FRONT DOORS THE SAME COLOUR ON BOTH SIDES?
Composite doors are usually either the same colour on both sides or white on the inside and your chosen colour on the outside.
DO COMPOSITE DOOR COLOURS FADE?
Composite external door colours can fade over time, but they should not fade if they were constructed and treated correctly in the first place.
HOW DO YOU TREAT A FADED COMPOSITE DOOR?
You can use polish substitutes to treat a faded composite door but modern composite front doors are less prone to weathering than other types or older types so this shouldn't be a problem you experience.
WHAT IS THE BEST MATERIAL FOR A FRONT DOOR?
Solid wood, uPVC, aluminium and composite are the four most common materials used for front doors. Solid timber doors are traditional in design, naturally thermally efficient and strong. However, they are susceptible to rot and degradation due to weather exposure unless vary carefully maintained. Oak front doors are a popular option when choosing a wooden door, as they offer excellent durability whilst also providing a traditional, rustic look.
A composite door is made up of layers of different types of material that offers excellent strength, durability and thermal efficiency. Aluminium is a great option if you are looking for a more modern door that offers excellent strength and reliability.
uPVC doors are affordable and low maintenance, but they are not as durable as other options.
If you'd like further advice or information about our range of front doors, please contact our expert team today.

RELATED CONTENT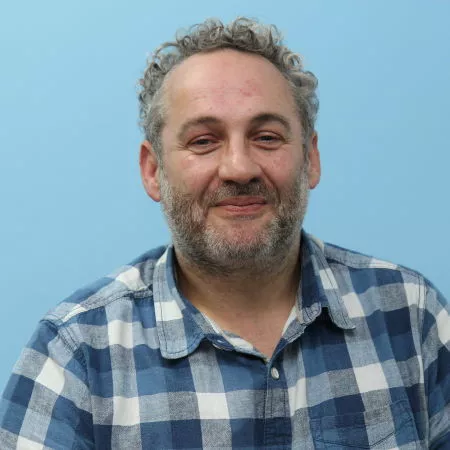 About Richard Collins
Rick is an expert in lean practices and principles, and how they're applied to manufacturing, warehouse, administration and management of the business. As an operations director he oversees all areas of the business ensuring they run as efficiently as possible and has worked his way up through virtually every department since he joined us 13 years ago.
Read more about Richard Collins