What is the cost of a front door replacement? Factors to consider
The front door is one of the most important aspects of your home, both visually as well as for security and thermal efficiency. When choosing any exterior door for your home, there are a number of factors to consider to protect your home and ensure thermal efficiency. Front doors in particular help to create a first impression for anyone visiting your home so making the right decision is important, particularly if you're thinking of selling your home in the future.
One of the key factors to consider is the cost of your new door. This can vary greatly depending on a number of factors, such as the material of the door, and the types of accessories you choose. This guide will help to shed some light on the cost of a front door replacement and what you should keep in mind when working out your budget.
---
In this guide:
Find out more about the common reasons for replacing a front door.
Find out more about the various factors that can have an impact on the cost of your front door replacement.
Learn more about the average costs of various front doors and materials.
Find out how much it is likely to cost you to replace a front door.
Find out more about any other costs you should consider when replacing your front door.
Learn more about how much it costs to buy a Vufold front door.
---
Why replace your front door?
If you have lived in your home for a while, or your front door has been there for a long period of time and is run down, you will probably be looking at replacing it with a new door.
Maybe your front door is in poor condition, doesn't look it's best anymore or is letting the cold in. Perhaps you're just looking to switch up the style of your door. These are all valid reasons to replace your front door, and the wide range of doors out there can cater to all of the above.
Replacing your front door has the following benefits:
Improve appearance and value of your home
Improve energy efficiency
Improve security
---
Factors that can impact the cost of front door replacement
When it comes to selecting your new door, there are a number of things that can have an impact on the price. You will need to consider the following:
THE MATERIAL YOU CHOOSE
Front doors are available in a wide range of different materials including composite, wooden, aluminium, and uPVC. Each material has its own varying costs so, when considering a new front door, you should think about the material you would like and how much it's likely to cost. Investing in a high-quality front door will ensure that your external door is as secure as possible and will last for a number of years.
Comparing different popular front door materials
Aluminium
Aluminium provides a modern, attractive appearance, and is a durable option for a front door. It is often available in a variety of colours, and is one of the more pricier material options available.
You can also rest assured that aluminium will not let moisture in, and will also not warp in extreme weather conditions.
Wood
Wooden front doors provide a classic, traditional option for your home, while also providing excellent durability. Oak is a popular option for wooden doors, offering reliable strength.
Our superbly engineered ultimate wooden front doors don't warp, twist or split thanks to the unique CPLF core. The range features three contemporary door designs all factory finished in anthracite grey or oak.
View our range of modern wooden front doors here.
uPVC
uPVC, or Unplasticised Polyvinylchloride, is a standard material used in windows and doors. Usually lying at the cheaper end of the market, uPVC front doors tend not to hold the same aesthetic value as aluminium front doors or timber. The colour of these doors can also be prone to fading over time.
What is a composite front door?
A composite front door is a front door designed from a combination of materials – by combining those materials, the new material is stronger than the individual components. However, the quality of a composite front door will depend on the materials used.
Find out more about the best front door materials here.
THE STYLE OF THE DOOR
Front doors in various materials are also available in a number of styles which can have an impact on the cost of the door.
THE COST TO INSTALL YOUR DOOR
Alongside the initial cost of your door, you should also consider how much it will cost for a professional door fitter to come and install the door for you. Asking a professional to install your door for you will help to ensure maximum security and that the door fits properly.
GLAZING OR SIDE PANELS
Some front doors are available with glazed panels within the door or with side panels. These glass panels can have an effect on the cost of your door, as well as whether you choose double glazing or triple glazing. The glazing you choose will have an impact on the thermal efficiency of your door so should be considered carefully.
WHETHER BOTH THE DOOR AND FRAME NEED REPLACING OR JUST THE DOOR ITSELF
If you are just replacing the existing door, the costs and work required will be much lower than replacing both the door and the door frame. The door frame can have an impact on how well your door operates, it's security and thermal efficiency so making sure it's fitted properly and is fit for purpose will ensure your door lasts as long as possible.
Read our full guide to choosing the best front door for your home here.
---
How much do front doors cost?
As mentioned above, the material of your front door can have an impact on how much it will cost. The most popular materials are uPVC, wood and composite so let's have a look at the average costs of these types of doors.
---
uPVC door
uPVC door prices start at around £280 and range to £350
Design, location, installer can impact costs
Features such as double glazing or triple glazing, extra panels or windows can increase costs
A uPVC door is the most budget-friendly type of front door
---
Composite door
Composite door prices start from £850
Cost around 50% more than uPVC doors
More premium in terms of aesthetics and security
Composite door costs depend on design features such as glazing or side panels
---
Wooden door
Type of wood door can affect the cost
Oak or timber door prices range between £300-£1,800
Pine prices range between £120-£1,100
Additional costs come from double glazing or triple glazing, glass side panels and features
Aluminium door
Can provide excellent durability and strength
Often much more expensive than wooden doors, with prices often starting from around £1,000
Wooden doors can offer a more cost-effective alternative while providing durability
The cost of aluminium doors varies depending on the manufacturer and design features.
---
HOW MUCH DOES IT COST TO INSTALL A FRONT DOOR?
When it comes to installing your new front door, you should also consider the cost of installation alongside the cost of the door by itself.
Think about the following questions:
Does the old door need to be removed professionally?
Are you replacing to door frame too?
Is any customisation required (such as the frame needing to be re-sized)?
Do letterboxes, an additional lock, door knockers or handles need to be installed?
The average cost in the UK for installing a front door is around £200 but this can be affected by all of the factors listed above. Speak to your chosen tradesperson about what you require and they will be able to give you an accurate quote.
---
Additional costs to consider
When installing your front door, you should also consider the additional aspects that will likely add to the costs. These include:
Extra finishes – Door finishes include factors such as whether you want a wooden door to be oiled or waxed to give it a more premium finish.
Door furniture – Your front door has many purposes. As well as being the main physical entrance to your house, you will need to think about what features you would like to be added to it to make it more useful. This includes a letterbox, numbers, door knockers, doorbells and the lock or latches you choose to improve security.
Custom-made doors – a custom made door is totally unique to you and your specification. As it is made to your own unique requirement, it can be slightly more expensive. You can change up the style, size and various other elements to match your needs and completely transform the look and feel of your home.
Old door disposal – some companies offer free disposal of your old door in exchange for fitting your new one. Do your research and find out if this is available. If not, you will need to find a business near you that will take old front doors off your hands and how you can get the door to them.
Read our guide to the regulations to consider when replacing a front door here.
---
Costs of Vufold front doors
At Vufold, our range of Ultimate Wooden front doors will suit any budget and taste.
Benefits of Vufold's Ultimate wooden front doors include:
Available in Grey and Oak
10-year manufacturer's guarantee
Optional frame kits and ironmongery available
Fully finished with a high quality wood coating system
Use a high performance CLPF core
Free 3-day delivery
Trimmable design
All of our Ultimate doors should be professionally-fitted by someone with the necessary joinery skills.
You can take a look at our full range of front doors here.
If you'd like to find out more about our range of front doors or the costs, please get in touch with our expert team today.
Related content:
ⓘ

Related Ranges & Products
---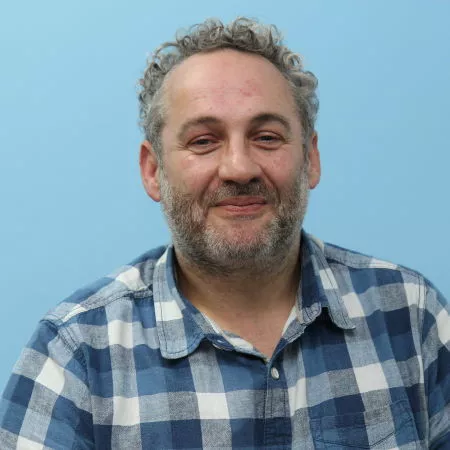 Author:
Richard Collins - Operations Director
About Richard Collins
Rick is an expert in lean practices and principles, and how they're applied to manufacturing, warehouse, administration and management of the business. As an operations director he oversees all areas of the business ensuring they run as efficiently as possible and has worked his way up through virtually every department since he joined us 13 years ago.
Read more about Richard Collins