Replacement bifold doors during lockdown: How to replace a door with DIY bifolds
When stuck inside your home for most of the day, certain home improvements may become glaringly apparent – peeling wallpaper, drafty windows, unappealing doors. Some of these issues may require a professional tradesman to organise.
However, replacing your doors can be done by anyone with moderate DIY knowledge, thanks to ready-to-assemble doors. In this guide, you will find out more about replacement doors, including preparation and installation advice.
---
---
Why choose a replacement door?
Due to the lockdown, any non-essential workers have been told to work at home. Contact between people should be avoided as much as possible. It will be almost impossible to hire a builder or fitter in order to alter your home in today's climate. Therefore, any building alterations will need to be committed after the lockdown has been lifted.
However, this isn't to say home alterations must stop out-right. Replacing doors can be a relatively straightforward process with some DIY knowledge.
---
Benefits of choosing a replacement door
The main benefit of choosing a replacement door is ease. The masonry work has already been done when the old door was installed. The necessary space exists; it is simply a case of replacing the actual door.
With ready-to-assemble doors, this process is made simple due to easy installation, clear instructions and pre-machined parts. This means replacement door installation can be done by anyone with some DIY knowledge. You can find out more about ready-to-assemble doors below.
---
Types of doors that can be replaced
There are three main types of external door that can be replaced with a new bifold door:
Bifold doors (old)
French doors
Sliding doors
These doors can often require similar dimensions and sizes, meaning they can be interchangeable. For example, you may wish to replace your old french doors with a set of new bifold doors. You will need to measure beforehand to ensure you purchase the right size doors.
The interchangeability of these external doors means the following locations could be improved by replacement doors:
Kitchen
Patio
Summer houses
Internal doors can also be replaced if the size matches the size of the bifold. Obviously, regular single doors cannot be replaced with bifolds unless some masonry work is completed, which may require a professional.
---
Costs of replacing a door
The costs of replacing the door depend on the type of the door.
Standard bifold door – these bifolds may come with confusing instructions, require specific tools and professional knowledge. These factors will add costs on top of the price of purchasing a bifold door.
Vufold's ready-to-assemble door – RTA doors offer clear instructions, require a few standard tools and can be fitted by a moderately knowledgeable DIYer. This means that your only major cost will be the price of the door. No need to pay for professional tradesman or expensive tools.
---
Ready-to-assemble doors
Ready-to-assemble bifold doors offer a completely new, innovative way to install your doors. With a ready-to-assemble bifold, you could be ready to replace your old door from the moment of arrival.
By the end of this section, you will know the definition of a ready-to-assemble door, and it's many benefits.
---
What is a ready-to-assemble door?
Ready-to-assemble doors are known as a 'complete package'. Within the package includes:
The bifold door parts including frame and glass
All hardware required for installation (including drill bits and fittings)
Most tools for installation
Clear and concise instructions
This means that the bifold doors are ready to be assembled straight out of the box. The assembling process is designed to be as easy as possible, with clear instructions dictating the proper process.
Ready-to-assemble doors are designed to be quick and simple, meaning that competent DIYers can install the doors on-site themselves without having to pay for a professional.
---
Benefits of ready-to-assemble doors
Easy installation
Clear and informative instructions
High-quality pre-machined materials
All hardware included
Most tools included
No specialist equipment required
No hidden costs
Assured quality with every part tested comprehensively
---
How to prepare for a replacement door
There are certain steps you can take to ensure the smoothest possible replacement processes. These steps can be made before installation to save time. These steps include:
Removing the previous door
Measuring the opening
Sourcing the required tools
Interior/exterior considerations
---
Removing the previous door
Removing the previous door is probably the most complex step to take. It may not be immediately apparent how to uninstall the door. You may be able to find the installation guide for your old bifolding doors online. Alternatively, you could contact your previous supplier for additional help.
If your old bifold door is plastered in the location, you will need to plan accordingly to reduce any damage to the plasterwork.
---
Measuring the opening
You need to measure the opening before purchasing any replacement bifold doors accurately. Even if you measured before installing your old doors, it is worth remeasuring to ensure an accurate result.
Measuring the opening requires four simple steps:
Measure the width in three separate levels (bottom, middle, top)
Measure the height from top to bottom at three separate places (left, centre, right)
Subtract 5mm - 10mm from the smallest measurements (to ensure enough space to fit the bifold and the frame)
Check that the aperture is a perfect square by measuring the diagonals from corner to corner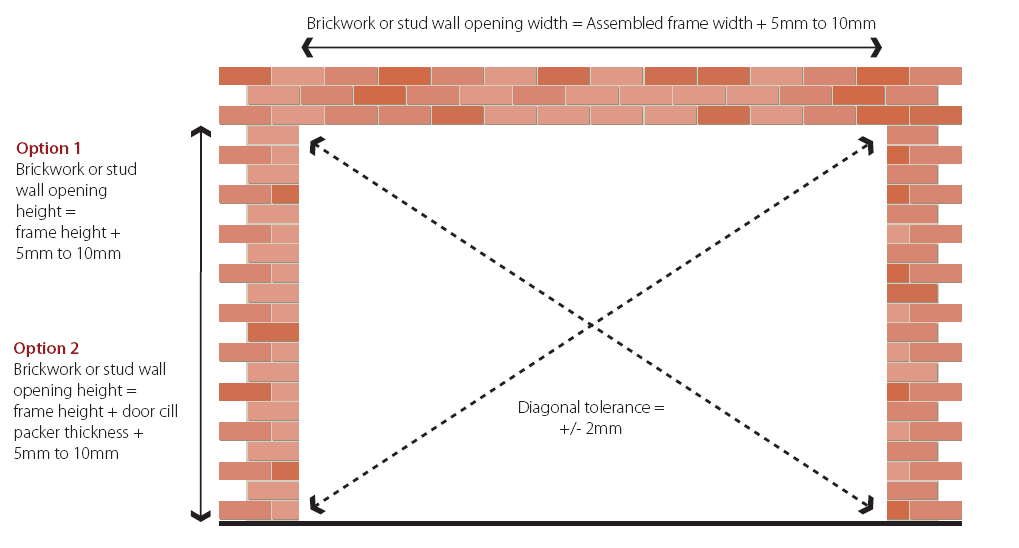 ---
Required tools
The required tools depend on the type of door you are installing. Standard bifold doors may require specialised tools such as routers and chisels. These can be hard to source and difficult to use, requiring a professional.
Ready-to-assemble doors come with almost all the tools required for installation. The only few tools you need to source are readily available at most DIY stores (or even in your home!).
---
Required tools: ready-to-assemble bifold doors vs standard bifold doors
Ready-to-assemble bifolds
Standard bifolds

Drill
Spirit level
Tape measure
Phillips screwdriver

Allen keys
Screwdrivers
Drill
Tape measure
Spirit level
Saw
Hacksaw
Pencil
Rubber mallet
Chisel
Router
---
Interior/exterior considerations
Whilst installation steps are similar for interior and exterior bifold doors, there are a few key differences. In this section, you will find a brief overview of some considerations when choosing replacement doors for exterior or interior locations.
---
Exterior doors
Exterior doors need to be fully weather sealed to ensure that optimum insulation. This ensures you don't waste energy heating or cooling your home. It also means no unpleasant drafts or weather damage.
The type of glazing should also be considered. Vufold recommends purchasing bifold doors with double glazing glass. The double glazing will help improve insulation and energy efficiency.
You can find more information by visiting our guide – External bifold door locations: patio, kitchen, extensions and summer houses
---
Interior doors
Interior doors do not have to face varying weather and temperature changes like external bifold doors. This means they do not require the same level of insulation. Vufold does not recommend double glazed glass for internal bifold doors as this will increase the size of the doors and the cost.
Thresholds should be a consideration for interior bifold doors. A bifold threshold is a track at the bottom of the bifold that the door slides along when in operation. You can choose two types of threshold options:
With a threshold – this offers more stability during operation but will separate the two types of flooring in each room
Without a threshold – is known as a trackless system which allows the flooring to run underneath the door as one
You can find out more about interior door installation by visiting our guide – Installing internal bifold doors: advice, considerations and FAQs
---
How to install replacement bifold doors
Every door manufacturer will have a different installation process for their doors. These can range from simple (such as ready-to-assemble doors) to extremely complicated. Always ensure you read the instructions carefully – if you are unsure, hire a professional.
Vufold's bifold range utilises a ready-to-assemble system meaning their installation is incredibly simple.
---
How to install Vufold's ready-to-assemble doors
Each door has its own set of specific instructions that need to be followed for correct installation. However, ready-to-assemble doors generally follow four easy steps for installation:
Assemble the frame
Fix the frame into the brickwork opening, square up and level
Fix the hardware to the doors and fix the doors to each other
Adjust height and width if needed
All these steps are straight forward and clearly explained in your bifold's instruction manual. If you want to know more about Vufold's ready-to-assemble doors during quarantine, visit our guide - Ready-to-Assemble Doors: the DIY bifolds for self-installation
---
FAQs
---
Can you replace patio doors with bifold doors?
'Patio door' is a catch-all term for several types of door, including:
Bifold patio doors
French patio doors
Sliding patio doors
The unifying theme is that these doors open onto a patio. There is a possibility that these doors can be interchangeable without having to perform any masonry work. If you are looking to install a top-hung bifold door, you will need to ensure your lintel can provide enough support.
---
Can you put new doors in old frames?
No, unless you are simply replacing the exact same range of doors.
Each type of bifolding door uses a specific style of operation, which in turn require specific frames for operation. This means that it is not as simple as replacing new doors in old frames. You should always remove your old frames before installing new replacement bifold doors.
---
Is hanging a door difficult?
This depends on the type of door you are installing. Some bifold doors may require a semi-complex procedure for installation, that will require a tradesman.
Vufold's ready-to-assemble doors are designed to be as simple as possible. Hanging the door can be done by any competent DIY.
Please note: bifold doors can be heavy and hanging the doors may require two people.
---
How long does it take to fit a new door?
The amount of time it takes to fit a new bifold door depends on a few factors:
Level of experience of the installer
Type of bifold door
Amount of people installing
Standard bifold doors require a trained professional tradesman for installation. This is because their installation processes can be complicated. They can take over two days to install.
Vufold's ready-to-assemble door sets are designed to be as simple as possible. A competent DIYer can install the RTA doors within a day.
For both types of doors, two people may be required for installation. This is due to the doors being heavy, which one person may find difficult to manoeuvre.