THE BENEFITS OF READY-TO-ASSEMBLE DOORS: THE DIY BIFOLDS FOR SELF-INSTALLATION
Are you looking to improve the look of your home with a bifold door, however don't want the hassle of finding and buying the necessary tools for installation? A ready-to-assemble bifold door may be the ideal option for you. In this guide, you will find information about ready-to-assemble door sets, including their benefits, installation advice and frequently asked questions.
WHAT IS A READY-TO-ASSEMBLE DOOR?
As opposed to many types of DIY doors – ready-to-assemble door sets are pre-machined and ready to assemble. They include all essential items, including:
Tracks
Hinges
Hardware
Glazing
Fixings
This ensures quick, easy and effective installation – whether you are a professional tradesman or a DIY customer. After a successful installation, your door will offer perfect operation, having been tested extensively by Vufold.
BENEFITS OF READY-TO-ASSEMBLE DOORS
Ready-to-assemble aluminium bifold doors offer many benefits, including:
Easy installation with clear and concise instructions included
High-quality operation as every part has been tested comprehensively
No specialist equipment as everything is fully machined
No hidden costs for additional equipment
Quick on-site installation
Can be installed by anyone competent with DIY
Assured quality.

Shop our ready to assemble external and internal bifold doors today!
LOCATIONS READY-TO-ASSEMBLE DOORS CAN BE FITTED
Living room and dining room extensions are a very popular style of extension. When it comes to external bifold doors, many people like the idea of combining a dining experience with the stunning views of their garden. Almost any room in the home can be improved with more natural light, and living and dining rooms are no different.
Popular locations for both internal and external bifold doors include:
Conservatory (external doors)
Kitchen
Dining room
Bedroom (DIY internal doors)
Living room.
External bifold doors can also often be used on patios, for summer houses, and many types of extensions.
Ready-to-assemble doors vs standard doors
 
Ready-to-assemble
Standard
Instructions

Clear and concise instructions

Designed to be as simple as possible

Competent DIYers will be able to easily understand

Confusing and hard to follow instructions

Instructions may not be for the specific model

Only designed for a professional to understand

Hardware

All hardware is included

Hardware installation locations are pre-drilled or clearly marked

Unlikely to come with all the necessary hardware

Necessary hardware may hard to source adding time and costs

Hardware installation locations are unlikely to be pre-drilled or marked

Tools

No specialist equipment required

Any required tools can be easily sourced if necessary

Drill bits and fittings included

Specialist tools such as routers, chisels and mallets may be required

Tools can be hard to source costing extra and taking time to find

Drill bits and fittings unlikely to be provided and can be hard to source

Installation

Easy instructions offer simple installation

Installation can be quick due to the doors being pre-machined

Can be installed by a professional or DIY enthusiast

Frames are required to be cut before installation

If frames are not cut correctly, it will affect door operation

Can be incredibly complex

Often time-consuming

Should only be installed by a trained professional

Costs

May cost more upfront

Pre-machined which means less risk of damage during installation, which can be costly

Multi-year warranties available

Can be cheaper upfront

Offer fewer quality assurances

Warranties may be shorter

Damage incurred during installation will require repairs/new parts which will increase costs
Read how Vufold bifold doors compare to other bifold doors in our comparison guides.
How to install ready-to-assemble bifold doors
HOW MUCH DIY KNOWLEDGE IS NEEDED TO INSTALL BIFOLD DOORS?
Anyone with some DIY knowledge can install Ready-to-assemble bifold doors. Unlike standard bifolds, ready-to-assemble doors do not require specialist knowledge.
Vufold's ready-to-assemble doors arrive pre-machined (the only machining required is to fit the door handles) and pre-sized to your specification. The track and cill are already fitted to the frame, so the door frame simply needs assembling with the screws provided.
Hardware fitting locations are either already pre-drilled or marked very clearly. The Vufold hardware provides installation into the brickwork. The tools provided include almost everything you need for full installation, including drill bits.
Each range and size of bifold has a specific set of instructions. The instructions are designed to be as clear and concise as possible. Every step is clearly indicated with additional illustrations for clearer information.
Vufold believes that anyone with some DIY knowledge can install RTA doors. You can view some installation manuals on our website to get a better understanding of the level of knowledge required.
Are you installing internal bifold doors? Read our useful guide to fitting internal bifold doors.
TOOLS REQUIRED
While Vufold provides most tools required for putting in bifold doors, you will still need to source some basic tools, including:
| | |
| --- | --- |
| Drill | |
| Spirit Level | |
| Tape Measure | |
| Philips Screwdriver | |
MEASURING FOR A READY-TO-ASSEMBLE DOOR
Before fitting an aluminium bifold door, you will need to measure the opening carefully and accurately. Fortunately, measuring for bifold doors doesn't need to be particularly difficult.
To measure a space for bifold doors, follow these four steps:
Measure the width in three separate levels (bottom, middle, top)
Measure the height from top to bottom at three separate places (left, centre, right)
Subtract 5mm - 10mm from the smallest measurements
Check that the aperture is a perfect square by measuring the diagonals from corner to corner
5mm - 10mm needs to be subtracted from the measurements to ensure there is enough space to fit the bifold and the frame. If you do not subtract the 10mm, you may run into fitting issues which can be costly to rectify.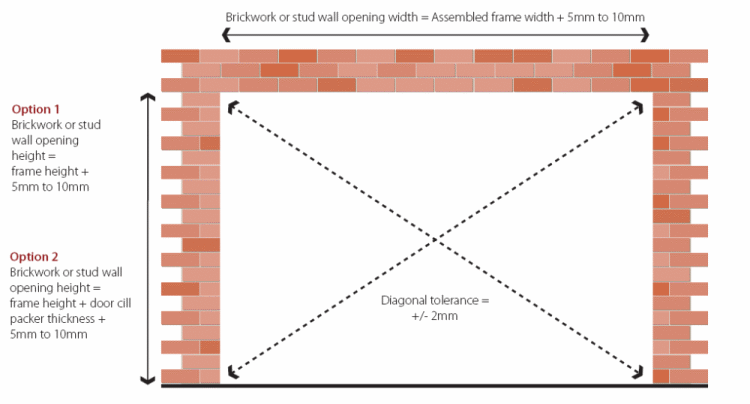 INSTALLATION PROCESS FOR READY-TO-ASSEMBLE DOORS
The installation of a ready-to-assemble door is a much simpler process than a standard bifold door. This ensures that any knowledgeable DIYer can install their own Vufold bifolding door.
While each range and size of bifold has its own set of specific instructions, the basic installation steps are similar:
ASSEMBLE THE FRAME (12 SCREWS)
Assembling the frame simply requires placing the frame and hardware in the indicated locations and securing them with screws. The top track can be installed before fixing the frame into the brickwork.
FIX THE FRAME INTO THE BRICKWORK OPENING, SQUARE UP AND LEVEL
Fixing the frame into the opening is a relatively uncomplicated process. You must ensure you follow the instructions precisely to ensure no mistakes are made. The frame must be square and level with the tolerances provided in the instruction manual.
Once the frame is fitted into the opening, you can proceed to fit the hardware.
FIX THE HARDWARE TO THE DOORS AND THE DOORS TO EACH OTHER
Your instruction manual will provide an overview of door and hardware arrangements. Each door will have its own specific arrangements you will need to follow. The manual will provide instructions based on whether you have decided the bifold to open left or right.
The basic hardware steps are:
Fitting the dropbolts
Fitting the pivot doors
Fitting the other doors (depending on the size of door set)
Fitting the weather seals to the doors
Fitting the lock and handle
Fitting the catches.
All hardware installation locations are either pre-drilled or clearly indicated for easy installation.
ADJUST DOOR HEIGHT AND WIDTH IF NEEDED
Vufold has designed their doors to ensure any adjustments are as easy as possible. Unlike standard bifold doors, Vufold RTA doors feature easy adjustments which require very basic tools.
To adjust the height:
Use an Allen key (provided) or a spanner and screwdriver (depending on the range)
Twist clockwise to raise door height
And anti-clockwise to lower door height
To adjust the doors left or right along the track:
Use a screwdriver
Ensure the doors are fully open
Locate the top and bottom pivot hinges
Use a screwdriver in both to adjust until satisfied.
Are you ready to install new bifold doors? Shop our range of internal bifold doors here!
Find out how to fit external bifold doors here.
CHOOSING A MATERIAL FOR A READY-TO-ASSEMBLE BIFOLD DOOR
Wood, aluminium and UPVC are popular materials for ready-to-assemble bifold doors. When choosing a material for your bifold door, consider the following factors:
Style
Wood offers the largest range of styles, and can be varnished or painted in a range of colours. It also provides a more traditional, homely feel than options such as aluminium, which provide a much more contemporary feel. A key benefit of aluminium is that it comes in a large range of powder coated finishes.
uPVC, on the other hand, looks slightly cheaper than the other alternatives – although it is available in a range of colours.
Durability and maintenance required
uPVC will look worn quicker than the alternative options, and is prone to contracting and expanding. Regular maintenance is therefore required for uPVC bifold doors.
When it comes to the material requiring the least maintenance – aluminium is the most durable option. It will only require an occasional wipe with soapy water.
Timber, on the other hand, is a fairly low-maintenance option. It will need an occasional clean with soapy water a couple of times a year. It may need to be recoated between 2-5 years. Internal oak bifold doors are some of the most durable options.
Thermal efficiency
In terms of thermal efficiency, both aluminium and wood are solid options for bifold ready-to-assemble doors. While aluminium is very thermally efficient, wood is also naturally a good insulator. If you are considering a uPVC door – bear in mind that expansion and contraction can reduce thermal efficiency.
Cost
Consider your budget when choosing a material. Aluminium is often the most expensive option – however, bear in mind that you are paying for durability and quality. Wood is a great option if budget is your main priority, as it is a low-budget but reliable option. Wood is available in a range of styles to fit your budget.
UPVC doors are often pricier than wooden options, however are cheaper than aluminium options.
Frequently asked questions
ARE READY-TO-ASSEMBLE DOORS MORE EXPENSIVE?
Ready-to-assemble doors may initially seem slightly more expensive when compared to standard bifold doors. However, standard bifolds may have hidden costs such as extra drilling/sawing and sourcing/purchasing tools. Installation is likely to be much more complicated and will require a professional tradesman. Any mistakes during installation may cause irreparable damage which can be extremely costly.
Vufold's RTA doors have no hidden costs. The doors come with all hardware and most tools ready for installation. Installation is as simple as possible, which can be installed by anyone knowledgeable in DIY activities.
If you compared the costs after installation, Vufold's ready-to-assemble doors would come out the same as standard folding doors, if not cheaper.
Find out more about Vufold's ready-to-assemble aluminium external bifold doors.
HOW LONG DOES INSTALLATION TAKE FOR READY-TO-ASSEMBLE BIFOLD DOORS?
The installation time for bifold doors will depend on aspects such as where you are installing the bifold doors, and whether you are installing the bifold doors yourself or getting expert help. Luckily, with our easy-to-follow instructions – installing your bifold doors may only take up to a couple of hours, so you don't need to be a DIY expert. Read more useful bifold door installation information here.
CAN READY-TO-ASSEMBLE BIFOLD DOORS REPLACE SLIDING DOORS/PATIO DOORS/NORMAL DOORS?
Vufold's ready-to-assemble bifold doors can replace other kinds of doors if the sizes match. You can find out more about replacement doors by visiting our replacement doors guide .
Images licensed under creative commons 4.0.
Related content
Installing internal bifold doors
Ready-to-assemble external bifold doors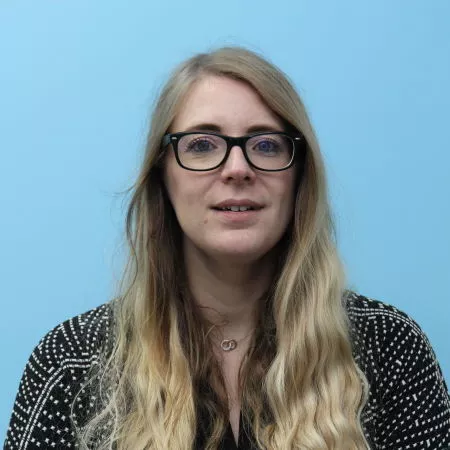 About Amanda Hewer
Having been at Vufold for around 12 years now, Amanda became operations manager after spending time in Customer Service, Sales, Order Processing and our Warehouse. Amanda likes that no two days are ever the same and believes her successful career stems from her keen interest in people, helping them achieve their goals and striving for constant improvement across all departments.
Read more about Amanda Hewer