Ready-to-Assemble Doors: The DIY bifolds for self-installation
---
Due to the current lockdown, you may start noticing specific issues with your home that you would like to change. This is the perfect time to make those changes you wanted to. Purchasing an internal bifold door may seem impossible during these unprecedented times. However, if you have a bit of DIY knowledge, you may be able to purchase and install bifold doors yourself.
In this guide, you will find information about ready-to-assemble door sets, including benefits, installation advice and FAQs.
---
---
What is a ready-to-assemble door?
Ready to assemble door sets are pre-machined and ready to assemble. They include all essential items, including:
Tracks
Hinges
Hardware
Glazing
Fixings
This ensures quick, easy and effective installation – whether you are a professional tradesman or a DIY customer. After a successful installation, your door will offer perfect operation, having been tested extensively by Vufold.
---
Benefits of ready-to-assemble doors
Ready-to-assemble doors offer many benefits, including:
Easy installation with clear and concise instructions included
High-quality operation as every part has been tested comprehensively
No specialist equipment as everything is fully machined
No hidden costs for additional equipment
Quick on-site installation
Can be installed by anyone competent with DIY
Assured quality
---
Locations RTA doors can be fitted
Ready-to-assemble DIY doors can be installed in any location, including the:
Conservatory
Kitchen
Dining room
Living room
---
Ready-to-assemble doors vs standard doors
 
Ready-to-assemble
Standard
Instructions

Clear and concise instructions
Designed to be as simple as possible
Competent DIYers will be able to easily understand

Confusing and hard to follow instructions
Instructions may not be for the specific model
Only designed for a professional to understand

Hardware

All hardware is included
Hardware installation locations are pre-drilled or clearly marked

Unlikely to come with all the necessary hardware
Necessary hardware may hard to source adding time and costs
Hardware installation locations are unlikely to be pre-drilled or marked

Tools

No specialist equipment required
Any required tools can be easily sourced if necessary
Drill bits and fittings included

Specialist tools such as routers, chisels and mallets may be required
Tools can be hard to source costing extra and taking time to find
Drill bits and fittings unlikely to be provided and can be hard to source

Installation

Easy instructions offer simple installation
Installation can be quick due to the doors being pre-machined
Can be installed by a professional or DIY enthusiast

Frames are required to be cut before installation
If frames are not cut correctly, it will affect door operation
Can be incredibly complex
Often time-consuming
Should only be installed by a trained professional

Costs

May cost more upfront
Pre-machined which means less risk of damage during installation, which can be costly
Multi-year warranties available

Can be cheaper upfront
Offer fewer quality assurances
Warranties may be shorter
Damage incurred during installation will require repairs/new parts which will increase costs
---
How to install RTA doors
---
Installing ready-to-assemble doors
Ready-to-assemble doors offer a much easier installation process than standard doors. In this section, you will find out more of what the installation process entails.
---
How much DIY knowledge is needed to install bifold doors?
Anyone with some DIY knowledge can install Ready-to-assemble bifold doors. Unlike standard bifolds, RTA doors do not require specialist knowledge.
Vufold's ready-to-assemble doors arrive pre-machined (the only machining required is to fit the door handles) and pre-sized to your specification. The track and cill are already fitted to the frame, so the door frame simply needs assembling with the screws provided.
Hardware fitting locations are either already pre-drilled or marked very clearly. The Vufold hardware provides installation into the brickwork. The tools provided include almost everything you need for full installation, including drill bits.
Each range and size of bifold has a specific set of instructions. The instructions are designed to be as clear and concise as possible. Every step is clearly indicated with additional illustrations for clearer information.
Vufold believes that anyone with some DIY knowledge can install RTA doors. You can view some installation manuals on our website to get a better understanding of the level of knowledge required.
---
Tools required
While Vufold provides most tools required for installation, you will still need to source some basic tools, including:
| | |
| --- | --- |
| Drill | |
| Spirit Level | |
| Tape Measure | |
| Philips Screwdriver | |
---
Measuring for an RTA door
Before fitting a bifold door, you will need to measure the opening carefully and accurately. Fortunately, measuring for bifold doors doesn't need to be particularly difficult.
To measure a space for bifold doors, follow these four steps:
Measure the width in three separate levels (bottom, middle, top)
Measure the height from top to bottom at three separate places (left, centre, right)
Subtract 5mm - 10mm from the smallest measurements
Check that the aperture is a perfect square by measuring the diagonals from corner to corner
5mm - 10mm needs to be subtracted from the measurements to ensure there is enough space to fit the bifold and the frame. If you do not subtract the 10mm, you may run into fitting issues which can be costly to rectify.
---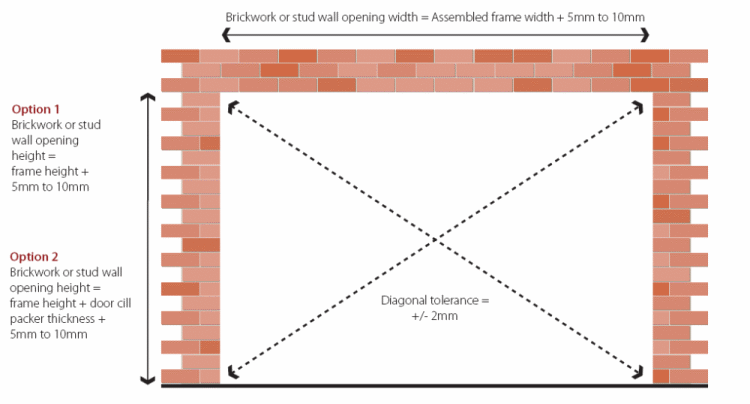 ---
Installation process for ready-to-assemble doors
The installation of a ready-to-assemble door is a much simpler process than a standard bifold door. This ensures that any knowledgeable DIYer can install their own Vufold bifolding door.
While each range and size of bifold has its own set of specific instructions, the basic installation steps are similar:
Assemble the frame (12 Screws)

Assembling the frame simply requires placing the frame and hardware in the indicated locations and securing them with screws. The top track can be installed before fixing the frame into the brickwork.

Fix the frame into the brickwork opening, square up and level

Fixing the frame into the opening is a relatively uncomplicated process. You must ensure you follow the instructions precisely to ensure no mistakes are made. The frame must be square and level with the tolerances provided in the instruction manual.

Once the frame is fitted into the opening, you can proceed to fit the hardware.

Fix the hardware to the doors and the doors to each other

Your instruction manual will provide an overview of door and hardware arrangements. Each door will have its own specific arrangements you will need to follow. The manual will provide instructions based on whether you have decided the bifold to open left or right.

The basic hardware steps are:

Fitting the dropbolts
Fitting the pivot doors
Fitting the other doors (depending on the size of door set)
Fitting the weather seals to the doors
Fitting the lock and handle
Fitting the catches

All hardware installation locations are either pre-drilled or clearly indicated for easy installation.

Adjust door height and width if needs

Vufold has designed their doors to ensure any adjustments are as easy as possible. Unlike standard bifold doors, Vufold RTA doors feature easy adjustments which require very basic tools.

To adjust the height:

Use an Allen key (provided) or a spanner and screwdriver (depending on the range)
Twist clockwise to raise door height
And anti-clockwise to lower door height

To adjust the doors left or right along the track:

Use a screwdriver
Ensure the doors are fully open
Locate the top and bottom pivot hinges
Use a screwdriver in both to adjust until satisfied
---
FAQ
In this section, you will find the answers to some of the most frequently asked questions around ready-to-assemble doors and DIY bifolds.
---
Are ready-to-assemble doors more expensive?
Ready-to-assemble doors may initially seem slightly more expensive when compared to standard bifold doors. However, standard bifolds may have hidden costs such as extra drilling/sawing and sourcing/purchasing tools. Installation is likely to be much more complicated and will require a professional tradesman. Any mistakes during installation may cause irreparable damage which can be extremely costly.
Vufold's RTA doors have no hidden costs. The doors come with all hardware and most tools ready for installation. Installation is as simple as possible, which can be installed by anyone knowledgeable in DIY activities.
If you compared the costs after installation, Vufold's ready-to-assemble doors would come out the same as standard bifold doors, if not cheaper.
---
How long does installation take for Ready-to-assemble bifold doors?
As of April 2020, Vufold will continue to deliver within standard pre-agreed delivery timescales. Vufold use third party delivery services which may be affected by the evolving situation. In the unlikely case, your order is delayed, you will be contacted at the earliest opportunity.
If you are self-isolating or have vulnerable members in your household, please let us know so we can ensure the safest possible delivery.
---
Can ready-to-assemble bifold doors replace sliding doors/patio doors/normal doors
Vufold's ready-to-assemble bifold doors can replace other kinds of doors if the sizes match. You can find out more about replacement doors by visiting our replacement doors guide.
Images licensed under creative commons 4.0
---