Replacing French doors with bifolds
Many homeowners have glass doors leading out to their garden or patio. They offer a wide range of benefits with the main one being the additional light they offer within your home.
However, older exterior French doors or sliding doors can become tired and worn and you might want to replace them. When it comes to replacing the French doors in your home with new glazed doors, of course you want something that's visually appealing, but it's important to consider the practicalities too.
---
In this guide:
Learn more about the signs to look out for to know whether your old French doors need replacing.
This section discusses the benefits of replacing your French doors.
Learn more about the key benefits of bifold doors.
Find out more about Vufold's ready-to-assemble bifold doors.
A step-by-step guide to replacing French doors with bifolds.
---
Do you need to replace your French doors?
There are many signs that your French doors may need replacing:
---
Age
Over time, French doors can start to look older and tired. A new French door looks fresh and clean and can be a good way to transform a room in your home and your patio or outside area. It can also add value to your home should you be thinking of selling in the future.
---
Style
If you're redecorating or renovating your home, you may find that your old French door no longer fit in and want something more modern. Bifold doors provide a great modern replacement for French doors, as well as opening up the space and creating a seamless transition between your home and garden or patio.
---
Damage
Damaged French doors can not only look unsightly, they can also cause draughts and decrease the energy efficiency of your home. Signs you need to think about replacing your old doors include:
Doors not opening, closing or locking easily
Dents, cracks or holes
Condensation in the glazing panels
Door frame damage
---
Security
A French door is a major access point into your home. If they're weakened or not working properly, security can be an issue. By installing a new door, you can ensure safety for your home.
---
Costs
Broken seals, failed double glazing and dropped hinges can all lead to draughts within your home.
---
Benefits of replacement doors
Replacing the old patio doors in your home is a simple step that can have great results.
When you replace an existing door, if you decide to install the same sized doors, you have a ready-made-gap for your new doors. So, with no masonry work required, you can replace the frame and the doors with minimal fuss for a fresh new look.
---
Benefits of bifold doors
While aluminium bifold doors have a strong and lightweight composition, there are also many other options available including wood and composite materials, making them a versatile choice to fit into all types of surroundings.
---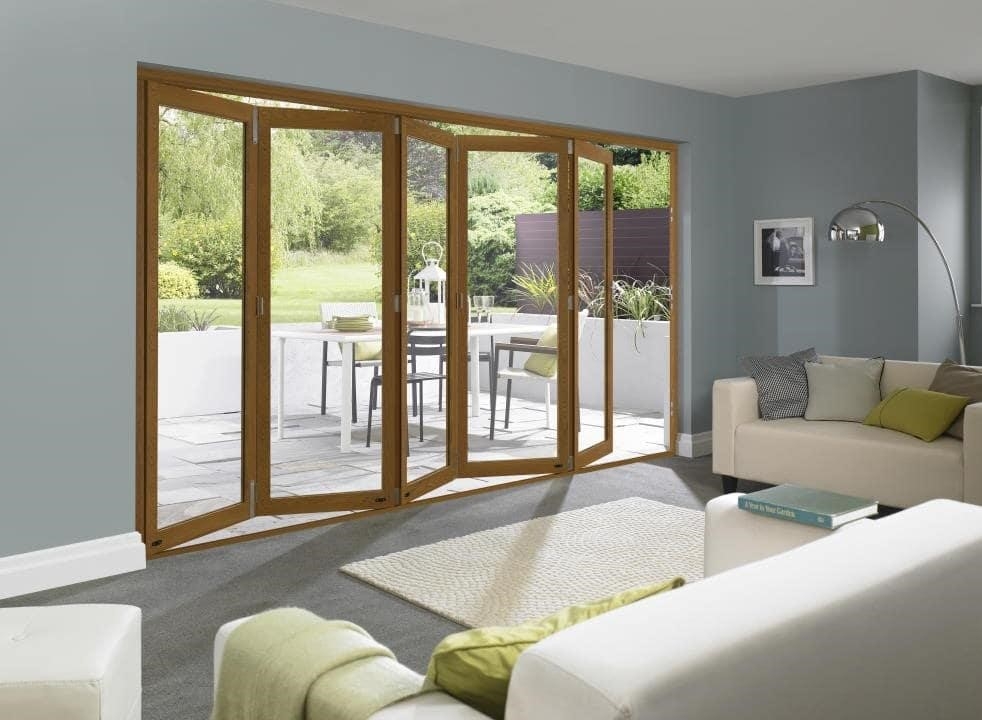 ---
Maximise your space
Many homeowners want to maximise the space within their home as much as possible.
When French doors are open, they require space around them for the doors to be fully opened. On the other hand, a bifold door's unique folding action means that, once folded back, they take up a smaller amount of space, perfect for smaller living or garden spaces.
At the same time, the natural light that floods into your home through the glass expanse will give the impression of a much larger space.
---
Create a stylish look
Installing bifold patio doors is an affordable, easy way to create a sleek and modern look. They're easy to operate, sliding and folding in one seamless action. You can have between three to six door panels so, if you want to open up a space within your home even more, you can opt for more door panels.
For an older property, the minimalistic design can instantly modernise and update your home, while bifolds seamlessly fit in a more contemporary home with their chic design.
---
An investment that pays off
A bifolding door is an incredibly worthwhile investment. Not only are they hard-wearing and can last for years, they also add value to your property and keep your home well-insulated, cutting down on energy costs.
---
Ready-to-assemble bi-fold doors: what are they and what are their benefits?
As the name suggests, Vufold's ready-to-assemble folding door sets come with everything you need, pre-machined and ready to assemble. Our wooden, composite and aluminium bifold doors are all supplied as ready-to-assemble.
The set includes all of the essential items required to create an expert finish from hinges, tracks and hardware to glazing, fixings and seals.
All of the components have been extensively tested by Vufold to ensure your fully-engineered unit performs professionally.
---
Why choose a ready-to-assemble bifold door set?
When it comes to replacing your French doors with bifold doors, it doesn't have to be complicated. Whether you're a professional tradesman or a DIY customer, bifold doors are quick and easy to install.
There's no need for specialist equipment, everything is prepared and ready for quick, on-site installation.
---
What tools are required?
You will only require a few readily available tools, including:
A drill
Spirit level
Tape measure
Phillips screwdriver
---
How to replace French doors with bifolds
Vufold's ready-to-assemble doors have been designed to be as easy as possible to install with comprehensive, step-by-step instructions.
---
Step one: Preparation
Before you remove the old door, it's important to remeasure the opening to compare it to the dimensions of your new bifold doors.
To ensure accurate results, take three measurements of both the width and height in different places (top, middle and bottom). Subtract 5mm – 10mm from the smallest measurement to ensure there's enough space for the frame and door. Measure the opening from corner to corner to check it's square.
---
Step two: Removing the doors
This could be the trickiest step and it's best to have someone to help, particularly when removing the heavier casing.
Depending on the age of your French doors, the procedure may differ when it comes to removing them. For a clean removal, check the installation guide for your old door or contact your previous supplier for guidance.
---
Step three: Fitting your door
While each door has its own set of instructions to ensure correct installation, there are four easy steps to follow:
Assembling the frame
All Vufold parts come pre-machined, so to assemble the frame all you do is place it, along with the hardware, in the indicated locations and secure firmly with screws. The top track is installed during this step before the frame is fixed to the brickwork.
Fixing the frame
Following the step-by-step instructions included with your doors will ensure your frame is square and level when you come to fix it to the opening. Everything you need for this is included in the set.
Fixing the doors
Every door is different, so instructions on how to fix the hardware to the doors and the doors to each other will vary. The basics will include fitting the drop bolts, pivot doors, weather seals, handle and lock and catches.
Everything comes pre-drilled and with simple indicators on how and where to fit.
---
Step four: The final adjustments
Just like the installation, adjusting your door height and width if you need to is an easy process as our bifold doors are provided with an easy adjustment feature*.
To adjust the height, using an Allen key or screwdriver, twist clockwise to raise the door height or anti-clockwise to lower it.
To adjust the doors left or right along the track, ensure the doors are fully open and adjust the top and bottom hinges with a screwdriver until it meets your requirements.
Your instructions will also come with advice on how to maintain your new bifold doors to keep them running smoothly for years to come.
Vufold's team of experts is always available to offer advice and guidance on replacing your French doors with bifolds. Please contact our team today for more information.
*our Status range of bifold doors is not provided with the easy adjustment feature.
---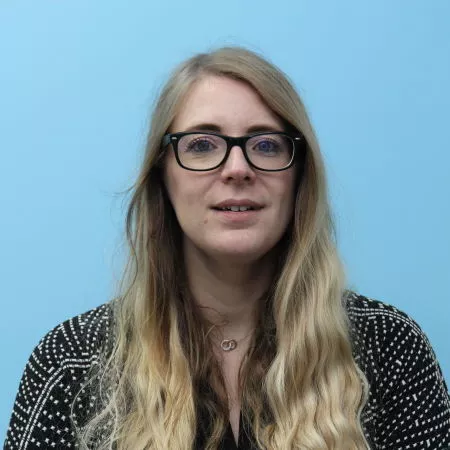 Author:
Amanda Hewer - Operations Manager
About Amanda Hewer
Having been at Vufold for around 12 years now, Amanda became operations manager after spending time in Customer Service, Sales, Order Processing and our Warehouse. Amanda likes that no two days are ever the same and believes her successful career stems from her keen interest in people, helping them achieve their goals and striving for constant improvement across all departments.
Read more about Amanda Hewer