uPVC vs composite front doors: What is the difference?
---
When you're looking to choose a new door for your home, there are a variety of different styles, designs and materials to choose from. Two of the most popular front door material choices for homeowners are uPVC and composite doors. However, before you decide on your ideal material – it is important to consider the differences between the two and the pros and cons of each of the different materials. As the main entrance door to your home, it's important to choose something that is not only secure and will keep your home warm but will also contribute to the overall look of your home.
Here, we examine the key differences between uPVC and composite front doors, exploring the key benefits and disadvantages of each so you can make the best decision for your needs and home.
In this guide:
Learn more about what uPVC front doors are including their pros and cons.
Find out more about what a composite door is including its pros and cons.
Learn more about how the costs of uPVC front doors compare with composite front doors.
Find out more about the key differences between composite and uPVC front doors.
We address common queries on choosing a new front door material.
WHAT ARE UPVC FRONT DOORS?
uPVC front doors are made using a fully insulated steel frame as their core, which is then covered in Unplasticised Polyvinyl Chloride. The process of encasing the steel in the other materials creates a door that is strong and durable. uPVC doors tend to have a finish that is plastic in appearance.
Are you considering buying a composite front door? Shop our full range of composite front doors here.
PROS OF UPVC FRONT DOORS
There are many pros of uPVC front doors for homeowners who are looking for a cost-effective front door. These doors are often cheaper than other front door materials while remaining secure.
Low maintenance – unlike wooden doors, uPVC doors require very little maintenance to stay looking their best. An occasional wipe with a damp cloth should keep them looking clean and bright.
Insulation – uPVC doors provide good levels of insulation and are energy efficient so can help to save money on energy bills.
Range of door styles – uPVC doors are available in a range of styles which makes it easy to find something to suit your home.
CONS OF UPVC FRONT DOORS
Although uPVC doors offer a number of benefits, there are some disadvantages to take into account:
Property style – uPVC doors are usually more suited to a modern home, and may not blend in with a more traditional or period property. Composite doors can be configured in a number of styles to suit different property types.
Fewer options when compared to composite doors – although there are a range of styles available with uPVC doors, they are still limited in comparison to composite doors.
Less durable – uPVC doors can degrade over time which can affect their thermal efficiency, security and their overall look.
Find out more about the benefits of composite front doors.
WHAT ARE COMPOSITE FRONT DOORS?
Composite front doors are designed to address the common problems associated with doors made from a singular material. Composite doors combine a variety of materials, each of which is selected for its unique properties and helps to eliminate flaws. The materials combined together work better than the materials on their own. Suppliers often offer both contemporary and traditional composite front door options, ensuring you can choose the best option for your home.
The external part of a composite door is made from Glass Reinforced Plastic (fibreglass) which can be created in a number of colours and wood effects. These exterior panels are fused to an internal frame made with uPVC inside which is another frame made with timber or wood for a solid and durable double frame. The core of the door is then injected with a polyurethane insulating foam core.
This creates a lightweight door material that is sturdy and long-lasting. You can easily add glass panels, handles and door furniture to composite front doors without damaging their aesthetic appeal, thermal efficiency or security. The door is weather resistant, resistant to warping and will not swell in the same way as timber doors.
Vufold Traditional Front Doors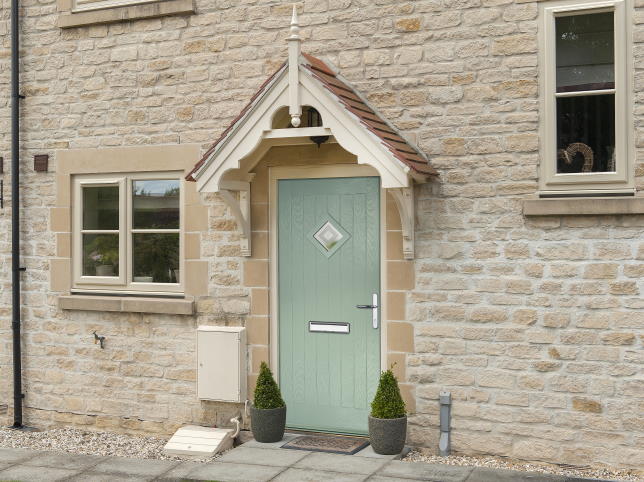 Thermally Efficient - U Value of 1.4 W/m2K (Energy Rating B)
Safe and Secure - PAS 24 in line with Document Q tested
Easy Install - full fitting kit included
Guarantee - 10 Years.
Shop our range of traditional front doors here.
Read our guide to choosing traditional composite front doors here.
PROS OF COMPOSITE FRONT DOORS
If you're looking to install a new front door, you should consider the benefits of composite front doors. They're available in a variety of colours and styles that can suit a wide variety of homes.
Long-lasting and durable – thanks to their construction and the range of materials used, a quality composite door can offer a longer-term solution than many other types of front doors. Choosing a durable front door is one way to improve the overall look and condition of a home, helping you to make a great first impression while increasing the value of your property. Interestingly, Vufold's recent survey revealed that 75% of people are currently likely to spend more money on a high-quality front door material.
Low maintenance – composite doors offer a low maintenance option and will remain looking new for longer than other alternatives, such as uPVC, wooden or timber doors which may require repainting on a regular basis. This is due, in part, to their weather resistance.
Enhanced security – another reason to opt for a composite front door is the enhanced security they offer. As one of the most secure and sturdy doors on the market, your home will feel much more secure. Composite doors can also be fitted with a multi-point locking system.
Excellent thermal efficiency – the combination of materials in composite doors allow them to offer excellent levels of thermal efficiency. At Vufold, our composite front doors offer U Values of 1.4 W/m2K (Energy Rating B).
Read our complete range of front door security options here.
CONS OF COMPOSITE FRONT DOORS
While composite front doors are incredibly versatile and long lasting, the main disadvantage is their cost. They sit at a higher price point than uPVC doors, so they may not fit into your budget.
Find out more about common problems with composite front doors here.
COST OF UPVC FRONT DOORS VS COMPOSITE FRONT DOORS
When comparing the cost of a uPVC door with a composite front door, you will find that this can vary greatly.
uPVC front doors are one of the cheapest front door options on the market. You can expect to pay £250 for the lowest price front door and £500 at the higher end. You should also consider the additional labour costs if you need a tradesperson to install the door, however these tend to be roughly the same, whether you are fitting a uPVC door, composite front door or even a wooden front door.
A composite front door can cost between £900 and £1500, depending on the size of the door, the design, and whether or not you have glass side panels installed.
The difference between costs in these two doors might seem huge but composite doors offer a more modern, durable option, with a longer lifespan and less upkeep. This means that, while the initial outgoings may be higher, you will save on maintenance and replacement costs in the future.
Overall, if you want a front door that is high quality, either option is a good choice, but a composite front door has the edge when it comes to style, appearance, lifespan and low maintenance.
Read our comparison of uPVC vs wooden front doors here.
Are you looking for a contemporary composite front door?
Shop our range of contemporary composite front doors here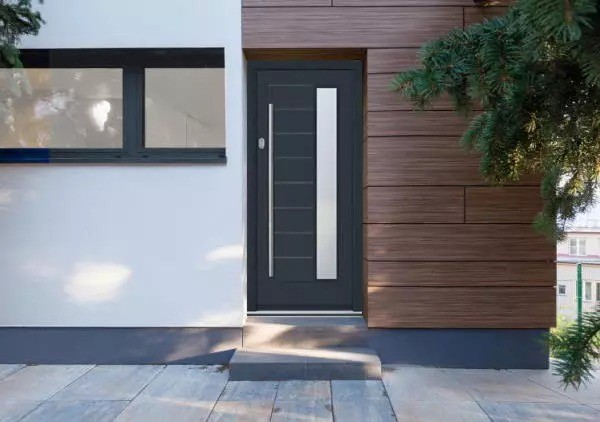 Thermally Efficient - U Value of 1.4 W/m2K (Energy Rating B)
Safe and Secure - PAS 24 in line with Document Q tested
Easy Install - full fitting kit included
Guarantee - 10 Years.
View our contemporary composite front door range.
Read our full guide to choosing modern composite front doors here.
WHAT IS THE DIFFERENCE BETWEEN UPVC AND COMPOSITE DOORS?
| | | |
| --- | --- | --- |
|   | uPVC door | Composite door |
| Cost | £250-£500 | £900-£1500 |
| Security | Fairly secure | High level of security |
| Thickness | Around 28mm | Around 44mm |
| Maintenance | Some maintenance | Very low maintenance |
| Lifespan | 10+ years | 30+ years |
| Thermal efficiency | Fair level of thermal efficiency | High level of thermal efficiency |
For more advice or information on our range of composite doors, please contact our team today.
Frequently asked questions
How do I know if my front door has good energy performance?
Part L of the Building Regulations stipulates that external front doors must have a maximum U-value of up to 1.6W/m²K when taking into account other factors of the build. The U-value is the rate at which heat transfers through a structure. The lower the U-value, the more efficient a structure is in inhibiting heat transfer. When considering a new front door, be sure to check the U-value is 1.6W/m²K or less to ensure it is up to Building Regulations standards.
Is composite the best material for a front door?
The right material for your door depends on your priorities and your preferred aesthetic. Wood, uPVC and composite are the three most common materials used for front doors. Solid timber doors are traditional in design, naturally thermally efficient and strong, but they are susceptible to rot and degradation due to weather exposure unless vary carefully maintained.
uPVC doors are affordable and low maintenance, but they are not as durable as other materials and they don't always have the most sophisticated look, particularly for very traditional properties.
A composite door is made up of layers of different types of material that offers the ultimate in strength, durability and thermal efficiency. Find out more about how to choose a front door here.
What are the benefits of aluminium front doors?
Aluminium provides a modern, attractive appearance, and is a durable option for a front door. It is often available in a variety of colours and is one of the more pricier material options available.
You can also rest assured that aluminium will not let moisture in and will also not warp in extreme weather conditions. Shop our range of aluminium front doors here.
Which type of front door is best for security?
When choosing a new front door for your home, one of the biggest factors in deciding on the right door for you will be the security it can offer to your home. The look and material of your front door alone can be a deterrent to potential intruders who want to gain access to your home as quickly as possible without being detected. So, what should you be looking for in a front door in terms of security? Factors to consider include:
Door material and style
The door lock fitted or available with the door
Accreditations or certifications.
Each material and style of door will have its own strengths and weaknesses in terms of security so it's important to carefully consider and understand your options before making a final decision. Read our guide to choosing a secure front door and hardware.

RELATED CONTENT
---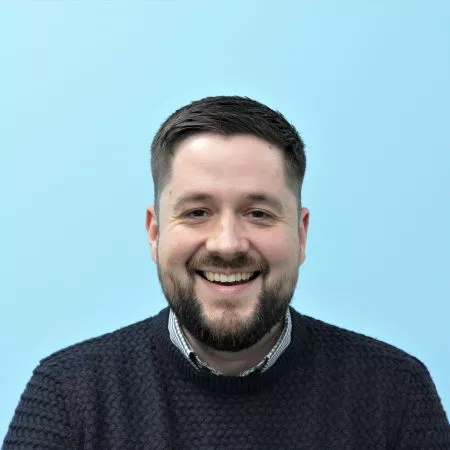 Author:
David Ross - Sales Manager
About David Ross
David has over 20 years' experience in the glazing industry across a variety of roles. He joined Vufold in 2012 and his mission is – 'to make buying windows and doors as easy and stress free as possible'. He is committed to constant improvement and was instrumental in creating our innovative direct-to-consumer e-commerce platform to help grow and expand the business.
Read more about David Ross