Choosing between Wooden Front Doors or Composite Front Doors
Choosing the right front door, or any external door, for your home is an important choice with many factors to consider. The front door is arguably the most important feature of your home's exterior design. It's important to choose something that not only draws the eye of any approaching guests but reflects the true essence and character of your home, both inside and outside.
When it comes to choosing from different materials for your new front door, wooden doors and composite doors are two of the most popular types with homeowners. With all of their varying features and aspects, this guide will display a clear comparison between the two, bringing you one step closer to choosing your home's new door.
---
In this guide:
Learn more about what wooden front doors are, the types available and the pros and cons
Find out more about Vufold's range of wooden front doors.
Learn more about what composite front doors are, including their pros and cons.
Find out more about the comparisons between wooden and composite front doors.
---
What are wooden front doors?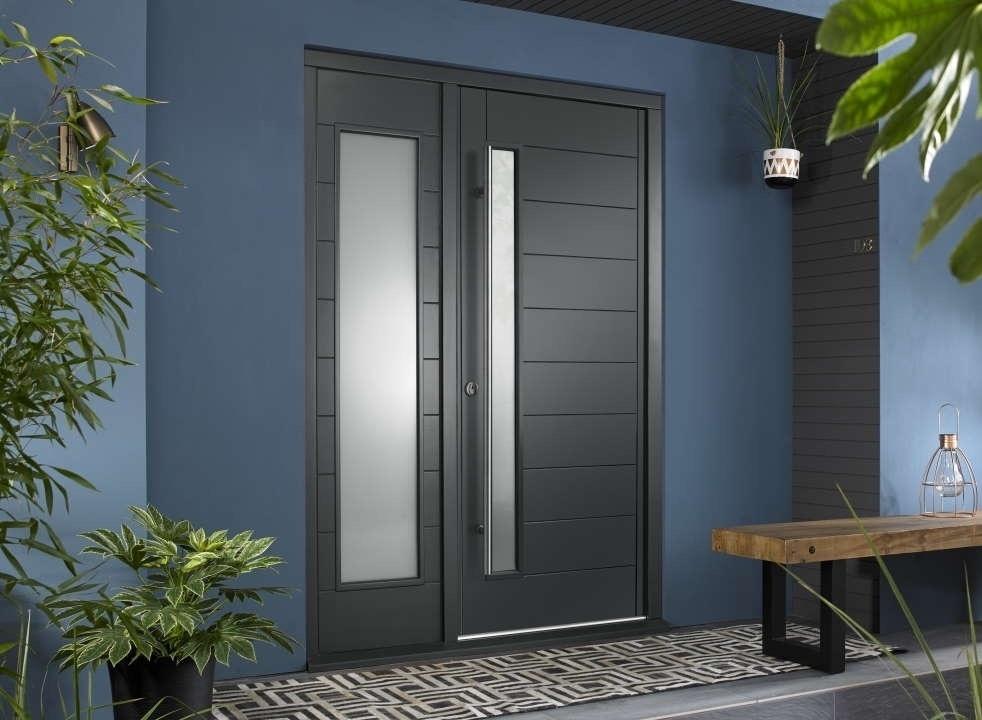 Wooden front doors are a conventional choice of door style. There are two types of wooden door to choose from:
A solid wood door – made from one species of 100% natural wood, either solid wood or pieces glued together to create a hardwood door.
Engineered wooden door – made from layers of various wood and timber which are glued together and then finished with a veneer of more expensive wood.
Learn more about the types of wooden front door available in our guide.
Depending on which one you choose, there are both pros and cons of owning a wooden door as your front door:
---
Pros of wooden front doors:
Durability – when made with high quality wood, wooden front doors can be highly durable, and able to withstand varying temperatures and weather conditions throughout the year. With maintenance, a wooden door will provide stability and security for your home.
Can be repainted – should you ever need to update your front door or the look of your home, wooden front doors can be sanded and repainted. This way, your front door can always look its best and match with the overall look of your home.
Natural aesthetic – wooden front doors provide a classically natural look. Whether you have a traditional or more modern style home, you will easily find a wooden front door to accompany the design of your home.
High-quality – wooden doors, especially solid wood, have a high-quality and classic feel to them. The structure and weight of wooden doors project an elegant and expensive aesthetic for your home in contrast to uPVC doors which, although many are of a high-quality, wooden front doors offer something a little extra.
Thermal/sound insulation – the quality and stability of wooden front doors provides great thermal and sound insulation. It is unlikely that much sound or heat will escape.
---
Cons of wooden front doors
Vulnerable to the elements – despite being highly durable, wooden doors can fall victim to the persistent harshness of the weather. Over time, wooden doors can begin to warp and swell when exposed to the elements. This will consequently affect the door's overall performance – security, insulation, aesthetic and durability.
---
Wooden front doors from Vufold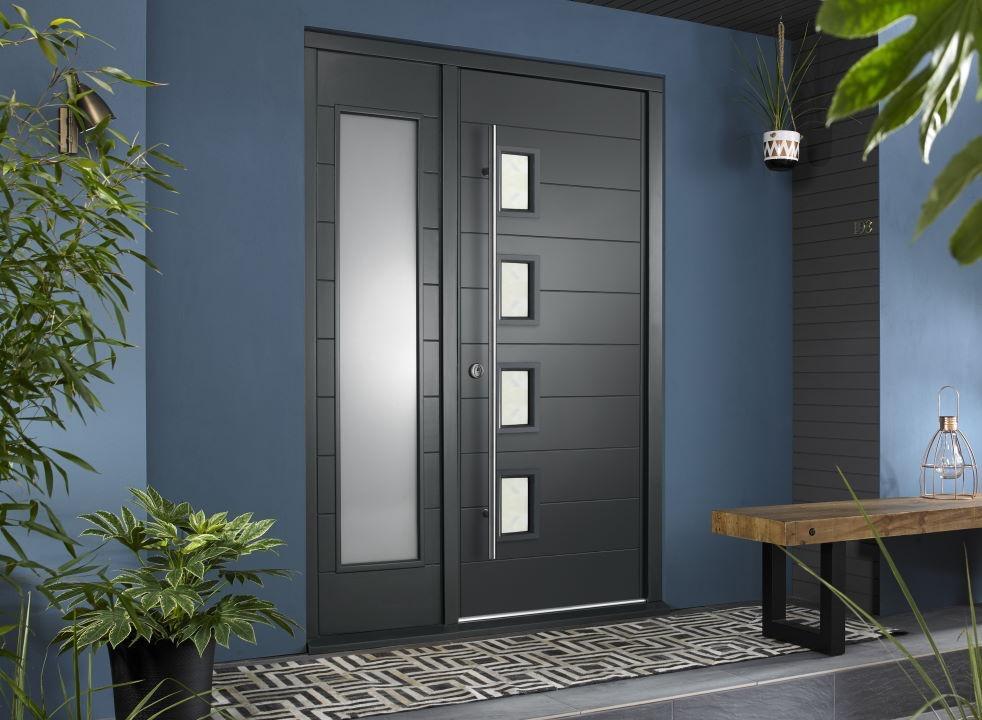 At Vufold, we stock a wide range of high-quality wooden front doors. Take a look at our range below to find out more.
---
What are composite front doors?
A composite front door has become a popular exterior door choice with many homeowners. These are made with a uPVC galvanised steel outer frame and a timber sub-frame filled with high-density polyurethane foam. This composite material is then overlaid with glass-reinforced fibre to create a strong, grained surface. Aluminium inserts may also be added for further strength and security, but this comes with extra weight and expense.
Composite doors are slowly becoming the desired alternative to wooden doors, but it is best to consider the pros and cons of a composite door before making a final decision.
---
Pros of composite front doors:
Extremely durable – the multi-layered composition of a composite door makes them incredibly resistant to any weather conditions. Issues such as discolouration and warping are unlikely to affect the durable design of these doors.
Highly secure – a composite door has a steel reinforcement inside which makes them extremely robust. It would be incredibly difficult to break down one of these doors due to their stability and strength. For further security, they also offer a multi-point locking system.
Wide range of colour and style options – the glass-reinforced plastic provides an endless range of colour and style options for composite doors. You can find the perfect composite door style to suit your home, whether you're looking for a traditional or contemporary look.
Wide range of glazing options – glazing can bring that extra wow factor to your front door, and composite front doors offer a wide variety of options. Choose the right glazing option for your door to give it a unique appearance and allow extra light to flood into your home.
Wooden door effect – if you would like to enjoy the durability of a composite front door and the look and feel of a wooden front door, this can be achieved with a composite front door. They can be styled with a woodgrain effect to replicate the authentic look of a traditional wooden door with all the benefits of a composite front door.
Very low maintenance – the strong and durable nature of composite front doors means they require very little to no maintenance. Repainting, varnishing or sanding will not be necessary for a composite door as they are not affected by any harsh weather conditions. Although a uPVC door can be low maintenance too, they don't offer the same quality or security.
Excellent thermal/sound insulation – a composite door has exceptional thermal efficiency and noise reduction. All heat and sound will be contained within your home and the door will also help to prevent outside noise from getting in too much. This is perfect if you live in a busier area.
---
Cons of composite front doors:
More expensive than other types of door – buying a composite door tends to be more expensive than other types of door such as uPVC, an aluminium door or wooden door. However, this is due to their high quality and low maintenance so it is worth assessing the costs and benefits to weigh up the high price with the benefits of installing a composite door in your home.
---
How do wooden and composite doors compare?
| | | |
| --- | --- | --- |
|   | Wooden door | Composite door |
| Life expectancy | 30 years (with maintenance) | >35 years |
| Security | Highly strong and stable | Extremely robust |
| Maintenance | Requires periodic maintenance including repainting and polishing (engineers wooden doors require less maintenance) | Extremely low maintenance with little to no work required at all |
| Thermal efficiency and sound insulation | Very good thermal efficiency and sound insulation | Excellent thermal efficiency and sound insulation |
| Style options | Traditional or modern natural wood aesthetic | Huge range of colour and style options. Can also replicate an authentic woodgrain effect |
| Cost | Less expensive than composite doors | Most expensive door material |
To find out more about the differences between wooden and composite front doors, or for more advice on the best door for your home, please contact our team today.
---