A guide to choosing between wooden or uPVC front doors
Selecting an exterior door is an important part of the overall design of your home. However, deciding on the right type of new door and the material can be tricky when there are so many options and different materials out there. There are many commonly used styles and designs of front doors with uPVC and wood being popular materials.
In this article, we will look at what wooden and uPVC doors are, their advantages and disadvantages, and how the two of them compare when it comes to cost.
---
In this guide:
Learn more about what wooden front doors are and how they're made.
Find out more about the pros of installing a wooden door in your home.
This section discusses the cons of a wooden front door.
Learn more about what uPVC front doors and how they're made.
This section discusses the main pros of installing a uPVC front door in your home.
Find out more about the cons of uPVC front doors that you should consider.
Learn more about the difference in costs when you choose between a wooden or uPVC front door.
---
What are wooden front doors?
Wooden front doors are created using solid hardwood or timber. Using a frame and panel structure, these doors are made using natural wood that can last for many decades if treaded correctly. It is rare for doors to be cut from a solid wood slab, as it would be very difficult to source the appropriate size for a front door.
---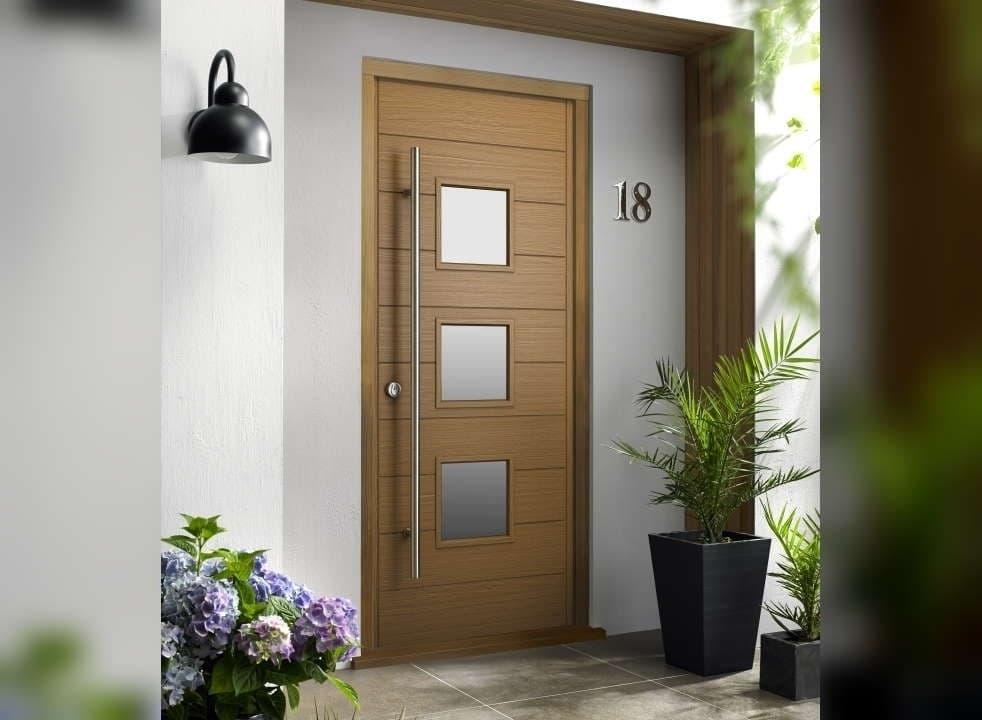 ---
Wooden front doors can either be:
Solid wood door - these doors are built from one species of wood in sections that are glued together
Engineered wood door – these are packed with other pieces of wood or an insulating core with an outer layer of a more expensive wood, or veneer.
If you'd like to find out more about wooden front doors and the types available, read our guide.
Wooden doors can be a little more expensive than other materials but it's important to choose a high-quality wooden door for your home. Cheap wooden doors may not be as long-lasting, durable or secure as more expensive doors so this is something you should consider before buying a new door for your home.
Vufold's range of Ultimate Wooden Front Doors feature a cross-laminated hardwood foam core (CLPF) which provides security, durability and thermal efficiency. The doors are then finished with a hardwood veneer which can be factory-finished in either anthracite grey or oak.
---
Pros of wooden front doors
---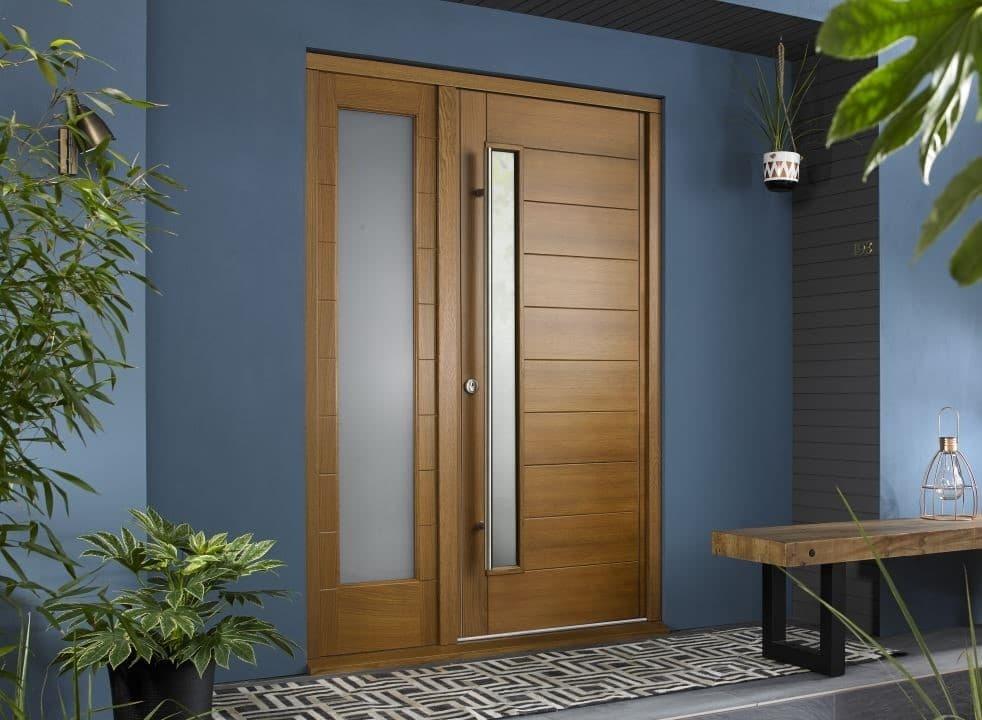 ---
Wooden front doors provide a huge range of benefits for homeowners:
Durable - depending on the quality of the wood used, wooden front doors can be incredibly durable which means that they can withstand the elements across all four seasons – something that is essential in the UK. Having a durable exterior door is important for the security of your home too.
Natural look - another key benefit of a wooden front door is that it is natural-looking. Wooden front doors work for both modern style homes and traditional style homes so there is something to suit everyone.
Thermal efficiency – wooden front doors provide excellent insulation from the elements.
Resistant to warping - engineered wood doors are resistant to warping.
Customisable – wooden front doors are available in a range of colours and styles so there should be something to suit every home. They can also be installed with glass panels for a more stylish, modern look or to allow more natural light into your home.
---
Cons of wooden front doors
Prone to warping – over time, solid wood doors can warp due to exposure to the elements. However, if you opt for an engineered wood door, these are resistant to warping so you will not encounter the same problems
---
Vufold's wooden front doors
At Vufold, we stock a wide range of wooden front doors so we've got something to suit every home.
---
What are uPVC front doors?
uPVC front doors have, at their core, a fully insulated steel frame which is then encased in unplasticized polyvinyl chloride. This process produces a sealed door that provides strength and durability. It is also highly energy-efficient, providing your home with better thermal retention.
While uPVC front doors do not have the same high style look of a wooden front door, their plastic-like finish can be attractive and modern and is also available in a range of styles and colours. They are also highly affordable and suit a range of homes, including new build houses.
---
Pros of uPVC front doors
uPVC doors have some excellent benefits if you are looking for something a little different.
Low maintenance - uPVC front doors are very low maintenance. Once they have been fitted, they will not require any painting or staining to keep them looking fresh.
Insulation - the construction of uPVC doors also provides valuable insulation for your home which can result in energy savings and a warmer home.
Security – they also provide added security for your home, thanks to their sturdy construction
Low cost – uPVC doors cost much less than high-quality wooden doors
In some cases, uPVC can be combined with wood in order to offer customers the best of both worlds. This is known as a composite door, bringing together the strongest benefits of a uPVC door and a wooden door which provides a brilliant and modern option.
---
Cons of UPVC front doors
When it comes to UPVC front doors, there are some disadvantages.
Aesthetics – thick frames on uPVC doors can make the door look narrower and render the overall effect less visually appealing.
Door furniture – once the door is installed, door furniture such as handles and locks will be harder to change which can pose a difficulty if your locks break or need to be replaced.
Not suitable for traditional properties – if you live in a traditional or older property, uPVC doors are often not suitable and may not be as aesthetically pleasing as a wooden front door.
Break down over time – while uPVC doors are sturdy and insulating, they do break down over time, meaning that they will need to be fully replaced with potentially more frequency than other types of front door.
---
How do the costs of wooden and UPVC front doors compare?
---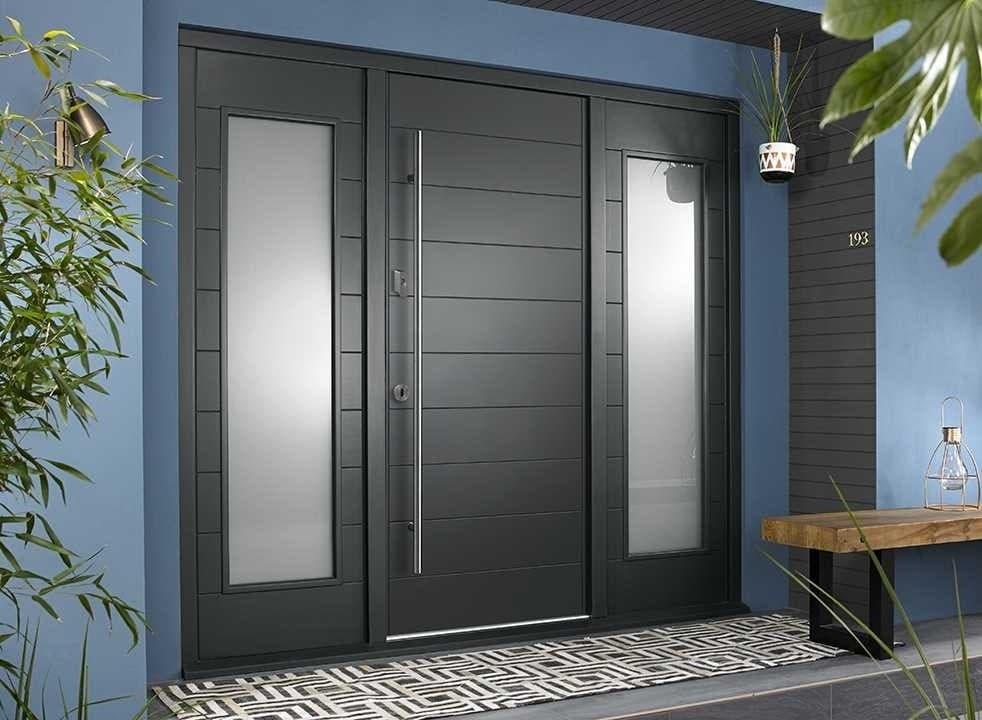 ---
When choosing between wooden and uPVC front doors, you may want to consider the differences in cost, taking into account installation and labour costs. Costs depend on whether your door is a unique size or shape, but there are some averages to bear in mind when sourcing and pricing the type of door you want.
| Material | Average UK cost | Average UK labour costs |
| --- | --- | --- |
| Wooden | £500-£1800 | £50-£100 |
| uPVC | £250-£500 | £50-£100 |
It's important to choose the right type of front door for your home and your budget. Taking these pros and cons into account will help you to make your decision.
If you'd like to know more about wooden front doors or would like more advice on the type of front door you should use, please contact our team today.
---
ⓘ

Related Ranges & Products
---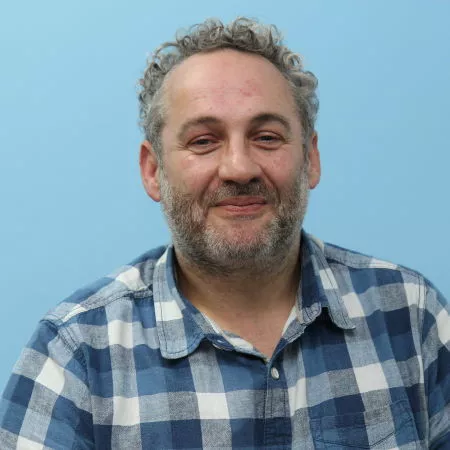 Author:
Richard Collins - Operations Director
About Richard Collins
Rick is an expert in lean practices and principles, and how they're applied to manufacturing, warehouse, administration and management of the business. As an operations director he oversees all areas of the business ensuring they run as efficiently as possible and has worked his way up through virtually every department since he joined us 13 years ago.
Read more about Richard Collins