Choosing the best type of front door for your home
---
As the main exterior door to your home, your front door is essential for the first impression of your house, kerb appeal and the security of your home.
Your front doors is not just an exterior door, it also needs to match your hallway or porch and the style of your home. Looks are not the only thing that matters; your front door is part of your home security as well as a potential source of heat loss, all of which needs to be considered when you're researching the best type of your front door.
In this guide:
Learn more about the most common reasons for buying a new front door.
Find out more about the factors you should consider when choosing the best front door for your home including materials, glazing, guarantees and security.
Why buy a new front door?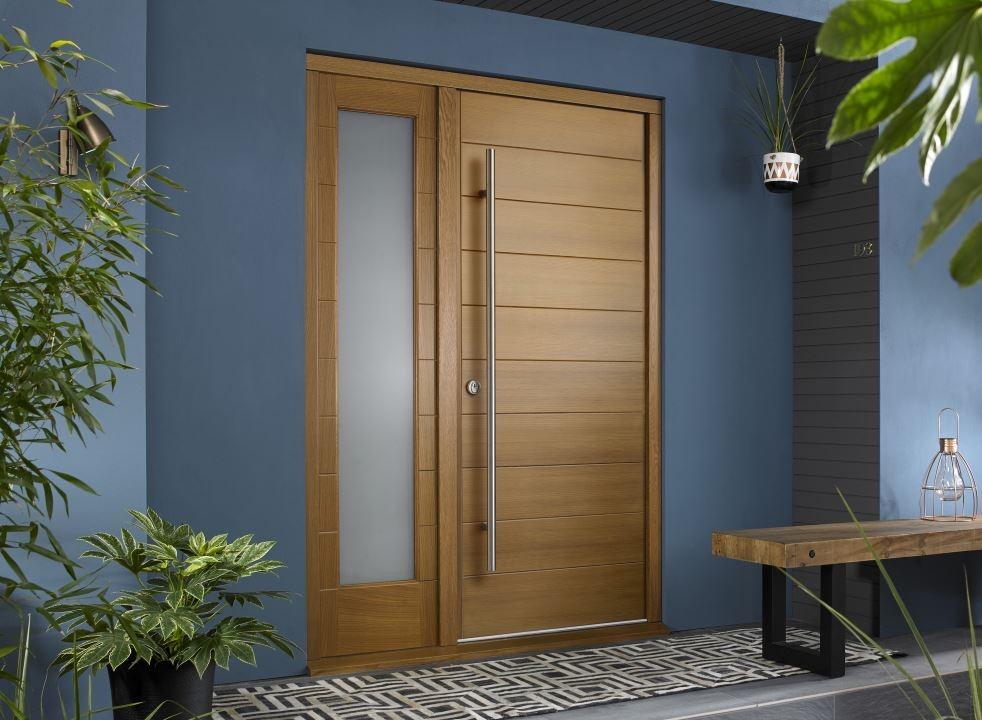 If your existing front door is making your home less energy-efficient or impacting the security of your home, it's important to start looking around for another one.
Other practical reasons to replace your front door including having an existing door that sticks or doesn't fit in with your lifestyle or the appearance of your home anymore.
As such as key feature of your property's façade, your reasons to buy a new front door could be more focused on its design. Perhaps your doors style is outdated or jars with the age and appearance of your home.
Choosing the best front door for your home
There are a number of styles and designs for front doors, including versions made from traditional materials such as wood, or modern composite or uPVC options.
The first thing to consider when choosing a new entrance door is what type and door style best suits your property and preferences. This will depend on the style of your home, such as a country cottage or a contemporary home, you need to combine the look of your home with the type of front door that performs well.
You can even select different sizes of front door too, or install a double door or a door with side lights for a statement entrance to your home!
There are a number of factors to consider to make sure you choose the right door for your home:
Materials
Your chosen style of front door plays a big role in deciding the material it should be made of, though your budget can influence this decision too.
uPVC door
uVPC doors are a wonderful low maintenance option and come in diverse designs with s wide range of price points. The best made uPVC doors are also fitted with the latest locking mechanisms.
For contemporary homes, a minimalistic uPVC door can offer the perfect solution, though there are more elaborate options now available, especially as they come in so many colour variations.
Pros
uPVC doors have a number of benefits when installed in your home:
Low maintenance

High thermal efficiency

Secure

Low cost in comparison to other materials
Cons
Inflexible in terms of changing handles, door furniture and locks

Can break down over time so are not as long lasting as other materials

Not suitable for traditional properties

Range of styles is limited
Wooden door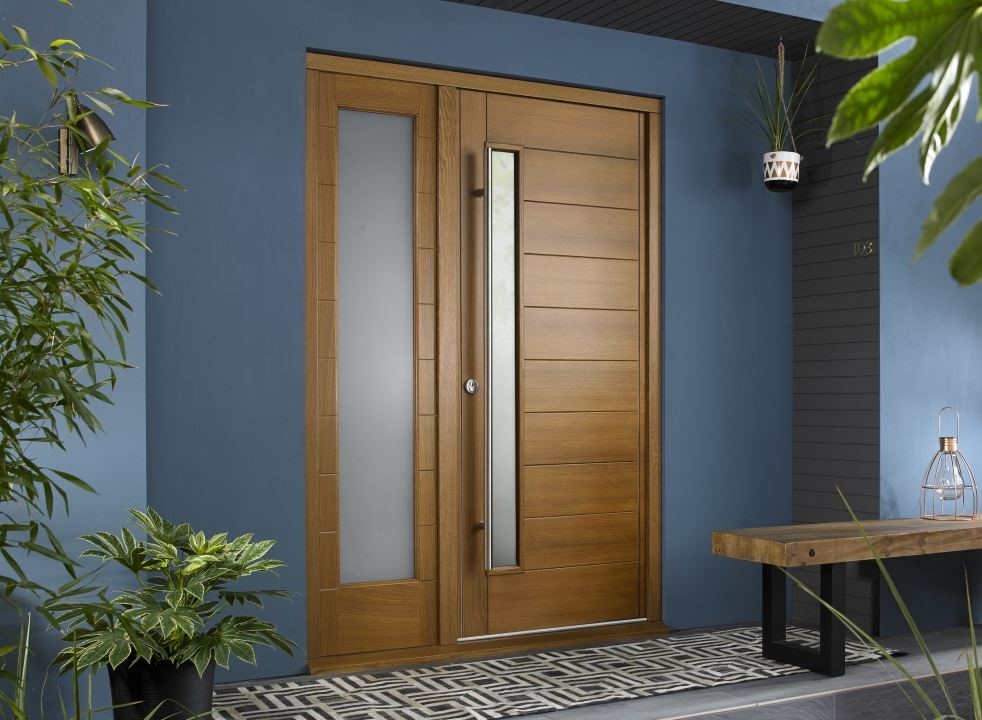 Wooden front doors are a traditional, reliable and solid option for your front door. However, be aware that cheaper softwood products are not as strong or long-lasting as hardwood doors. A beautifully crafted wood front door does tend to be at the top of the of price scale but the benefits far outweigh the costs if you have the right budget.
It's also important to keep in mind that they will need regular maintenance to keep the wood in the best condition.
Pros
The pros of installing a wooden front door include:
Aesthetics that will fit with any style of home, whether traditional or modern

Solid and secure when built using a high quality material

Versatile

Can be easily repaired

Thermally efficient
Cons
Whilst wooden front doors have a range of benefits, there are also drawbacks that should be considered when choosing the right door including:
High cost due to materials used

If low quality materials are used, they can be draughty and easy to break into
Vufold's range of wooden front doors is available in a range of options and sizes:
Product

Price

Colour

Size

Delivery time

£449

Grey

1981mm x 762mm

1981mm x 838mm

2032mm x 813mm

3 days

£529

Grey

 

1981mm x 762mm

1981mm x 838mm

2032mm x 813mm

 

3 days

£539

Grey

 

1981mm x 762mm

1981mm x 838mm

2032mm x 813mm

 

3 days

£449

Oak

 

1981mm x 762mm

1981mm x 838mm

2032mm x 813mm

 

3 days

£539

Oak

 

1981mm x 762mm
1981mm x 838mm
2032mm x 813mm

 

3 days

£549

Oak

 

1981mm x 762mm
1981mm x 838mm
2032mm x 813mm

 

3 days
Composite door
You can buy engineered timber doors or composite front doors that combine traditional designs with added strength. What is a composite door? It's a material made by blending glass-reinforced fibre with hard foam, which is then reinforced with a steel or timber core.
Some homeowners also specify aluminium or steel front doors for high-security entrances or to optimise cutting edge designs. However, these tend to be more expensive and heavier than alternatives.
Pros
The pros of composite doors include:
Extremely secure

Do not require regular maintenance

Extremely energy efficient

Wide range of options and styles
Cons
You should also consider the cons of composite front doors before installing them in your home:
More expensive than other materials
Glazing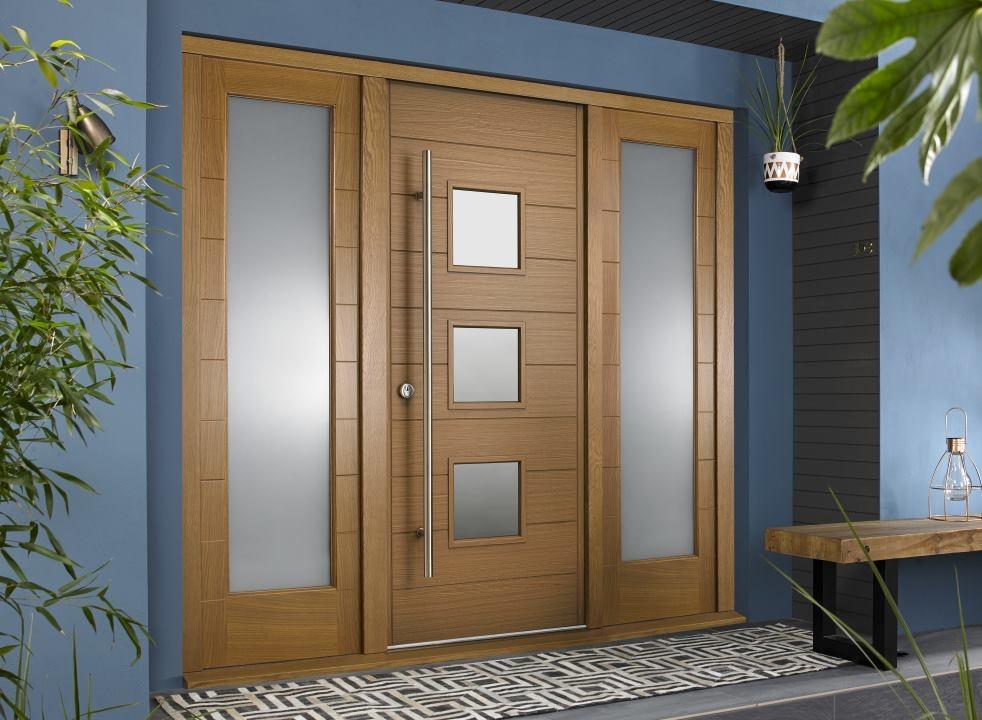 One of the most popular decorative features for front doors is glazed panels, this could be clear, frosted or opaque glass.
If your entrance hall is dark, this is the perfect way to bring in more light. Some people use transparent glass in their front door to check on the identity of callers, while others opt for frosted glass to maintain privacy yet benefit from the additional light in their homes.
If you don't use the right type of glazing, it can become a security issue for your home so it's vital to choose a product with toughened security glass to ensure that you're not increasing the vulnerability of your home to break-ins or accidental damage to glass panels.
At Vufold, our Ultimate Grey and Ultimate Oak front door ranges come with a range of glazing options so there's something for every home. Our front doors use double glazed, toughened safety glass to ensure the security of your home whilst boosting the amount of natural light in your home.
If you'd like to find out more about glazing options for your front door, please read our guide.
Thermal efficiency
Whatever type of front door you opt for, buying from a reputable supplier of front doors is essential. Your door should fit perfectly into it's frame, and the materials used need to be resilient enough to act as a thermal barrier. Otherwise, you will lose heat from your front door, even when it's closed!
Security
The best type of front door looks good and keeps in heat while acting as a security asset. We have already discussed the pros and cons of glazed features in an entry door, however, you also need to find a front door that has been optimised for safety in other ways.
Check that the lock system matches the latest recommendations for home security. It's highly recommended that front doors have two locking options, including a mortice lock.
Attention to detail also matters when choosing the right hardware and accessories for your front door. For example, are the door handles and letterbox designed to keep your home safe?
The door frame is important too! A locked front door is not much use if organised criminals can lift the whole thing easily from its housing system.
Guarantee
The best made front doors, from a recommended door supplier, should come with certain warranty features as standard. This should include, for example a willingness to replace mechanisms if they fail within a reasonable guarantee period. It's also important to see if you can secure a complete replacement if you have any reason to be dissatisfied with your new front door.
If you'd like to find out more about choosing the best type of front door for your home, please contact our expert team today.
---
Vufold reviews
---
ⓘ

Related Ranges & Products
---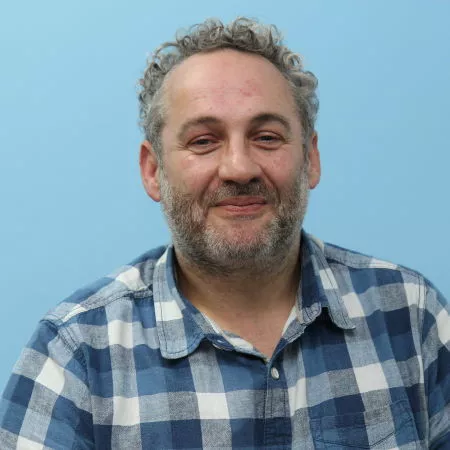 Author:
Richard Collins - Operations Director
About Richard Collins
Rick is an expert in lean practices and principles, and how they're applied to manufacturing, warehouse, administration and management of the business. As an operations director he oversees all areas of the business ensuring they run as efficiently as possible and has worked his way up through virtually every department since he joined us 13 years ago.
Read more about Richard Collins