Choosing the best front door security locks
One of the key functions of your front door is to keep your home secure and provide protection against intruders. Locks are one of the most important parts of front door security, so it's essential to choose the best one for your door and home. There is a variety of locks on the market to ensure front door security but choosing the right one can be difficult.
As well as researching the type of exterior door you want, you should also look into the various types of locks available as well as their pros and cons. In this guide, we will look in more detail to help you choose the best security locks for your front door.
---
In this guide:
Find out more about why choosing the right lock for your front door can help to improve security.
Learn more about what you should consider when choosing a door lock for your front door.
Find out more about the best types of lock to choose for front door security.
Read more about the frequently asked questions in relation to front door locks to help you make the right decision for your home.
---
Why are locks important for front door security?
---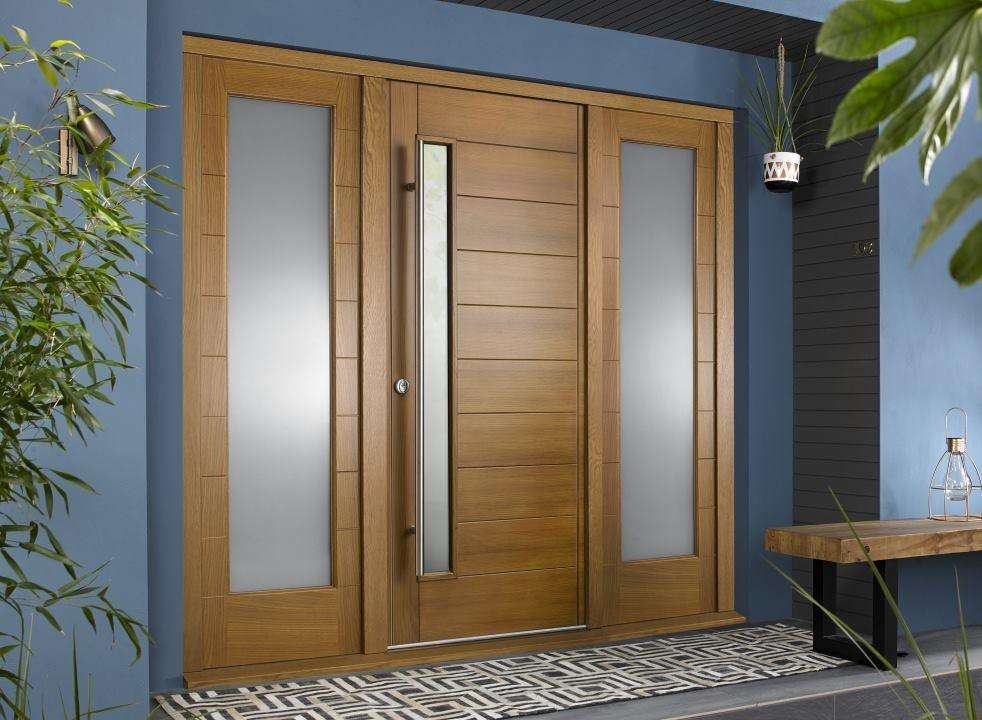 ---
A good lock for your front door is vital for security as it's the best way to secure your home against intruders. Whilst it may be true that burglaries have decreased over recent years, partly due to advances in home security, it's still important to secure your home as much as possible.
Strong and reliable locks are a major deterrent for would-be intruders because door are a common point of entry for criminals who are breaking and entering.
Whilst CCTV and alarms are a good way to deter potential burglars, a good quality door lock is the best way to prevent anyone from entering your home. Regardless of the other security measures you have in place at home, nothing is a substitute for the right locking system.
---
What to consider when choosing a door lock
There are a number of important points to consider when you're deciding on the best door lock. These factors differ between individuals, which means that the right lock for your home will vary depending on your circumstances.
Factors to consider when choosing a lock for your home include:
Door material – some options, such as five lever mortice deadlocks are not suitable for a uPVC door. Make sure that the lock you choose is compatible with the material of your door.
Security standards – it's important to be realistic about the level of security required in your area. If you're at a higher risk of being burgled in your locality, it makes sense to invest in a stronger door lock that offers a higher level of security. Be vigilant and make sure you're appropriately protected for the level of risk around you.
Home insurance requirements – different insurance providers have differing requirements for the level of home security you should have in place. If your insurance provider specifies the type of locks you should use, make sure you choose approved locks and always make proper use of the locking system. If you fail to do so, you may not be covered by your insurance policy.
---
Types of lock best for front door security
Let's take a look in more detail at some of the most popular types of lock available. Each option has its pros and cons and is best suited to different circumstances.
---
5 lever mortice deadlock
As we have already mentioned, a 5 lever mortice lock isn't appropriate for uPVC doors and is most commonly found fitted to a wooden door. A mortice lock is locked from both the inside and the outside and is fitted into the door rather than onto its surface.
---
Multi-point locking system
These locking systems can be used with any entry door. They are always operated with a key, are fitted into the door's body, and use between three and five points to lock directly into the door frame. This locking system offers great security but can be tricky to lock properly. Your home will not be fully secure if you don't operate the lock correctly.
---
Rim lock or night latch
---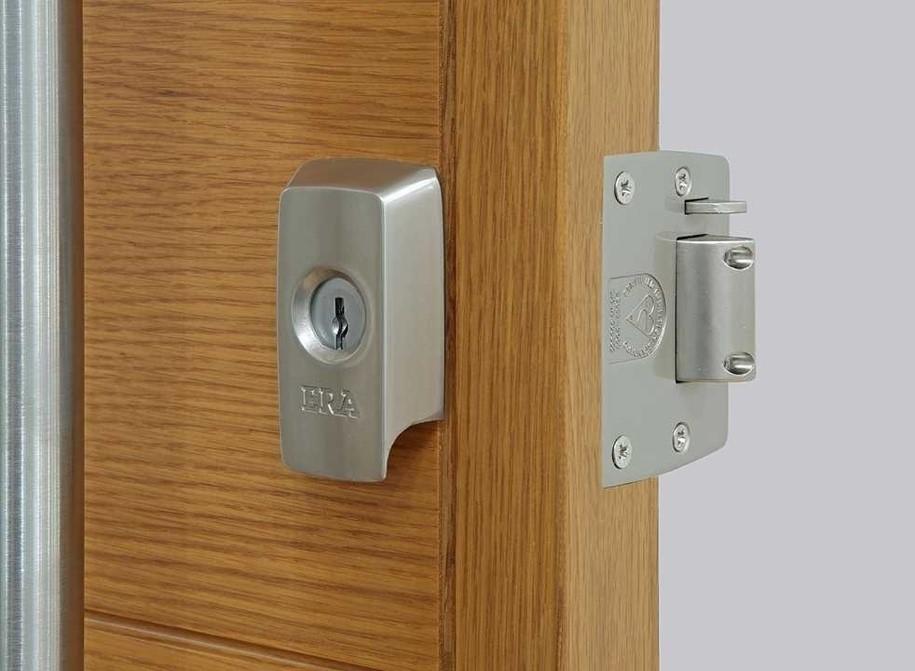 ---
This type of lock is usually fitted on wooden doors or glass panelled doors. They're commonly used on both front and back doors and are placed on the door's surface. One of the key benefits of a rim lock is that it locks automatically when you close the door but you'll need an additional lock for optimum security.
You could also opt for a deadbolt lock that can only be operated by a key from the outside or a thumb turn on the inside. With a deadbolt lock, if you close the door behind you, the lock will automatically catch which means your door cannot be opened even if the main lock is unlocked. A deadbolt lock offers a little extra security for your door but should always be used in conjunction with another lock.
---
Lever lock
Lever locks usually come in three or five-point options. The higher the number of levers, the greater security the lock will provide. This type of locking system is operated from both inside and outside and provides a good level of security. However, it's important to make sure your lever lock is an approved lock – many insurers specify you should have a five lever lock as standard.
---
Vufold front door locks
---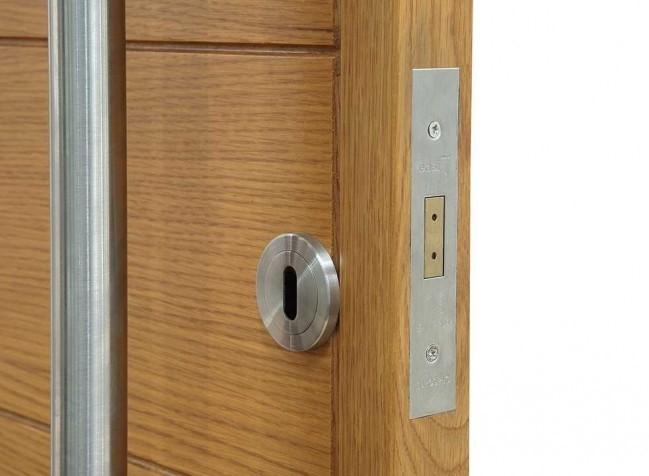 ---
At Vufold, the security of the front door you buy is of the utmost importance. All of Vufold's front doors can be supplied with a dead lock and night latch, both of which are optional extras when you buy your front door. These must be fitted by a competent tradesperson when having your new front door fitted to ensure that they are fitted correctly.
If you'd prefer, you can fit a multi-point lock to our doors but it can be difficult and time consuming. The dead lock and night latch we provide will ensure the security of your doors so you can be assured that they will provide you with as much security as possible.
In addition, we can also provide:
Long bar handle
Door viewer
Letterbox
All of these elements help to make your front door as secure as possible which is why we offer the highest quality door hardware.
---
FAQs
What is the best lock for a wooden door?
When it comes to locking systems for wooden doors, there is some flexibility in the lock you choose. A night latch, mortice deadlock or mortice sash lock are all suitable options. Your lock should always conform to British Standard BS3621.
---
What is the most secure lock to prevent lock snapping?
A Euro cylinder lock is generally thought of as the best option for preventing lock snapping. They're designed and tested to stand up against this type of attack.
To find out more about choosing the best lock for your front door, please contact our expert team today.
---