A guide to exterior bifold door hardware
A beautiful set of patio bifold doors has the ability to transform your home by opening up space and flooding rooms with light. But, when ordering and installing your bifold doors, it's important to understand the hardware and accessories that are available and how it can help your doors to function.
Having an understanding of the hardware and parts required for properly functioning bifold doors can help you to make sure you order the right doors for your home and to make sure your new doors provide you with a solution you can enjoy in your home for years to come.
---
In this guide:
Find out more about what bifold door hardware is and the parts available.
Learn more about Vufold's ready-to-assemble doors and the hardware included in these kits.
---
Bifold door hardware and parts
When most people think of bifold or folding doors, they focus on the door frame and glass and forget about other components such as the track, pivots, hinges and catches which all help to make these doors function properly. But these components are just as important, if not more important, as the frame and glazing.
The wrong or poor-quality hardware can impact the overall functioning and longevity of your doors so, when choosing a bifold door supplier, it's important to choose someone who can offer high quality doors and parts. This is one of the reasons we always recommend choosing a bifold door supplier who can supply both the doors and accessories, not just the doors and glazing.
---
Tracks/Thresholds
---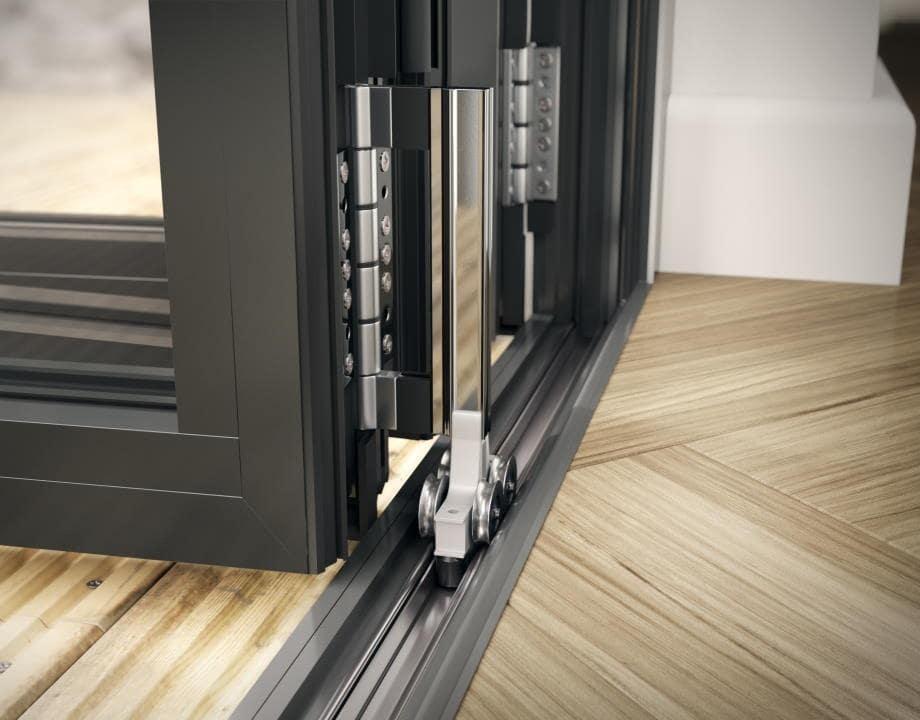 ---
When it comes to exterior bifold doors, there are few things more important than the track. This is the channel the doors run on when they slide open. The door frames themselves are tethered to the track via a carriage. This allows each individual door leaf to slide smoothly along the track.
So, the track is one of the most important elements to get right. Making compromises in this area can really impact the smooth operation of the doors. A misaligned or poor-quality track won't allow the doors to open and close smoothly. While tracks made from substandard materials will warp with age.
When it comes to thresholds, there are two types available, weathered and unweathered. A weathered track is mounted approximately 14mm above the floor, while an unweathered track is installed flush to the floor. However, at Vufold, we do not supply a completely flush threshold for our bifold doors because it does not provide protection against the weather. We offer a low threshold but it cannot be completely sunk into the floor.
It is possible to install an external bifold door without a bottom track but this is not advisable. Such systems are often cheaper but they are much less secure than a tracked door. They are also prone to flooding during heavy rain. For this reason, we only recommend using this type of system for internal doors.
---
Pivots
The pivot is the secret to how bifold doors work. Pivots are two short rods connected to the carriage which runs along the track. The rods then attach to the hinge which is mounted on the door frame in the usual way. When the door opens, the carriage slides along the track while the pivots allow each door leaf to fold back on itself.
Pivots are essential to the smooth operation of your door system, it's important that your doors have good quality pivots which can support the weight of the frame. Poor quality pivots will increase stress on the frame, track and hinges. This in turn will disrupt the smooth operation of the doors and eventually cause them to jam.
---
Hinges
On a bifold door, the hinges serve several purposes. They allow each door to open and close independently, they connect the individual door leaves together and they provide support for the pivot pins which then attach to the carriage. The hinges are what allows each individual door leaf to open and close in a single movement.
Hinges serve multiple purposes so high-quality hinges are important to the longevity and smooth operation of your external door. Poor quality hinges will increase stress on the door frame, track and pivots, which will ultimately result in bifold doors which don't open and close in a single smooth action.
---
Catches
Catch kits help to hold your folding door together against the wall when they are open. Without catches, your doors would slide back across the threshold with every gust of wind. Catch kits are therefore essential to the safe and proper functioning of your bifold doors.
Most catch kits consist of two magnets which are fixed to the top and bottom of each door leaf. Two sets of magnets are required for each door. Most catch kits also come with a stopped which prevents the doors from crashing into the wall. It's important to choose catches which are strong enough to hold the weight of the doors.
---
Lock and handle
---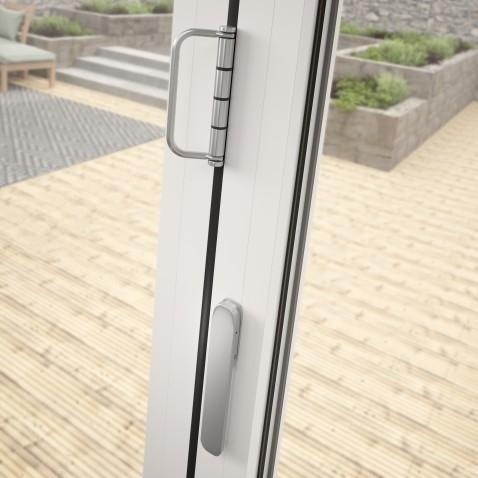 ---
Choosing the right lock and handle for your bifold door is essential for making sure that the security of your doors is the best it can be as well as helping with the functioning of your doors. Poorly made handles can have an impact on how your doors function and can damage the doors over time, leading to problems in the future.
All Vufold doors use a multipoint locking system for the best security and to provide you with peace of mind that your bifold doors will be as secure as possible.
To find out more about choosing the right lock and handles for your bifold doors, read our guide.
---
Vufold ready-to-assemble bifold doors
At Vufold, all of our external bifold doors are supplied in ready-to-assemble kits which include everything you need to install your folding door by yourself.
All kits include:
High-quality hinges
Tracks
Pivots
Strike plates
Ironmongery
Fixings
Seals
All Vufold bifolding doors are also supplied with hinge positions pre-machined which greatly increases the speed of installation. When installing the hinges on bifold doors, care needs to be taken to ensure they are aligned correctly. Misaligned hinges can result in increased stress on the door frame. Vufold pre-machining makes this job much easier.
Each Vufold component has also been thoroughly tested to ensure it provides fault free service for a period of ten years. As a result all of our bifold doors come with a 10-year guarantee as standard. This warranty covers all components including doors, tracks, hinges, pivots and striker plates. So, when installing Vufold bifold doors, you can have complete peace of mind that your doors will provide a long-term, durable solution.
Take a look at our range of exterior wooden, composite bifold doors and aluminium bifold doors today or contact our team to find out more about our ranges of external bifold doors.
---
ⓘ

Related Ranges & Products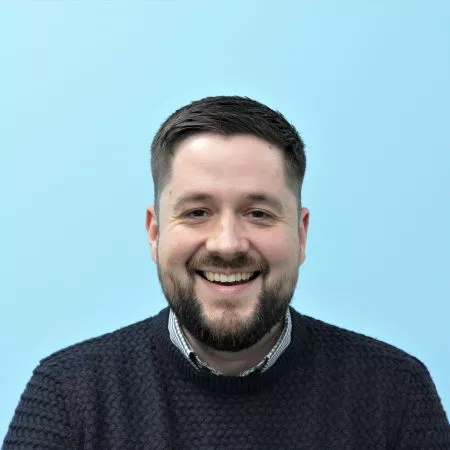 Author:
David Ross - Sales Manager
About David Ross
David has over 20 years' experience in the glazing industry across a variety of roles. He joined Vufold in 2012 and his mission is – 'to make buying windows and doors as easy and stress free as possible'. He is committed to constant improvement and was instrumental in creating our innovative direct-to-consumer e-commerce platform to help grow and expand the business.
Read more about David Ross
---