How to choose the perfect blinds for your bifold doors
If you are looking to purchase bifold doors, you should also look for the perfect blinds to compliment them. Bifold blinds offer many benefits, especially if they are specifically designed for the bifold you own. In this guide, you will find information on the types of blinds available, comparisons and more.
In this guide:
Blinds aren't always considered when purchasing bifolds – does your bifold need a blind?
There are several types of blinds available for bifolds, but some are better than others.
The type of fit your blind is will dictate many aspects such as ease of maintenance an cost. This comparison table explains the major differences.
Some people decide to use curtains instead of blinds with their bifold doors. This comparison table showcases the pros and cons of both.
Anthracite aluminium doors are incredibly popular – this section will explain the best colour blinds to compliment.
---
Do bifold doors need blinds?
You may have never considered blinds for bifold doors, but they can offer many benefits. In this section, we will briefly list the main advantages.
---
Benefits of bifold doors blinds
Increase the shade in the room
Provide an element of privacy
Help keep rooms cool by blocking the sun
Perfect fit blinds allow you the flexibility of being able to fold back the doors entirely
Typically, people install bifold blinds on external bifold doors. However, internal bifold doors will also benefit blinds for many of the same reasons.
If you are looking to increase shade or privacy and keep rooms cooler, a bifold blind is an excellent choice.
What types of blinds are available for bifold doors?
Vufold provides perfect fit blinds for several ranges of bifold doors. Perfect fit blinds ensure that your blinds do not drag along the floor, take up too much space or disrupt the operation of your bifold door.
Other styles of blinds are available, each with its pros and cons. Below we outline the key features of each type of blind and the benefits and drawbacks of choosing each blind.
---
Best choice: perfect fit blinds
Perfect fit blinds are our top choice for the type of blind for bi-folds you should choose.
---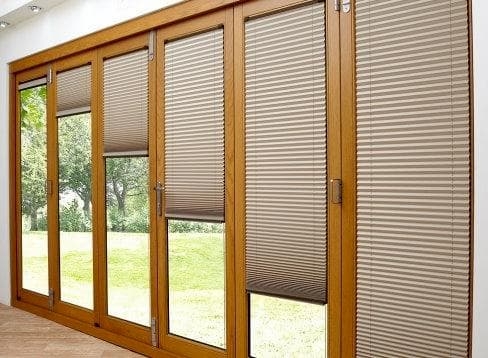 ---
Rooms with bifold doors often get high levels of sunlight, and in summer months this can get very warm or can be uncomfortably bright. Perfect fit blinds are thin, profile blinds that you fit onto the glass of your bifold doors.
Vufold stock perfect fit pleated blinds. A pleated blind is designed to let enough light in to keep the room bright, while also reducing heat and privacy. You will still be able to fold back your doors when these perfect fit blinds have been fitted. To operate the blinds, you can lift them up and down using the handle.
Vufold supplies perfect fit blinds for internal and external bifold ranges including:
External bifold ranges:
Internal bifold ranges:
---
Other types of blinds
Vertical blinds –– are made from a row of vertical blinds. They are often seen in older homes/offices. The fabric can stack, sometimes referred to as 'bunching' on the left or right side, or it can split in the middle of the blind and evenly collect at either side of the blind.
Roller blinds –– are common for windows, but can be challenging to operate when used with bifold doors. Most roller blinds are available in a maximum width of three metres. If your bifold door is wider than three metres, you may need to purchase two sets of roller blinds.
Integral blinds –– are integrated into the glass unit. Integral blinds are typically horizontal blinds that are carefully fitted between the glazing in double or triple glazed bifold doors. Integral blinds are a permanent solution and do not allow you to change the looks or style of the blinds once fitted.
Venetian blind –– are a problematic choice for bifold doors as they have a maximum width of 240mm, and you cannot cover a wide gap between sets of blinds. Venetian blinds can also be heavy, so lifting and lowering the blinds can feel like a difficult task.
---
Perfect fit blinds vs standard fit vs integral blinds
| | | | | |
| --- | --- | --- | --- | --- |
|   | Cost | Durability | Maintenance | Installation |
| Perfect fit | Considered mid-range | Very durable, Vufold offer one year guarantee | Easy maintenance required, simple dusting or wipe | Easy installation, with simple instructions |
| Standard fit roller blinds | Cheapest but lowest quality | The cheaper the blind the less durable it is likely to be | Easy maintenance, simple dusting or wipe | Can have confusing instructions or difficult process |
| Integral blinds | The most expensive as they are part of the door | Durable due to being protected inside the door | Difficult to access and maintain if there is a fault | Requires no installation as it is part of the door |
---
Blinds vs curtains for bifold doors
| | | | | |
| --- | --- | --- | --- | --- |
|   | Cost | Colours & Styles | Maintenance | Durability |
| Blinds | Can vary but generally cheaper than curtains, especially over time | Available in a wide variety of colours, styles and materials | Easy to clean. Can be dusted or wiped depending on the material | Can keep their style and look for up to 15 years |
| Curtains | Depends on the style of curtains and materials used, but will need to be replaced more often than blinds | Available in a wide variety of colours, styles and materials | Challenging to clean as it may need to be dry cleaned or serviced | More prone to wear and tear, sunlight can reduce the saturation of colour |
---
What are the best colour blinds for Anthracite bifold doors?
---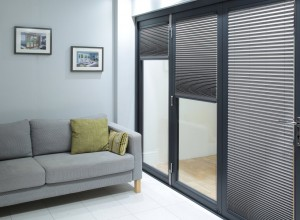 ---
Anthracite grey bifold doors are a stunning addition to any home. Matching the colour of your blinds to your doors can dramatically enhance the aesthetic appeal of your home. Any shade of grey would compliment anthracite, creating a beautiful monochrome look to your room.
Another choice is to match anthracite grey's neutral tone with other neutral tones such as cream or white. Vufold's perfect fit blinds are available for Master range bifold doors (in anthracite grey). These blinds have been designed exclusively for the Master range with a set of colours chosen to complement including:
Concrete
Iron
Cream
White
You can view the full collection by clicking here.
---
Contact Vufold
If you wish to discuss internal or external bifold doors or blinds for bifold doors, get in touch with Vufold's experts.
We can guide you through all of your options and find the perfect solution to meet your needs and design aesthetic. You can get in touch with us today by calling 01625 442899 or email us, and we will get in touch with you right away.