Choosing the best hardware & accessories for your bifold
There's no doubt that bifold doors are the perfect way to transform a space within your home and provide you with the enjoyment they can bring but, it's also important to have an understanding of the hardware and accessories available when choosing and installing your bifold doors.
Aside from the frames, material and glazing you choose, there are a number of other factors that can have an impact on the overall look, functioning and enjoyment of your doors so these should also be taken into consideration.
---
In this guide:
Learn more about choosing the best handles for your bifold doors.
Find out more about the types of blinds available for bifold doors as well as the benefits.
Learn more about the importance of bifold door hardware including what each element is and how it works.
---
Bifold door handles: How to choose the right handles for your bifold doors
You may think that bifold door handles are only a small part of your doors but they can have a huge impact on the overall finish of your doors as well as ensure that they are as secure as possible.
Handles have long been considered a weak point when it comes to bifold doors so choosing the best handles will ensure that your home is secure and protected from intruders. The door handle is also something that will be used every time you open and close your doors so something that is high quality and will withstand heavy use is another factor that should be considered.
---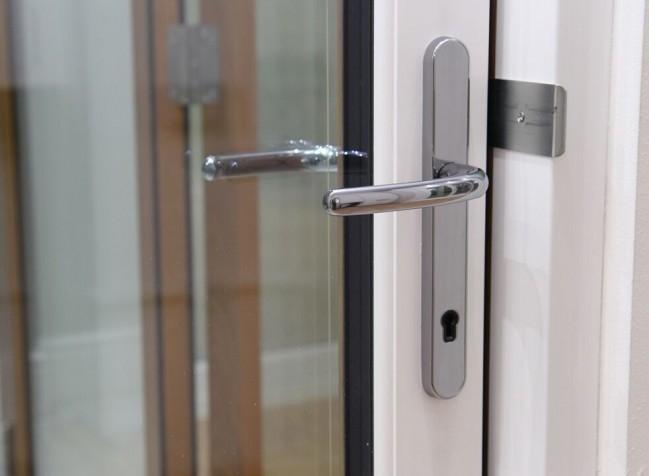 ---
---
Understanding bifold door hardware
Choosing the best frame and glazing for your new bifold doors is important but, understanding how they work and the hardware they require for optimal operation is also crucial to long-lasting bifold doors that do not experience a huge number of problems.
---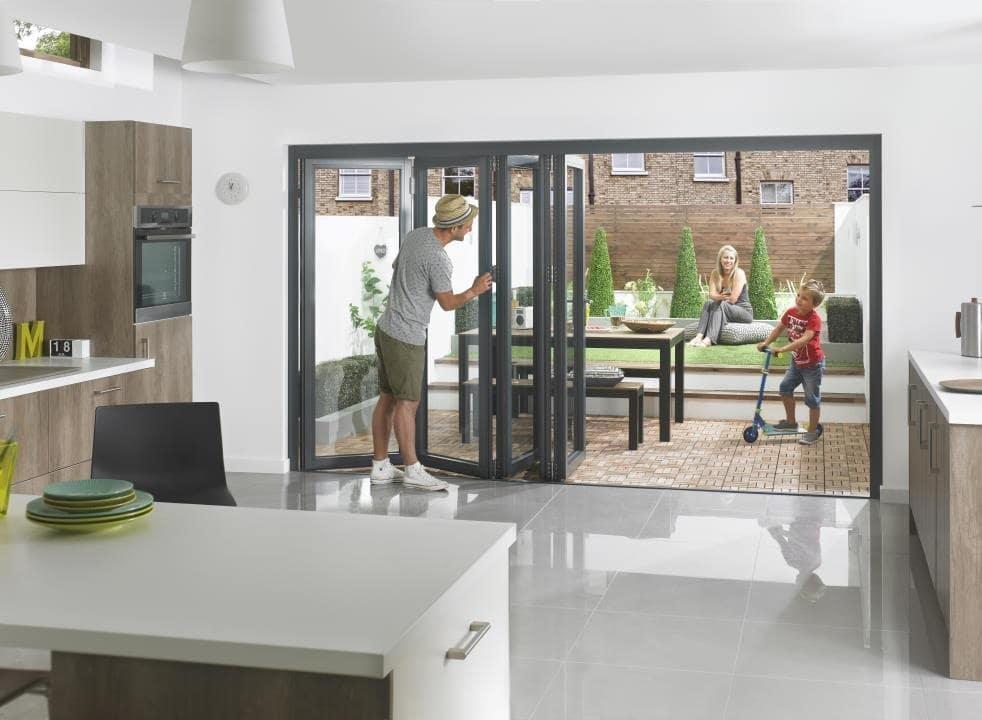 ---
Tracks/Thresholds
The track is one of the most important elements of your bifold doors as it allows them to slide open and closed. You can choose from a weathered or non-weathered threshold but, at Vufold, we do not supply a completely flush threshold but it can be sunk into the floor to make it as low as possible.
---
Pivots
Pivots are the element of your doors which allows each door leaf to fold back on itself. This makes them essential to the correct functioning of your doors so high-quality parts should be considered.
---
Hinges
Hinges have a number of purposes when it comes to bifold doors. They allow each of the doors to open and close, connect the door leaves together and provide support for the pivot pins. High-quality hinges are essential to smooth and ongoing operation of your doors.
---
Catches
The catches of your bifold doors hold your bifold door together against the wall when all of the leaves are open. Without them, the doors would slide along the threshold in the wind so catches are the best way to prevent this and the resulting damage that can occur.
---
Locks and handles
Locks and handles are essential for the security of your doors and making sure it aids with the proper functioning of your doors.
To find out more about what bifold door hardware is and how it works, take a look at our guide: A guide to exterior bifold door hardware.
---
Bifold door blinds: What to look out for and considerations to make
Installing bifold doors is one of the best ways to allow maximum levels of light into your home as well as the chance to enjoy expansive views. However, sometimes you may want to enjoy a bit of extra privacy or some shade from the sun. Blinds offer the ideal solution for bifold doors and allow you to choose the levels of light you want to allow in as well as providing privacy at night for example.
Blinds are available in a range of styles so there is something for every home and taste.
Adding blinds to your bifold doors can offer the following benefits:
Increase shade in the room
Provide an element of privacy
Keep rooms cool by blocking the sun during the hottest times of day
Perfect fit blinds provide the flexibility of still being able to fold the doors back entirely
When selecting a blind, it's important to choose something that will meet your needs without having too much of an impact on the functioning of your doors. The types of blinds available include:
---
Perfect fit blinds
---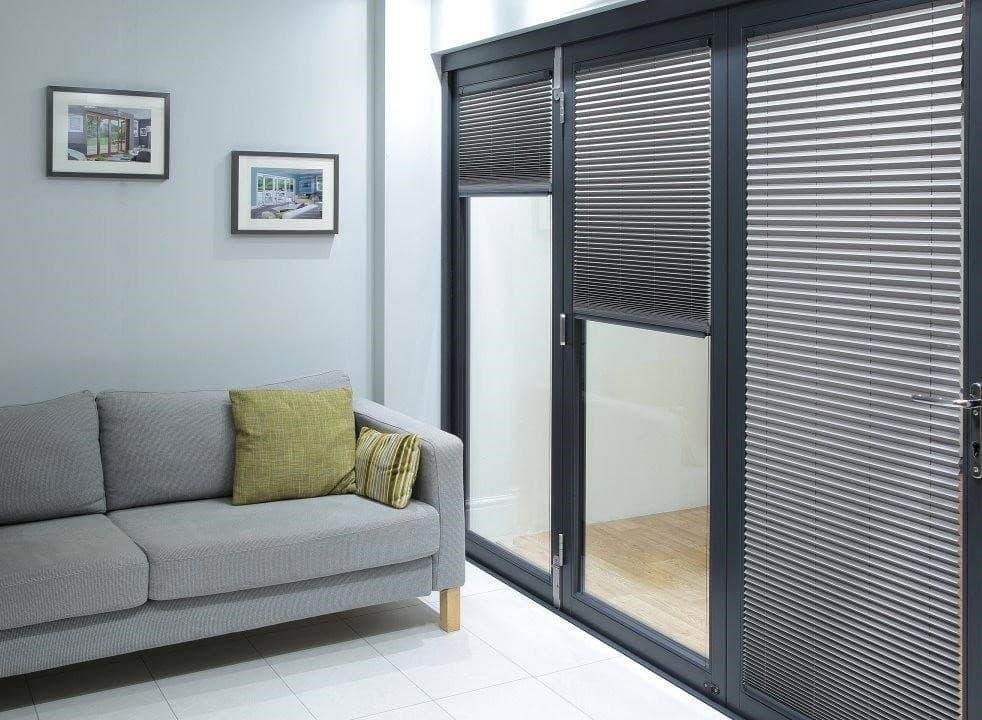 ---
Perfect fit blinds sit onto the glass of your bifold doors and can be adjusted to cover all or part of the doors from the inside. Even when closed, these blinds allow enough light in to keep the room bright but will help to reduce heat and provide privacy. These blinds are made to measure so will fit your bifold doors perfectly.
One of the biggest benefits of these blinds is that you can still use the doors as normal, whether the blinds are open or closed.
---
Vertical blinds
Vertical blinds are made up of long pieces of fabric which either pull away to one side and stack to the left or right or split in the middle so there is an even amount of fabric stacked to one side. Whilst these blinds can cover the entirety of your bifold doors, they are less flexible when it comes to being able to operate your doors when they are closed.
---
Roller blinds
Roller blinds are a popular choice in many homes and are usually used on windows. However, they are not as effective when used with bifold doors. They can only be made up to three metres so, if your bifold doors are bigger than this, you may require more than one blind to cover your doors.
Similarly to vertical blinds, roller blinds do not operate as seamlessly with the functioning of the doors as perfect fit blinds. They would have to be rolled up out of the way in order to open the doors.
---
Integral blinds
Integral blinds are integrated into the glass unit of your bifold doors and are fitted in between the glazing. Once these blinds have been fitted, they are a permanent solution that cannot be easily changed again.
As you can see, choosing the right blinds for your bifold doors is important to make sure you find the right solution for your home.
To find out more about blinds for bifold doors, you can read our guide here: How to choose the perfect blinds for your bifold doors.
---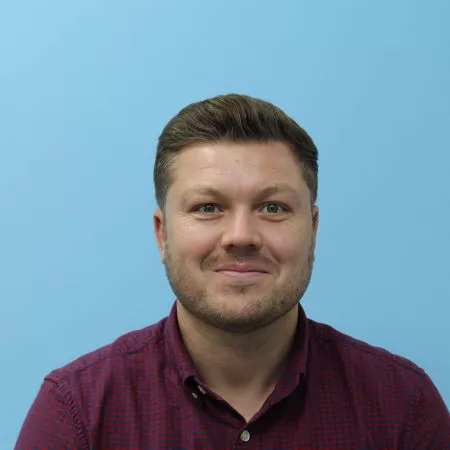 Author:
Martin Burgess - Customer Service Manager
About Martin Burgess
For customers, Martin is one of the key people at Vufold and looks to offer technical advice, resolve any issues or problems that they may have. Martin is passionate about protecting the reputation of Vufold and likes to see a positive impact on the business due to his day-to-day efforts. Martin's proud of the team he's built around him and is dedicated to constantly improving the way the company meets its service commitments and delivers on its promises.
Read more about Martin Burgess