White vs grey external bifold doors: which colour is best for your home?
Colour is often an important consideration for homeowners. When purchasing an external bifold door system, you want a style that suits your taste and the aesthetics of your home. Two of the most popular colours for bifold doors are white and grey.
White has been a staple for bifold doors for many years and grey has grown in popularity over the last couple of decades. While the decision is often determined by personal taste, this guide will help you decide which colour is best for you.
---
In this guide:
White has always been a popular colour for bifold doors and for a good reason—this section will explain why.
Grey creates a modern feel in any room, along with many other benefits. Find out more in this section.
The type of home you own will determine whether white or grey is the most appropriate colour for your external bifold doors.
Some bifold doors utilise dual colours so you can make the most of both white and grey.
Does the material of your bifold doors influence which colours you should choose? This section will explain more.
---
Why white is an excellent colour choice for external doors
---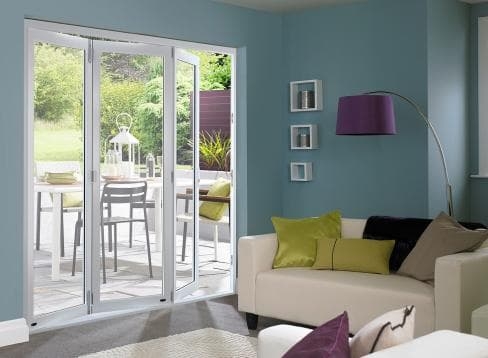 ---
White is a neutral tone and has been the go-to colour for doors and window frames in people's homes. White creates a light and bright feel which will compliment any other colours in and around the home. It is the obvious choice if you already have white windows.
White aluminium bifold doors have remained popular even as various trends have come and gone. They are a safe option when it comes to style and longevity.
Many bifold door companies use the RAL colour range, which has long been the industry standard for powder coating aluminium products. This means there are different shades of white, widening your range of options to find the perfect tone to match the style of your home. Traffic white is the most popular shade and is available with Vufold bifold doors.
---
BEST WHITE EXTERNAL BIFOLD DOORS: VUFOLD SUPREME
---
Easy to install – drill bits and hardware are included
Easy adjustment - no need to hire a tradesman
Thermally broken - for improved insulation
Two colour options - available in white and grey
15 year guarantee!
Price: from £2,699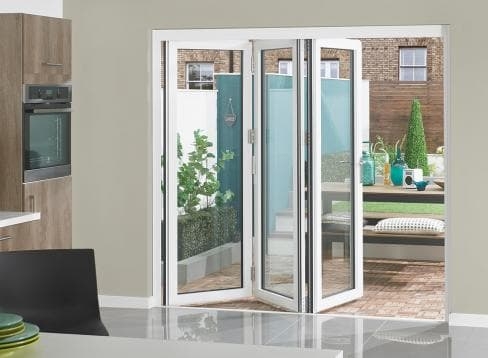 ---
WHY IS GREY BECOMING ONE OF THE MOST POPULAR COLOUR CHOICES FOR EXTERNAL DOORS?
---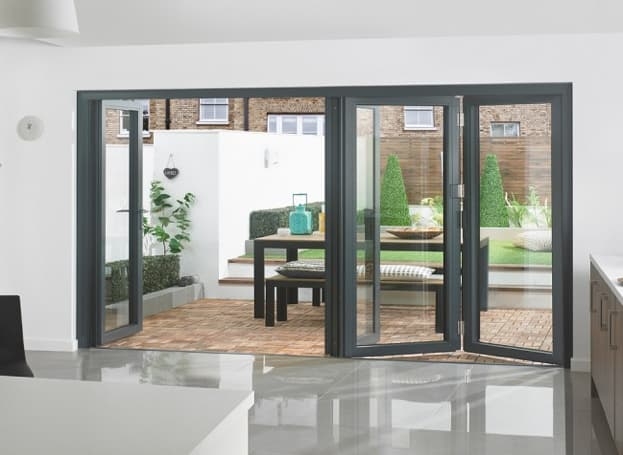 ---
Grey has grown in popularity as aluminium bifold doors have become more common in homes. Anthracite grey is a particular shade that has grown significantly in popularity. Anthracite grey bifold doors can enhance the overall look of a property and make a home stand out with a chic, luxurious appearance.
Many homes still have a classic white colour on their doors and windows, but as grey gains popularity in all aspects of design, it is emerging as the new favourite choice for homeowners.
---
KEY BENEFITS OF GREY BIFOLD DOORS
Grey is very on trend which will add a stylish flair to your home both inside and out
Grey is a neutral tone that complements most blinds, shutters and curtains
If the exterior of your home is painted in a light colour, the contrast of the anthracite colouring will add an impressive juxtaposition to the building
Grey doesn't show dirt and dust as much as white. This means it is low-maintenance, requiring less work to keep your door looking clean
If you are concerned about whether the grey will be a good fit for your home, you can think about tying your rooms together by investing in decorations and objects that complement the grey tone. When the objects in your home are cohesive, it gives the impression that you have considered your interior design. By breaking up that old-fashioned 'all-white' aesthetic, you can add a modern touch to your room.
---
Best grey external bifold door: Vufold Master
---
Slim sightlines -enjoy unbroken views of your garden
Stylish wooden material -slow grown and made to last
Secure multipoint locking system ensures added security
10 year guarantee!
Price: from £1,699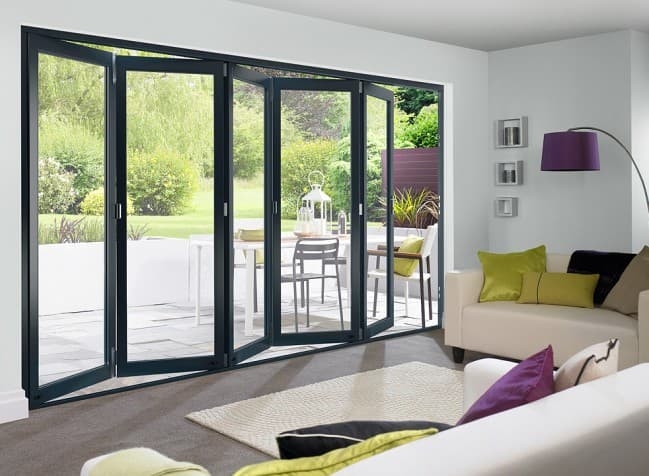 ---
CONTEMPORARY VS TRADITIONAL HOMES: WHICH COLOUR BIFOLDS TO CHOOSE?
The type of home you have may influence the colour and style of your bifold doors.
---
BEST COLOUR FOR CONTEMPORARY HOMES
For external doors in contemporary renovations, you want a colour that compliments the modern aesthetic and doesn't look out of place with the rest of your décor. It is therefore advisable to opt for modern styles and choices—grey is your best option. Anthracite grey is the reigning king of modern home improvement, adding a sleek, modern style to the design of a property.
You can match your bifold door colour with the same shade on your window frames to instantly transform the entire property with a consistent aesthetic throughout. Vufold's aluminium bifold doors and Supreme external bifold doors ranges are available with matching window suites.
---
BEST COLOUR FOR TRADITIONAL HOMES
If you are restoring a period home and want to retain the traditional aesthetic with a 21st century spin, a shade of white may be better.
The traditional features of the home are likely to match well with shades of white that incorporate a touch of cream, stone or brown. The modern touch will come from the large glazed areas and state-of-the-art aluminium or wooden frames. If you make the right choices, you will achieve an effortless balance of contemporary style and traditional authenticity.
---
DUAL COLOURS: THE BEST OF BOTH WORLDS
If neither white nor grey feels quite right by itself, there is the option of customising your external bifold doors with a dual colour scheme. A dual colour bifold door will utilise one shade on the external side and another on the internal side. A popular reason for choosing dual colour bifolds rather than a single shade is to take advantage of the dirt-camouflaging properties of grey on the outside and the bright, clean effect of white on the inside.
---
BEST DUAL COLOUR BIFOLD – VUFOLD STATUS
---
Double or triple glazing – added thermal protection
Thermally broken aluminium – keeps the U value low
Matching window suite available – tie the room together with matching colours
Super low threshold – stylish and weatherproof
Price: from £2,229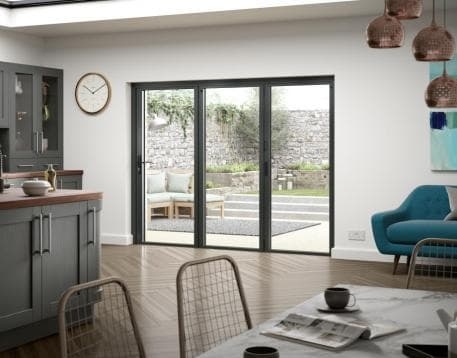 ---
COLOUR CHOICES BASED ON MATERIALS
Although colour choice mostly comes down to personal taste and home aesthetics, the type of material your bifold is made from may help determine the right colour for you.
The three main types of materials for bifold doors are:
---
BEST COLOUR FOR ALUMINIUM BIFOLD DOOR
Aluminium is the more cutting-edge, modern material, with fantastic durability that belies its lightweight. It is excellent for modern properties, and as such, grey shades (such as anthracite grey) and dual colours are more popular for exterior bifold doors made from this material.
---
BEST COLOUR FOR TIMBER BIFOLD DOORS
Vufold also supplies bifold doors in timber for buyers with an appetite for that timeless wooden texture. These doors are heavier and robust, and their aesthetic lends itself more to a classical presentation—suiting a white colour scheme best.
Even with white colouring, the high-quality timber maintains its 21st century edge due to the cutting-edge look of the bifold door. You can choose from a range of colours for your timber bifold doors.
---
BEST COLOUR FOR UPVC BIFOLD DOORS
The standard colour for uPVC bifold doors is white. Unfortunately, due to the cheap material it is likely to show dirty and damage faster. If possible, try purchasing a uPVC bifold in a different colour—or choose a better quality material.
---
SUMMARY
Bifold doors are a modern style of external door, no matter what colour or material they come in. The large panes of glass that let in lots of natural light and the way they operate simply oozes contemporary style.
Grey shades are a distinctly contemporary design choice that is best suited to modern properties. Shades of white lend themselves better to traditional homes.
Think about the way your property looks from the outside and the way you intend to decorate the inside. It could be that a dual colour bifold door is your best option.
However you choose to proceed, a bifold door will always make rooms appear larger and brighter. You will love having one of these beautiful, user-friendly doors on your home, and Vufold supplies and fits nothing but the highest quality products on the market.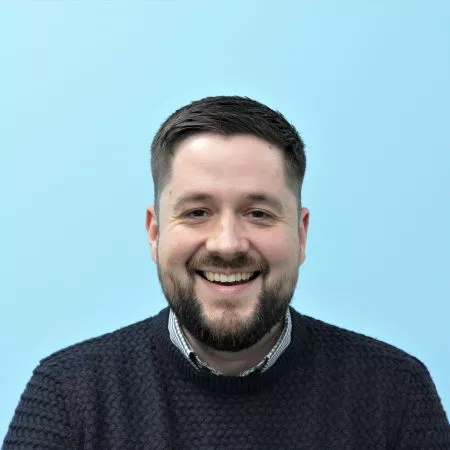 Author:
David Ross - Sales Manager
About David Ross
David has over 20 years' experience in the glazing industry across a variety of roles. He joined Vufold in 2012 and his mission is – 'to make buying windows and doors as easy and stress free as possible'. He is committed to constant improvement and was instrumental in creating our innovative direct-to-consumer e-commerce platform to help grow and expand the business.
Read more about David Ross
---