External doors: Bifold doors vs French doors
Both bifold doors and French doors offer a range of benefits as external doors that help to connect the inside and outside of your home seamlessly, as well as offering higher levels of natural light.
When choosing between the two door types, it can be hard to weigh up the options and to know whether you are making the best choice for your home and needs. This guide looks at the pros and cons of each door and offers a round-up of the key factors to consider such as cost, thermal efficiency and style.
---
In this guide:
This section details the way that bifold doors work and operate.
This section explains more about what French doors are and how they work.
Bifold doors offer a wide range of benefits, here are some of the key ones.
Similarly to bifold doors, French doors offer a number of benefits. You can find out more in this section.
Bifold doors are not right for everyone so this section details other considerations you should make.
Despite the benefits, a French door may have some downsides – find out more here.
Find out more about how you can choose the right option for you.
---
What is a bifold door?
Bifold doors are made up of multiple leaves which fold back on themselves to open up a space. The doors are fitted to runners which allow the doors to be completely folded back and out of the way to provide an uninterrupted view from inside your home. Some designs also feature a traffic door which can be operated independently of the bifold mechanism to allow easy access in and out of the property.
Large bifold doors can be used to open up a whole wall or several walls of your home, which is perfect for creating a seamless flow between your home and garden. Internal bifolds can also be used to create an open plan living space within your home.
Vufold's range of external bifolds is available in different materials, each with a range of benefits. These include:
Timber
Aluminium
Composite materials
---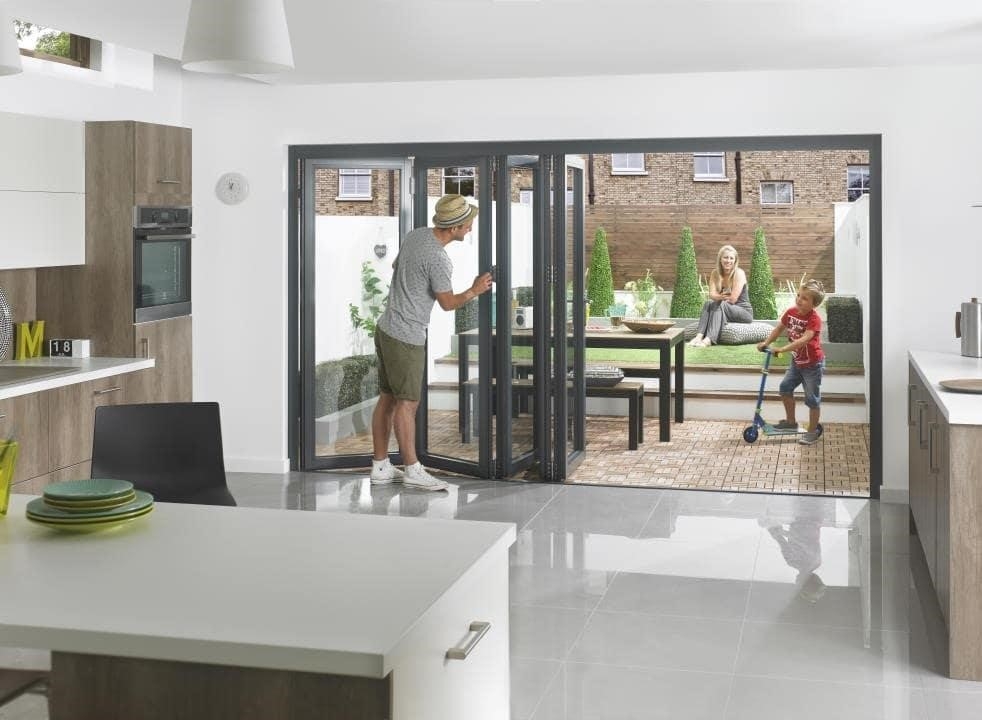 ---
What is a French door?
French doors are a more traditional type of external door and patio door. They usually consist of a double door configuration with two identical glass doors that sit side-by-side and operate on hinges.
The doors are glazed to allow in huge amounts of natural light and are the perfect choice if you are looking to replace an old door and add a touch of modern style to your home.
Pros of a bifold door
As leading suppliers of bifold doors, Vufold has perfected the art of combining bifold doors with an attractive appearance and smooth operation. There are a huge number of benefits of installing a bifold door in your home including:
---
Outstanding thermal efficiency
When specified and installed using the correct materials, bifold doors offer excellent thermal efficiency for your home. Composite bifold doors in particular are widely chosen for their thermal efficiency.
Bifold doors are available in both double glazing and triple glazing options which will both offer huge savings on your energy bills.
Uninterrupted views
One of the key reasons many homeowners choose to install bifold doors is for the natural light and uninterrupted views provided by thin thresholds and sightlines. If you want to enjoy as much of the view as possible and create a seamless transition between your indoor and outdoor space, Aluminium bifold doors are the perfect option!
Easy to install
High-quality bifold doors are supplied ready to install with everything you or your installer will need to get your doors in place as quickly as possible.
Vufold supply ready-to-assemble bifold doors which means your doors are pre-machined and are delivered with all of the elements you'll need for installation including:
Tracks
Hinges
Hardware
Glazing
Fixings
You will require a few standard tools to install the doors. If you're competent at DIY, you should have no problem installing these doors yourself. If you're not, the doors are simple and easy for tradespeople to install.
Easy to maintain
Precision engineering on quality bifold doors means you will experience little trouble from rickety tracks or clogging. Composite doors are especially easy to maintain.
Sleek and stylish
Bifold doors are something of a must-have for modern homes and renovations. Their sleek look and light maximising qualities make them a favourite choice for anyone looking to add a touch of modern style to their property.
---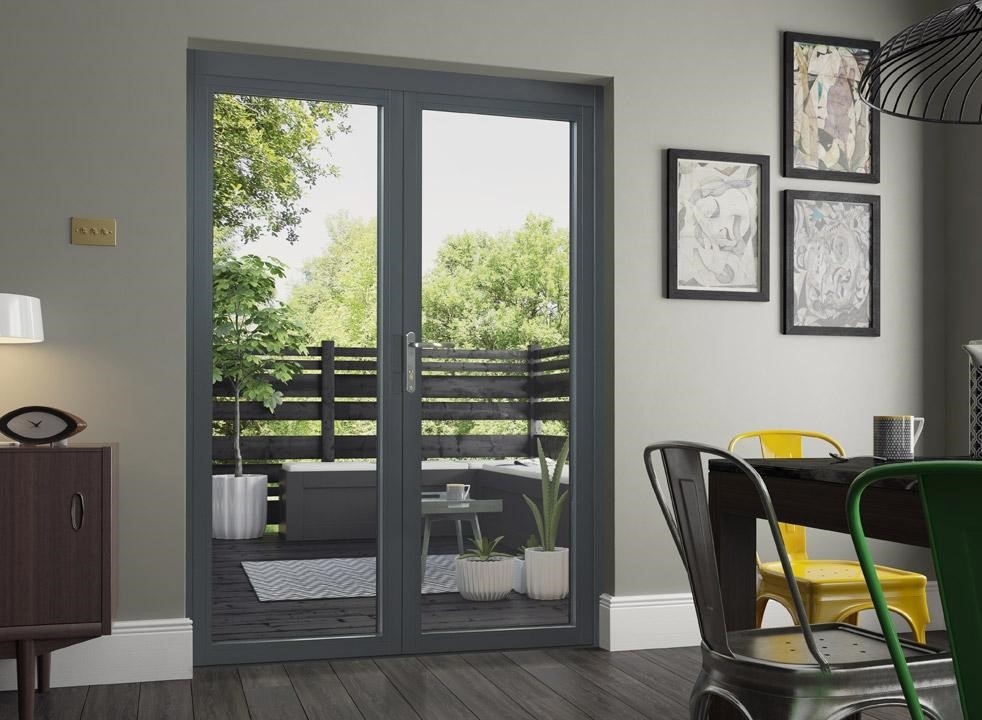 ---
Pros of a French door
French doors offer similar benefits to bifold doors but there are also others that should be taken into account when choosing between the two options for your home.
---
Lots of natural light
Although nothing can rival the abundance of light provided by bifold doors, French doors offer a good alternative and can help to maximise light in your home.
Easy to use
The simple turn-handle operation makes French doors easy to open and close with minimum fuss. The doors can be opened for quick access to the outside, whereas bifold doors must be folded back, unless you opt for a traffic door.
Stylish option
If you're looking to upgrade your home and modernise both the inside and outside, French doors are a great option. Just like bifold doors, French doors are available in wooden and aluminium options to help you match your new doors to the style of your home or to offer a modern-looking solution.
Space efficient
French doors require less room to operate than bi-fold doors, so they are ideal for courtyard style gardens or smaller rooms.
---
Cons of a bifold door
Alongside the many benefits that bifold doors can provide, there are also a few other factors to consider before choosing them for your home.
Security – bifold doors have a reputation for being more vulnerable to break-ins. However, vast improvements have been made and Vufold bifold doors include features such as a multi-point locking system with top and bottom hook locks which pass rigorous PAS 24 certification.
Ease of use – bifold doors work a little differently to standard doors so they can take a bit of practice to get used to.
Cost – good quality bifold doors can be more expensive but they offer other cost-saving benefits such as increased thermal efficiency.
---
Cons of a French doors
French doors also have a number of elements that should be considered when compared to bifold doors.
Limited configuration options – the traditional and static design of French doors means that the flexibility of configuration options is limited in comparison to bifold doors.
---
Bifold doors vs French doors
So, which is better? Bifold doors or French doors?
The answer is, there is no 'better' option when it comes to choosing between the two. Each door style has its own benefits and the options you choose should fit with your lifestyle, the style of your home and your personal preferences.
If you're looking for a door that will maximise the view from your home, bifold doors are the best option. There is a wide range of materials available so it's easy to find a door that meets your needs and preferences.
However, if you're looking for a more traditional style and an easy operating system, French doors are the best option. This simplicity also carries lower costs too so, if you're on a lower budget, French doors are an attractive option.
If you want to know more about the benefits of both bifold and French doors, take a look at the beautiful ranges available at Vufold. Our friendly team of staff are on-hand to help you make the right decision for your home and needs.
Get in touch for more ideas and inspiration or for help finding your own superbly engineered and attractive bifold or French door.
---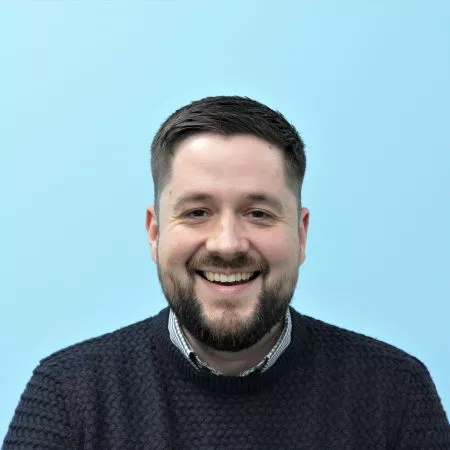 Author:
David Ross - Sales Manager
About David Ross
David has over 20 years' experience in the glazing industry across a variety of roles. He joined Vufold in 2012 and his mission is – 'to make buying windows and doors as easy and stress free as possible'. He is committed to constant improvement and was instrumental in creating our innovative direct-to-consumer e-commerce platform to help grow and expand the business.
Read more about David Ross
---