What is a composite bifold door? Benefits, comparisons, colours and glass
Composite external bifold doors feature durable and robust aluminium on the weather-exposed side and rich-toned timber facing inwards into your living area.
The doors are designed to capitalise on the best properties of aluminium and wood: strength and beauty. While aluminium stands up well to wind, rain and sun, the beauty of the internal wooded frames can be easily incorporated into your interior design.
This page will look at the benefits and performance of composite bifold doors.
Click on the links below to jump to the relevant sections: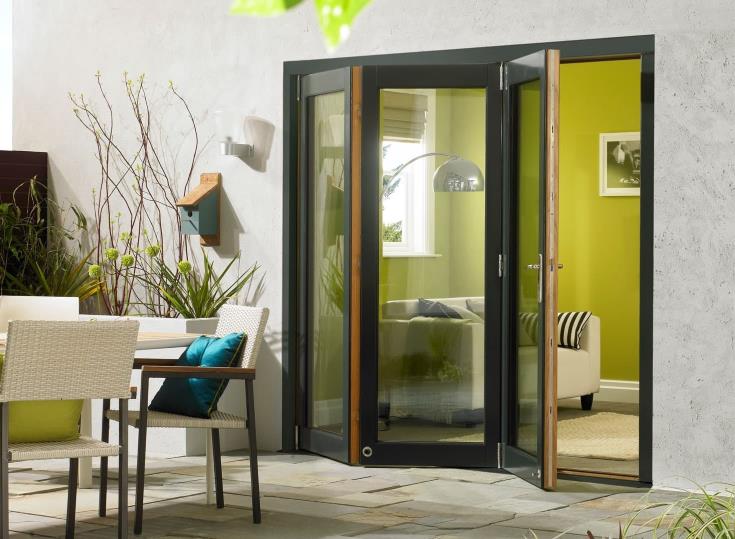 What is a composite bifold door?
Traditional bifold door frames are made from one of the following materials: Wood, aluminium, uPVC. All types allow natural light into your home and all improve access to your garden or patio; however, the materials do have different properties.
It is widely accepted that wood offers a beautiful, natural finish while aluminium's strength results in thinner frames, slimmer site lines and less maintenance.
Composite bifold doors and windows make the most out of these qualities by placing protective aluminium on the outside of you home and the richly appealing wood on the inside.
What are the benefits of composite bifold doors?
Composite bifold doors are at the forefront of contemporary bifold doors. Composite bifolds utilise the best qualities of the combined materials to create a durable, stylish and insulating bifold door.
Key benefits include:
Best of both materials — Timber provides excellent thermal insulation and noise reduction while aluminium offers weather resistance and added durability
Low maintenance — Composite doors with external aluminium cladding require less maintenance than other techniques
Excellent thermal insulation — Wood is a fantastic natural insulator. Timber frame composite bifolds will offer some of the best U-values in the country
Added security — Vufold composite doors are engineered to be fitted with multipoint locks and, triple glazed toughened safety glass
What's the difference between a composite bifold door and a composite front door?
While they share a similar name, composite bifold doors and composite front doors are often made from different materials.
Composite bifold doors look and operate like regular bifold doors and are usually made from aluminium and timber.
Composite front doors are typically made from a number of different types of materials, including: wood, insulating foam and finished with a glass reinforced plastic skin (GRP).
How are composite bifold doors made?
There are three ways to construct composite bifold doors:
Use a timber frame and add an external aluminium cladding (known as aluminium clad-timber)
Start with an aluminium frame and add wooden strips on the side facing the interior (known as timber clad-aluminium)
Timber and aluminium sandwiched around a foam core
Aluminium-clad timber — or alu-clad — offer a number of superior specifications:
Thermal insulation — Wood is a better insulator than aluminium
Noise reduction — A solid timber frame will cut out more sound than aluminium. This makes alu-clad bifold doors the best choice for those living near train tracks or under flight paths, especially when the frame is combined with triple glazed glass
Vufold's Ultra range of composite alu-clad bifold doors feature resilient powder-coated aluminium on the outside and a beautiful oak-finish interior. To look at our range, click here
Alu-clad composite vs uPVC bifold doors
Alu-clad composite doors
uPVC doors
Appearance

Contemporary style
Various door configurations available

Can look cheap
Limited designs due to singular material

Thermal insulation

Wood is an excellent natural insulator
Vufold Ultra range has a U Value of 1.0 W/m2K making it one of the most thermally efficient doors in the UK
Aluminium cladding protects wood from weather damage which reduces chance of draughts

Good insulation
Weather damage can cause expansion/contraction which creates draughts

Maintenance

Low maintenance
Regular cleaning with soapy water for external doors

Low maintenance
Regular cleaning with soapy water

Durability

Vufold uses 'engineered construction' which is stronger and less likely to cause expansion or warping
Powder-coated aluminium is incredibly durable
Corrosion-resistant

Durable material
Expansion/contraction can cause door operational issues

Lifespan

10 – 15 year guarantee usually
Expected lifespan 45 years

10-year guarantee as standard
Expected lifespan 20-30 years

Security

Vufold use Vectis, cylinder free multi point locks, designed to meet the requirements of PAS 23/24
Vufold doors are manufactured to be fitted with multipoint locking systems for added security
Vufold doors use triple glazed tempered safety glass which is harder to break through
Composite doors are thicker by design so harder to break

Secure if used with multipoint locking systems
Cheaper uPVC doors may offer poorer levels of security

Price

More expensive but better value for money
Paying for higher quality materials, improved insulation and longer lifespan

Cheaper
Will not offer the same quality
Shorter lifespan
Best composite door: Vufold Ultra Range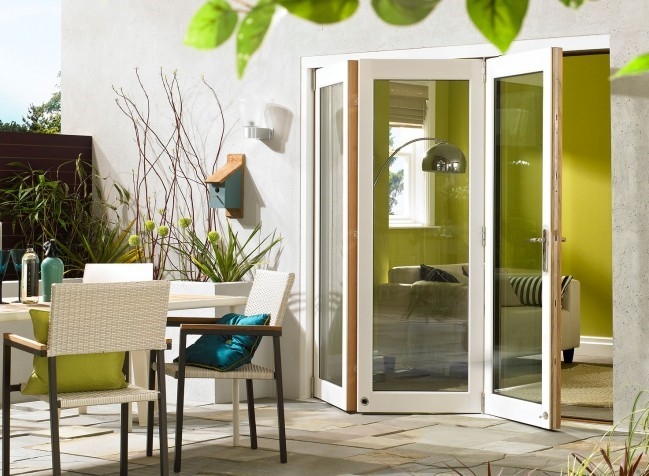 The Vufold Ultra Range combines the resilience of aluminium bifolds with the thermal efficiency and style of timber.
The aluminium cladding ensures minimal maintenance with maximum durability. A regular soapy clean is all that is needed on the external side.
The timber inside can match interior floorings or furnishings while also providing excellent natural insulation. For even better insulation, the bifold is also fitted with triple glazing which is made from two sealed, argon gas filled units and low e thermal toughened safety glass.
The Vufold Ultra range has been rigorously weather tested (air permeability, water tightness, resistance to wind loads) to ensure durability and longevity even against the elements. It also comes with a 10 - 15 year guarantee.
The high security specification multipoint locking system means that you can rest with the knowledge that your composite bifold door has been supplied with a lock designed to meet police specification for top-quality security.
As with all Vufold External Bifold doors, the Ultra range is accredited with CE Marking, meaning the door is: fit for purpose, reliable and conforms to the relevant safety standards. Plus, easy-to-follow instructions means that any competent DIYer can install.
The Vufold Ultra range is available in sizes between 1.8m and 4.8m.
To find out more about the Vufold Ultra range, click here.
Colours and finishes for composite doors
Vufold uses RAL powder coating for composite doors. This ensures quality, durability and longevity with your finishes.
What is powder coating?
Powder coating is a type of dry finish. It is one of the most popular finishes in the industry as it offers a high-quality, durable finish.
Unlike some paints, powder coating does not contain any solvents and release little to no volatile organic compounds that contribute to pollution. This means powder coating is considered safe and more environmentally friendly than standard paints. There are several other benefits to powder coating which you can find below.
Benefits of powder coating
Improved durability — powder coating helps protect your bifold from pollution, weather and coastal damage and is less likely to show damage compared to other finishes
Brighter for longer — powder coating colours will stay vibrant for longer without showing signs of weathering
Thicker coating — a thicker coating can be applied without the colours running
RAL finishes
The Vufold Ultra range comes with an oak finish on the inside of the door offering a natural, homely aesthetic. For the aluminium exterior of the door, the Vufold Ultra comes in two standard RAL finishes:
Hippca White (RAL 9016)
Anthracite Grey (RAL 7016)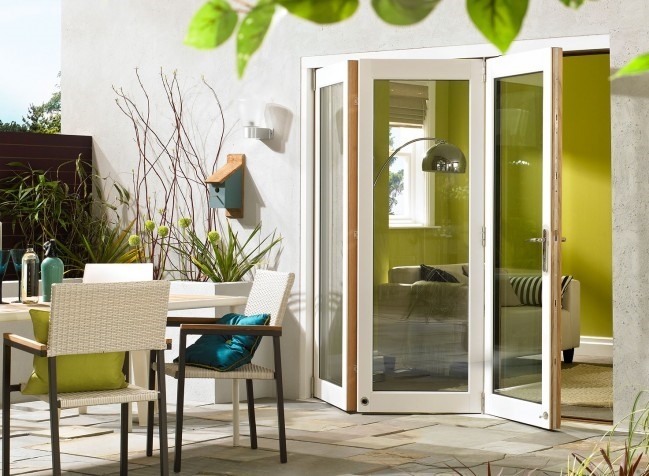 Hippca White (RAL 9016)
Hippca white brings lightness to your bifold door without drawing a lot of attention. White is a neutral colour so works with any number of colour combinations. The white/oak combination creates a beautifully bright and natural style to your bifold door.
Hippca white is one of the most popular finishes available and for good reasons.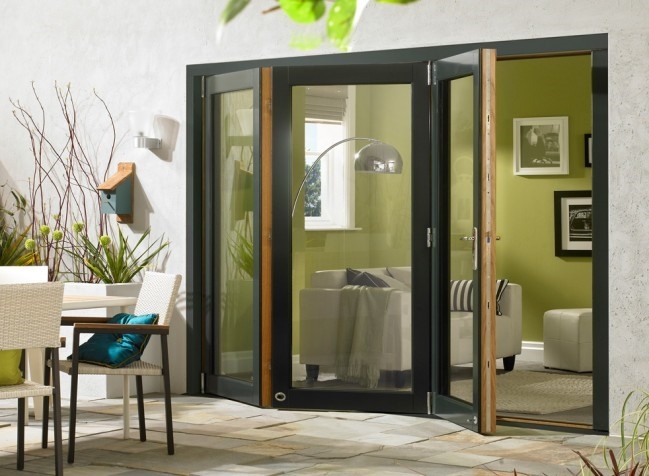 Anthracite Grey (RAL 7016)
Grey is also one of the most popular choices for bifold doors. It's a contemporary and stylish choice for any type of home. Grey is also a neutral colour meaning that it will go with almost any colour combination.
The oak/grey combination works with both modern and traditional style homes offering an amazing amount of versatility from a single bifold door.
Glass and glazing for composite bifold doors
Composite bifold doors have excellent thermal insulation due to natural insulation provided by the wood. However, a vital insulating aspect of any bifold door is the glass. Because glass takes up a considerable amount of door space, it's essential to ensure that your glazing is of a decent level.
The Vufold Ultra composite range utilises the best glazing available: triple-glazing. With triple-glazing, your bifold will have one of the best U-values in the UK (which the Vufold Ultra range has!)
What is U-value?
To put it simply, the U-value is the measurement of material insulation effectiveness. The lower the value, the more effective the material is.
The key part to remember is that the glass and the frame will have different U-values due to being made from different materials. So, a pane of glass could have an excellent U-value but is undermined by the poor U-value of the frame. This is why you should focus on the overall U-value.
The overall U-value combines the U-value of the glass and frame. The Vufold Ultra range has an overall U-value of 1.0 W/m2K which means it has excellent thermal properties.
What is triple-glazing?
Triple-glazing is made with three panes of glass rather than one (single glazing) or two (double glazing). Three panes of glass are placed with a cavity between each pane. This cavity is often filled with an inert gas. This combination is designed to help insulate your home and reduce any lost energy.
Glass: safety and security
Security should always be a consideration when purchasing external bifold doors. You want to ensure that your bifold doors are secure enough to make it difficult for criminals to break into your home.
There are two main types of glass recommended for external bifold doors:
Tempered safety glass (also known as toughened glass)
Laminated glass
Tempered safety glass
Tempered safety glass is created by heating and cooling glass multiple times in a tempering furnace. This process makes the glass 4 – 5 times stronger than before, adding extra security to your door.
Key features:
Strength — tempered safety glass is up to 5 times stronger than standard glass
Alerts neighbours — it will likely take multiple attempts to break tempered safety glass which will create a loud noise to alert neighbours. Plus, tempered glass shatters when broken which creates even more noise
Reasonable price — including tempered safety glass with your bifold is unlikely to increase costs
Laminated glass
Laminated glass is created by sandwiching a layer of vinyl between two pieces of glass. The combination is then bonded with heat and pressure. This technique means the glass remains as one piece, making it harder to break through.
Key features:
Harder to break — while laminated glass isn't any more robust than typical glass, the vinyl layer will make it harder to break through
No holes — the vinyl layer means that criminals can't smash holes in the glass to break through
Related content