What is the most energy efficient front door?
When it comes to home energy efficiency, the choice of your front door plays a significant role. A thermally efficient front door not only keeps your home comfortable all year-round but also helps to reduce energy costs. So, with a variety of materials and front door designs available, how do you determine which front door is the most energy efficient?
In this guide, we explore the key factors that make a front door energy efficient, including U-values and glazing. We also compare different materials and answer common queries to help you make the right choice.
In this guide:
Read what a U-value means and what it can indicate about a door's thermal efficiency.
Read what factors can help you choose an energy efficient front door.
Read our pick for the most thermally efficient front door.
We answer common queries on front door thermal efficiency.
What does a U-value tell you about a door's thermal efficiency?
A U-value is a measurement of a door's thermal performance. Essentially, it tells you how effective a door is at preventing heat from escaping your home. Lower U-values indicate better insulation and, consequently, higher energy efficiency.
How do you identify a door with good energy efficiency?
The material used
The choice of material significantly impacts a door's energy efficiency. Here are some popular front door materials:
Composite
Composite front doors are made up of Glass Reinforced Plastic (fibreglass) which is formed into panels and fused to an internal frame with uPVC inside and attached to another frame made from wood. The core is then injected with a polyurethane insulating foam core, resulting in low U-values.
LOOKING FOR A COMPOSITE GREY TRADITIONAL FRONT DOOR?
OUR PICK:
CARNOUSTIE COMPOSITE FRONT DOORS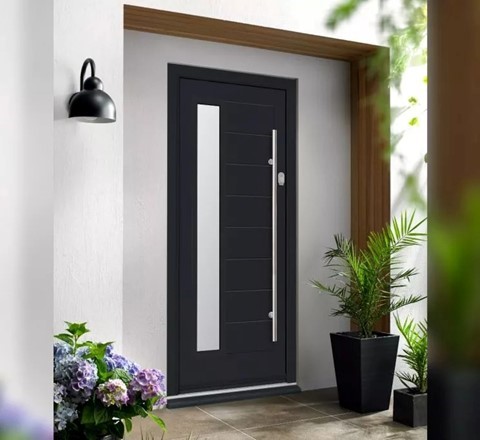 These stylish Carnoustie traditional composite front doors are available in a range of standard sizes with and without side lights there really is something for every home. They offer high-definition GRP skin, use a high performance LVLF core, and a full range of accessories available to complete the look. Carnoustie front doors also offer a U value of 1.4 W/m2K and strong laminated security glass.
View our composite Carnoustie front doors here.
Wood
Solid wood doors, when properly sealed and insulated, can offer good energy efficiency. Wood is a fantastic natural insulator and high-quality wooden doors can significantly improve the energy efficiency of a home and reduce heating costs.
At Vufold, all our Ultimate wooden front doors are compliant with Part L building regulations on energy performance so you can be assured that your doors will have an impact on the energy efficiency of your home. They also contain a unique CLPF core that combines cross-laminated hardwood with insulating foam to provide increased thermal efficiency. Read our guide to choosing wooden front doors here.
uPVC
uPVC doors are known for affordability and durability. While they can provide decent insulation, their U-values are often not as low as those of composite doors, aluminium, or wooden doors.
Aluminium
Aluminium is a popular choice for front doors and is known for its exceptional durability. Although aluminium is not a natural insulator, modern aluminium doors can often offer better thermal efficiency than wooden or uPVC doors, as well as some composite front doors. This is due to their thermal breaks, weathertight seals and exceptional glazing. Vufold's aluminium front doors are double or triple glazed for reduced thermal transmittance. They also feature a high-density foam core and polyamide thermal breaks. Visit our Designer aluminium front door range if you are looking for a triple glazed front door.
Glazing
If you choose a front door with glass panels, it is worth doing some research into the best type of glazing for your home. Double or triple glazing can significantly improve insulation, with triple glazing taking the lead in terms of providing exceptional thermal efficiency. Bear in mind that triple glazed doors are often slightly more expensive than double glazed; so, it is vital to consider your priorities. Read our guide to choosing a front door glazing option here.
Installation quality
Even the most energy efficient door can lose its efficiency if not installed correctly. Proper fitting, sealing, and weatherstripping are essential for minimising heat loss.
Additional features
Energy efficient front doors also often have features such as thermal breaks, multiple seals, and insulated cores to enhance their performance. Shop Vufold's thermally efficient front door range today.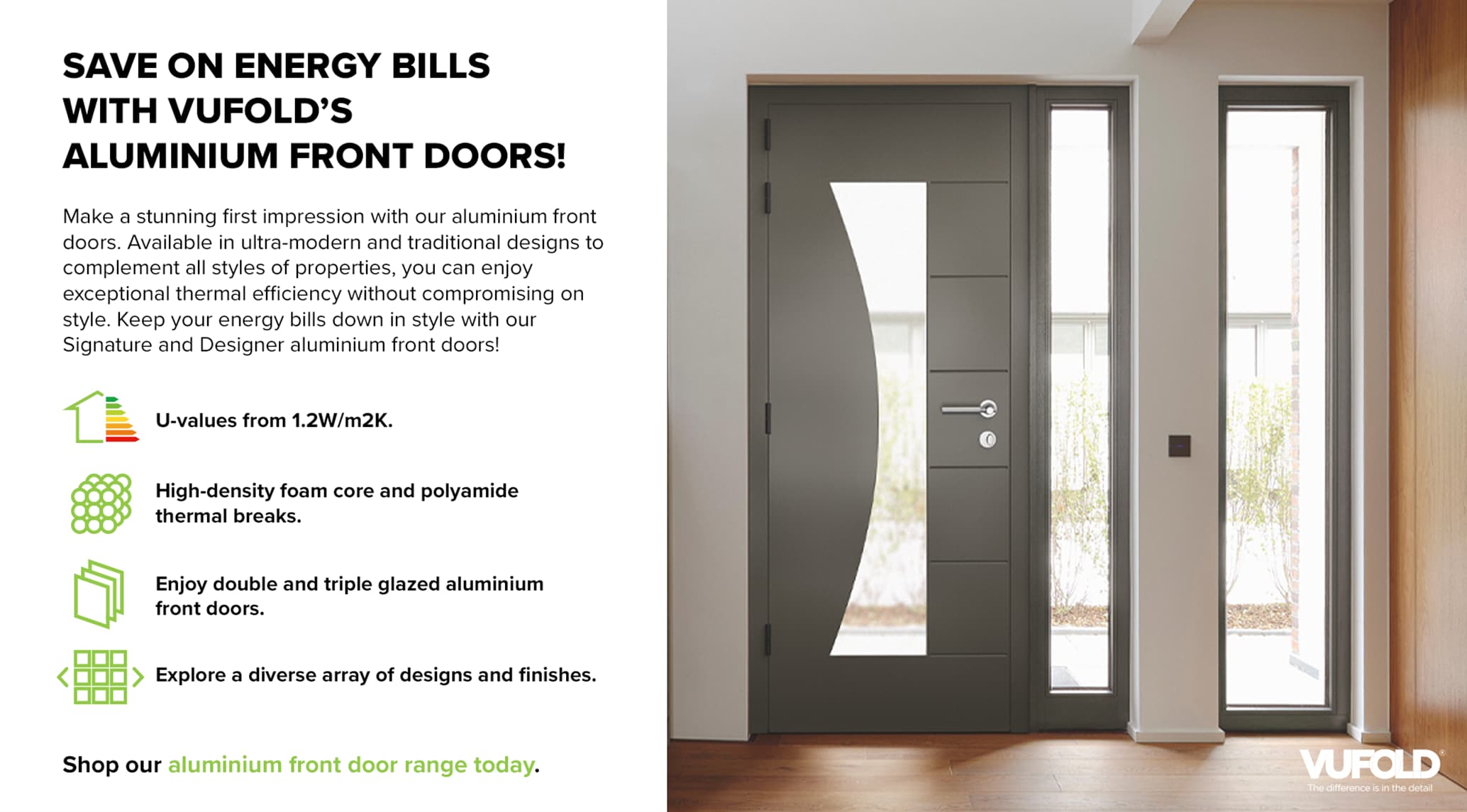 A summary: Choosing the most energy efficient front door
Finding the most energy efficient front door depends on various factors, including material, glazing, installation quality, and additional features. Understanding U-values and considering these factors will help you choose a front door that keeps your home comfortable while saving on energy costs in the long run. Vufold's Designer triple glazed aluminium front doors offer U-values from only 1.2W/m2K, making them a solid choice if you are looking for a durable front door that offers exceptional thermal efficiency.
MAKE A BOLD STATEMENT WITH VUFOLD'S DESIGNER FRONT DOORS
Introducing our exquisite Designer Door range, meticulously crafted to harmonize beauty and performance. Each door is meticulously tailored by our skilled craftsmen, guaranteeing elegance, high-performance, and utmost security for your home. With an extensive selection of designs, you'll find the perfect match for any style of house or apartment.
High-density foam core and polyamide thermal breaks
Exceptional thermal efficiency
Provides elegance and high performance
10-year manufacturing guarantee.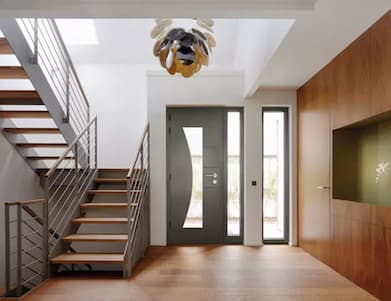 Shop our Designer aluminium front door range.
Frequently asked questions | Energy efficient front doors
Can I Improve the energy efficiency of my existing front door?
Yes, you can enhance the insulation of your current front door by adding weatherstripping, draft excluders, or upgrading the glazing. However, for a significant improvement, consider replacing it with a more energy efficient model.
Are there regulations regarding front door U-values?
Building regulations often specify maximum U-values for various building elements, including front doors. Check your local regulations to ensure your chosen door complies.
How do wooden and composite front doors compare to uPVC doors?
uPVC front doors are made from melted and cooled Unplasticised Polyvinyl Chloride (uPVC), whereas composite doors are made up of numerous materials bonded together, making them a more secure, thermally efficient and durable option. Wooden front doors are also a more secure option than uPVC doors, often offering a more traditional and classic feel. Read our full guide to uPVC vs wooden front doors here.
Do energy efficient front doors cost more?
Energy efficient front doors may have a higher initial cost due to the quality of materials and insulation features. However, the long-term energy savings often make them a cost-effective choice.
Why is it important to choose a high-quality manufacturer when finding a thermally efficient front door?
A high-quality front door will offer excellent durability, thermal efficiency, security, a large range of design options, and more. Choosing a bespoke supplier means you can choose between a large selection of options, such as accessories, colour and door style. View Vufold's complete range of front doors here.
WHY CHOOSE VUFOLD?
At Vufold, our front doors offer exceptional energy-saving performance for thermal efficiency, enhanced security and a 10-year guarantee for added peace of mind. Our affordable and transparent pricing and seamless configuration system allow you to install a beautiful, strong and secure front door in your home within a matter of days. Other benefits of choosing Vufold include:
Outstanding thermal efficiency
Enhanced security features
Easy installation and maintenance
Sleek and stylish door front door range, offering various materials and colours.
Shop our complete range of front doors here.

RELATED CONTENT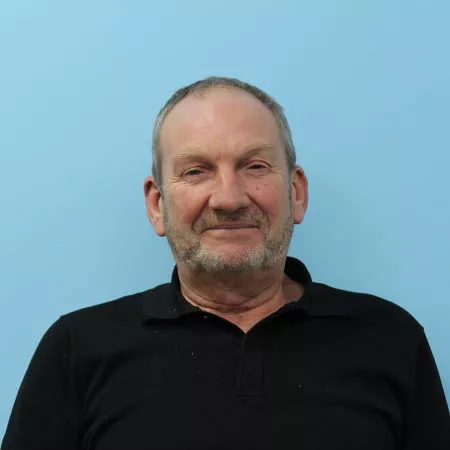 About John Collins
John has built Vufold into a unique online door and window company and has spent 20 years bringing innovative products and designs to fruition, recognising niches in the market and placing them in the likes of Wickes and Travis Perkins, he started Vufold in order to sell them directly. John founded Vufold and has amassed a wealth of experience in product design and development, and in particular timber-based products
Read more about Richard Collins