External wooden front doors benefits and factors to consider
Choosing a new front door for your home is an important decision to get right. Not only will your front door have an impact on the overall look of your home, it can also have an effect on security and the thermal efficiency of your home.
Wooden front doors have become a popular choice with many homeowners due to the many benefits they can offer as well as their aesthetic appeal.
---
In this guide:
Learn more about the benefits of wooden front doors and the considerations you should take into account.
This section discusses the main cons of wooden front doors. Read on to find out more.
Find out more about the types of wooden front door available.
Learn more about the costs of wooden front doors compared to uPVC and aluminium.
Find out more about Vufold's range of wooden front doors.
Learn more about the common questions asked when it comes to wooden front doors.
---
Why choose wooden front doors? Benefits and considerations
---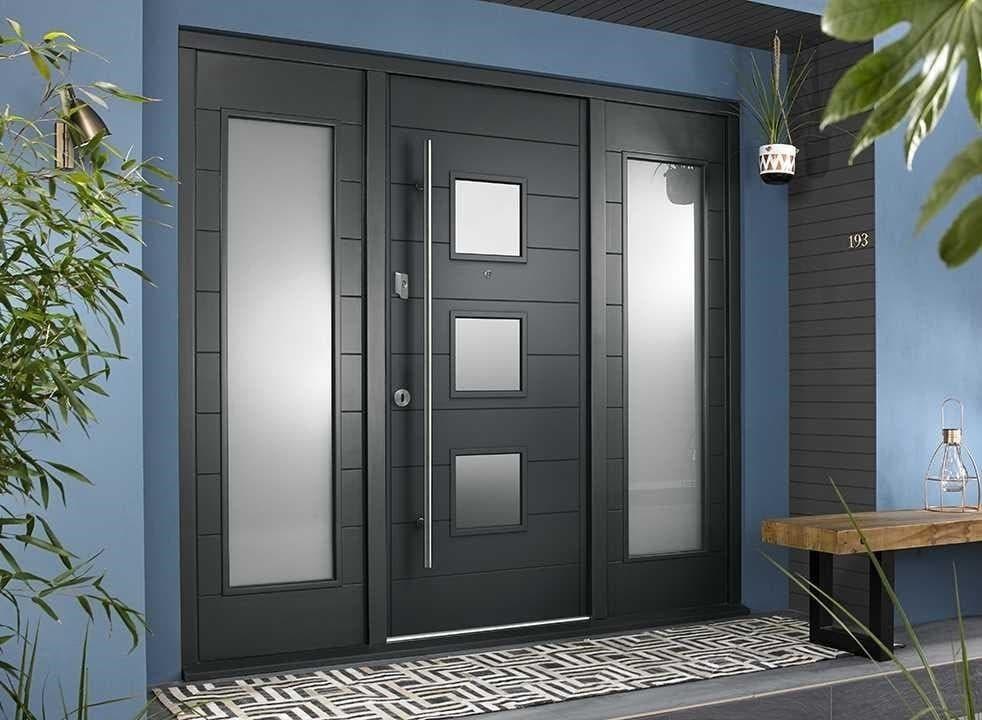 ---
Wooden front doors offer a wide range of benefits for your home, all of which should be considered before making a decision. The material you choose will have an effect on your home so knowing the benefits of your chosen material will help you to understand which front door is best for your home.
Whilst wooden front doors can be more expensive than other materials such as uPVC, they offer high-quality doors that are not only secure but offer a huge range of benefits for your home.
---
Aesthetics
Wooden exterior doors are an incredibly stylish and sophisticated addition to your home. Many homeowners appreciate the more traditional aesthetic that wooden front doors can offer over uPVC or aluminium.
---
Customisable
A key benefit of wooden doors is that they can be customised to suit your personal style preferences. With many different wood types and finishes available, as well as the ability to refinish doors to suit changing tastes.
Vufold's range of wooden front doors is available in both oak and grey with the option to add in glazing or side panels on one or both sides of the door, depending on the size of your opening and the look you want to achieve.
---
Increase property value
A good quality wooden external door can increase a property's value not only due to its style but also its strength, longevity and thermal efficiency.
---
Security
Wooden doors, particularly with strengthened inner cores, offer excellent security against forced entry.
---
Insulation
When properly finished and maintained, wooden front doors can last for decades with few signs of wear and tear. Plus, wood is a fantastic natural insulator and high-quality wooden doors can significantly improve the energy efficiency of a home and reduce heating costs.
At Vufold, all of our Ultimate wooden front doors are compliant with Part L building regulations on energy performance so you can be assured that your doors will have an impact on the energy efficiency of your home.
---
Long-lasting
A good quality wooden front door can be expected to last for many years if it is well-maintained. While the initial cost of a wooden front door may be higher than uPVC or aluminium, the doors are likely to last for much longer and continue to be aesthetically pleasing throughout their lifetime.
---
Cons of wooden front doors
Although wooden front doors offer a wide range of benefits, there are a few disadvantages that you should consider before making your final decision.
---
Maintenance
One of the main cons of wooden doors is their requirement for more ongoing maintenance than other materials such as uPVC or aluminium. When wood comes into contact with moisture or changing temperatures, it can become warped and misshapen.
However, these risks are minimised providing that the door is properly maintained through regular staining or painting, which seals the wood and protects it against the elements.
---
Sagging
Another con of wooden doors is a risk of sagging. This occurs as a result of the door swelling and shrinking due to ongoing humidity changes which can lead to hinges becoming loose and door frames slightly shifting. It is inevitable that a wooden external door will sag at least a little over the years, but proper maintenance of the wood and routine tightening of the hinges can prevent this.
---
Types of wooden front doors
---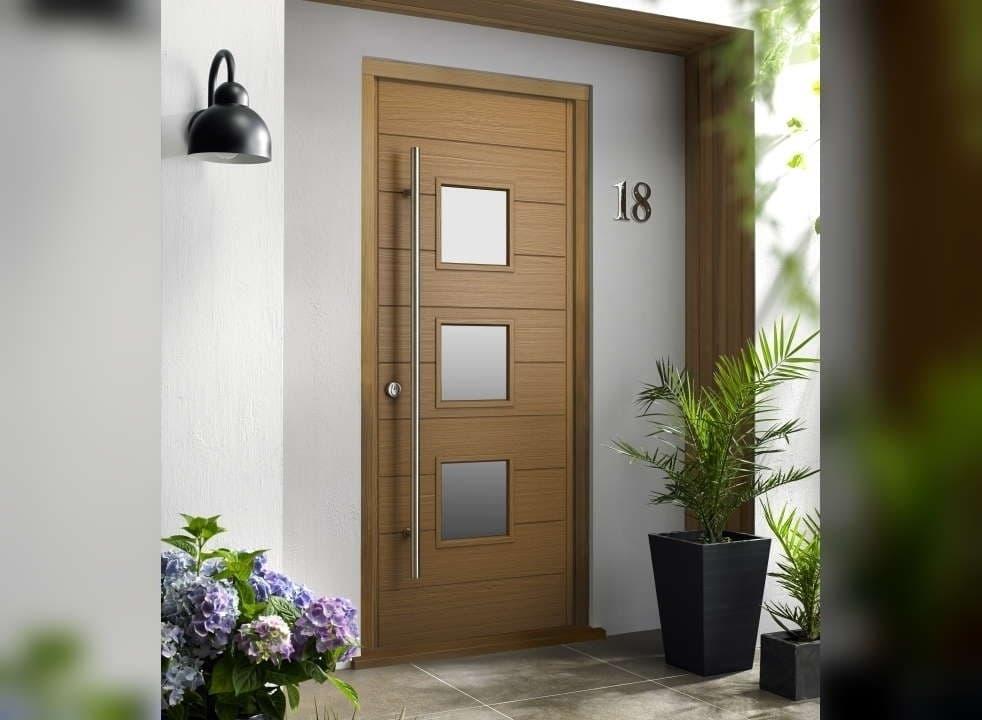 ---
When opting for a wooden front door, it's important to be aware of the options available to make sure you choose the right door for your home. There are three main types of wooden front doors available, each with its own pros and cons.
---
Engineered wood (Accoya)
Accoya wood is a modified softwood that offers the attractive appearance of timber along with improved strength, UV resistance and a natural insect barrier. This makes it a durable and low-maintenance solution that meets the needs of many modern homes while retaining a traditional aesthetic.
With engineered wooden front doors, the core is made of cheaper pieces of wood or foam and the exterior frame is then covered with an outer layer of the visible wood for the door (veneer). This makes the door look like a solid wood door but provides a look of a more expensive wooden door.
They provide good insulation and strength and do not expand and contract with changes in humidity in the same way as solid wooden doors. They also tend to offer excellent soundproofing and are incredibly durable which are important factors when choosing an exterior door.
---
Solid wood
Solid wood doors are made from 100% natural wood that has not been engineered. They tend to be reasonably sturdy and durable, particularly when made with hardwood such as oak or maple. The doors are made up of the same wood cut into pieces and glued together to create the door.
However, they can be relatively high maintenance and must be carefully taken care of to preserve their lifespan. They are also more susceptible to warping as a result of ongoing changes in humidity.
---
What is the difference between a solid wood door and a solid core door?
Solid wood doors are constructed from frames and panels of a single type of natural wood.
On the other hand, solid wood core doors have natural wood on the outside and an engineered, non-natural wood core. This makes them just as sturdy and durable as solid wood doors but often they are a little more affordable. Furthermore, they are often less susceptible to warping due to the engineered wood core.
Sometime, solid core doors contain additional non-natural materials in the inner core to provide additional insulating and strengthening properties.
Vufold's range of Ultimate External Wooden Front Doors contain a unique CLPF core that combines cross-laminated hardwood with insulating foam to provide excellent strength and security as well as increased thermal efficiency. A five-layer cross-grained hardwood sheet covers the core for additional durability. On top of that is a hardwood veneer that is factory finished with three coats of a flexible, microporous wood finishing system to maximise the door's lifespan.
---
How does the cost of wooden front doors compare to other materials?
When choosing an external front door for your home, weighing up the benefits of your chosen material with the costs and your budget will play a huge factor in the front door you choose.
| | |
| --- | --- |
| Material | Average cost |
| uPVC | £250 - £750 |
| Aluminium | £250 - £1000 |
| Wooden | £300 - £4000 |
To find out more about how much it may cost to replace your front door, please read our guide.
---
Vufold's wooden front doors
---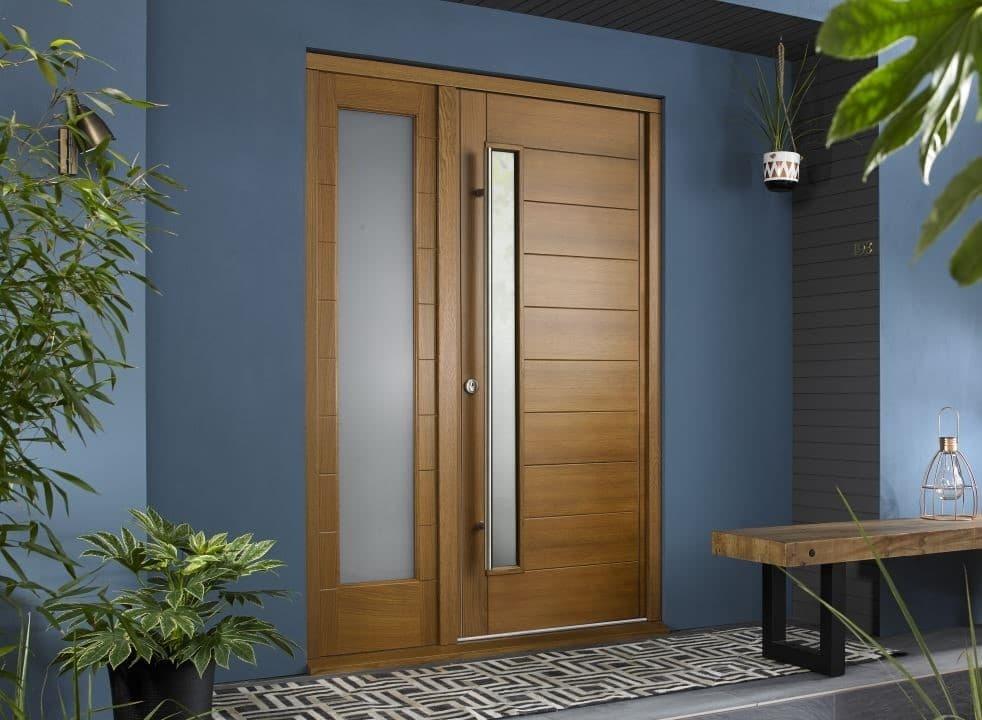 ---
A Vufold, we stock a range of high quality external wooden front doors. Take a look at some of our range below to find out more.
---
FAQs
Do wooden front doors warp?
Wooden front doors can warp as a result of exposure to moisture but this can be prevented if they are properly finished and regularly maintained.
---
How do you maintain a wooden front door?
Wooden front doors should be regularly stained or repainted to protect the wood from moisture and insects.
---
Are wooden front doors safe?
Wood is a strong and durable material and makes for a strong and secure choice for front doors. Solid wood core doors are often safer thanks to an inner core which makes them even stronger.
---
Are wooden doors thermally efficient?
Wooden doors are usually very thermally efficient, particularly if they are solid wood or have an insulating foam core.
---
How long does a wood front door last?
Wooden front doors can last over 100 years if they are properly maintained.
To find out more about our range of wooden front doors or to speak to a member of our team, please contact us today.
---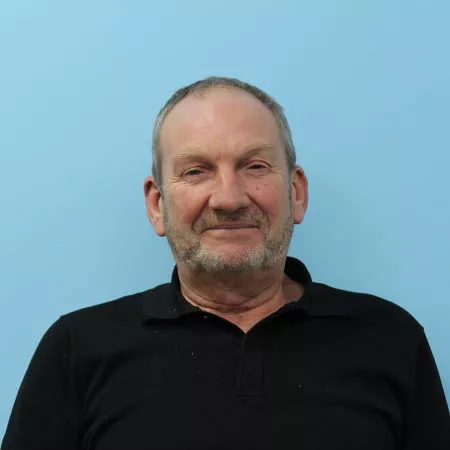 Author:
John Collins - Managing Director
About John Collins
John has built Vufold into a unique online door and window company and has spent 20 years bringing innovative products and designs to fruition, recognising niches in the market and placing them in the likes of Wickes and Travis Perkins, he started Vufold in order to sell them directly. John founded Vufold and has amassed a wealth of experience in product design and development, and in particular timber-based products
Read more about John Collins