Choosing black aluminium front doors | The benefits of black doors and factors to consider
When it comes to making a good first impression to guests, there are more factors to bear in mind that simply the interior design of your home. A front door frame that reflects your individual style preferences and aesthetic can be a great way to ensure your home makes a statement. But where do you start when there are endless design options available?
Black aluminium front doors offer a classic and timeless feel without compromising on strength and durability. Here, we take you through the key benefits of black aluminium front doors, and how to choose the right front door for your home.
In this guide:
Read the benefits of choosing an aluminium entrance door for your home, and how aluminium compares to other options.
Find out why black remains a highly popular option when it comes to exterior design colours.
Read what other factors you should bear in mind when choosing a black aluminium front door.
Why choose an aluminium front door?
Aluminium front doors are known for their exceptional durability. Aluminium is a corrosion-resistant material, making it well-suited for exterior doors that are exposed to the elements. Unlike wood, which can warp, rot, or deteriorate over time, aluminium doors can withstand harsh weather conditions without deteriorating. This durability ensures that your aluminium front door can serve as a long-term investment. You can read our full guide to choosing a new front door for more guidance on what to consider.
If you are looking for a more modern, sleek feel for your door – an aluminium frame is the perfect option. As opposed to more traditional options such as timber, aluminium offers a contemporary, sophisticated style. Available in a wide range of colours and design options – you are guaranteed to find the right choice of aluminium external door for you. When combined with large glass panels, aluminium doors allow you to utilise natural light while enjoying a minimalistic, understated door design. Find out more about choosing an aluminium front door with glass here.
ARE YOU LOOKING FOR A TRIPLE GLAZED, PREMIUM ALUMINIUM FRONT DOOR?
SHOP DESIGNER ALUMINIUM FRONT DOORS
Each door in our Designer Door range is meticulously tailored by our skilled craftsmen, guaranteeing elegance, high-performance, and utmost security for your home. With an extensive selection of designs, you'll find the perfect match for any style of house or apartment.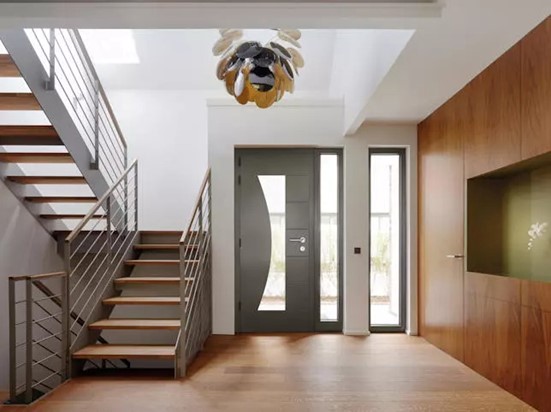 Extensive 10-year manufacturing guarantee.
Multi point locking system, 3-star security cylinder and laminated glass as standard.
Triple glazed.
High-density foam core and polyamide thermal breaks.
Shop our Designer aluminium front doors.
Why do black doors remain a highly popular option for homeowners?
Black is a classic choice of colour for front doors. Despite the huge range of options available in the market – the timeless colour only seems to rise in demand as the years go on. This is likely due to the minimalistic exterior design trend continuously returning. In a recent survey conducted by Vufold, it was discovered that simpler, minimalistic and ultra-modern front door designs with classic colours are currently increasing in popularity. When Vufold asked UK homeowners about their preferred front door aesthetic, over 45 percent of respondents answered that they prefer a "minimalistic and classic" door. Like options such as grey and white, black also goes well with most colour schemes, so you won't have to adapt your interior décor to fit it around your front door.
For a rustic and industrial feel, you may want to combine your black door with wooden flooring or furniture in your hallway to complete the look. You can read our design tips on styling your home's entrance here.
Some key benefits of black front doors include:
Create a dramatic, bold effect when paired with contrasting colours such as white.
Hide dirt and dust for longer than other colours, making it a perfect door if you have a busy family life.
A black door will blend in no matter the paint or floor colour due to its flexibility, producing a great finish for any room.
Shop our full range of aluminium front doors here to find out more about our options.
What to consider when choosing a black aluminium front door
When buying any new front door for your home, there are several factors to consider. Before you purchase your new black front door, consider the following:
Size or configuration – this will ensure that you choose the right door for your home and the space you have available. Find out more about choosing the right front door configuration here.
Style of the door - this can have an impact on the overall look of your door and home so should be carefully considered. For example, you may want a traditional, timber door if you prefer a cosy, rustic feel. On the other hand – aluminium or composite may be ideal for a more modern, sleek feel. Shop our complete range of front doors here.
Supplier – doing some research into the supplier you buy your aluminium doors from will allow you to ensure that your door is of a high quality. It will also make sure your supplier is reliable and will deliver your door on time.
Glazing – being aware of the glazing options available when buying a new aluminium front door will have an impact on the look and design of your front door. If you are looking for an aluminium front door with triple glazing, shop our aluminium Designer Front Doors.
Guarantees – this will help you to understand how long the door will last and will help to keep your home as secure as possible in the future. Visit our guarantees page to find out more about our guarantees for different products.
Hardware and accessories – the hardware and accessories you choose can significantly impact the overall look of your black front door. From door handles and knobs to door knockers and letterboxes, select pieces that align with your preferred style, whether it's classic, contemporary, or something in between. The hardware's finish, such as brushed nickel or oil-rubbed bronze, should also coordinate with the door's black colour for a cohesive appearance. Find out more about choosing hardware for front doors here.
Consider the colours of your home's exterior. While black doors generally go well alongside most colours, black can create a striking contrast against lighter hues like white or grey. These colours can also help you to maintain a classic and modern style. Read our guide to choosing modern composite front doors here.
How do aluminium front doors compare to composite front doors?
Composite and aluminium front doors are two of the strongest and most durable front doors you can choose. Here's a quick overview of the key differences:
 

Composite door

Aluminium door

Pros

Long lasting and durable

Variety of colours and styles

Low maintenance

Excellent thermal efficiency

Lightweight

Low maintenance

Large doors available

Cons

More expensive than other types of door

Expensive

Can become stained

Life expectancy

30+ years

45+ years

Maintenance

Very low

Very low

Thermal efficiency

Very good

Excellent
Read our guide for more information on composite vs aluminium front doors: Aluminium vs composite vs composite doors.
ARE YOU LOOKING FOR A PREMIUM-QUALITY ALUMINIUM FRONT DOOR?
SHOP SIGNATURE ALUMINIUM FRONT DOORS
Our premium quality aluminium entrance doors provide the ideal blend of security, style, and performance. The range includes designs to suit all types of homes. Available made to measure or in standard sizes – these doors will create the perfect entrance to your home.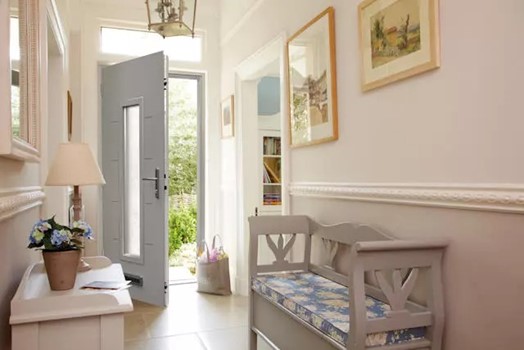 Extensive 10-year manufacturing guarantee.
Multi point locking system, 3-star security cylinder and laminated glass as standard.
Double glazed.
High-density foam core and polyamide thermal breaks.
View our Signature aluminium front door range.

RELATED CONTENT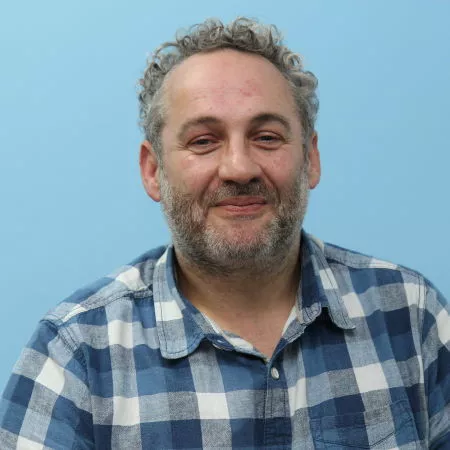 About Richard Collins
Rick is an expert in lean practices and principles, and how they're applied to manufacturing, warehouse, administration and management of the business. As an operations director he oversees all areas of the business ensuring they run as efficiently as possible and has worked his way up through virtually every department since he joined us 13 years ago.
Read more about Richard Collins