WHAT TYPE OF FRONT DOOR IS MOST SECURE? | CHOOSING A MATERIAL, ACCESSORIES AND MORE
The front door of your home is not only the main entrance door to your home, but also one of the main defences against home intruders and burglaries. Home robberies are almost always crimes of convenience, so making it difficult for would-be robbers to break in through an entry door goes a long way towards protecting your family and your belongings.
When looking for a new front door or any exterior door for your home, one of your top priorities should be how secure it will make your home and how much of a deterrent it will be for burglars. With a wide range of options available, it can be difficult to understand what it is that you should be looking for, such as the materials or lock systems that offer the best security for your home. For example, aluminium front doors are known for their optimum durability and strength.
This article aims to provide you with the knowledge you need to find the best front door to meet your home's needs.
In this guide:
Learn more about what you should look for when buying a more secure front door for your home.
Find out more about the types of front door that are the most secure.
Learn more about the factors you should consider when looking for a more secure front door.
WHAT TO LOOK FOR WHEN BUYING A FRONT DOOR FOR SECURITY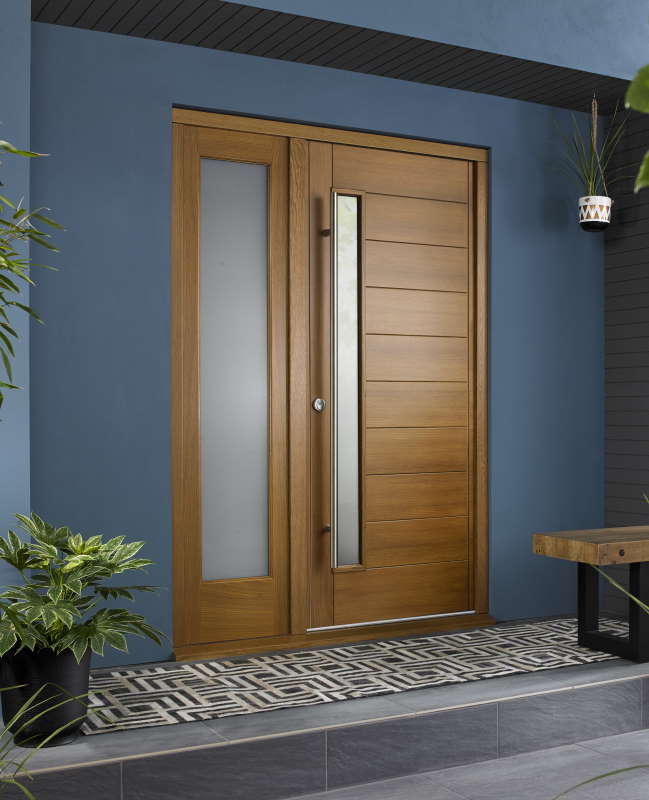 So, what should you actually be looking for when buying a new front door with security in mind?
The most important factors to consider when securing your front door are:
Some of the most popular materials used to make the door itself include uPVC, wooden and composite doors. They all have their own strengths and weaknesses when it comes to security.
The type of lock you use will matter less than the quality of the lock used but the most popular types include:
Deadbolt lock
Cylinder lock
Euro cylinder lock
Multi-point locking system.
When browsing for a new external door for your home, a great indicator of door security is specific accreditations for the door. This will let you know that the door has been rigorously tested and meets a minimum standard of security. Higher quality and approved locks for your front door will help to prevent lock snapping and make entry to your home more difficult for intruders. PAS 24 and BSI Kitemark accredited doors, for example, are designed to provide a reasonable standard of security so checking for these certifications can help you to select the most secure front door for your home.
Read our guide to choosing front door security locks here.
Are you looking for a secure traditional composite front door?
Our pick:
Shop Vufold's traditional composite front door range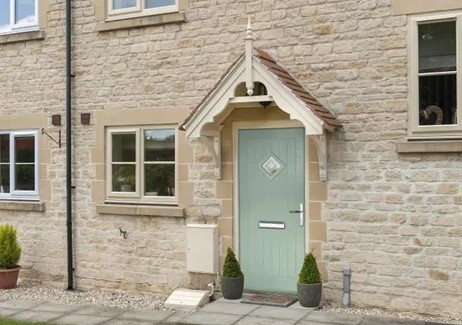 Thermally Efficient - U Value of 1.4 W/m2K (Energy Rating B)
Safe and Secure - PAS 24 in line with Document Q tested
Easy Install - full fitting kit included
Guarantee - 10 Years.
View our traditional composite front door range.
WHICH TYPE OF FRONT DOOR IS MOST SECURE?
From the aesthetics to the practicalities of the door that will fit into your home, there are many considerations to make before buying a new front door and when thinking about door security. Below are some of the most popular materials used for the creation of front doors, as well as some of their benefits and disadvantages when it comes to front door security.
WOODEN DOORS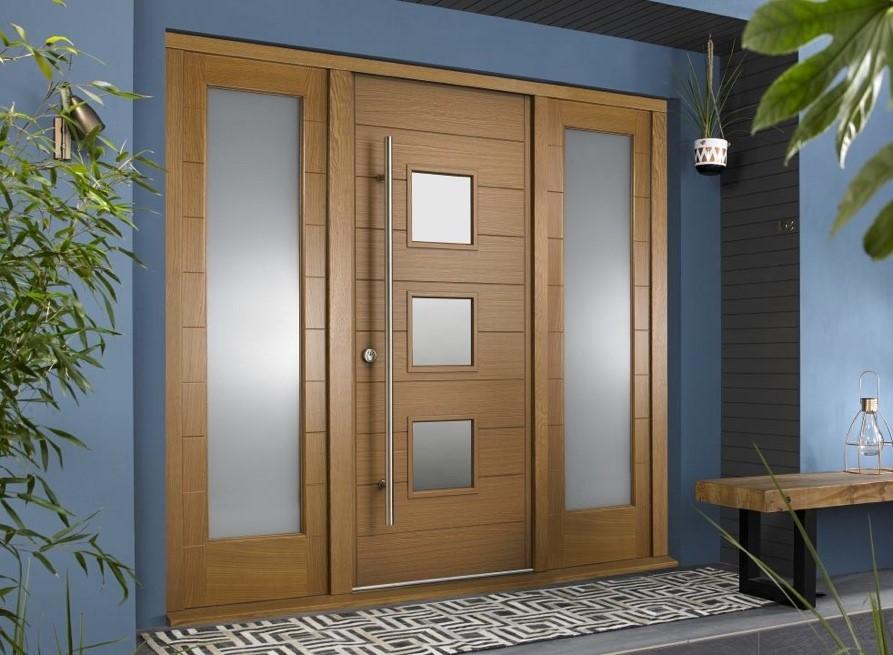 Wooden front doors are a traditional option for many homeowners and they are available in a huge range of styles, types of wood and sizes.
Modern wood doors are a fantastic option in terms of home security. A sturdy, wooden door with a well-fitted door frame and lock will be hard for intruders to break into, offering excellent security for the home. Buying a wooden door or timber door for your home will provide an extremely solid door that will be hard for intruders to break into.
The only extra consideration to make in terms of buying a wooden front door is the maintenance required over time, as wooden doors will need treatment to maintain their strength and robust integrity.
Remember that, even if the door is made of solid wood and is secure as possible, ultimately, the security of your wooden front door will come down to lock that you choose and the door frame of the door. If either of these elements are lower quality, your door will be easy to kick down.
VUFOLD'S WOODEN FRONT DOORS
Vufold's range of Ultimate wooden Front Doors are manufactured with a CLPF core which provides great strength and stability for your door. We also provide a high-quality frame, locks and other hardware to ensure that your door is as secure as possible once it is installed in your home.
Take a look at our range of wooden front doors to find out more.
UPVC DOORS
Thanks to the low price and even lower maintenance required, uPVC doors have been a popular choice for front doors for many years.
Modern uPVC doors are a huge improvement on older versions which were not renowned for their strength or security. The standards in security and quality when buying a uPVC door is much better thanks to higher manufacturing standards.
However, with uPVC doors, locks can only be attached in place of the original lock so additional locks for extra security cannot be added.
One of the biggest drawbacks of a uPVC door is the longevity. They tend to have a shorter lifespan than other materials (10-15 years) and, as they deteriorate their level of security can also deteriorate.
COMPOSITE DOORS
Composite doors look to address the problems found in other types of door such as uPVC and wooden doors. Read our guide to composite vs uPVC front doors here.
Featuring a reinforced steel frame, as well as a solid hardwood internal frame and a glass-reinforced plastic outer layer, composite doors are able to withstand huge amounts of force and provide a fantastic level of security to your home.
When fitted with a high-quality and well-fitted lock, a composite door is one of the most secure on the market. As well as offering excellent security, composite doors also require very little maintenance and can withstand the elements incredibly well.
Shop our complete range of composite front doors here.
ALUMINIUM DOORS
Aluminium front doors are made from solid and sturdy aluminium. They are usually constructed using aluminium sheets with a thermal insulation material often made from plastic. The doors also use an aluminium thermal frame to help keep your home energy efficient and use either stainless steel or aluminium handles. Aluminium front doors generally have the highest price range due to their impressive strength. If security and durability are your priorities when choosing a new front door, aluminium front doors may be the ideal option for you. Read more about the different front door materials here.
Are you looking for a secure, classic aluminium front door?
Our pick:
Shop Vufold's Smart Signature aluminium front door range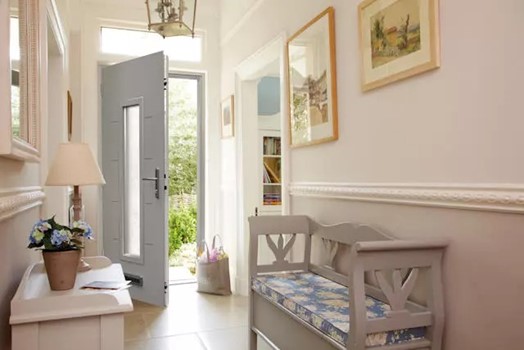 A premium product that is sure to enhance any property. Signature Doors from Smart offer style, security, thermal efficiency and very low maintenance, making them a great option for the modern family.
WHAT SHOULD YOU LOOK FOR WHEN BUYING A NEW FRONT DOOR?
Once you have decided on the type of material that you would like for your front door, it is important to consider a few more factors to ensure that your door will be secure enough to protect your home:
A REPUTABLE SUPPLIER
Finding a reputable door supplier will go a long way towards guaranteeing top quality materials and build quality, so be sure to go through the proper channels in securing a reliable vendor. Front doors with a lower price is often an indicator of their quality so, whilst it might be tempting to go for something a little cheaper, it may not always be the best option.
At Vufold, we are able to offer:
A UK based family business with expert advice on the phone at any time
Products designed for UK weather conditions
Competitive prices on bespoke sized doors
High levels of security to make your home safe and secure
Price match promise – you will not get a better-quality product for a better price
LOCKS AND ACCESSORIES
Another aspect to consider when buying a new front door for security is the lock and, more specifically, making sure the door is fitted with a lock that meets the standards of PAS24, a set of requirements that guarantee a minimum threshold of security against break-ins.
It is also important to consider what material and style of accessories to go for, such as handles, and more. All of Vufold's front door sets can be provided with the following optional extras, including:
Frame kit
Long bar handle
Night latch and hinges
Dead lock
Door viewer
Post box
Letterbox.
Read our full guide on how to make a front door more secure here.
HOME INSURANCE
One last consideration to make in relation to the type of front door you choose to install is what your home insurance says. Usually, home insurance policies require a minimum level of security. This level of security will vary depending on your policy but, in most cases, insurers will ask for a five-lever mortice deadlock to be fitted otherwise your insurance may be void in the event of a break in.
Be sure to check your insurance policy before purchasing your door, as it can vary depending on your home and the type of insurance you have in place.
There are many considerations to make when buying a new front door, especially when considering how secure it will make your home. Aesthetics aside, there are a number of options available on the market that can work for you, from wooden doors to composite doors and aluminium front doors, as well as a range of locks to choose from.
If you'd like to find out more about the best doors for security or would like further advice, please contact our expert team today.

RELATED CONTENT
---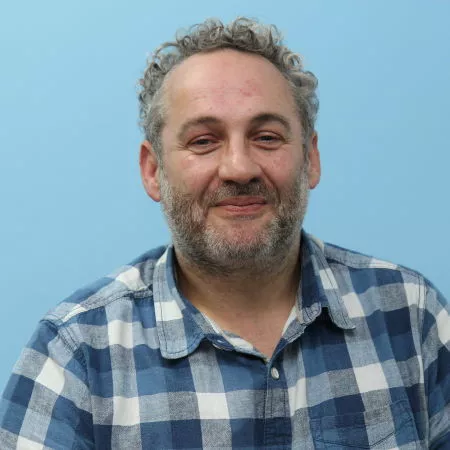 Author:
Richard Collins - Operations Director
About Richard Collins
Rick is an expert in lean practices and principles, and how they're applied to manufacturing, warehouse, administration and management of the business. As an operations director he oversees all areas of the business ensuring they run as efficiently as possible and has worked his way up through virtually every department since he joined us 13 years ago.
Read more about Richard Collins