How common are burglaries in the UK, and are the British public aware of what to look for in a high-security aluminium bifold door?
---
According to recent research, a burglary takes place every 106 seconds in the UK. It is therefore vital to ensure all doors in your home, including patio doors, are secure and feature the best security options possible.
Burglaries are costly crimes; however, there are many preventative measures that can assist in keeping your home as secure as possible. According to research, patio doors are a common target for burglars. Choosing a high-quality material for your patio doors, such as bifold doors, can therefore go a long way in keeping your home secure and protected.
How clued up are UK homeowners when it comes to bifold door security?
According to recent research by Vufold - 100% of UK homeowners aren't aware of what makes a high-security bifold patio door:
"Do you have an understanding of what makes a high-security bifold patio door?"

This data comes after our recent study into bifold door buying habits, in which we found that 65 per cent of homeworkers do not have a lot of knowledge about the benefits of bifold doors.
Interestingly, the key priority for UK homeowners is aesthetic and design, taking the lead over other factors such as security and durability:
"If you were to buy a new patio door for your home, what would be your key priority?"

Ensuring you buy a door that has the best security measures is vital for keeping intruders at bay. For example, high-security options such as multi-point locks are particularly beneficial for that extra peace of mind. These locking systems provide up to five times the security as the standard single-point lock, and a multi-point lock is screwed or fixed into the door edge. This locking system is unique because it uses multiple types of locking mechanisms. This may include a deadbolt, a latch, and a combination of rollers, mushrooms, hooks and bolts. Find out more about the security options for bifold doors here.
Despite security features being extremely important - when it comes to additional bifold door security features, the majority of UK homeowners admit that they aren't aware of what is meant by a multi-point lock. According to Vufold's recent research, 75% of UK homeowners are also unsure of whether their doors have secure locks and handles:
"Do you feel that the doors in your home have secure handles and locks?"

Has the cost-of-living crisis impacted our priorities when looking for a new bifold door?
The cost-of-living crisis has led many of us to reconsider our spending habits and budget wherever possible. According to our research, the cost-of-living crisis has caused many buyers to prioritise cost over quality. Vufold's recent survey found that 62% of UK homeowners are more likely to prioritise cost over the quality of a door material:
"Are you more likely to prioritise price over the quality of a door as a result of the cost-of-living crisis?"

Although the upfront cost of patio doors such as aluminium bifold doors may seem like a pricey commitment – finding a durable bifold door can prove to be a smart long-term investment. Durable materials mean you can rely on the doors lasting a long time without requiring lots of maintenance. At Vufold, we offer a ten-to-fifteen-year guarantee on all of our bifold doors against manufacturing defaults.
Find out how bifold doors can help you to utilise natural light while homeworking here.
Expert Quote:

"Most people accept that uPVC will be cheaper initially but bear in mind that uPVC costs can jump up should you want anything other than white. You may end up with a better colour and finish therefore, but you remain stuck with the drawbacks of the material generally."

Rick Collins, Director, Vufold
Why should you choose aluminium bifold doors for excellent security?
According to Vufold's recent research, timber is the most popular patio door option among UK homeowners:
"Do you have a patio door? If so, what material is your patio door frame?"

Timber bifold doors offer a timeless and classic aesthetic, and are an ideal option if you want a rustic-style door. However, if you are looking for a bifold door option that provides improved security and strength – you may want to opt for an option such as aluminium.
Find out more about the benefits of aluminium patio doors here.
Known for offering a sleek, modern aesthetic – aluminium has many benefits when it comes to strength and durability. Aluminium is a much more durable option when compared to materials such as uVPC and timber. Bifold doors made from aluminium can provide great strength and security, making them resistant to warping and flexing, ensuring they are secure options to protect houses from burglaries or from suffering damage through bad weather conditions.
Aluminium is also a better choice than wood for external bifold doors if you prefer a more maintenance-free option, and Vufold's aluminium bifolds are double-glazed or triple-glazed for reduced thermal transmittance.
High-quality bifold doors, such as Vufold's bifold doors, also offer excellent security features and accessories to provide peace of mind. Find out more about the security options of our aluminium bifold doors here.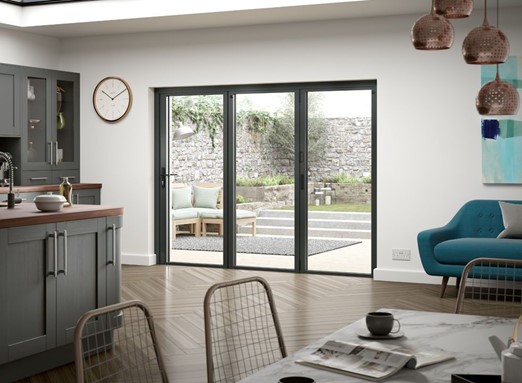 Shop our Status aluminium external bifold doors.
Expert Quote:

"Aluminium as a material will comfortably outlast uPVC, which has a lifespan of only 20 to 30 years."

Rick Collins, Director, Vufold
Read our complete guide to the benefits of aluminium bifold doors here.
Despite the benefits of aluminium when it comes to durability and security – our research shows that many homeowners are unaware that aluminium is a hugely secure option:
"What door material do you believe to be the strongest and most secure option?"

So, what should you look for in a high-security aluminium bifold door?
Choose a door with safety glass (either toughened or laminated). Safety glass means that gaining entry through the glass panels is next to impossible.
Choose a multi-point locking system. We recommend using extra locks if your bifold door doesn't come with a multiple-locking system.
Other aspects, such as safety screens can further improve security.
Choose a door with double or triple glazing - Double or triple glazing made from laminated glass is considered almost completely burglar-proof due to how hard it is to gain entry.
Consider investing in a burglar alarm and security camera for extra security.
Remember to also never leave keys hanging inside the letterbox, under plant pots or doormats – as these are the first places a burglar will check. You should also make sure all locks and bolts are fitted correctly, and that the frame is well-fixed.
Vufold's Status Aluminium Bifold Doors
The Status is our most popular aluminium bifold door set, and it's no mystery as to why. Not only are they fantastic value for such beautifully engineered bifolds, they're available in a host of configurable options and feature a low threshold and slim sight lines to give you more light and a better view.
Providing maximum security, our Status aluminium bifold doors offer a 3-star security cylinder and intermediate twin point lock. Featuring a low weatherproof threshold and double glazing using tempered safety glass, you can guarantee that your home will be fully secure.
View our Status aluminium bifold door range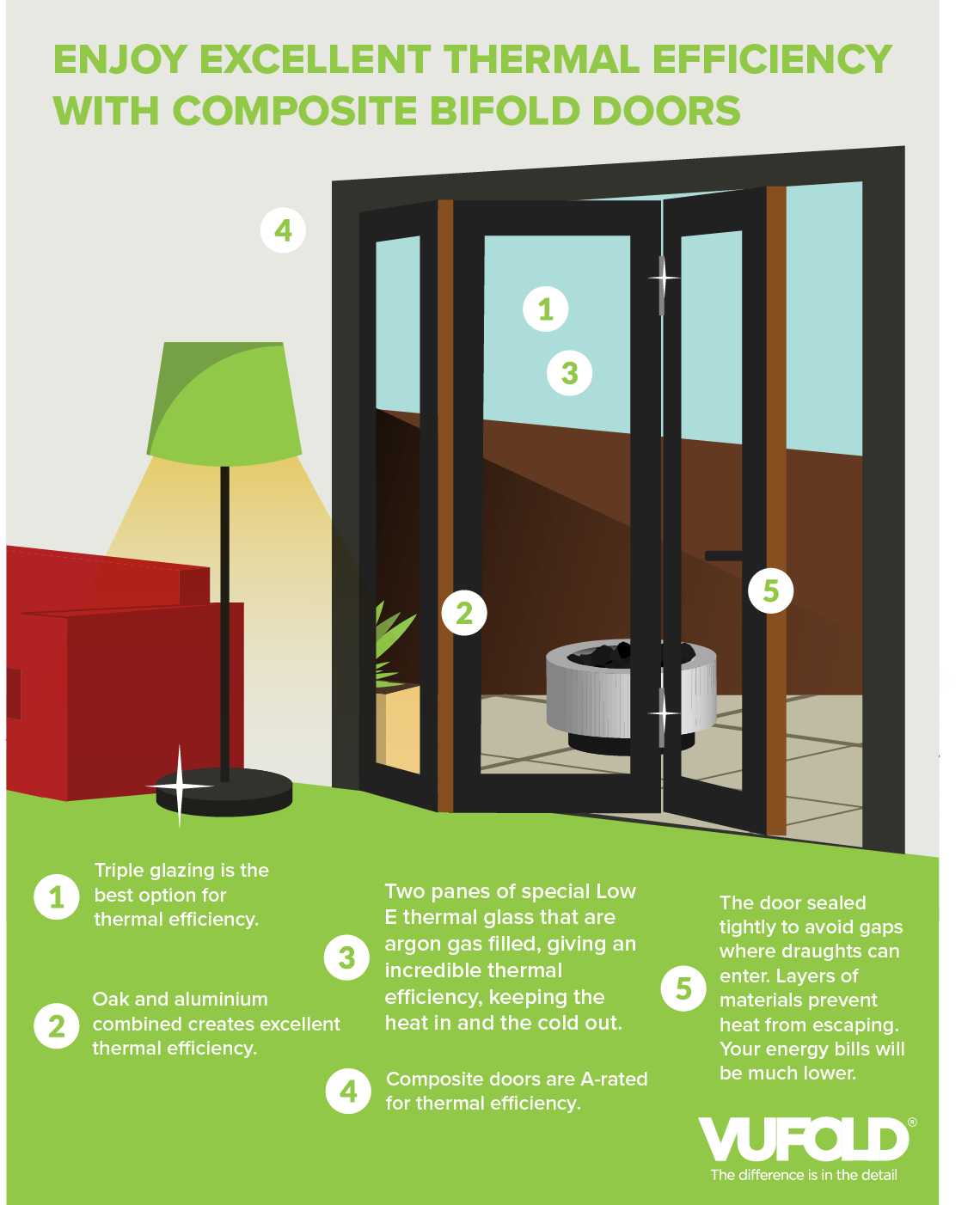 Frequently asked questions
What are the benefits of triple-glazed aluminium bifolds?
Triple glazing provides the following benefits:
Excellent sound insulation
Produces low U-value
Extremely energy efficient
Incredibly long-lasting
Both double and triple glazing provide excellent thermal efficiency. Vufolds bifold doors are either double or triple glazing.
What colour should you choose for aluminium bifold doors?
The right colour for you depends on your preferred aesthetics and the colours of your home's interior. Grey is one of the most popular colours for aluminium bifold doors and is by far our most popular colour option. The fact that it's a neutral colour means it can match with almost anything and adds a touch of class to any living area. The colour works perfectly with most, if not all, contemporary living spaces and blends well into your home if you are not intending to make a statement with your colour choices.
What does U-value mean when buying an aluminium door?
U-Value thermal efficiency is the measurement of how much heat is lost through a specific material. This is measured as a U-Value, with lower numbers demonstrating superior thermal insulation.
RELATED CONTENT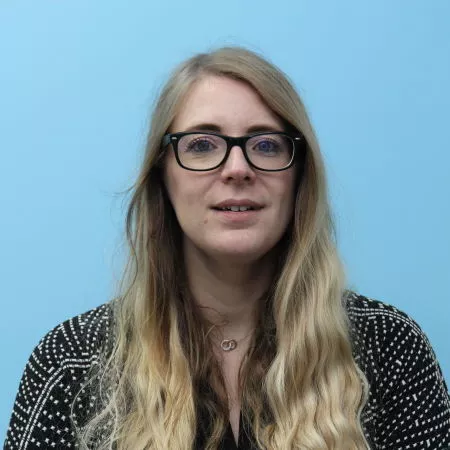 Author:
Amanda Hewer - Operations Manager
About Amanda Hewer
Having been at Vufold for around 12 years now, Amanda became operations manager after spending time in Customer Service, Sales, Order Processing and our Warehouse. Amanda likes that no two days are ever the same and believes her successful career stems from her keen interest in people, helping them achieve their goals and striving for constant improvement across all departments.
Read more about Amanda Hewer