How much does it cost to install a bifold door? | Factors to consider when installing a bifold door
---
Bifold doors can be a great investment for improving the home and utilising natural light. Offering slim sightlines, durable materials and a perfect way to bring the outside in – bifold doors can be an invaluable addition to your home. However – before purchasing a bifold door, you may be considering factors such as how long they take to install, and how much it will cost to install an external or internal bifold door.
Here, we look at how much it costs to install bifold doors, what affects the cost of bifold doors installation.
Click on a link to jump to that section:
Find out more about the factors that impact the initial cost of a bifold door.
Read what factors often impact the cost of bifold door installation.
Find out the average costs for installing a new bifold door.
Read whether you should consider seeking the assistance of a professional for bifold door installation.
Find out what you need to consider before installing your new bifold door.
Find out whether bifold patio doors are difficult to install.
What factors can impact the cost of a bifold door?
If you're wanting to install bifold doors cost-effectively it's a good idea to get to know the areas that can bump your prices up so you know what to expect when it comes to cost:
Your chosen bifold door frame material
Bifold door prices vary depending on the type of door frame material, as some materials are more durable and low maintenance than others. Aluminium used to be considered one of the costliest materials but has since come down in price slightly and can make for a durable investment. However, you may still find that aluminium doors are typically slightly pricier than other materials.
Timber bifold doors are incredibly popular due to their good quality/aesthetic, and provide a traditional feel. They are typically slightly less pricey than aluminium and composite bifold doors, so can make a cost-effective option
Composite offers the best of both worlds, combining the benefits of an aluminium door and a timber door - offering excellent thermal properties and low maintenance. On the other hand - UPVC was known to have been one of the cheapest materials for bifold doors. However, recent findings have dictated that the average price of a uPVC bifold door has increased.
Read our guide to comparing bifold door materials here.
You can shop our complete range of internal bifold doors and external bifold doors to find out more about costs and the benefits of different materials.
Glazing
Single glazing typically offers thin, poor insulation, and is an expensive investment considering the results. Double insulation, however, is arguably the most-effective option, sold at reasonable prices and providing average insulation thickness.
Triple glazing, on the other hand, is the priciest option, and you can expect this option to impact the price of your folding door significantly. However, this option does provide the thickest thickness option, and the most impressive results. It is the perfect option for keeping the cold out and heat in during winter, and is also very effective in keeping your home cool in the summer.
Find out more about bifold door glazing here.
Size and number of panels
As with every type of door, the size of the door and the number of panels required has a direct impact on cost. Before purchasing a bifold door, consider the configuration and door size you need, and ensure you factor this into your budget.
Location of the door
Is the bifold door internal or external? External bifold doors are typically more expensive, due to stricter measures required for security, thermal efficiency, and more. Whereabouts you are installing the bifold door may also have an impact on the cost of the door, as this can dictate size, thermal requirements, configurations, and more.
Visit our bifold doors advice centre to find out more about choosing a bifold door.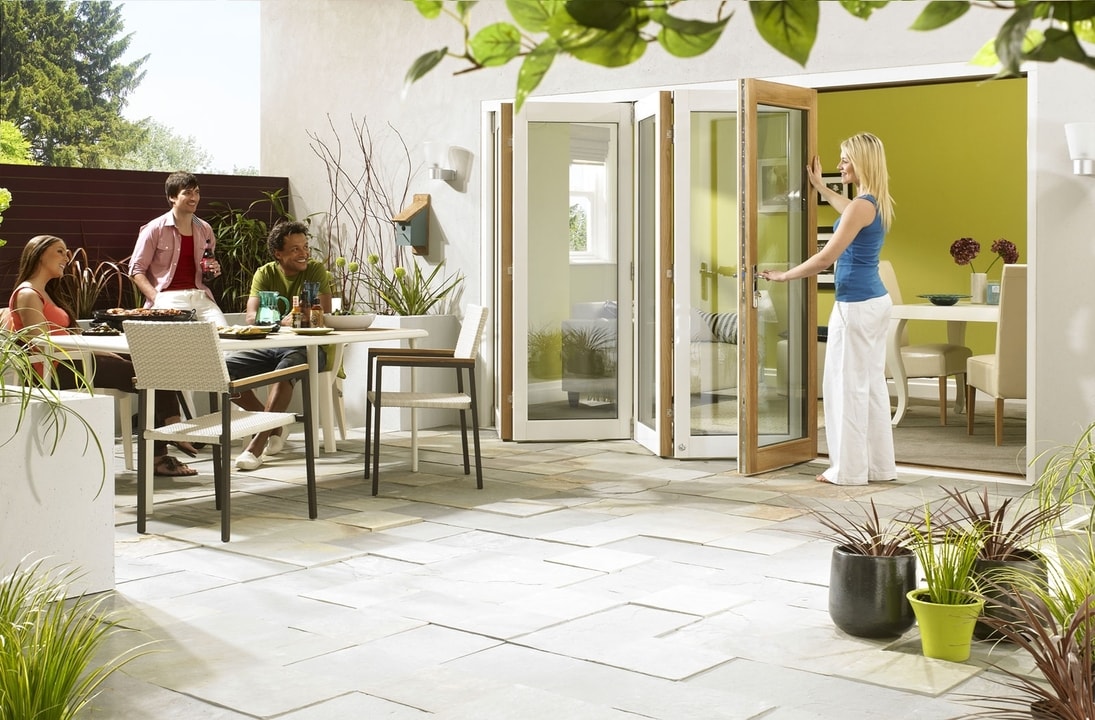 ---
Optional extras and upgrades
Some bifold doors allow you to choose optional upgrades, such as more secure handles, door catch kits, and trickle vents. This can have an impact on the overall cost of your door.
What factors can affect bifold door installation costs?
Whether you are installing an internal or external bifold door - it's essential to differentiate the location, as external doors will require different features and qualities than internal bifold doors.
For an internal bifold door -the main factor in price is whether the bifold door is being installed in an existing opening or not. With an existing opening, it's unlikely brickwork will be required so can be a relatively simple fit. If extra brickwork is needed, that can increase the cost by a considerable margin.
According to myjobquote.co.uk, to fit a standard internal bifold door into an existing opening, you can expect to pay approximately £250 for the labour and £650 for the material costs (if needed).
External bifold doors are generally more expensive because they require additional qualities such as thermal efficiency, security and durability. These factors can all have a huge impact on the cost of an external bifold door, so it is difficult to determine typical bifold door installation costs.
Size – the larger the bifold door and the more panels the door has, the harder it will be to install and the longer it will take.
Location – where you live may impact how much you pay for bifold door installation. For example, you should expect to pay more in London than in the northern regions.
Installation time – bifold doors that are difficult to install will take longer to install. Most installers will charge daily rates.
Read our complete guide to fitting and installing bifold doors here.
Tools required for fitting bifold doors - With most standard bifold doors, you will need to invest in many tools to install a bifold door. These can include hacksaws, routers, saws, and more additional tools that can add up quickly. However, with Vufold bifold doors, many tools are already included – meaning you don't have to consider the costs of purchasing many additional tools. Choosing a Vufold bifold door means you will only need to source is a screwdriver, drill, tape measure and spirit level. This level of ease means there is no need to hire the services of a professional fitter, saving you money.
What are the average installation costs for bifold doors?
According to job-prices.co.uk:
The average price for a small bifold door (2.7m) is approximately £600 inc. VAT.
The average price for a large bifold door (4.7) is approximately £900 - £1000 inc. VAT.
However, bear in mind that these are just average prices – you may find costs are higher or lower depending on a range of factors.
As stated above, the following factors can influence these prices:
What are the additional costs of installing bifold doors?
Additional costs can include any other essential items you need to fit bifold doors, such as fixings and hardware. Factors to consider also include whether you pay an expert to install your bifold doors.
Should you get a professional to help you to install a bifold door?
Standard bifold doors will likely require a professional for installation. This is because the installation process may be complicated due to how the doors are manufactured. Instructions that are complex and difficult to read may require a professional to decipher.
However, high-end folding doors like Vufold are ready-to-assemble, meaning they are one of the simplest kinds of doors to install. If you have moderate DIY knowledge, you will be able to install Vufold bifold doors yourself. You can find example installation instructions on our website.
Read our guide to installing bifold doors here.
What should you consider before installing a bifold door?
There are several aspects to consider before conducting bifold door installation, which include:
Hardware
Opening size measurements
Tracks
Whether you need planning permission
You have the correct measurements for the ideal bifold door size
The position and size of the lintels in your home
Thresholds
Glass
Installation costs.
How easy are bifold doors to install?
Factors influencing how long it might take to install bifold doors include the specifications of your door, and your DIY knowledge. Whether you need to look for many tools and extra parts to install your bifold doors should also be taken into consideration. Traditional bifold doors that are supplied with no necessary tools for installation can sometimes take a long time to install, as you need to find additional and essential parts needed to fit bifolding doors.
Whether the instructions are clear, how large the bifold doors are, whether you are installing the doors yourself can all affect how long it takes to install bifold doors. The supplier's lead times will also have an impact on how long it takes to install the doors.
Find out more in our complete guide Are bifold doors easy to install?
Related content
How to fit external bifold doors
Are bifold doors easy to install?
The benefits of aluminium bifold doors
---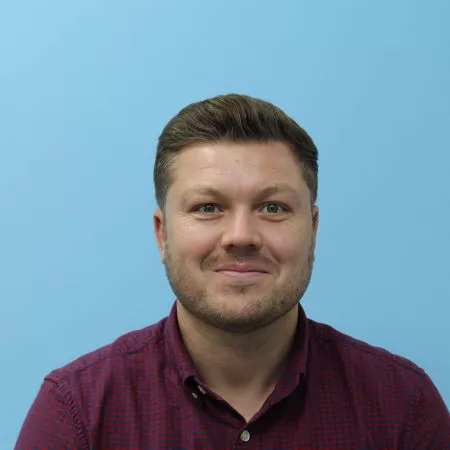 About Martin Burgess
For customers, Martin is one of the key people at Vufold and looks to offer technical advice, resolve any issues or problems that they may have. Martin is passionate about protecting the reputation of Vufold and likes to see a positive impact on the business due to his day-to-day efforts. Martin's proud of the team he's built around him and is dedicated to constantly improving the way the company meets its service commitments and delivers on its promises.
Read more about Martin Burgess