Installing & fitting internal bifold doors: Advice, considerations and FAQ's
If you're looking to purchase new bifold door system for the inside of your home, you may have some questions about the installation process. You may even be looking to install the bifold doors yourself.
In this guide, we provide advice and tell you what to consider when installing your bifold doors.
---
---
What to consider
There are several aspects to consider before conducting bifold door installation:
---
Hardware
You should ensure you have all the hardware necessary before fitting bifold doors. Some companies will sell you the doors with very few pieces of hardware, if any at all. Having to source the correct hardware yourself can delay installation. Hardware like slide bolts and mortice latches may not work with other pieces supplied.
Vufold's internal bifold doors come as a complete unit that includes all the hardware, fully machined and ready to assemble.
Some benefits of a Vufold internal bifold door include:
Comprehensive fitting instructions
DIY installation possible
Quick installation
No specialist equipment required
Easy to operate
High quality and fitness for purpose
Bifold hardware included:
Top/bottom pivot hinges
Intermediate carrier
Half offset hinges
Straight hinge
Slide bolts
Tubular mortice latch and keep
Installation bags
The installation bags provided contain all the fixings and drill bits you will need to fit your bifold doors, including:
Hardened steel wood screws
Hardened steel direct door frame fixings
HDS long drill bit
SDS drill bit
HSS drill bit
¼ HEX T30 insert bit
Cover caps
M4 x 40 screws
Plugs
¼ Hex Pozi insert bit
Allen key
---
Tools required for installation
Vufold doors

Standard doors

Allen key (included)
Philips screwdriver
Drill
Tape measure
Spirit level

Drill
Screwdrivers
Allen keys
Router
Chisel
Saw
Hacksaw
Tape measure
Spirit level
Pencil
Rubber mallet
Step ladder
Standard bifold doors will need to be measured and cut to size before installation. They will also need their hardware installed onto them to ensure proper function. Both of these situations require specialist equipment that may be hard to source and expensive to purchase.
Vufold doors are pre-machined and ready to assemble. This means a quick and easy installation. The only tool you will need to source is a drill.
---
OPENING MEASUREMENTS AND STACKING
You will need to accurately measure the opening (aperture), ensuring there's 10mm more in height and width so there's enough space to fit the bifolds and the frame.
To measure for bifold doors:
Measure the width in three separate levels (bottom, middle, top)
Measure the height from top to bottom at three separate places (left, centre, right)
Subtract 10mm from the smallest measurements
Check that the aperture is a perfect square by measuring the diagonals from corner to corner
It's important your measurements are accurate and you have taken your flooring type and thickness into consideration, to ensure a successful fitting. If you aren't confident in your measurements, hire a professional.
---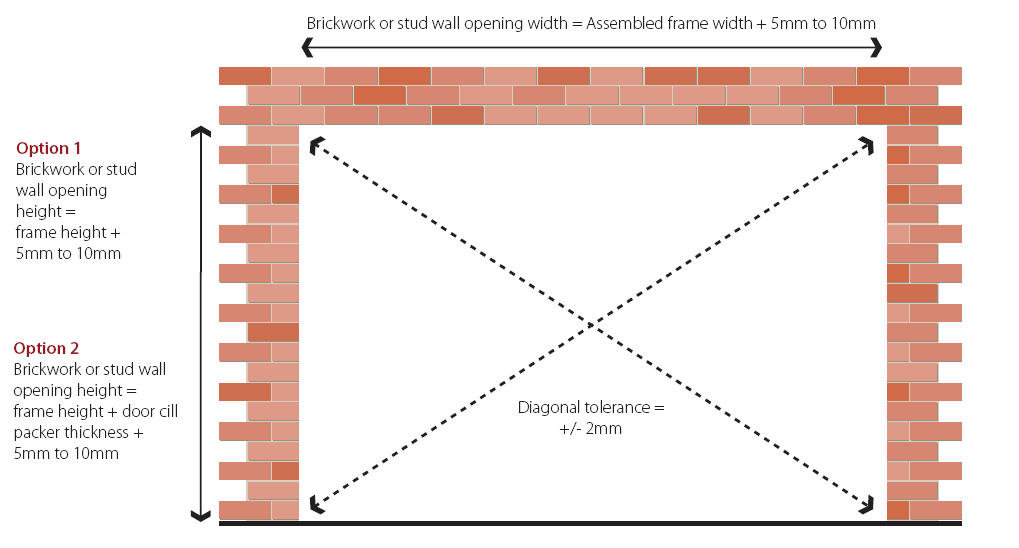 ---
Stacking
You must decide which room the doors stack in before installation. The room with the most space is the best choice. Internal bifold doors can open towards or away from you. You will need to decide which direction before fitting as once the door is fitted; it cannot be changed.
The access door (lead door) can be fitted on the furthest left or right of your bifold doors, based on a three-door configuration. All the doors will then stack on the opposite side. You can see some examples below:
---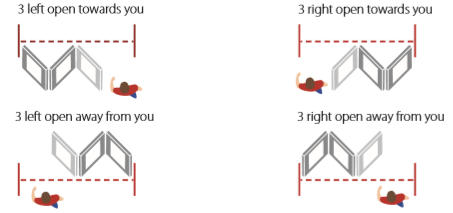 ---
Track
Bifold doors operate on a track system, and the type of track system dictates how the doors operate. There are two track systems to choose from:
Top-hung—the bifold doors hang from the main track, which is located in the frame head. This offers a smooth operation, needs very little maintenance and allows for a lower threshold. A top-hung track requires some support as the weight is carried from the top. Most internal doors are light enough to require minimal support.
Bottom-rolling—the main track is located on the bottom threshold and the floor carries all its weight. This requires less support but more maintenance, and there is a higher chance of the doors getting jammed or blocked.
You can find out more about bifold tracks by visiting our guide: Internal bifold door tracks: types, hardware and FAQ
---
How to install internal bifold tracks
Vufold's internal bifold doors are fully machined and ready to assemble with the tracks pre-installed in the frame. All you need to do is assemble the door frame by following the detailed instructions provided.
If you have purchased lower-quality bifold doors, you may need to cut the track down to the correct size before fitting it to the frame. You may also need to cut the frame down to size. It's important that you cut both of these to the correct length, as this will ensure your doors are fully operational.
---
Thresholds
The main consideration for flooring is whether you install a bifold with or without a threshold. A bifold threshold is a track in which the bottom of the bifold door slides along when it is in operation.
If you have purchased a bifold with a top-hung track system, a bottom threshold isn't always necessary. In this section, we recommend when you should or shouldn't use a bifold threshold.
With threshold
Thresholds not only help guide the bifold door, but they can be used to help separate the flooring between rooms. For example, if you have two different types of carpets or flooring (such as carpet and laminate).
Thresholds can be installed flush. Flush thresholds are installed at the same level as the final floor level creating a seamless finish. There are two ways to achieve a flush threshold:
Sink the threshold into your existing flooring
Build your flooring up to the top of the threshold
Whilst thresholds aren't always necessary, they add extra stability. If you live in a household with young children, we recommend you consider a bifold door with a threshold.
Without threshold
Bifold doors without thresholds allow the flooring to run underneath the door as one. They are known as trackless systems. This is useful if you are planning on using a single flooring throughout both rooms. It is not recommended if you planning to have a different type of flooring in each room (e.g. carpet and laminate).
If you would like to use a trackless system, we recommend you only use them on hard floors such as tiles or cement.
---
Types of flooring and how to install
Carpet
When installing bifold doors in a carpeted room, you will need to ensure there is enough space for the carpet and underlay.
Threshold installation example:

---

---
Laminate
Laminate flooring needs something called an expansion gap. This is an essential gap you must leave around the edge of the room (including in front of the bifold doors).
Wood is a natural product and can absorb moisture if the air is humid. When this happens, it causes the flooring to expand. The expansion gap provides room for this movement without causing damage to your hardwood flooring. The larger the room, the larger the expansion gap needed.
If you are unsure of how much expansion gap you need, talk to a professional flooring installer.
Threshold examples:

---

---
Tile
Tiled flooring requires less planning than carpet or laminate. You can install bifold doors with or without a threshold if you are planning on running tiles into both rooms. However, if you are looking to install carpet or laminate on either side of the bifold, we recommend you install a threshold to easily separate the flooring types.
Threshold installation example

---

---
Concrete
Modern polished concrete floors are the simplest on which to install, as you don't need to worry about expansion or underlays.
You can fit bifold doors with or without a threshold, depending on your preference. If you are installing with a threshold, simply install it on top of the flooring.
---
Glass
Vufold uses single-glazed toughened safety glass for internal bifolds; clear for light transfer or frosted if you want more privacy when closed. Double glazing is unnecessary for internal doors; it can increase costs and create deeper doors.
Vufold stocks timber internal bifolds with single-glazed 4mm toughened safety glass, saving you money while ensuring a high standard for safety. All glass panels are compliant with European standards BSEN12150 and BSEN12600.
---
Installation costs
The cost of installing bifold doors should be an important factor in your decision as it can greatly increase the overall price.
There are a lot of variables that result in different installation prices such as your location and the size of the job at hand. However, internal bifold doors are likely to be slightly cheaper to install than external bifold doors.
Vufold's doors are purpose-built so anyone can install them. Almost all the tools are provided—all you need to source is a screwdriver, drill, tape measure and spirit level. This level of ease means there is no need to hire the services of a professional fitter, saving you money.
Only professional tradespeople should install standard bifold doors. Standard doors rarely come with the hardware needed for installation and the instructions can be complicated (if included at all). In this case, you will likely need to pay for a contractor.
---
Fitting instructions
All bifold doors are different and so are their fitting instructions. Make sure you follow the instructions closely during assembly and installation. This section is a brief step-by-step of what you can expect when fitting high-quality bifold doors:
Prepare the opening
Choose left or right opening
Assemble the frame
Install assembled frame
Fit top and bottom pivot hinges
Hang the doors
Fit draft seals to the doors and frame
Fit the drop bolts
Fit the mortice latch
Adjust the door
Fit the door holders to the doors
For more detailed installation instructions, view the installation guide for our 3 door finesse range. You can also find out more about fitting internal bifold door handles in this guide.
---
FAQs
---
How do you adjust bifold doors?
If your doors are working less than perfectly, you may need to adjust them. This can happen because your property has settled or moved, or simply due to frequent use over time.
Standard bifold doors can be difficult to adjust, sometimes requiring the entire door to be removed from the frame. A specialist fitter may be required which will cost you extra.
Vufold uses hardware that makes adjusting your door a very easy process. Using just a standard screwdriver and Allen key, you can tweak the bifold pivots and intermediate carriers to adjust the width or height and ensure your doors continue to operate in perfect working condition.
How to adjust bifold door height
Allen key method:
Locate the top pivot hinge and intermediate carrier
Insert Allen key (provided)
Turn clockwise to raise the door and anti-clockwise to lower
---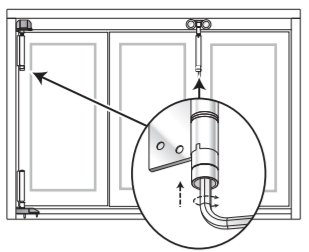 ---
How to adjust bifold door width
Ensure the doors are fully open
Locte the top and bottom pivot hinges
Insert a Philips screwdriver into the pivot block
Adjust until satisfied
---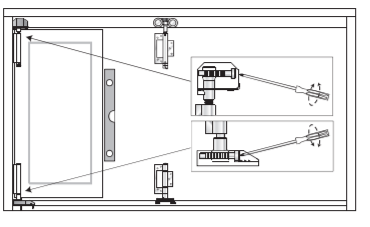 ---
Should internal bifold doors open in or out?
Bifold doors can open away or towards you. Before installing your doors, you will need to decide how they will open as, once fitted, they will be impossible to adjust.
For internal doors, stacking should dictate which way your doors open. You should have the doors open into the room with the most space for the stacked doors. View our section on door stacking to find out more.
---
Do you need planning permission to install internal bifold doors?
Unless you live in a listed building, you do not need to apply for planning permission to install internal bifold doors.
---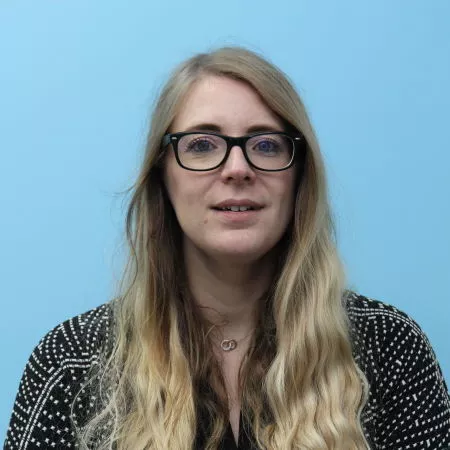 Author:
Amanda Hewer - Operations Manager
About Amanda Hewer
Having been at Vufold for around 12 years now, Amanda became operations manager after spending time in Customer Service, Sales, Order Processing and our Warehouse. Amanda likes that no two days are ever the same and believes her successful career stems from her keen interest in people, helping them achieve their goals and striving for constant improvement across all departments.
Read more about Amanda Hewer