How to adjust your external bifold door
Bifold doors are an excellent addition to any home and are available in a large range of designs and materials. However, to ensure they continue to function properly, there are a few things you need to know, including how to adjust them. This guide will detail when and how to adjust a patio door as well as general maintenance advice.
In this guide:
All bifold doors will require adjusting at some point. This section will detail the main reasons why you may need to adjust your door.
This section will detail the issues that may require you to adjust the door, as well as a step-by-step process on how to do that.
You should maintain your bifold door to ensure longevity. This section details the ways to clean and maintain the most common bifold materials.
WHY DO BIFOLD DOORS NEED ADJUSTING?
Bifold doors are both functional and attractive. However, like any door, they will require maintenance. While adjustments will be more straightforward if you've opted for high-quality folding doors, it's handy to know some of the common reasons why bifold doors may need adjusting so you're better prepared in future.
Are you looking for an aluminium bifold door? Read our guide to choosing an aluminium bifold door here.
WEAR AND TEAR
It's important to remember that just because your bifold doors need adjusting, it doesn't mean there is something wrong with them. Like a car, they experience wear and tear over time, especially if they are in constant use . This includes elements such as hinges, pivots and rollers. Read our complete guide to bifold door hardware here.
CHANGE IN SEASON
Whilst high-quality doors made from aluminium or treated timber are unlikely to be affected, changes in temperature and extreme weather conditions such as strong wind and rain may affect some bifolds, particularly those made from uPVC.
LOCKING DIFFICULTIES
If your patio door won't close or lock, check the actual lock for any issues with the door in the open position. If you cannot find fault with the lock, your door may have fallen out of alignment with the locking keeps.
Shop our range of high-quality internal bifold doors and external bifold doors today to ensure you choose a door that is durable and reliable. Our doors are also ready-to-assemble, saving you time and making the installation process much more straightforward.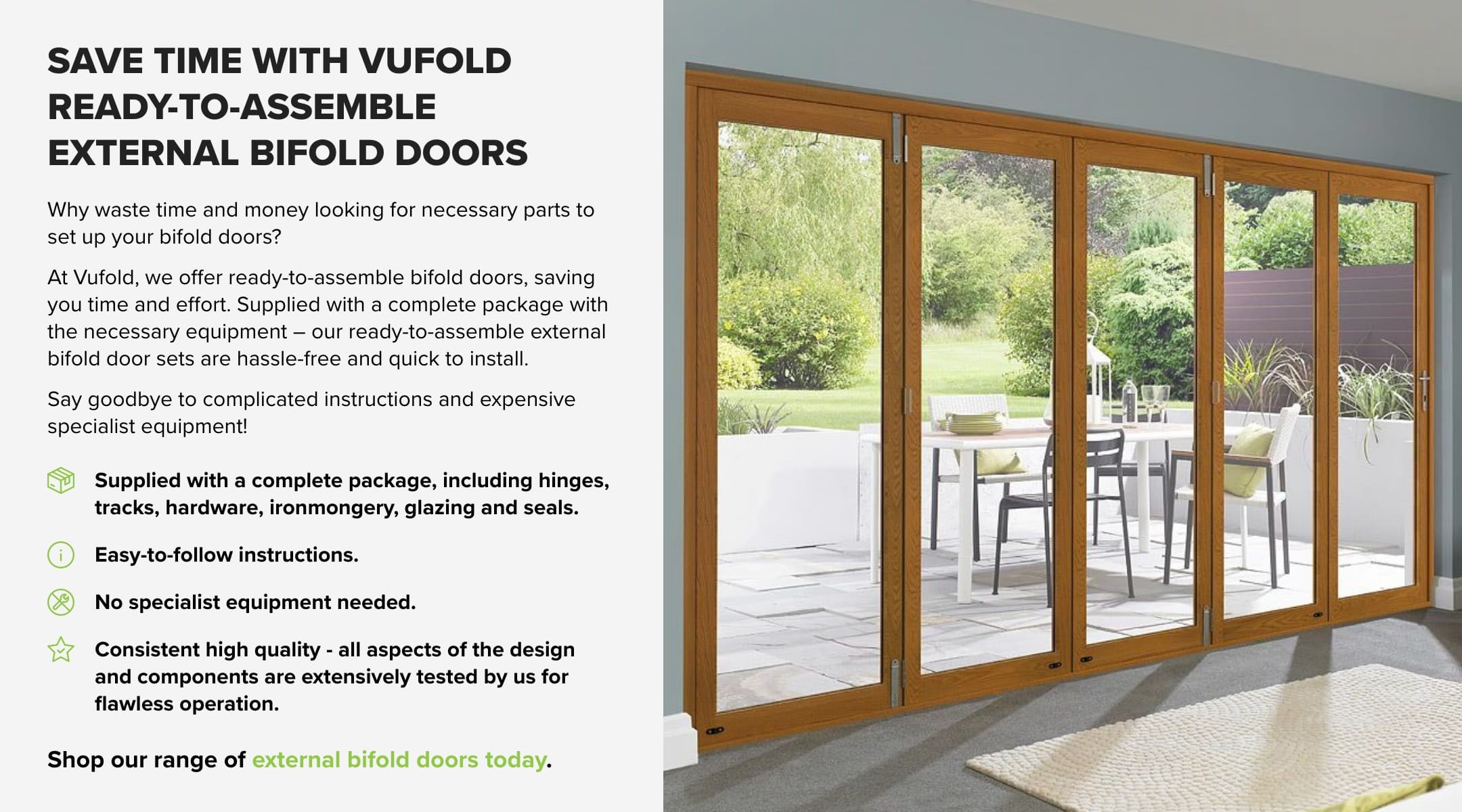 WHEN AND HOW TO ADJUST YOUR BIFOLD DOORS
While high-quality bifold doors like Vufold's ranges do not require regular adjustments, there may come a time when you need to adjust your bifold. This section will detail when your bifold may need adjustments and how to perform them.
Read our complete guide to replacing bifold doors here.
THE DOORS DON'T OPEN FULLY
If your Vufold wooden and composite bifold doors won't open fully, side-to-side adjustments need to be made. To make these, follow the steps below:
Step 1: open your doors as far as possible so you can access the top and bottom pivots.
Step 2: using a Philips screwdriver, move the doors from side to side, left or right. Please see the spacing guide below based on your door type.
VUFOLD DEFAULT APPOXIMATE DOOR SPACINGS FOR ULTRA, ELITE AND MASTER DOOR SETS
| | | | | |
| --- | --- | --- | --- | --- |
| Type of door | Top of door to underside of head | Bottom of door to cill | Door to jam | Door to door |
| 3 door set | 5mm | 10mm | 7mm | 4mm |
| 4 door set | 5mm | 10mm | 7mm | 4mm |
| 5 door set | 5mm | 10mm | 7mm | 4mm |
| 6 door set | 5mm | 10mm | 7mm | 4mm |
DRAGGING DOORS
If your bifold door is dragging when you open or close the door, the height needs to be adjusted. Fortunately, Vufold doors offer an easy solution.
To adjust the height of Ultra, Elite or Master doors:
Step 1: identify the intermediate carriers and top pivots.
Step 2: if you're using the Allen key provided, insert this into the pivots and carriers.
Step 3: turn the key clockwise to higher the doors and anti-clockwise to lower them.
Step 3a: if you're using a screwdriver instead, pull down the safety clip and adjust the pivots and carriers according to the spacings listed in the table above.
LOOKING FOR A MODERN ALUMINIUM BIFOLDING DOOR?
OUR PICK:
FROM £2,479.00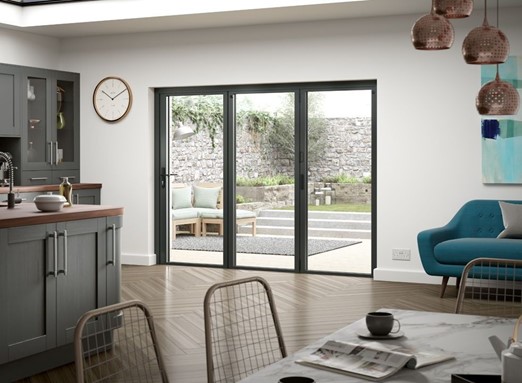 The Status is our most popular aluminium bifold door set, and it's no mystery as to why. Not only are they fantastic value for such beautifully engineered bifolds, they're available in a host of configurable options and feature a low threshold and slim sight lines to give you more light and a better view. In a hurry, our Supreme Express bifold doors are available on just a 3-day delivery time.
LOCKING ISSUES
As previously mentioned, locking issues are relatively simple to solve - especially with a high-quality door supplied by Vufold. If you're experiencing problems locking and unlocking your Ultra, Elite, Master, follow the steps below.
Step 1: eliminate the chance of it being an issue with the actual lock by opening the access door and pulling the handle upwards - if you can turn the key, the lock is operating normally and the problem is most likely a result of incorrect door adjustment.
Step 2: move the bifold doors over to the side of the lock jamb by altering the pivots until the gap is 4mm.
Step 3: if the lock works, gradually adjust them back the other way to a maximum of 6mm to 7mm or until the lock will not work.
Step 4: make a final small adjustment back to the lock jamb until operational.
Step 5: the height and side-to-side adjustments can be combined, so try altering the height up or down in the top pivot and intermediate carrier using an allen key or screwdriver. Adjust these until the lock works or to the default spacings in the above table.
LOOKING FOR A HIGH-QUALITY OAK BIFOLD DOOR?
OUR PICK:
FROM £1,755.00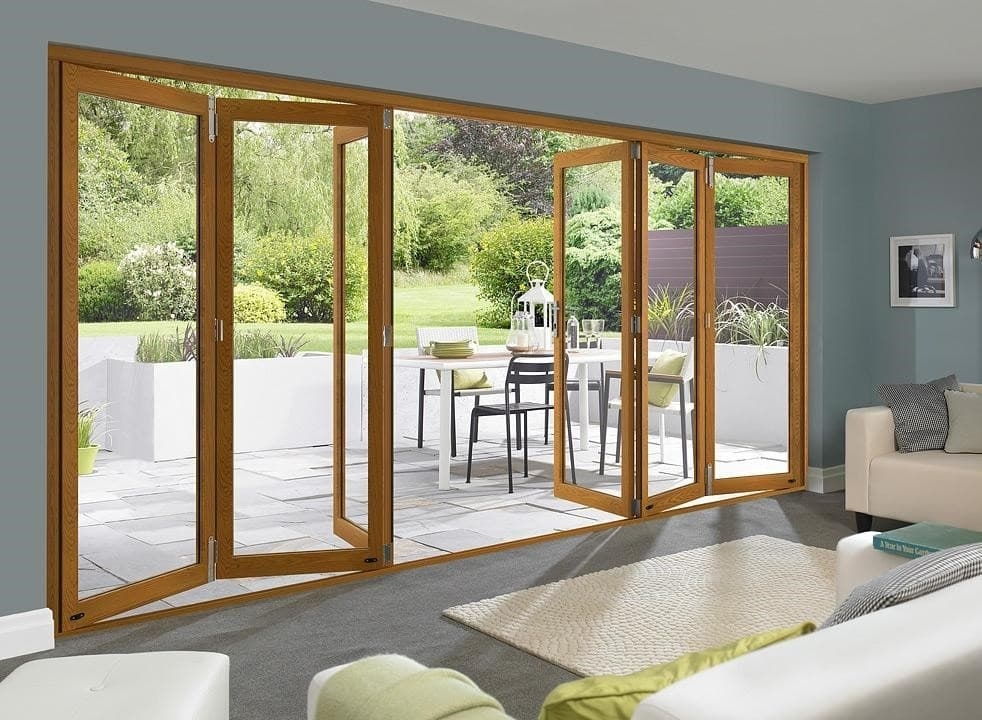 Our oak bifold doors (Elite range) brings stunning unfinished and factory finished oak bi-folding door sets with slim sightlines and clear glass to open up your home and let the light shine in. Our oak bifold doors offer the highest quality, design and performance.
Shop our oak Elite bifold doors here.
HOW TO CARE FOR YOUR BIFOLD DOOR
Maintaining your bifold door is important as it ensures the longevity of your door and reduce the number of times you need to adjust. In this section, you will find maintenance advice on the main types of bifold door materials.
WOODEN BIFOLDS
Regular maintenance is important for wooden bifold doors, to ensure longevity. You should check the finish of your timber bifold every six months and recoat if necessary.
Vufold recommends using wood care milk - a wax-enriched finish enhancer designed to protect the original finish of your timber door which can lengthen time between refinishing.
Vufold also offers several care and finish kits to help maintain your bifold door and ensure it remains in warranty.
What are the benefits of wooden bifold doors?
Because wood is a natural material, it requires less manufacturing compared to synthetic materials like uPVC. Less manufacturing means less carbon dioxide, which lowers your carbon footprint. Wooden doors are biodegradable and can be responsibly sourced. Vufold creates high-quality wooden bifolds that are designed to last. We offer a 15-year guarantee on all our bifold doors. Find out more about wooden bifold doors here.
ALUMINIUM BIFOLDS
Aluminium bifold doors are incredibly durable. As a result, they also require less maintenance than other materials. However, aim for the occasional cleaning routine to ensure your doors remain in top condition. Using a non-abrasive cloth and soapy water (avoid solvent-based cleaning products), wipe away any dirt on the frame and glass panels. You can also use a small brush and hoover to clear the tracks of any debris. Doing this regularly will ensure debris doesn't build up and stop the doors from opening or closing smoothly.
What are the benefits of aluminium bifold doors?
Aluminium weighs 67% less than steel yet carries a lot of its strength properties. This means that it can create lighter and easier-to-operate doors and windows. Aluminium allows for slim sightlines to be achieved for maximised views and can be made in a range of configurations without compromising on performance or security. Find out more about aluminium bifold doors here.
Read our comparison of wooden bifold doors vs aluminium bifold doors below:
| | |
| --- | --- |
| Key priority | Our pick |
| Cost | Timber bifold doors |
| Durability | Aluminium bifold doors |
| Low maintenance | Aluminium bifold doors |
| Style | This depends on your preferred style – if you are looking for a more traditional option, we recommend wooden bifold doors. For a modern, sleek option – consider aluminium bifold doors. |
| Environmentally friendly | Timber bifold doors |
| Lifespan | Aluminium bifold doors |
| Thermal efficiency | Aluminium bifold doors |
UPVC BIFOLDS
uPVC is more prone to scratches than aluminium and is easily damaged by the sun. Aim to clean uPVC bifold doors as least once a year with warm soapy water and a clean cloth.
Find out how aluminium bifold doors compare to uPVC bifold doors here.
Which material is the best option for bifold doors?
Your chosen material depends on your priorities when choosing a new bifold door. If budget is your priority, you may want to choose a uPVC bifold door. Aluminium or composite bifold doors, on the other hand, are excellent options if you prioritise durability and strength. Timber bifold doors are a popular option due to their rustic feel and traditional style and are a great choice if you the look of wood's natural patterns and texture. Oak is a particular strong option of wood and is ideal if you are looking for a warmer shade.
Read our full guide to the different bifold door material options.

RELATED CONTENT
---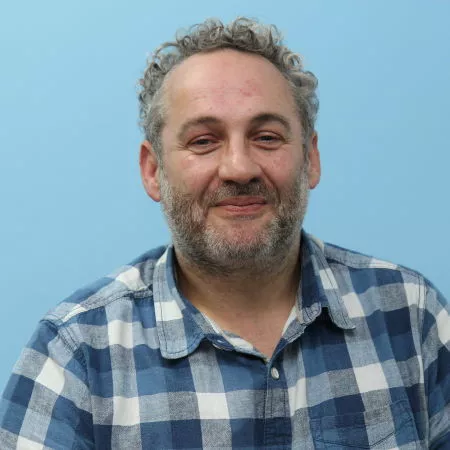 Author:
Richard Collins - Operations Director
About Richard Collins
Rick is an expert in lean practices and principles, and how they're applied to manufacturing, warehouse, administration and management of the business. As an operations director he oversees all areas of the business ensuring they run as efficiently as possible and has worked his way up through virtually every department since he joined us 13 years ago.
Read more about Richard Collins