Understanding standard front door sizes
Replacing the front door or any entry door in your home can be difficult, particularly if you're unsure about standard UK door measurements. The United Kingdom is home to all manner of different property types, from rural country cottages to urban, multi-storey apartment blocks, however, most properties tend to correspond with a standard front door size so replacing your old door should be easy.
In this guide:
Learn more about what you should think about when choosing the right front door size for your home.
Find out more about what standard front door sizes are in the UK.
Learn more about the factors to consider when choosing the best front door for your home.
Find out more about the front door sizes available from Vufold.
Front door sizes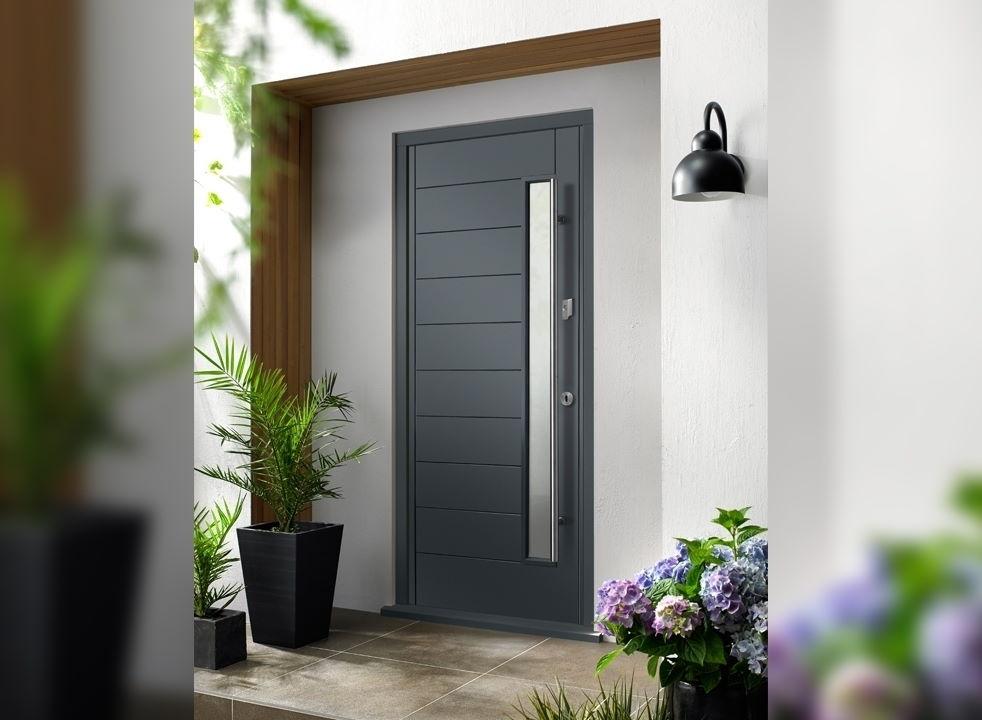 If your home is one of the majority of properties that feature standard door sizes, the good news is that replacing your front door should be quick and easy, as most suppliers will hold doors to fit your property as a stock item with a quick turnaround time. The opening you have available for your existing door will determine the standard door size or the bespoke size you need unless you're looking to create a new opening or widen the opening to install a different style or type of door.
Of course, there are a number of variables to consider when it comes to your door dimensions; for example, if your property has a double front door and one of them has become damaged, it might be easier to replace both at the same time instead of sourcing a matching door to replace the existing set.
However, as a general rule, most properties feature standard door sizes. Once you're certain of the size of your door frame, you should be able to find a suitable replacement door with ease.
Standard UK front door sizes
When it comes to replacing an external door, one of the most commonly asked questions is "what is the standard front door size in the UK?". The answer to this question is that there are several different standard sizes, although most properties adhere to one of these. The following door frame widths are considered standard within the UK:
711.2mm or 28"
762mm or 30"
812.8mm or 32"
914.4mm or 36"
By far the most popular standard door widths in the UK are 762mm (or 30 inches) and 838mm (33 inches). A door width measuring 838mm are more commonly used in modern buildings, as they comply with regulations for disability access.
Standard door height
While door widths vary in the UK, the standard door height is 1981mm (or 78"). In modern buildings, it is rare to find doors that deviate from the standard height, although this is not impossible, which means it is crucial to get an accurate measurement prior to committing to a new door purchase.
Non-standard UK front door sizes
It is a common misconception that some properties have been built to "non-standard" door sizes. In many cases, homeowners will try to cut a standard door down to an appropriate size, or place several millimetres off the edges. This is not the most effective solution as it exposes the core of the door and could potentially weaken it, affecting security.
Most standard UK doors are veneered, stable and designed to fit a specific door frame size; it's simply a case of finding a suitable door for your frame. If you think your home features non-standard UK door sizes and you're uncertain about the exact measurements of your door frame, it is advisable to contact a professional and arrange for measurements to be taken.
While the width of your doors might not adhere to the two most common sizes (762mm and 838mm), it is likely that you will still be able to find a product that has been purpose-built for your door frame size.
It is worth pointing out that most doors on the market have a 6mm edge which can be trimmed for a perfect fit, but any further cutting should be avoided as this could damage the door. Instead, you should consult with a professional to find a suitable door for your property.
Other factors to consider when choosing the best size for your front door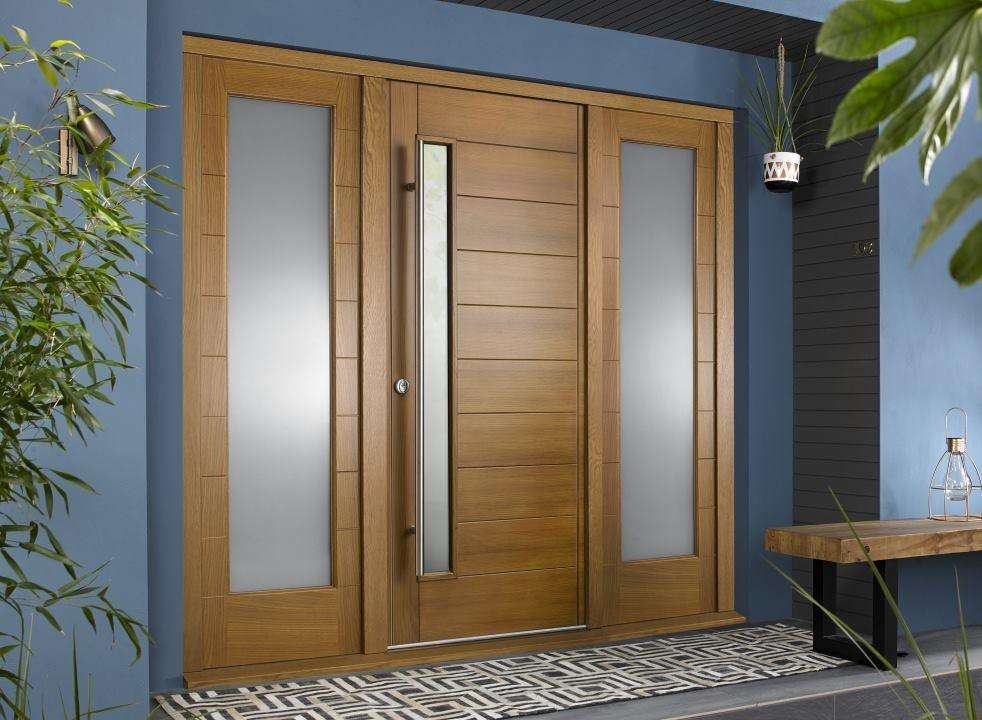 Door thickness
An external door should be between 40-45mm thick. Ideally, the thicker the door, the better. A thicker exterior door will provide better protection from the elements, and could potentially provide better insurance against potential intruders. If you live in a property with shared access, there may be certain stipulations as to how thick your front door needs to be for health and safety purposes.
Building regulations
Since 2002, building regulations have applied to controlled fittings. Both internal and exterior doors fall under this category, which means certain standards need to be met when they are replaced.
Can front doors be bespoke?
Vufold understands that first impressions count and offers a huge variety of wooden front doors to suit all property types and sizes. From traditional oak to contemporary greys, there's something for everyone. Prices start at just £449, with the following standard sizes available:
1981mm x 762mm
1981mm x 838mm
2032 x 812mm
Find out more about the choices we have on offer in the table below:
product
Price
colour
Size
Delivery timeless

£449

Grey

1981mm x 762mm
1981mm x 838mm
2032mm x 813mm

3 days

£529

Grey

1981mm x 762mm
1981mm x 838mm
2032mm x 813mm

3 days

£539

Grey

1981mm x 762mm
1981mm x 838mm
2032mm x 813mm

3 days

£449

Oak

1981mm x 762mm
1981mm x 838mm
2032mm x 813mm

3 days

£539

Oak

1981mm x 762mm
1981mm x 838mm
2032mm x 813mm

3 days

£549

Oak

1981mm x 762mm
1981mm x 838mm
2032mm x 813mm

3 days
If you'd like to know more about the sizes we have on offer at Vufold or bespoke front doors, please contact our team of experts today.